Summer Entertaining doesn't have to be complicated to be amazing. Whether it's wine and cheese with friends or a simple lunch on the patio, these six casual but chic ideas will help you entertain in style, while also keeping things easy and carefree!
I don't know if it's because it reminds me of my childhood and that "school's out!" feeling, or if it's something deeper, but summer feels different in so many ways. There is just something about the spirit of this season – even for those of us who have long been out of school – that makes it special. It's like everyone lets out a collective sigh and just relaxes a little bit more.
Whether it's spending a day at the beach, taking a dip in the pool, or indulging in an ice cream cone, these things all say "summer" to me. And of course, lazy days, sandy toes, and sleeping in, all go with summer, too. But probably my absolute favorite thing about the season is summer entertaining!
Lingering on the patio after the sun goes down, sitting around the fire pit drinking wine with friends, a simple grilled dinner eaten under the stars – these are all ways you can make special memories this summer. And summer get togethers don't have to be complicated to be wonderful. So today I'm sharing 6 Ideas for Casual Chic Summer Entertaining!
1. Casual Lunch (or Dinner) on the Patio
This is a set-up I actually shot before I changed out the outdoor lanterns, but I wanted to share it since it's such a great example of our casual entertaining.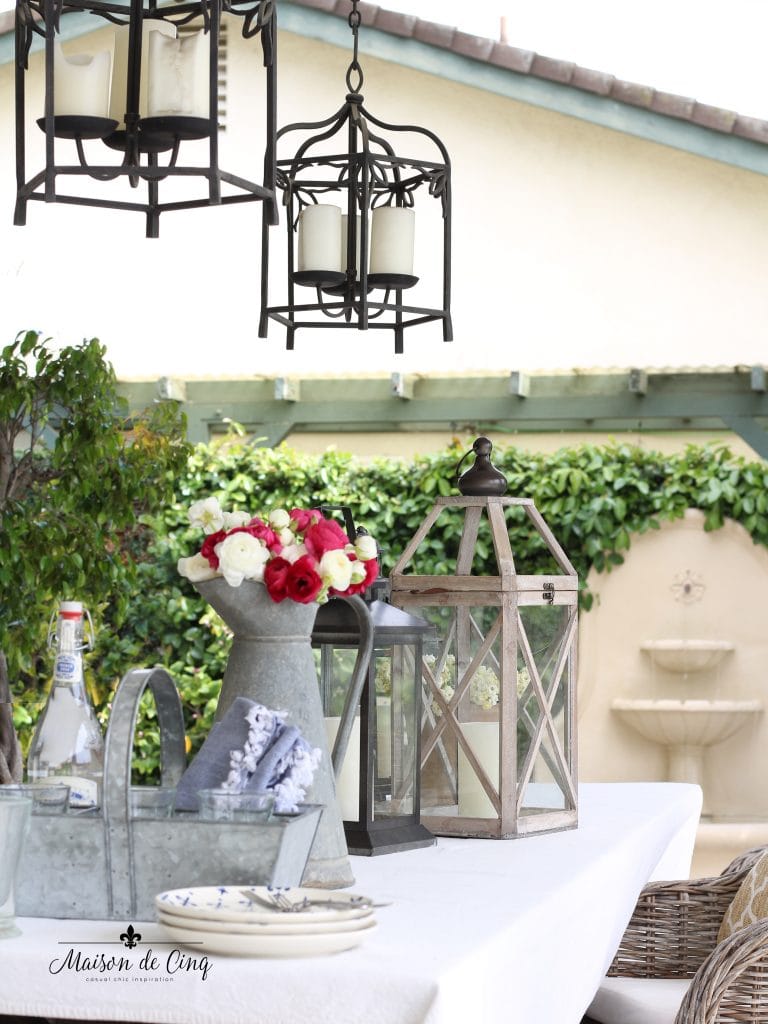 For a lunch, brunch, pot luck, or casual dinner outside, gather your items and set them up on the table. In this case, there's no need for a fancy tablescape. I used a galvanized carrier to hold napkins and glasses, and simply set the plates and flatware in stacks on the table.

Lanterns keep the vibe casual, as does adding potted plants to the table.
I did plop some flowers in a vintage galvanized French pitcher for a little color, but that was the extent of my efforts. Simple is the name of the game here! In fact, lots of times if we are hosting a casual gathering or it's just family, this is how we entertain.

*please note some affiliate links have been added *
A classic blue and white palette, simple white farmhouse flowers, and lots of texture makes for a casual table that's perfect for any night of the week. Visit my blue and white summer table for more details.

I love that this table says summer in such a traditional way. Shells and some vintage Japanese fishing floats create the theme without going too far, and the napkins add lots of color. For lots more details and all the sources, visit the Summer Blue Coastal Table.
Grab some lanterns, lots of candles and sticks to roast your marshmallows and you are good to go! I can't think of a simpler or more quintessentially summer ritual! Many more tips and details are in the original post!
Some nights are just more special than others. A going away party for a recent graduate, a girls' night out, an engagement celebration – this gorgeous table with peonies, roses, and vintage silver feels perfect for a night that calls for a little extra oomph! Go see this Romantic Summer Tablescape with Peonies for more.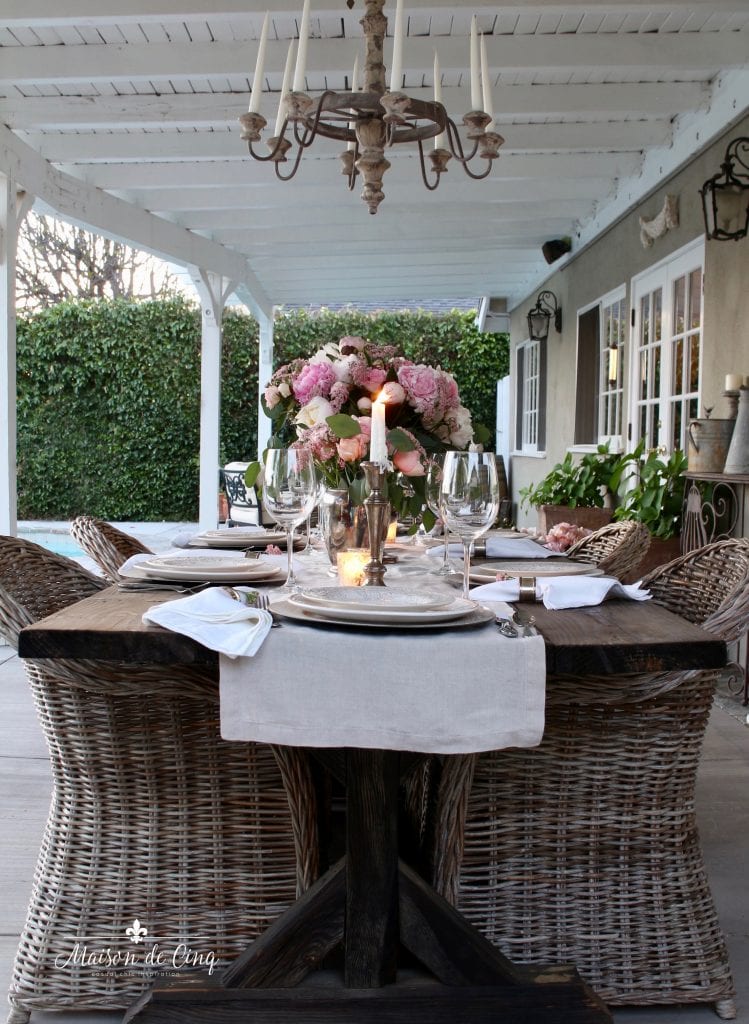 One of the easiest ways to enjoy the evenings in the summer is with wine and cheese night. This is one of our absolute favorite things to do during the summer season! To get the deets on the flowers I used, as well as which wines and cheeses to pick, go see the Summer Wine and Cheese Party post!
You can also get all my summer entertaining ideas, along with all the details and sources of each, by going to the Tablescapes tab at the top of the home page, then click on "Summer."
Happy (Summer) Entertaining!
Sheila
xo
If you enjoyed this post, be sure to check out more summer inspiration below!