I know some of you follow me on Instagram, and if you do, in January you saw that I had recently acquired some antique botanicals and had them framed and hung in the family room. But I realized for those of you who aren't on Instagram, you had never seen the new additions!
Just to go back a little, I fell in love with antique botanicals a few years ago. And I fell hard! This was the first photo that really had me wanting them…
I love everything about this! Via Southern Living.
And then my friend Loi Thai shared this magnificence, and I was even more smitten!
But the photo that really cemented the idea in my mind, was this breakfast room below by Lisa Luby Ryan.
I actually wrote a post all about my obsession two years ago. And yes, it's taken me two years to find them! And all the while, my family room had a big, blank wall! You see, the true antique botanicals can be very expensive, so just finding them took awhile. I really didn't want reproductions, and I didn't want to pay several hundred a piece either!
Though I will say, some of the repros I've seen now are quite nice and definitely give a similar look – and they don't take two years to acquire! Anyway, I finally found mine about a year ago, and embarrassing to admit, they sat for a whole year before I finally got them framed and hung!
And here they are! I am over the moon excited about how they turned out! I've framed a lot of art in my time, and to be honest, it does not always turn out how I'd planned.
I wanted a frame that looked vintage and this one has a great patina. It doesn't look completely antique, but it comes close. It has small imperfections and dents and dings, and the gold is the perfect shade.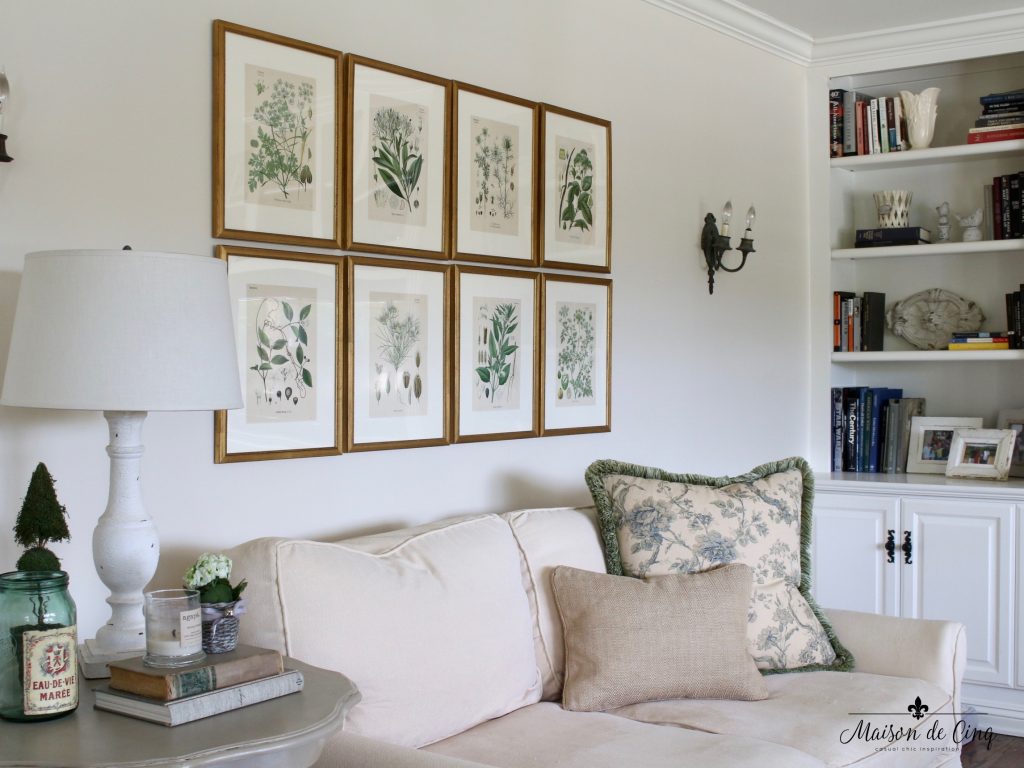 It's quite a long wall over the sofa on that side, and it needed either a very large piece of art or a grouping like this. A definite benefit to going with a grouping, is if I ever move, they can be used anywhere in another house. Whereas, one large piece of art is a big investment and may not fit in another home. These I could easily split up, using some in a bedroom and some in a bathroom, or group them along a hallway (love that look!)
They've really added so much to the room! It made me wish I hadn't dragged my feet for so long!
So though I am hardly a patient person (my husband can confirm this for you), in this case, my patience really did pay off! I am so happy with the result and can't wait to finally finish this room completely!
While shopping around, I was amazed at the nice reproductions I've found! (Of course, those were nowhere around when I first started looking, haha!)
I've linked some of the better ones below, as well as some vintage ones. And if you're interested in only antiques, I would suggest starting on Ebay as there are a ton of vendors selling authentic ones. Just bear in mind that you will then spend more on the frames than the art! Etsy is also a good source for anything vintage.
Sheila
xo
Shop the Post!


*affiliate links included for your convenience*