My Antique Mora Clock – Adding Character to the Living Room
My dream of adding a Mora clock to our home has finally come true! Take a look at how much charm and character it added to our living room!
I have big news to share today – something very exciting has arrived here at Maison de Cinq! A dream come true, actually! If you follow me over on Instagram, then you may already know what my 'big news' is! 😉
But for those of you who don't, I recently purchased an antique Mora clock! This is something I've been dreaming of for years. Something that, although I've looked, I didn't really think I'd ever find.
But I did find one – and now she lives here! It's funny because about a year ago I was researching and preparing to write a detailed blog post about them, and for some reason, I never finished it. But now I have the perfect excuse to talk about them!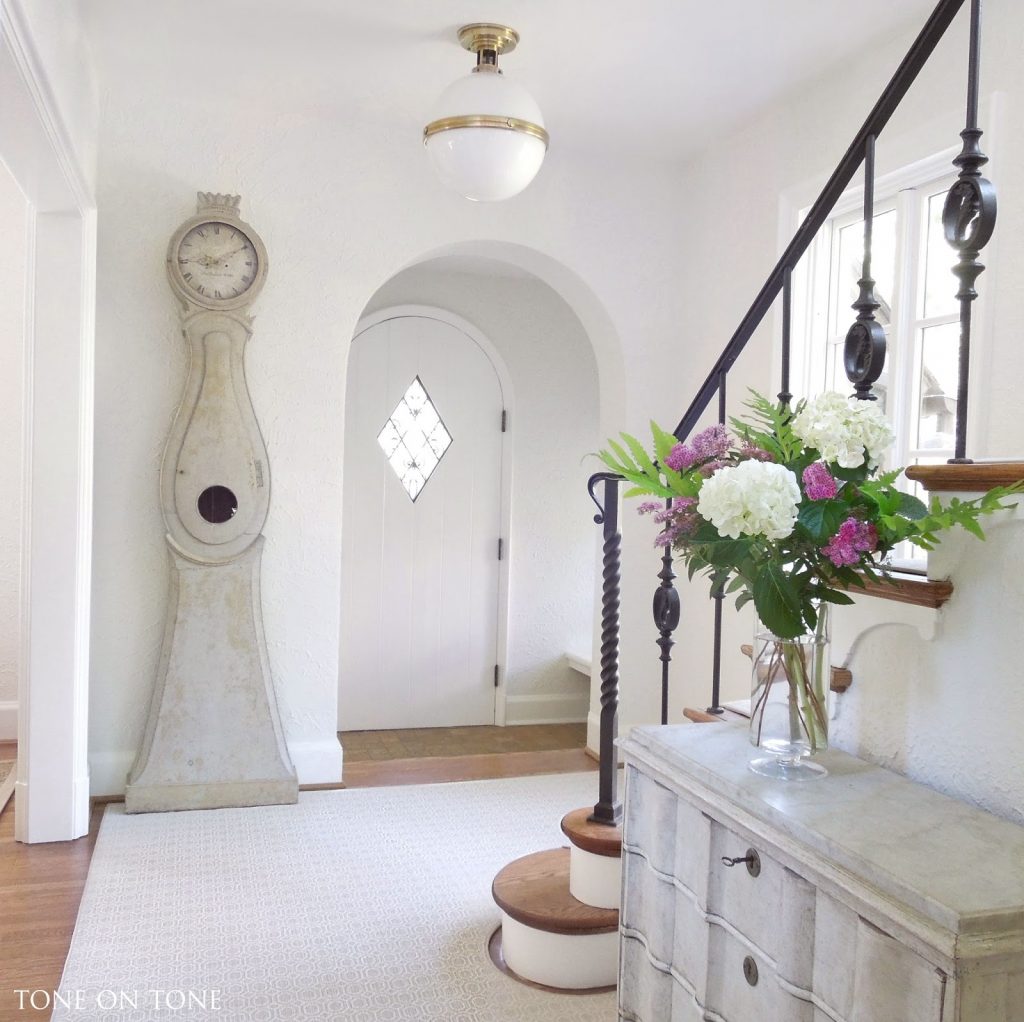 A gorgeous one in the foyer of my friend Loi of the blog, Tone on Tone.
To give you a little background in case these are new to you, Mora clocks are Swedish in origin, from the town of Mora, Sweden. They are "long case clocks" similar to an American grandfather clock, but much simpler in design.
Design by Helen Forbes Hennie via Adrienne Palmer Interiors.
Gustavian in style, they were made during the 18th and 19th centuries. Today they are highly sought after, and as such, can be prohibitively expensive. (Which is why I was not sure I would ever own one!)
I'm sure if you follow my blog (and love French and Swedish country style as much as I do), you've seen them here or on Pinterest. Many of my absolute favorite designers use them!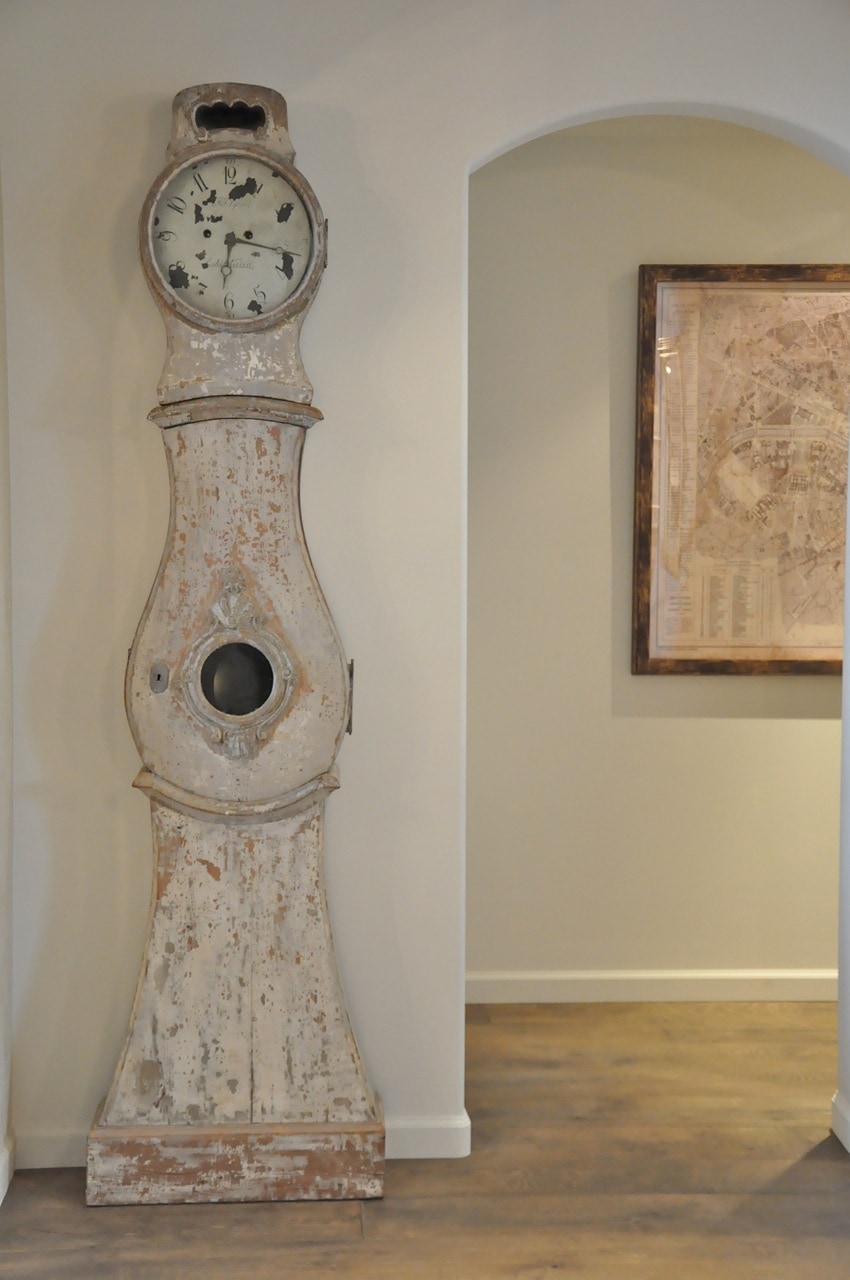 Design by Brooke Giannetti.
Can you see why I fell in love?! There is just something so charming about them!
I've always had a place in my living room that I thought would be perfect for a Mora clock – it was just a matter of finding one I could afford.
And here she is! I can't even tell you how excited I am!
It was shipped from Sweden and came in a huge heavy crate. As my husband opened it I was literally holding my breath because I was so afraid it wouldn't be what I had expected. Because let's face it, buying online is always a risk. And when it's an antique that is not returnable, even more so!
I had zoomed in on the photos online a thousand times and I felt pretty sure of my decision, but you never know. And then after I actually purchased it, I had about two weeks of buyer's remorse. Actually, more like buyer's panic! Needless to say, I had a pretty big sigh of relief when it turned out okay!
This spot in the living room is truly made for it! It's always been an awkward, empty spot. I was thinking if I didn't find an antique Mora clock I would either buy a reproduction (there are some pretty ones out there now!) or do something tall and thin like an antique secretary. This wall definitely needed something.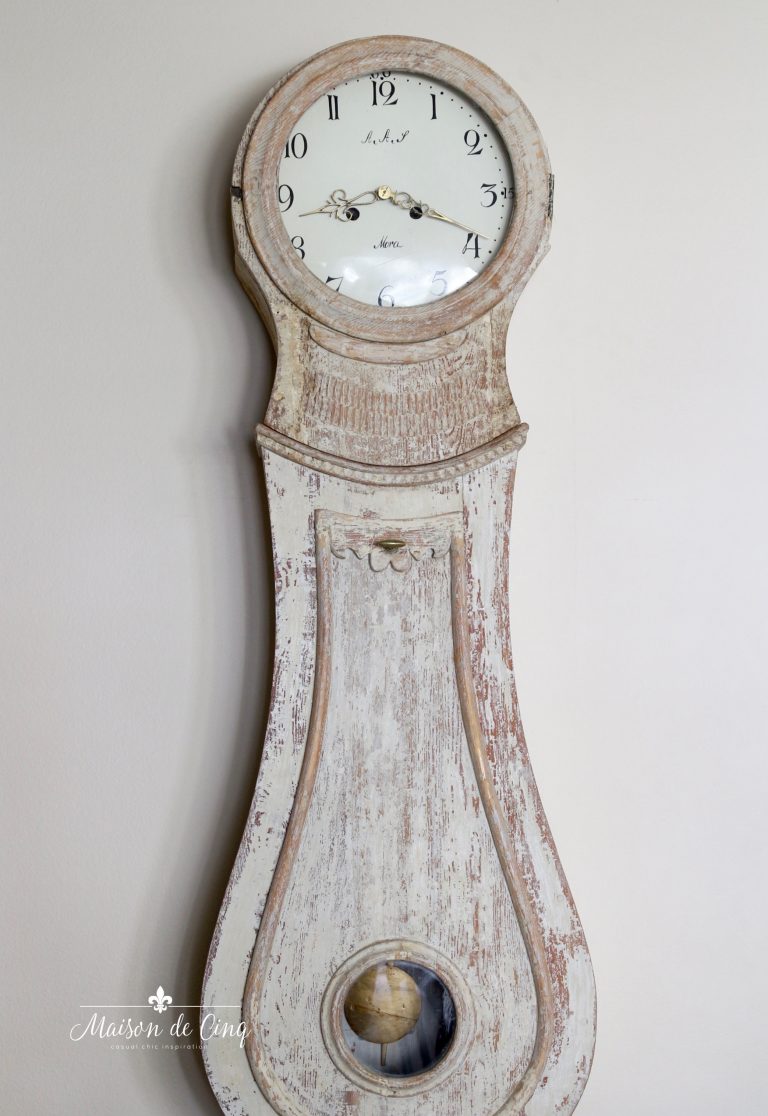 Mine is dated from about 1780.
You can see the word "Mora" on the clock face, and the letters A.A.S. – the initials of one of the first clockmakers in Mora.
I love the carving below the face and at the bottom. And the little scalloped edge!!
As you can see, my clock was one that was scraped to reveal the original paint and as such, has lots of distressing – which I love!
I feel like this one piece has changed the entire space!! Because most of my antique pieces were dark wood and I've slowly been getting rid of those, I was left with not a single antique in the entire room. And I'm such an antiques person! I really feel every room should have at least one, so this space was really needing that character.
Just take a look at the space before and after!
You know how women dream of a Chanel bag, or Jimmy Choo shoes? Well, apparently, my dreams are all in the form of expensive antiques! Well, at least the resale is better right?!
If you're interested in seeing more examples, I did do a post on them several years ago here. And, if you're interested in purchasing one, they are on several websites. 1st Dibs carries them, which is where I got mine on sale, though they tend to be pretty high. But there are some originals on Etsy, as well as several darling reproductions (this one is especially pretty!) That is definitely what I would have ended up with if this one hadn't turned up!
Shop Mora clocks

Shop my living room

*please note affiliate links are included for your convenience*
Sheila
xo
If you enjoyed this post, be sure to check out more decorating inspiration and ideas below: