Artwork is something I love and it's so important to a space. I switched out the existing art in the living room with new artwork from Minted, and I can't believe how much it changed the room!
You all know I'm a big believer in using artwork in almost any space. It's so important that I wrote a whole blog post about it!
And though I loved the four vintage paintings I had in the living room on either side of the fireplace, I also knew they didn't really work.
They were too small for where they were, and I've spent several years trying (and failing) to find larger vintage pieces that could work. They either weren't large enough, were too expensive, or I couldn't find a pair that would work well together.
It was time for an update. Enter Minted!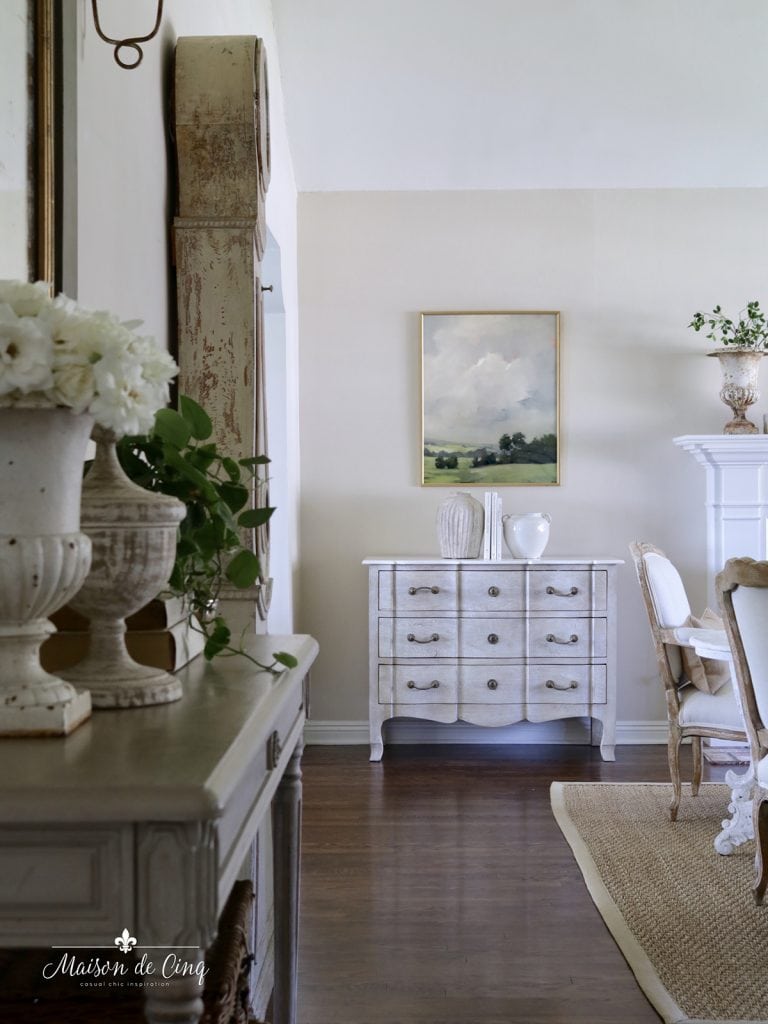 If you've never shopped at Minted, you're in for a real treat! It's a true art-lovers dream. The Minted website curates their selection of limited edition fine art from independent artists. Their artists are from all 50 states and over 100 countries. The artists submit their art, they're voted on, and Minted sells the winners. How cool is that?
And not only that, they add new art monthly so the content is constantly changing and being refreshed.
I am so glad I found this site – I love that it supports independent artists, and their limited-edition fine art prints mean that only a certain number of people can purchase the prints before they're gone forever. So you'll never feel like everyone has the same prints as you. 😉
What really drew me to these prints in particular was the vintage look of them. I'm a huge fan of landscapes of any kind, and these have gorgeous coloring and definitely feel like they could have been created in a different decade.
They also have so much drama! The cloud formations are captured so beautifully – they're truly stunning in person. I also love the mix of all the greens against the bluish-white of the sky. They are even more beautiful than they were on the website!
Obviously, I needed some type of pair to make the living room work. The two sides of the fireplace are mirror images of each other and I wanted to keep the symmetry of the room.
Luckily, the prints that first caught my eye when I went to the website were also a pair! The prints I chose are called 'Rosy Tomorrow I' and Rosy Tomorrow II and I chose to frame them in a gilded gold frame for a classic look.
The size is in perfect proportion to the space, and though they are only slightly bigger than the paintings that were previously there, they look much more substantial. A subtle but very important difference!
And in case you're wary of ordering artwork on the internet, they offer free shipping and more importantly, free returns on all fine art. That's a win/win for me! 😉
And I couldn't resist getting something for our sad, empty upstairs hallway, too!
This space has never had much attention I must admit. Leftover prints from a big box store, then a hand-me-down mirror. But finally we have a pretty landscape that I love. It makes me happy just seeing this when I walk up the stairs!
This print is called 'Timeless' and again, I framed it in the gilded gold because it just fits my style the best.
Minted also offers high quality materials when it comes to framing. With choices from real wood or brushed metal frames to museum-grade mats and even framed canvases, the options are endless. And I've got a discount for you on framing that I'm sharing below!
I'm so happy to finally have artwork that fits the space. I love the prints and they aren't something that everyone and their brother have!
And now for the good news! Minted is offering 20% off all framing to my readers with the code: SHEILAFRAMES. That means a discount on any framing of your choosing.
With thousands of gorgeous prints, from abstract to landscapes to photography, you're bound to find something you love!
To see their whole collection of limited-edition art prints, click here.
Sheila
xo
*please note affiliate links are included for your convenience*
If you enjoyed this post, you might want to check out some of these below:
*This post is sponsored by Minted, but all opinions are my own*