Backyard & Pool Design and Renovation – The Reveal!
Come see this backyard and pool renovation where we took a dated outdoor space and made it into a French inspired oasis!
I've been promising this post for awhile now, and it's finally here! Today I'm so excited to be sharing my backyard and pool renovation reveal!
Now if you're new here, you may not know that last summer we started a huge project; that of completely re-doing the yard. This meant re-landscaping, as well as re-doing the pool and all the surrounding hardscape. A big undertaking to say the least!
Today I'm going to take you through all that we did and share every little detail. So grab a coffee or a glass of wine, and settle in. There are quite a lot of photos and lots to share!
(A complete source list is included at the end of the post!)
THIS POST MAY INCLUDE AFFILIATE LINKS. CLICK HERE FOR MY FULL DISCLOSURE POLICY.
Backyard and Pool Reveal

Let's do a little flashback, shall we? Here's what it looked like one short year ago…
Before
And here's where we are now!
After

As I shared in my backyard renovation plan, we knew we would have to do some concrete in order to save money. But what I really didn't want, was only concrete, which is what we had originally. Our patio/hardscape area is quite large, and I was afraid that if we simply did concrete everywhere, it would be a sea of cement.
I looked at travertine, and though I actually found a pretty good price at wholesale, it would have delayed the job by two weeks, something I didn't want to do. I also entertained the idea of having grass right up to the pool, at least on one or two sides.
It's inexpensive and gives a very European feel, which I love. However, there are issues with that (like bugs and flies which land on you constantly if you're sitting on a lounge chair on top of grass) so my family kind of overruled me on that one, haha!
So, that left us back at concrete, at least in most of the main areas. My contractor as well as a few friends recommended stamped concrete, but my husband wasn't crazy about it, so we ruled that out pretty early on.
That's when I went back to the drawing board and really looked at what was inspiring me online and on Pinterest, and I quickly realized that many of the backyards I had saved and loved had natural stone. Either the entire hardscape area was stone, or it was at least trimmed in it or parts of it were stone so that's the direction I went in!
Hardscape Choice: Flagstone
It immediately felt like the right decision! I knew it would add some much needed interest to our boring exterior. It also feels somewhat European, something stamped concrete definitely doesn't. And it's timeless. We wanted something that wouldn't go out of style quickly, so the fact that stone is classic and has been used forever, really helped finalize that decision for me.
To compromise, we decided to add stone trim around the pool and all around the outside edges of the concrete. We simply couldn't afford to do the stone everywhere (though, boy, would I have wanted to!)
So though it took awhile, and probably delayed the backyard renovation at least as long as waiting for the travertine would have, haha, we decided on the stone and I'm so glad we did! It's so pretty, and it adds so much charm and interest to the space!
Our stone is flagstone, and the color is Bouquet Canyon. I love the fact that it has grey, but it's not just grey which can sometimes go flat. It has lots of warm tones of beige and brown mixed with the grey which for us is perfect!
Pool Coping: Flagstone
We also used the stone as the coping around the pool. We added some stacked stone (also in flagstone), as well as a very simple tile for the water line tile.
The pool is plain old white plaster! We debated going with Pebble Tec which is very trendy (everyone we know has it). It's longer lasting, but also slightly more expensive. But as much as we loved the idea of the finish lasting longer, we just kept going back to that word ~ timeless.
That made choosing the old-fashioned plaster an easy decision. And I must admit, I love the way it looks! (and of course, cheaper is never a bad thing for my husband! 😉 )

The chaise lounges were already here and in good shape so those we kept.
Patio Cover
One of my favorite things we did in this backyard and pool renovation was to extend the patio cover! Previously, it only went over the French doors and the kitchen window (left of the doors).
As a result, the far left area, which is the lounge area, was always in the blazing sun. And that window on the far left is the dining room and it was always sunny and hot in there, too.
Before
After
It's amazing what a difference it's made! The shade is lovely – we can actually sit there in the afternoon or early evening reading, enjoying a glass of wine or sitting with friends. But it also made the patio feel so much bigger!
Before
After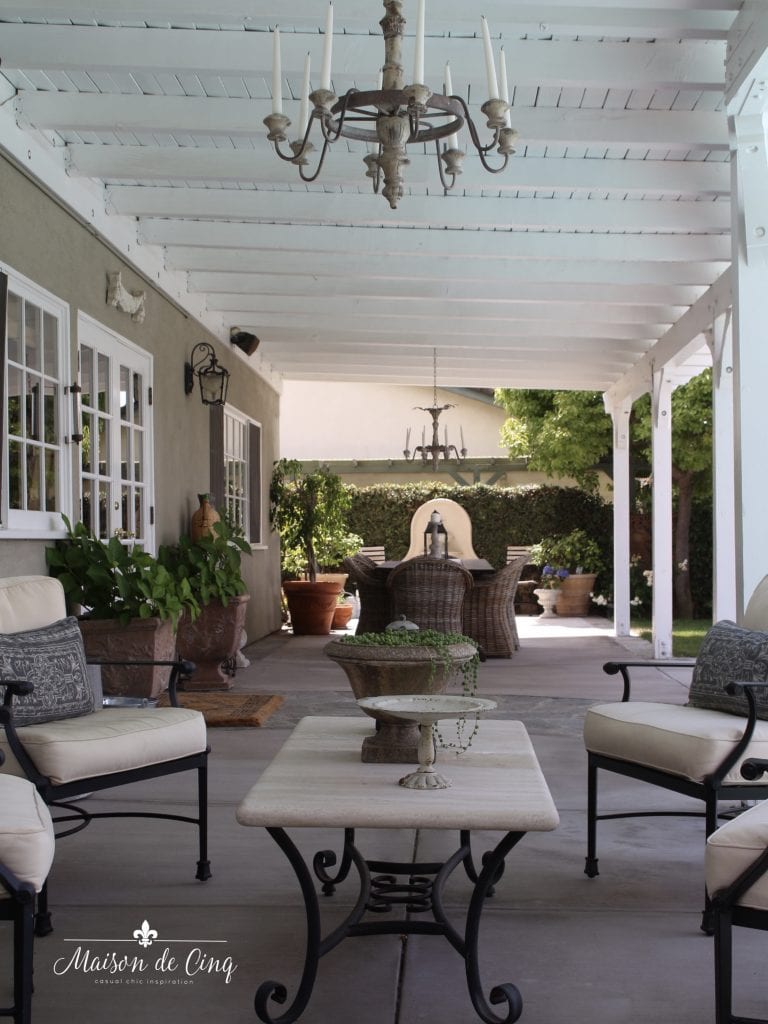 As far as furniture goes, I used almost everything that we had before. The wicker chairs and table, as well as the lounge chairs and chaises stayed.
Fountain
We also added a fountain which is something I had always wanted to do! It's the Estancia fountain by Campania. I first saw it at a local retailer and fell in love! Many of the other fountains I found were so busy. Just full of scrolls, and lion's heads, and floral relief details.
I really just wanted simplicity, which turned out to be something that Campania does very well. In fact, they are the only company I found that does such simple designs.
Flagstone Pathway
The stone pathway leading from the back doors to the spa was a last minute add. And can I say?! It's probably my absolute favorite thing we did!! The path adds so much charm, and of course, a lot more stone, which I love! But it also breaks up that very long patio, keeping it from being that 'sea' of cement I was worried about!
Fire Pit
If you've been reading lately, then you know that I already revealed the fire pit in this post. We love it! It's something we debated quite a bit. When you're spending a lot on such a big project, it's always a balance between splurging and saving.
At one point we removed it from the bid, but we ended up adding it back in, and I'm so glad we did! We've used it many times already, and even better, is my teens have been using it, too!
We are so thrilled with the result of our backyard and pool renovation, and I want to thank you all for following along! Not only here but also on Instagram. I started sharing videos in stories over there last year and got so much support and lots of questions – it was really fun to take you all along for the ride!
And also a huge thank you to my sponsors who so generously donated their products to this project:
If you want to see more, you can read about where we started, all the plans, plus the mood board for the project in this post. And if you want to see the landscaping, you can find those details here.
Backyard & Pool Renovation Sources


And if you're new here, I hope you'll sign up for my emails so you can follow along with the next decorating project!
Sheila
xo
Detailed Source List
Hardscape: Concrete surrounded with flagstone trim, color is Bouquet Canyon.
Pool coping and tile: Coping is flagstone. The highest row of tile is a stacked stone, color is Canyon Creek. The second row of tile (the waterline tile) is a simple faux stone tile.
Furniture: Chaise lounges are from Ballard Designs | Dining table was made by my husband, similar here, here, and here | Wicker chairs are from World Market and are discontinued, similar options here and here | Lounge chairs are from Ballard Designs | Adirondack chairs | Coffee table, old, similar here
Fountain: Estancia fountain by Campania
Lanterns: Pottery Barn and Home Goods
Outdoor Sconces: old, similar ones here, here, and here
Planters and Pots: Terrain, Pottery Barn and various vintage urns
If you enjoyed this post, be sure to check out some of my other summer decorating and outdoor inspiration posts below: