SPONSORED POST: This post is sponsored by Monrovia, but the content and opinions expressed here are my own.
Have any of you been planning on refreshing or re-doing your plants this spring? I don't know about you, but around this time of year I get so inspired to do a "backyard refresh!" Did you know that one of the easiest and least expensive ways to refresh any outdoor area is to plant some beautiful annuals or perennials? For us, the area we use most is our backyard patio. Not only do we entertain our guests there, we spend time swimming and enjoying that area frequently so I really wanted to add some colorful details to brighten the space!
We had an especially cold winter this year, and as a result, most of my potted plants had frozen or were really on their last legs. Also, last year I had used mostly white flowers and this year I was really craving color! I found myself gravitating to purples recently, and it's one of my favorite colors for flowers. Luckily, Lowe's had tons of beautiful purple and lavender Monrovia plants to choose from!
Monrovia plants are a brand I depend on, as theirs are high quality plants that last for years. Not only do they nurture their plants to ensure lasting beauty, they give you all the important information you need for optimum growing right on their plant tags, and on their website.
Since I wanted to keep a definite palette of purples and lavenders for my backyard refresh, I looked for plants that would work in my climate. Here on the outdoor dining table, I put lavender Bacopa in my larger center pot, and purple Petchoa in the two pots flanking that.
I love the look it creates on the table!
I also purchased two Speedwell plants, and placed one on the console table, and one over by the pool. Isn't it cute?! I just love it's cheery spires and deep purple color!
The purple is just the colorful detail the backyard needed to feel like it had a little "face lift!" Isn't it amazing how much cheer can be added with just a few plants?
If you are needing advice on what plants will grow well where you live, Monrovia also has a helpful blog on their website that can do just that. You can type in your area and up pops a list of what will do well in your area! Easy Peasy! And another thing Monrovia has that I just found out about? Did you know you can order directly from their website, and have your plants delivered to your local garden center for pick-up?! Seriously, how great is that?!!!
The beauty and color that flowers add to your yard, patio, or porch cannot be understated! I feel like the plants really did create a "backyard refresh" with very little investment.
How to Liven Up your Outdoor Space with Color!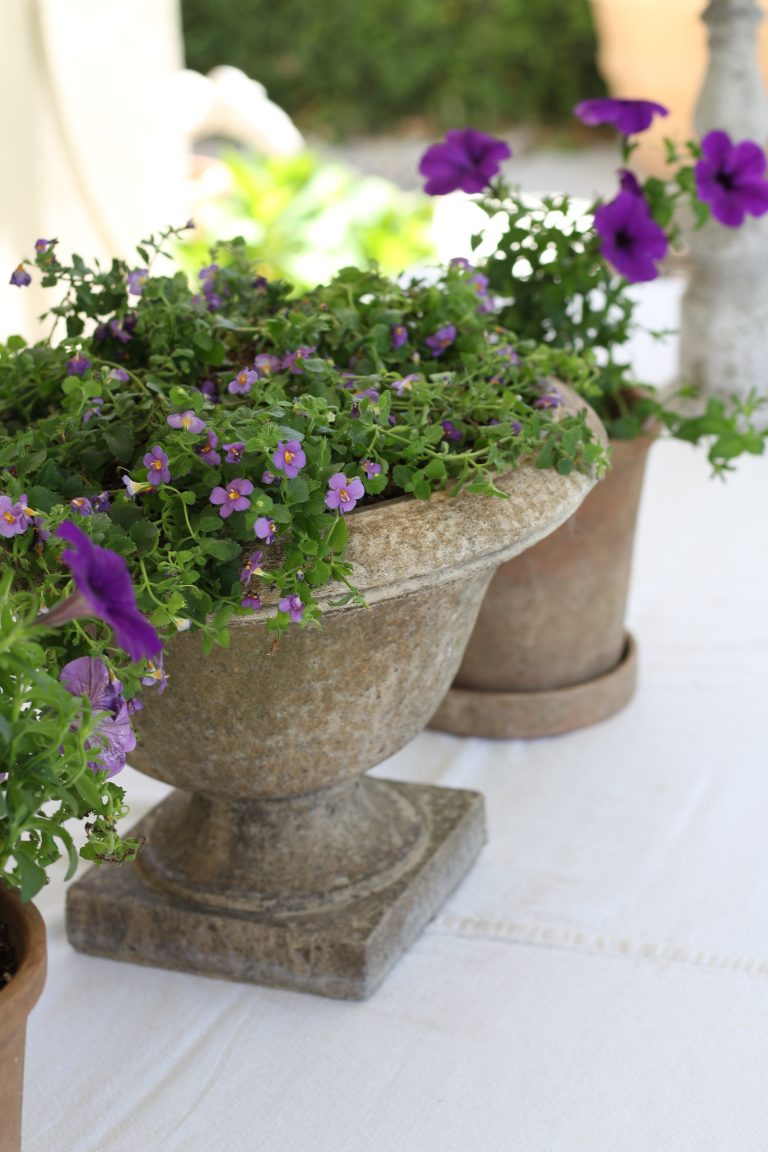 I bought my plants at my local Lowe's Home Improvement Center. You can also go here to order plants directly from Monrovia and have them delivered to your local garden center. And, if you need more information on what to grow, and where it does well, visit the Monrovia blog. And if you want to get some of my pots and garden accessories, I have linked to the same exact pots I have, as well as some other super cute ones, below!
Shop the Post!

(*please note some affiliate links have been added for your convenience)
Happy Gardening!
Sheila
xo