This Banana Cake with Cream Cheese Frosting is light and delicious, and full of fresh banana flavor. Perfect for a snack or dessert!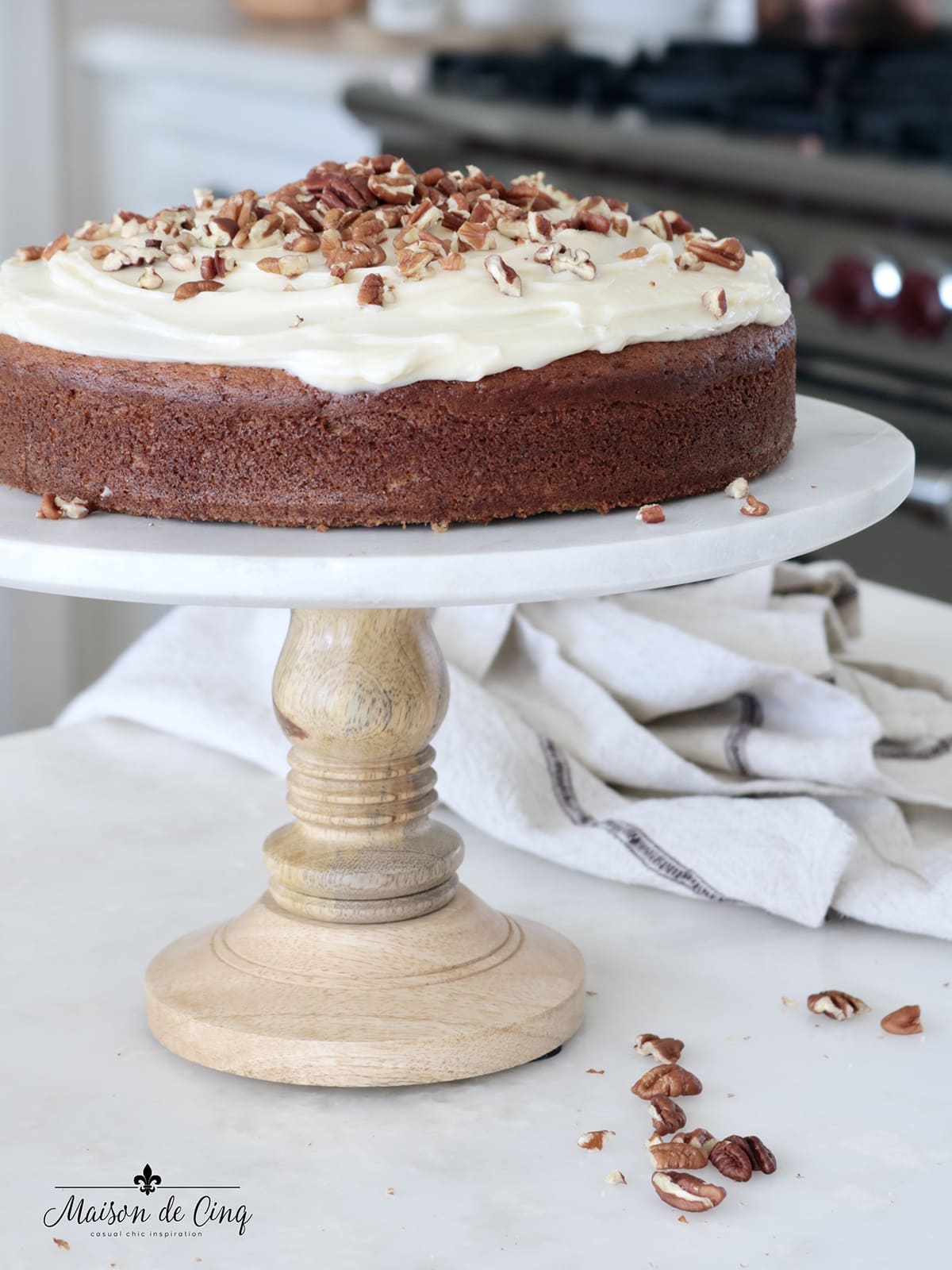 Fall is definitely the season of baking. Just the mention of fall has me busting out the mixer!
But who wants to slave over a hot oven during a pretty fall day? I love dessert, but I also love simple, and this banana cake is exactly that. It's light and delicious and easy to throw together. As perfect for an after school snack as it is for a dinner party!
THIS POST MAY INCLUDE AFFILIATE LINKS. CLICK HERE FOR MY FULL DISCLOSURE POLICY.
It seemed like when the kids were little we always had ripe bananas lying around, so as a result I was always looking for ways to use them up. We're big fans of banana bread and I made that often, but there were times when I wanted something slightly different.
And that's where this cake comes in.
This cake takes all the yummy banana-ness of banana bread and kicks it up a notch with the addition of cream cheese frosting.

And though I love the cream cheese frosting (I could seriously eat it with a spoon!), this simple cake is delicious all on its own. It's also great with lightly sweetened whipped cream or caramel sauce. Truly, you can't go wrong.
And where banana bread is heavier and denser, this is more delicate. Because of that, it's actually a much lighter dessert. And though it's super easy to make and can be whipped up in a jiffy, it's also got enough going on to be a fabulous dinner party dessert.
It's also the perfect thing to bring to a pot luck or bake sale. Or you know, just treat yourself on a Monday morning. 😉
And of course, when you make a cake you get an excuse to use a pretty cake stand!

Yield: 8 servings
Banana Cake with Cream Cheese Frosting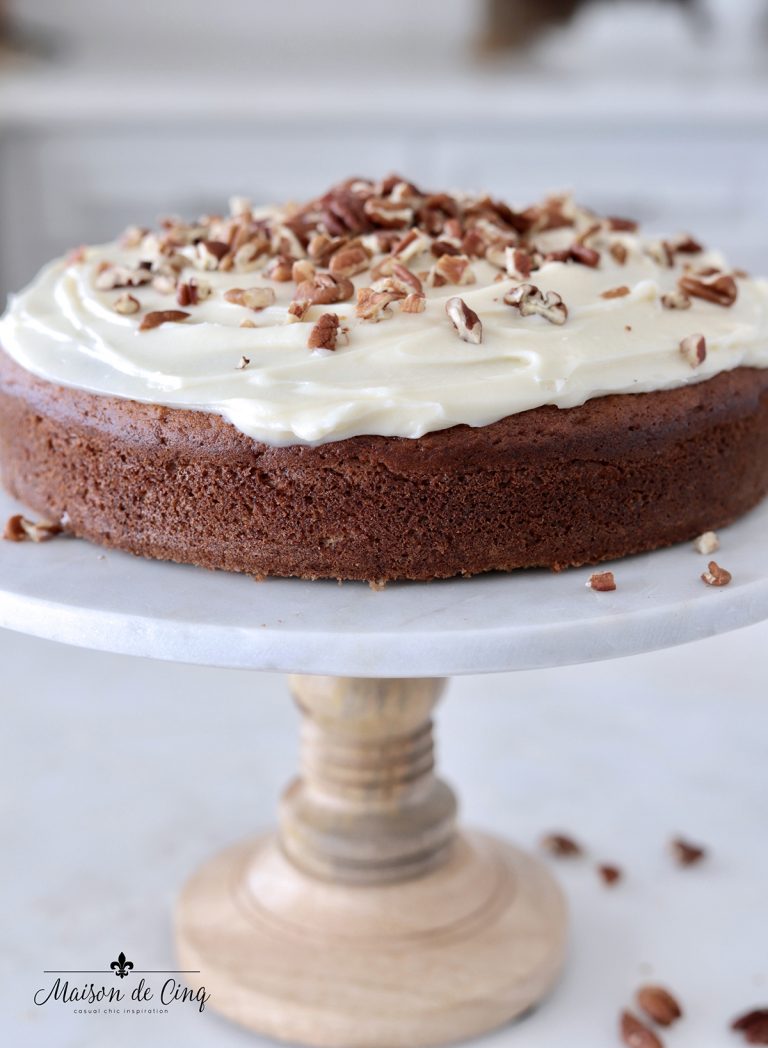 This Banana Cake with Cream Cheese Frosting is light and delicious - plus it's a breeze to make!
Total Time
3 hours
5 minutes
Ingredients
CAKE
1 stick (1/2 cup) unsalted butter, softened
2 cups all-purpose flour
1/2 cup light brown sugar
1/2 cup granulated sugar
1 tsp. baking powder
1 tsp. baking soda
1/2 tsp. cinnamon
1/2 tsp. kosher salt
3 medium very-ripe bananas, mashed
3 large eggs
1/2 cup plain yogurt or sour cream
1 tsp. vanilla
CREAM CHEESE FROSTING
5 oz. cream cheese, at room temperature
4 oz. unsalted butter, softened
2/3 cup powdered sugar, sifted
1 tsp. vanilla
Optional: chopped pecans for topping
Instructions
1. Preheat the oven to 350° F. Grease and flour a 9-inch round cake pan or you can use a springform pan (if you do, you don't need to flour it.)

2. In the bowl of an electric mixer, combine the butter and both sugars. Mix on medium-high speed until light and fluffy.

3. Meanwhile, sift the flour, baking soda, baking powder, cinnamon and salt into a medium bowl. Set aside.

4. Add mashed bananas to the butter mixture and mix until combined. Add the eggs, one at a time, beating at low speed after each addition until just combined. Mix in the yogurt and vanilla.

5. Turn the mixer to low and add the dry ingredients until just combined. Do not overmix.

6. Pour the batter into the prepared cake pan. Bake until a cake tester or toothpick comes out clean, 45 to 50 minutes. Cool in the pan for 5 to 10 minutes, then turn onto a wire rack and cool completely.

7. Meanwhile, using the electric mixer on high speed, blend the cream cheese and butter until light and fluffy, 4 to 5 minutes. With the mixer on low, add the confectioners' sugar and then the vanilla.

8. Spread the frosting on top of the cake. Decorate the cake with chopped pecans, if desired.

9. Keep any remaining cake refrigerated.
Notes
Make sure your cream cheese is fully softened before using. I like to leave it out over night - that way you get a creamy consistency with no lumps.
I reduced the amount of sugar called for in the frosting from 1 cup to 2/3 cup - feel free to use more if you prefer it sweeter.
Also, be sure to sift the powdered sugar so that there are no lumps in your frosting.
Because of the addition of cinnamon and pecans, this banana cake feels slightly fall-ish to me. But honestly, this cake is good any time of year!
And you probably have all the ingredients at home right now – so get baking!
Shop the Post

*affiliate links have been added for your convenience*
Happy Baking!
Sheila
xo
*adapted from Gourmet magazine*
Be sure to check out more fall recipes from my friends below!
And if you enjoyed this post, be sure to check out more fall recipes and inspiration below: