Bar Cart Styling – Building the Perfect Bar Cart
Do you want an easy formula for bar cart styling? Check out our tips and tricks and you'll be styling your bar cart like a pro in no time!
Today I want to share a new addition to the dining room, and that's my new bar cart! I've been wanting one for years and I'm excited to finally have one. And of course, I love the styling part the best, haha! Bar cart styling can be done in many ways, but I have a bit of a formula for those of you who might be getting one, or who have one and never quite know how to get it right.
What I love about owning a bar cart is how versatile they are. You can use them as they were intended, of course, but also in so many other ways as well!
They can stand in as an end table, a dessert table, an entry way table, or a wine storage table….. the possibilities are endless! I will probably use mine as a dessert table quite often, but for now I'm loving playing with my new bar accessories and fixing cocktails from it! 😉
My hubby and I feel like we're in a 1940's movie!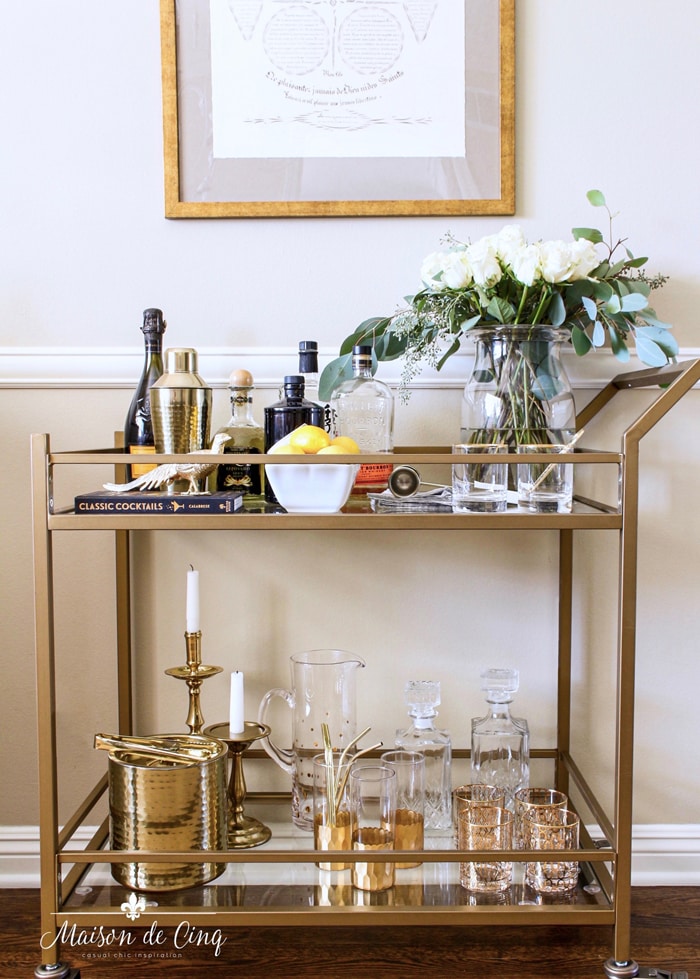 I'm so happy with the style and quality of the cart we picked. I love the brass/gold finish and it's nice and sturdy, too. I actually found so many cute options, I had a hard time deciding on one!

Bar carts are perfect for the holiday season and any entertaining you may be doing. They add a great spot to stash liquor and/or food at a larger party, but they can also stand in as the 'bar' of a smaller gathering.
It's such a fun and chic way to entertain and everyone seems to love hanging around them!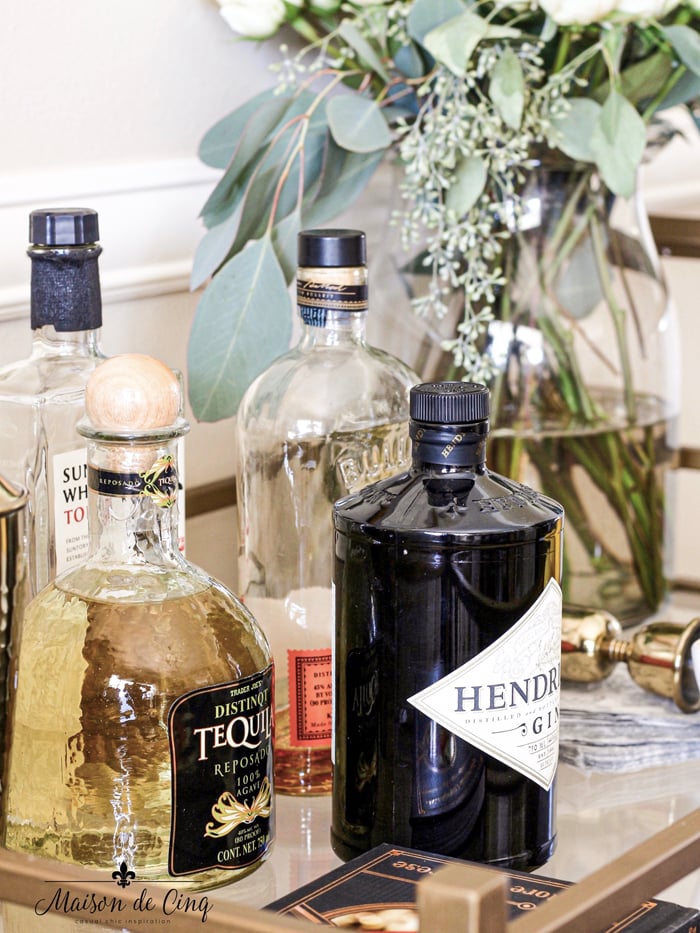 When accessorizing a bar cart, I suggest picking a theme or finish and I went with a brass/gold theme. Though I love mixing metals, here I thought it would be a little more sophisticated to keep all the metals the same.
I keep the prettiest bottles of alcohol on the bar cart, while stashing ones that are a little plain or more garish in a cabinet nearby.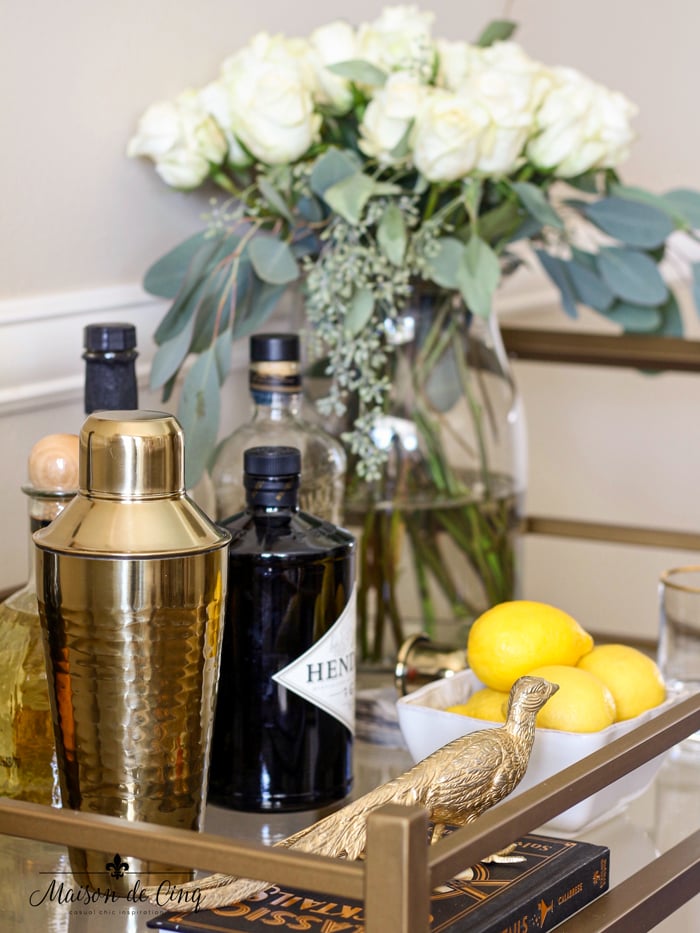 A cocktail shaker is a must, of course and I love the gold tone of this one! And I also added our favorite cocktail book for quick reference and a few accessories to personalize the cart.

Why not add something unique, like a quirky bottle opener or themed cocktail shaker? Not only is it fun (and what's a bar cart if not fun?) but it's also a great conversation starter!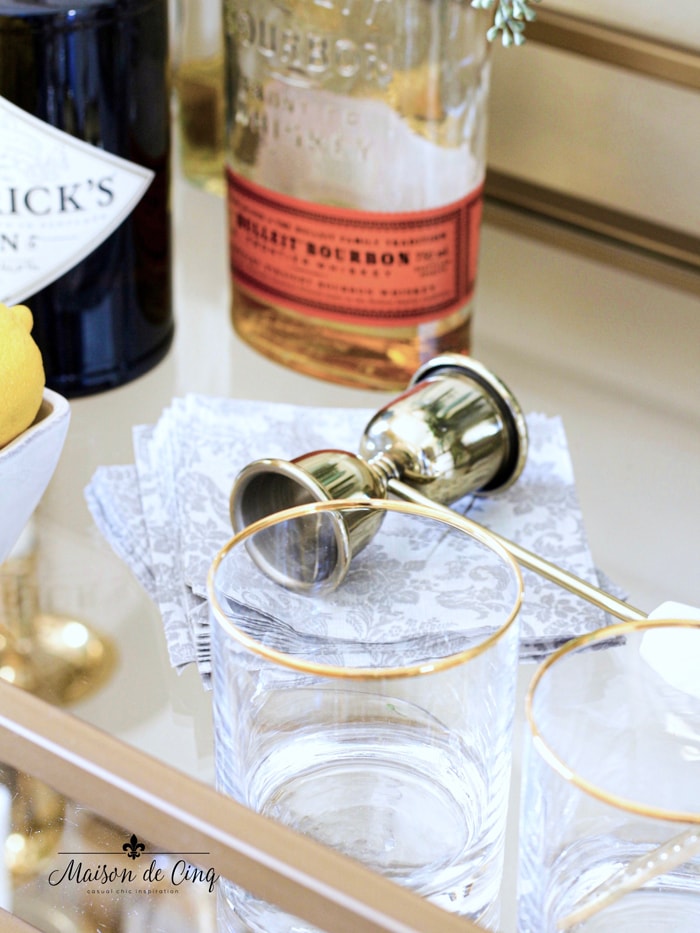 I've stocked mine with both low and high ball glasses, but if you prefer to only buy one or the other, then I'd go with a low ball or double old-fashioned. I love how the gold-rimmed double old-fashioned glasses look against the gold frame of the cart.
I mean, is there anything prettier than a gold-rimmed glass – especially at the holidays?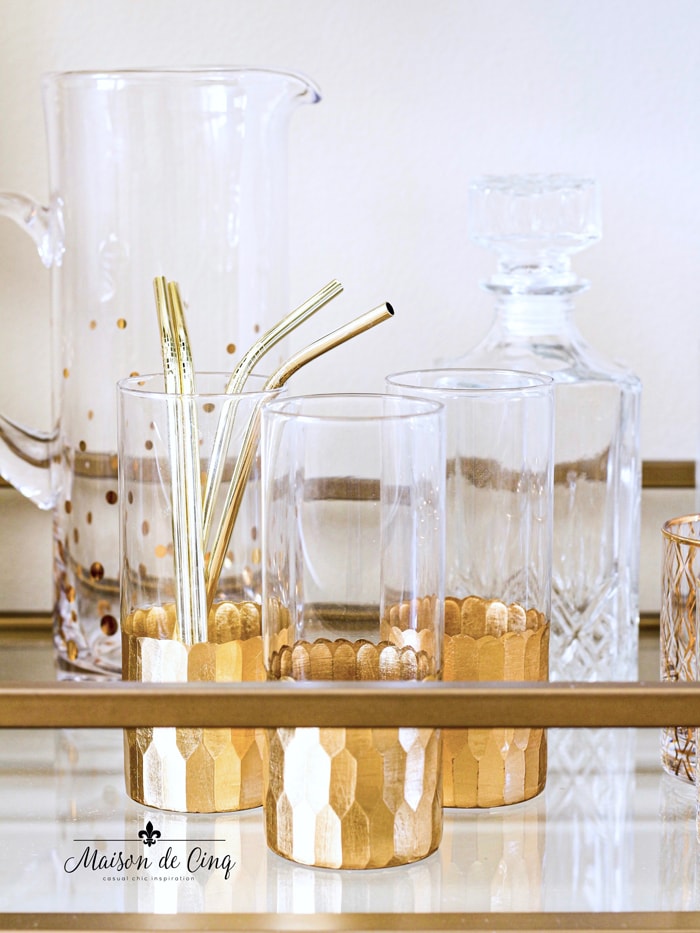 You might want to add some specialty glasses as well, especially if you drink any cocktails that call for them. I'm a huge fan of coupe or martini glasses, but you could also add special glasses for beer, margarita glasses, or even mugs for Moscow Mules. And if you have the room, it's nice to store wine glasses here as well.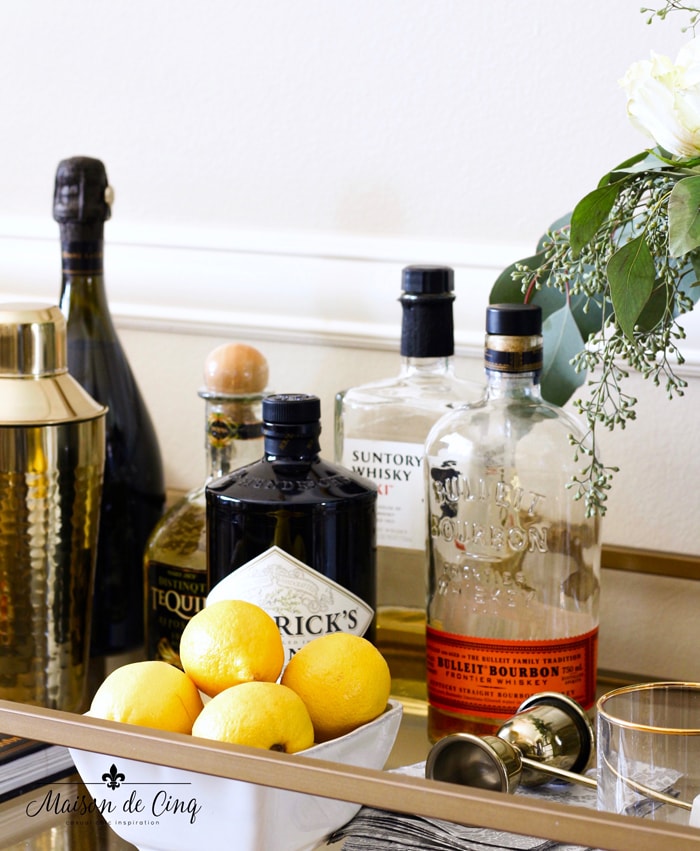 Another thing I like to do is add a few lemons or limes to the cart. Not only because we use them in our cocktails, but they add nice color as well.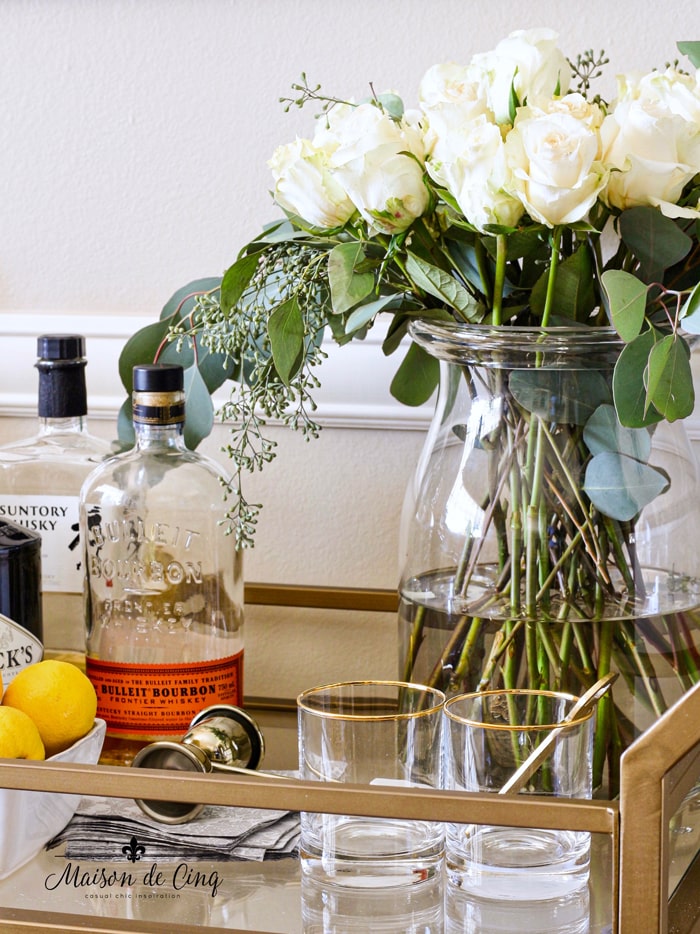 And for me, flowers are a must, especially if you're entertaining!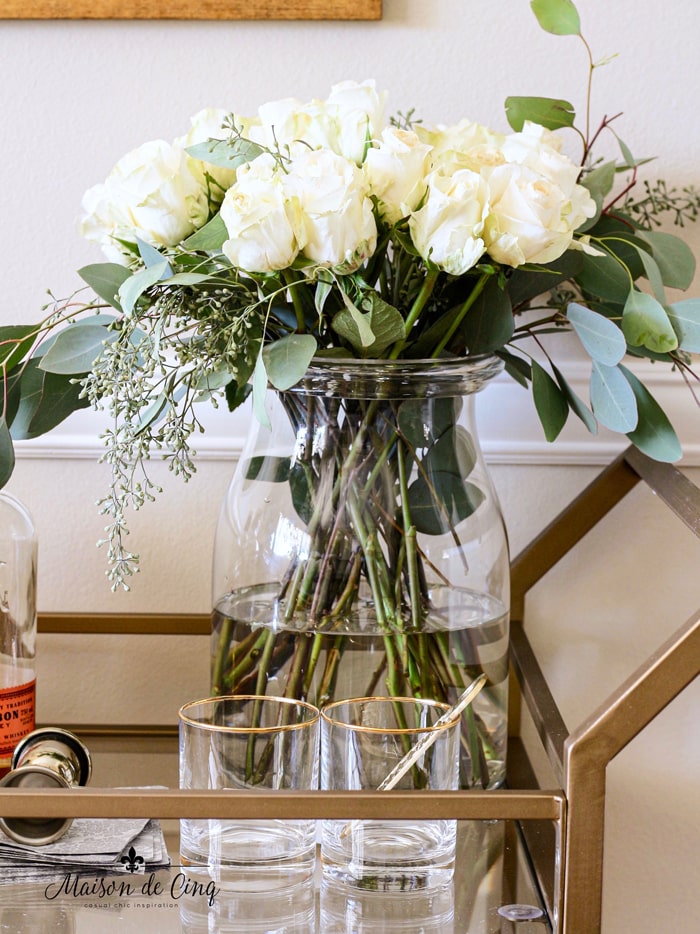 Other accessories to include are a bottle opener, ice bucket, a jigger or shot glass, and swizzle sticks or cocktail spoons.
And if you don't want to buy all kinds of accessories separately, there are beautiful bar sets out there that have all the basics already. And don't forget napkins!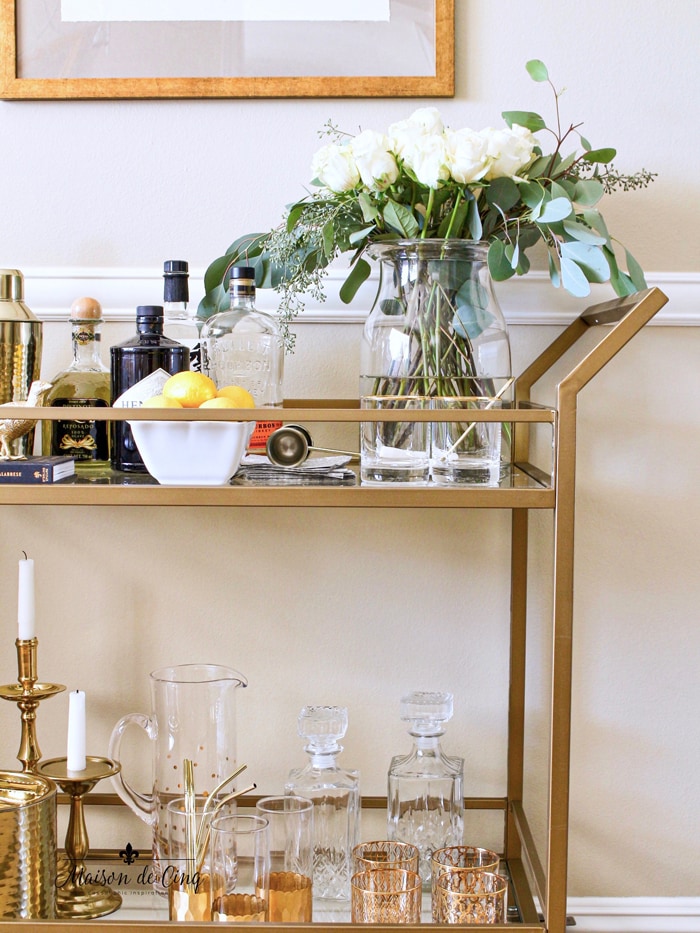 I love adding crystal or glass decanters to my bar cart. They are so elegant and really add that vintage-chic vibe. And you can store the alcohol from less attractive bottles in them!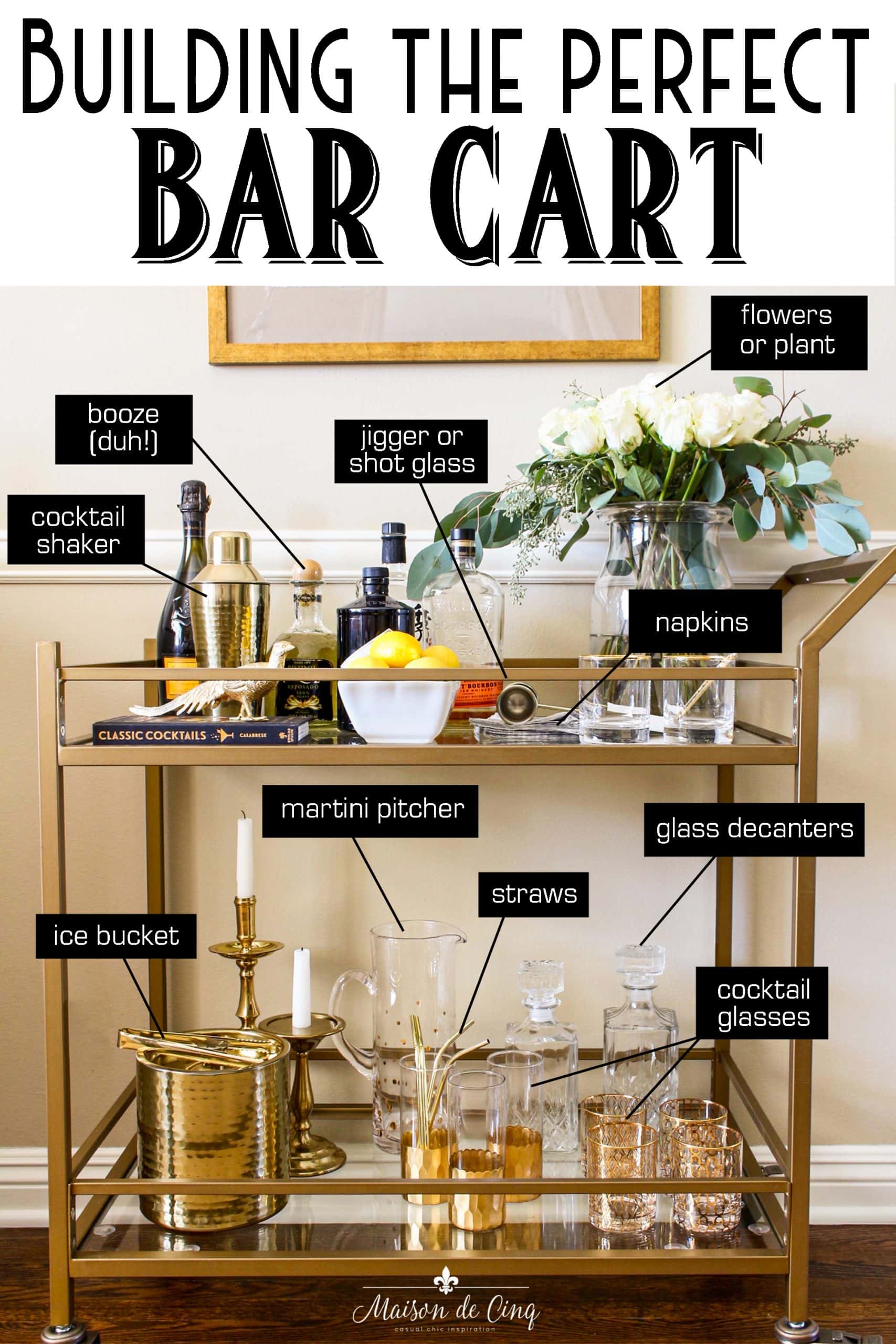 Bar Cart Styling Essentials
These are the essentials for styling the perfect bar cart!
Pretty bottles of booze
Cocktail shaker
Ice/champagne bucket
Jigger or shot glass
Cocktail tools such as a bottle opener, long cocktail spoon and strainer or better yet, a bar tool set
Cocktail glasses; ideally both low and high ball glasses
Something live! Like flowers or even a plant
Napkins
And a few optional items as well…
Straws and/or swizzel sticks
Lemons, limes or other garnishes
Vintage or reproduction crystal decanters (just because they're pretty!)
Pitcher for mixing drinks
Tray for preparing ingredients or mixing drinks
Decor items that add some personality or quirkiness
I hope this guide to bar cart styling has inspired you to create a cute cart of your own. And even if you don't have a cart, you can easily create a great bar area using a console table or other small table in your home.
Setting up for a small cocktail party with a styled and stocked bar cart is one of the easiest and most stylish ways to host this season. Add your booze and some of the accessories I mentioned, and you're all set for the holidays!
Shop Bar Cart Styling



*please note some affiliate links have been added for your convenience*
Sheila
xo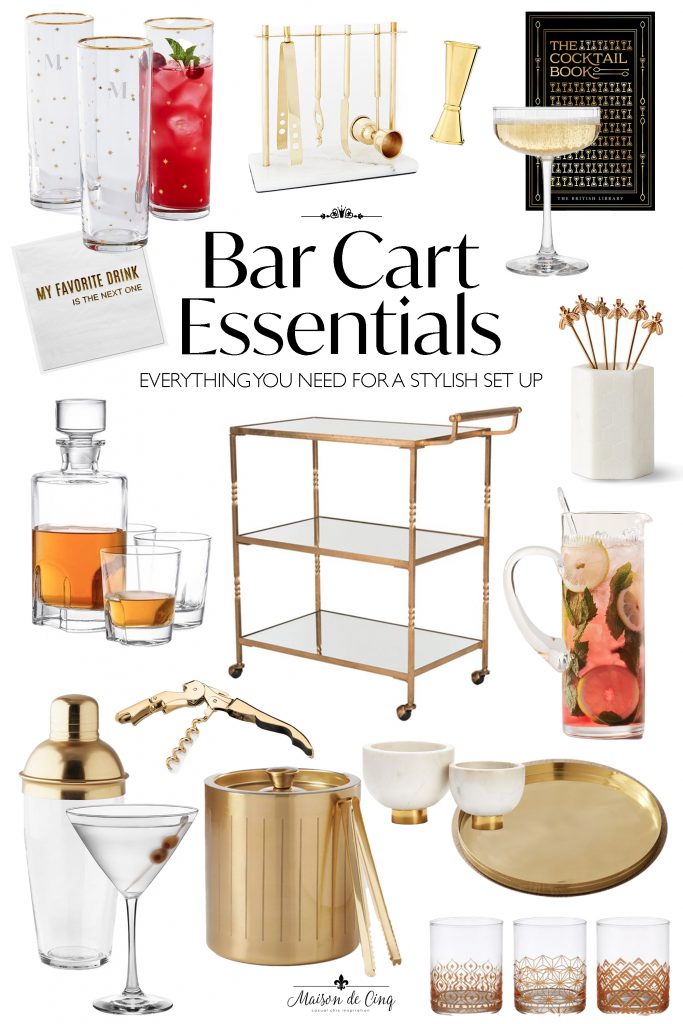 If you enjoyed this post, be sure to check out more entertaining posts below!