If you follow design trends at all, or peruse Pinterest frequently, I'm sure you've seen the trendy patterned tiles in bathrooms, kitchens, and laundry rooms. I think I first saw them a couple of years ago, and from that moment on, I was smitten!
Most of the tile seen on Pinterest and the like is caustic cement tile. Reminiscent of age old tile, it's something that's been used in Europe for centuries, but only became popular in the states in the last few years. It has a unique matte finish which is one of the things I like best about it. It's also very smooth to the touch with a silky feel. Upon researching, however, it turns out it has a bit of a troubling reputation!
Like marble, there are those who love it and those who hate it. Cement tile stains more easily than porcelain tile, is handmade (read: more expensive to install due to the lack of consistency), and wears more quickly than other tile. Developing patina over time, it may scratch or stain more easily than other surfaces, and needs to be continually re-sealed (does this not sound like someone describing marble?!) It seems to me it's really the same argument. Either you are okay with some patina (what that really means is, scratches and wear!) or you aren't. These are, to my eye, perfectly imperfect. And what's more, because they are often bold in color and/or pattern, I think when they fade or wear some, it would soften them up and make them look even better!
And, I have to say, despite the naysayers, I'm in love! It feels very Old World to me and I love the handmade quality of it. Like marble or any natural stone, it adds character and texture that you just don't get with perfectly smooth surfaces. And it definitely adds lots of charm to any space you put it in!
And, it turns out that since it has become so popular (no waning of this trend yet!) they are now making porcelain tile in similar patterns so for those who would prefer a little less "patina" or  maintenance, you can now have the best of both worlds! Here are some of my favorite rooms featuring cement tile….
So gorgeous!! Design by Old Seagrove Homes.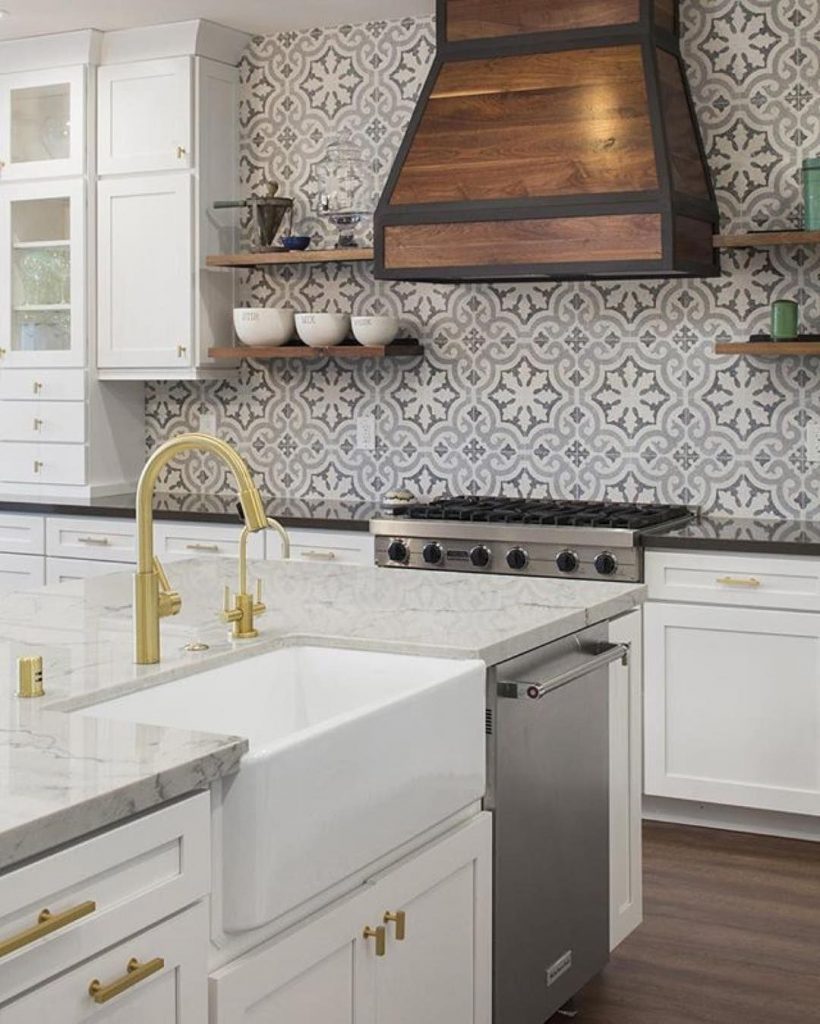 Design by Jennifer Muirhead via Style Me Pretty.
I love, love, love cement tile in a laundry room!! Design by Taylor Borsari via Decor Pad.
Love this floor! Design by Jennifer Huges via Style at Home.
Probably my favorite kitchen Joanna Gaines has ever done! Via HGTV.
This bold floor in the modern farmhouse kitchen looks amazing! Lori Gilder Interiors via Dering Hall.
This bathroom is stunning! You can tour the rest of this fabulous English farmhouse style home via Life on Virginia Street.
Cement tile can also be used outdoors. One of my absolute favorite patios ever! Via Emily Henderson.
Design by Joanna Gaines via Pop Sugar.
Byrd Design via Decor Pad.
Adorable mud room Via Kate Marker Interiors.
This laundry room – dying! Lexi Westergard via Decor Pad.
Oh, so pretty! Via Dana Benson Construction via Decor Pad.
LOVE!! Kitchen designed by Kitchen Lab via Domino.
I'm crushing on it big time, and I would love to use it in my own home. I would love to use it in a laundry room (I think that's probably my personal favorite!) in my next home – assuming I'm lucky enough to have one next time, haha! How about you? Would you use cement tile in your house?
If you want to read more about design trends or kitchen inspiration, check out some of the posts below!
Decorating with Pantone's Color of the Year
Sheila
xo