Vintage Chanel Jewelry: A Classic that Never Goes Out of Style
Vintage Chanel jewelry is so gorgeous! It's definitely an investment, but it's also a classic that will never go out of style!
Vintage jewelry is something that I've always been drawn to. I've been collecting for quite a few years now. My favorites are vintage gold chains, lockets, and old watch fobs. But only recently did I discover the beauty of vintage Chanel jewelry!
THIS POST MAY INCLUDE AFFILIATE LINKS. CLICK HERE FOR MY FULL DISCLOSURE POLICY.
After seeing some in an antique jewelry store in Santa Barbara a few years ago, I have been oohing and aahing over photos of Chanel jewelry on Pinterest ever since. Though I love both the necklaces and the bracelets, it is the bracelets that have really captured my heart!
Chanel Jewelry has become synonymous with luxury, sophistication, and timeless elegance. Before Chanel came on the scene in the 1920s, jewelry was only affordable to the rich as it was made with precious stones and real gold or silver.
Fashion or 'costume' jewelry was less desirable and actually looked down upon by the upper class. Enter Coco Chanel, who broke all the rules!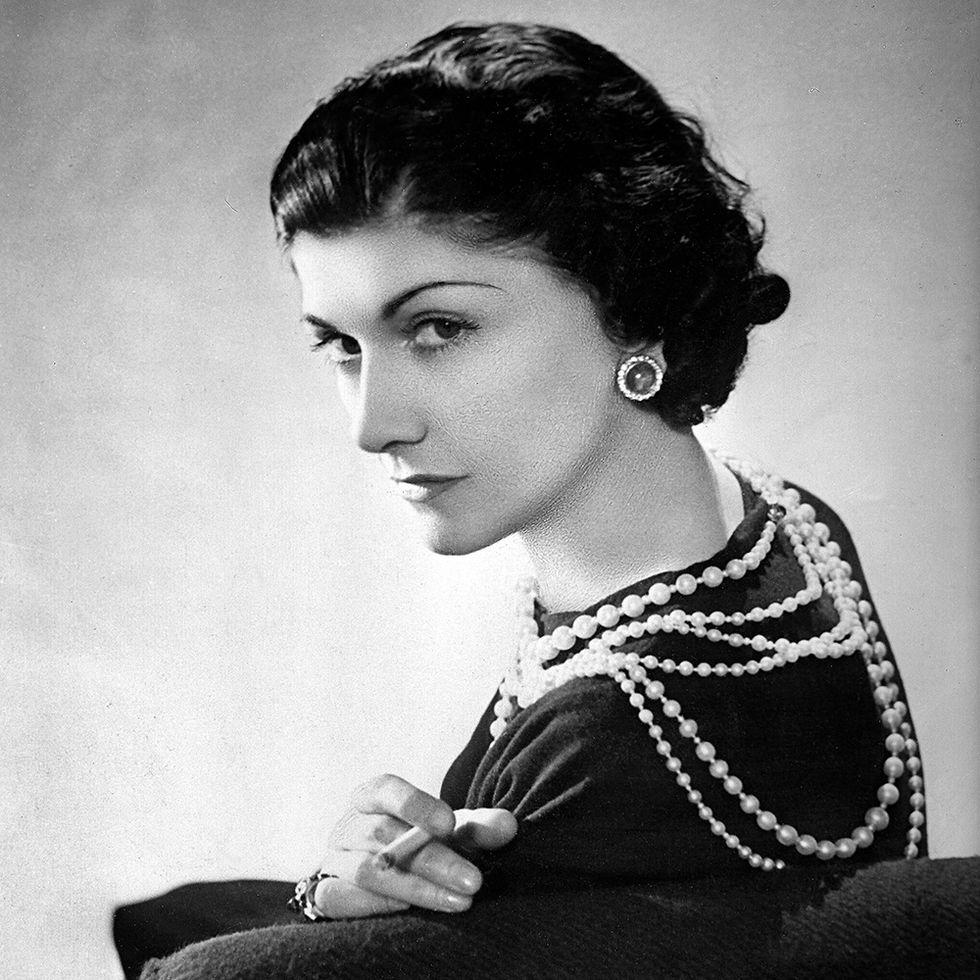 Coco Chanel loved to mix her costume jewelry designs with her own precious jewelry. She even occasionally blended actual stones with fake stones when creating jewelry. She was the original high/low mixer!
Her clothing designs were actually very simple, so layering lots of bolder jewelry worked in perfect contrast. And because women wanted to emulate her, her designs revolutionized the way women wore jewelry.
One of the first pieces made was the now iconic Chanel Maltese Cross motif. The Maltese cross was filled with multi-colored semi-precious stones and set upon a mismatched pair of white enamel bracelets. Chanel wore these bracelets constantly and they became one of her signature looks.
Another signature look was layers and layers of pearls. She often mixed her authentic pearls with the imitation ones her company made.
If you're looking to acquire some vintage Chanel jewelry, make sure to look for markings as there are many fakes on the market.
The earliest pieces, those from 1914-1939, are unmarked. From the 1950s-1960s the pieces were only occasionally marked. But starting in the 70s, most pieces should either be marked "Chanel" on the piece, or have a round tag attached to the piece saying "Chanel CC Made in France." More modern pieces from 1980 to today will have the above, and also include the season it was produced, or even the collection.
The plating on authentic Chanel jewelry is usually very thick and will not wear easily with proper storage and care. Faux pearls should be heavy (made of glass with a pearl coating, rather than a plastic), and any marks present will be completely legible under magnification with a jeweler's loupe.
And of course,
be sure to buy from a reputable dealer.
Both
The Real Real,
Fashionphile
and
Farfetch
guarantee authenticity and are very reputable. You can also find them on
Ebay
, but be sure to read reviews on the seller to see if there are any red flags and/or make sure that the item is returnable, just in case.
And though vintage Chanel jewelry can be pricey, it's also a classic. And as such, it really holds its value. I've been looking and shopping it for several years now, and regardless of the economy, the prices seem to stay steady. Though that's bad news for us as the buyer, it's great news for us as the investor!
Shop Vintage Chanel Jewelry

Sheila
xo