Chocolate Peppermint Crunch Cookies
These delicious chocolate peppermint crunch cookies have both melted chocolate and cocoa powder as well as two types of peppermint to create a rich and holiday-perfect dessert!
When I was a little girl, we made batches and batches of Christmas cookies to take to neighbors and friends, and I've continued that with my kids as well.
It's one of those things that really makes the holidays feel special, and I love continuing the tradition. However, I've pared down our baking from what we did back then.
Rather than doing dozens of sugar cookies with lots of messy decorating (ie; frosting and sprinkles, oh my!) I pick one favorite each year and make that one for everyone.
This means there are only a handful of cookies that pass the test – but these are one of them!
These Chocolate Peppermint Crunch Cookies are truly one of my all-time favorite cookies, combining two of the most popular holiday flavors. And every time I've brought them to friends or neighbors, I've gotten tons of compliments.
I've made a lot of holiday cookies in my life, and I can honestly say these are in the top five for sure!

Bringing together the delicious combo of peppermint and chocolate – these cookies are reminiscent of peppermint bark. In fact, they're like peppermint bark but in cookie form!
These start with a double chocolate base, using both melted dark chocolate and cocoa powder which makes them extra rich and delicious.
The peppermint flavor also makes a showing twice, both in the batter and in the crunchy candies on top.
And yet, as 'fancy' as these look, they're actually one of the easiest cookies to make! There's no refrigerating dough in between, and they are easily made (and eaten) in one morning or afternoon. 😉

But be careful – I ate quite a few just when I was shooting them – they're that good! I challenge you to eat just one! 😉
Yield: 36 cookies
Chocolate Peppermint Crunch Cookies
These cookies have double doses of both chocolate and peppermint creating a delicious, crunchy sweet perfect for the holidays.
Additional Time
40 minutes
Total Time
1 hour
43 minutes
Ingredients
2 1/2 cups bittersweet chocolate chips (15 to 16 ounces); divided
1 1/2 cups all-purpose flour
1/4 cup natural unsweetened cocoa powder
1 tsp. baking powder
1 tsp. instant espresso powder
1/2 tsp. kosher salt
1/2 cup (1 stick) unsalted butter, at room temperature
1 cup sugar
1 tsp. vanilla extract
3/4 tsp. peppermint extract
2 large eggs
6 candy canes or 25 red-and-white-striped hard peppermint candies, coarsely chopped
Instructions
Preheat oven to 375°F. Line 2 large rimmed baking sheets with parchment paper. Stir 2 cups chocolate chips in medium metal bowl set over saucepan of simmering water until melted and smooth. Measure out 2/3 cup melted chocolate; transfer to small bowl and reserve for drizzling.
Whisk flour, cocoa powder, baking powder, espresso powder, and salt in medium bowl.
Using electric mixer, beat butter and sugar together until creamy and smooth.
Add eggs and both extracts; beat until blended.
Beat in melted chocolate from medium bowl.
Add in dry ingredients, mixing until just combined.
Stir in remaining 1/2 cup chocolate chips.
Measure 1 level TBSP. dough; roll dough between palms to form ball. Place on prepared baking sheet. Repeat with remaining dough, spacing cookies 1 1/2 inches apart.
Bake cookies until cracked all over and tester inserted into center comes out with large moist crumbs attached, 8 to 9 minutes.
Cool cookies on baking sheet 5 minutes.
Transfer cookies on parchment paper to racks to cool completely.
Rewarm reserved 2/3 melted chocolate over small pan of simmering water. Using fork, drizzle chocolate over cookies. Sprinkle crushed candy canes over, arranging some pieces with red parts showing.
Chill just until chocolate sets, about 15 minutes.
Eat and enjoy!
Notes
*The cookies here are slightly larger than 1 TBSP. - I used closer to 1 1/2 TBSP. dough which made 30 cookies.
Do ahead: Can be made 3 weeks ahead. Store airtight in freezer. Bring to room temperature before serving.
These are perfect for gifts for neighbors, friends or teachers, or for bringing to a cookie exchange.
Or of course, you could just make them for yourself. It is the holidays after all! 😉
Shop the Post

*affiliate links are included for your convenience*
Happy Holiday Baking!
Sheila
xo
*adapted from Epicurious
Now be sure to check out some of my friends who are also sharing yummy holiday cookie recipes below!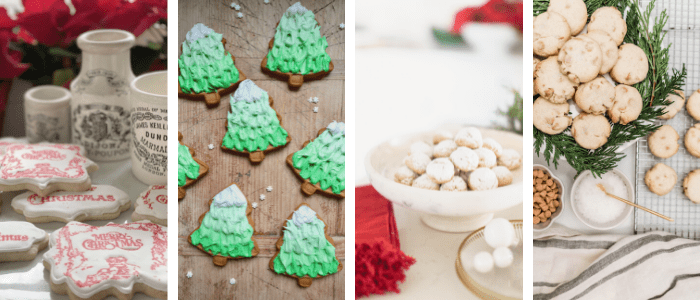 Classic Sugar Cookies For Christmas // My 100 Year Old Home
Christmas Cookie Hack // My Sweet Savannah
Mexican Christmas Cookies // Just Destiny
Salted Butterscotch Shortbread // Life Is Better At Home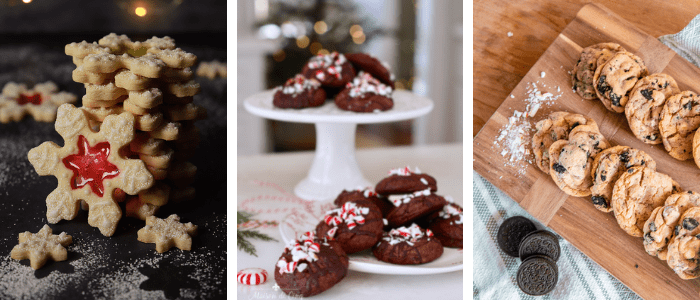 Stained Glass Sugar Cookies // Paint Me Pink
Chocolate Peppermint Crunch Cookies // Maison de Cinq
The Yummiest Oreo Cookies and Cream Cookies // Twelve On Main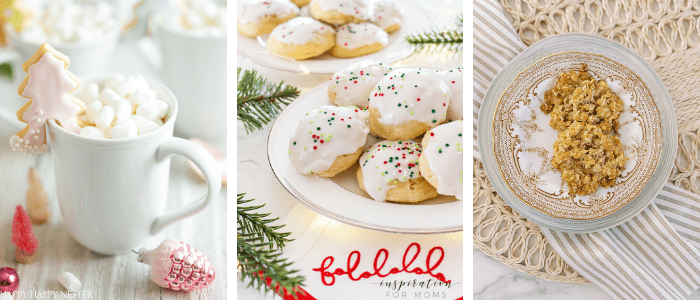 Hanging Mug Topper Cookies // Happy Happy Nester
Italian Christmas Cookies // Inspiration For Moms
Anzac Biscuit Cookies // Finding Lovely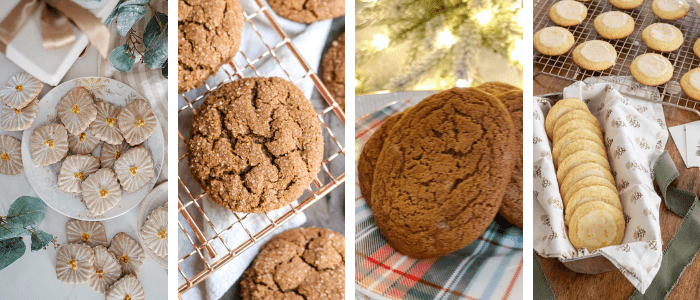 How to Make Easy, Mild Gingerbread Cookies (no molasses!) // The DIY Mommy
The Best Ginger Molasses Cookies // Modern Glam
The Best Soft and Chewy Ginger Cookies // The Happy Housie
Orange Glazed Sugar Cookies // Sincerely, Marie
If you enjoyed this post, be sure to check out more recipes and holiday inspiration below!