Christmas Kitchen Decor – It's a Blue, Blue Christmas!
In today's post we're sharing our Christmas kitchen decor, and it's a blue Christmas this year! Our holiday palette consists of lots of whites along with some touches of soft French blue for a subtle take on the season.
Can you believe it's that time of year again?! Today I'm joining an amazingly talented group of 15 other bloggers for our annual Seasons of Home Holiday series, and we're all sharing our kitchens decked out for the season.
I know it can seem a little early for some (especially my husband, haha! 😉 ) but our idea in sharing early is to give you ideas for your own holiday decorating. I find that when I'm planning I start looking on Pinterest for inspiration and ideas around this time, so we want you to get inspired ~ even if you're not decorating for a few weeks yet!
Personally, I love starting with a touch of Christmas in the kitchen. It seems like a place where you can add a few touches without going full force. And why not decorate an area you spend so much time in?! And this year, I have a bit of a surprise for you. In fact, it's a surprise for me, too!
Last year, I did a Christmas that was mostly neutral, with touches of blush and copper. But this year I'm going in a completely different direction! Of course, I'm still decorating in mostly neutrals, but this year I'm adding some French blue to the equation. And funny enough, I've never loved blue in Christmas decor. That is, until now…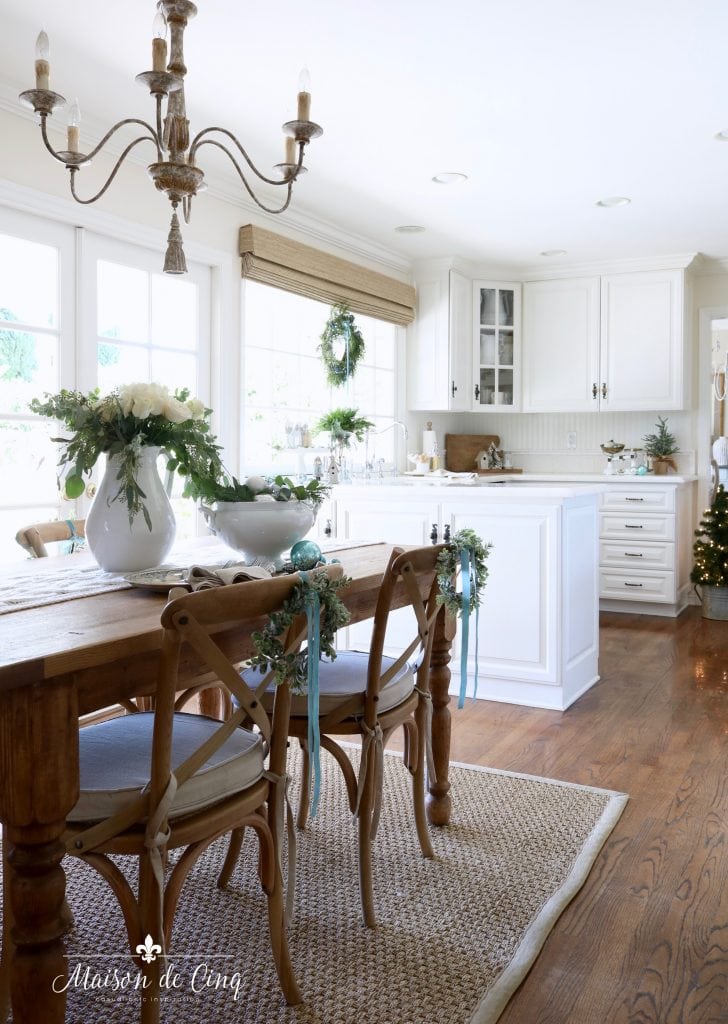 The first place I usually add Christmas kitchen decor is to this little corner of my counter. A gathering of a little vintage Santa, some ornaments, and a paper mâché house featured on a cake stand.
I love using cake stands as decor in the kitchen! They make anything look cute and special – they're not just for food!

Can I tell you a secret? This little blue velvet Santa is the thing that inspired this entire season ~ and I bought it last year! I literally saw this little guy late in December and the second I saw him and that gorgeous soft blue color, I knew it was going to be my color palette for this year!
I usually add this little tree in the kitchen, too, just for some added texture, greenery and sparkle 😉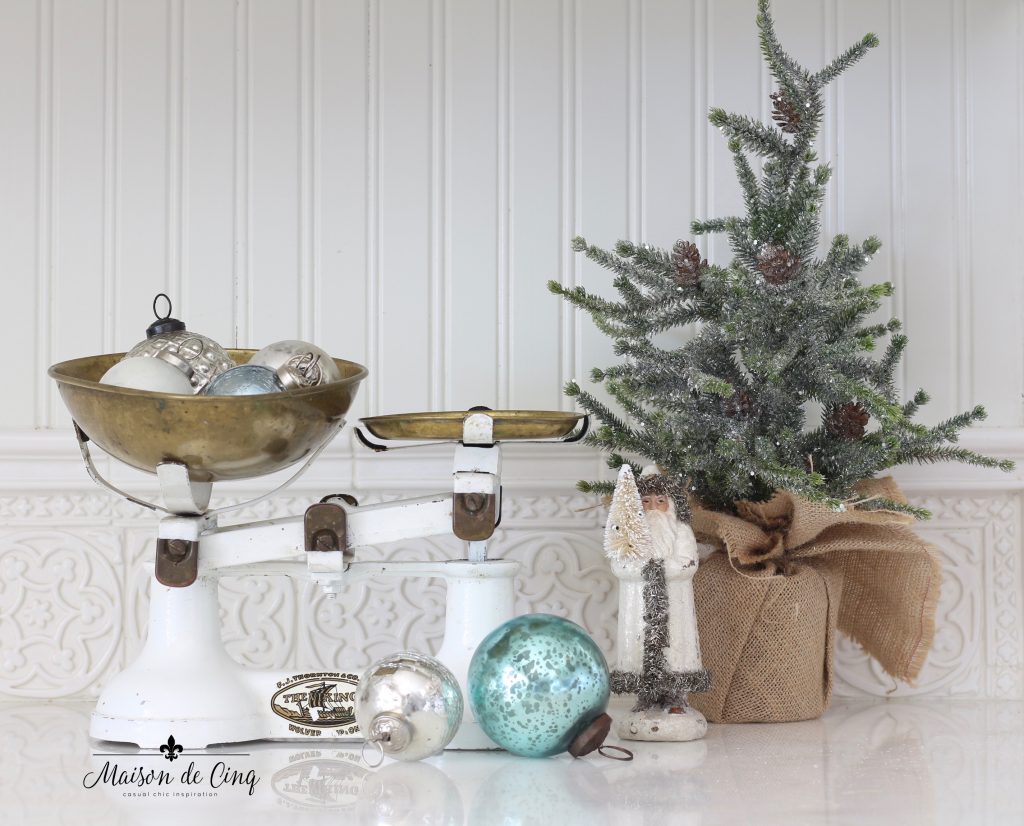 More ornaments, a little tree and another vintage Santa decorate the counter on the other side. I love using ornaments as decor ~ it's easy and so festive, and it doesn't involve buying anything special!

A couple of white trees, a little bottle brush wreath and some eucalyptus decorate the stove mantel.


The great thing about using mostly neutral Christmas decor, is that you just need to buy a couple of boxes of ornaments of whatever color you want to add! I purchased 3 boxes of new blue ornaments, the blue Santa that started it all, and some blue ribbon. That's it!




These little frosted wreaths were a new purchase last year (except I used cream ribbon) and they are out again because I love them so much!




More silver and blue ornaments in my antique French ironstone tureen. I broke the top so it's the perfect way to continue using it!

Thanks so much for stopping by today! I hope this inspired you and got your juices flowing for your own holiday decor!
And be sure to visit my talented friends for more Christmas kitchen decor inspiration ~ they are so good!!
Sheila
xo
Shop Christmas Kitchen Decor


*please note some affiliate links included for your convenience*
Seasons of Home Christmas Kitchen Tours
Ella Claire & Co. | Zevy Joy | Inspired by Charm | Maison de Pax
Dear Lillie | The Lilypad Cottage | Maison de Cinq | Kindred Vintage
Rooms for Rent | Home Stories A to Z | Craftberry Bush | French Country Cottage
The Handmade Farmhouse | Boxwood Avenue | Nina Hendrick | My Sweet Savannah
If you liked this post, you might want to check out a few of my previous Christmas tours for more inspiration below!