Easy Farmhouse DIY Christmas Tree Advent Calendar
Today I'm sharing one of the easiest projects ever, my DIY Christmas tree advent calendar! This cute little farmhouse advent tree is easy to create and not only adds charm, but also adds special meaning to the season, too.
Today I'm joining some friends for a new once-a-month decorating series called 20 Minute Decorating! Isn't that so smart?!
I love that they thought of this, and even more, I love rising to the challenge of finding easy, inexpensive ways to decorate that take almost no time at all! In today's installment, we're all sharing some fun and easy holiday decorating ideas, but they won't always be seasonal. We'll be bringing you all sorts of ideas that are easy to implement with little time or effort!
And today I'm sharing one of my favorite projects I've ever done, my cute farmhouse-inspired DIY Christmas tree advent calendar!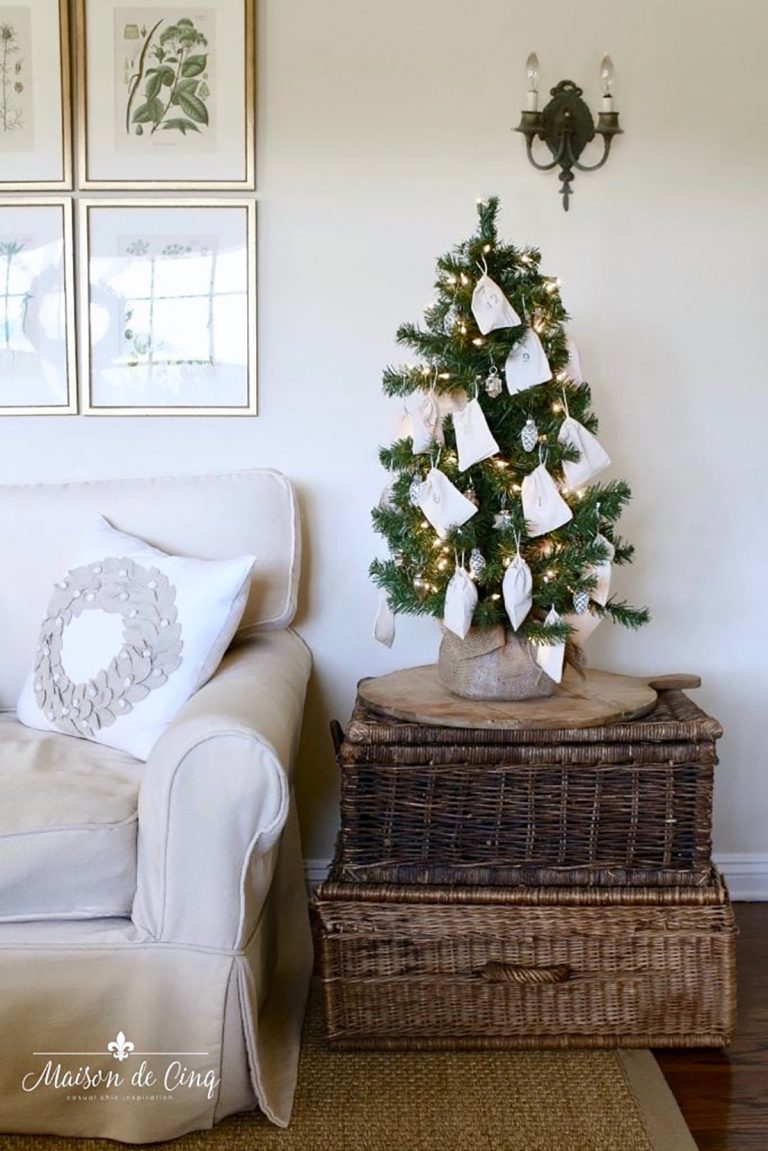 I created this a few years ago as part of my French Inspired Family Room Christmas Tour, but I never got a chance to share the tutorial until today. I always get questions about how I did this and the sources I used, so today I'm sharing all the details of this easy project!
How to Make a Christmas Tree Advent Calendar
Christmas Tree Advent Calendar Supplies
1. small tabletop Christmas tree (mine is about 3 ft.)
2. muslin bags
3. blank ink stamp pad
4. number stamps (I used this set which also includes letters)
5. ornaments, treats, advent cards or other items for inserting in the bags

As I'm sure you guys know by now, I am not a crafter by any means. But this project is literally soo easy, anyone can do it! Even my fellow non-crafters! 😉
I purchased the muslin bags from Michael's. I believe they came in a pack of 12 and I purchased two. Then you'll need some number stamps and a black ink stamp pad. And then of course, whatever you decide to put into the little bags for people to open.
After that it's just a matter of stamping the bags with the numbers 1-24 and deciding what you'll put inside!
When my kids were younger, I used to put candy or even a small toy like a Hot Wheel inside some of our advent calendar containers. But when I made this they were all a little older so I decided instead of a treat I would add an ornament and a cute advent card with something seasonal to do on it. I purchased the cards on Etsy, but you could also easily make your own.
The sweet advent cards give us all something to look forward to each night.
There are things like "sing carols", "address holiday cards", "watch a Christmas movie", or "make a snowman." All of them fun ways to celebrate the season. And of course if you make your own cards, you can have them say literally anything you want!

The finished tree is so cute and adds a lot of charm to the Christmas decor. And because each day an ornament is added to the tree, it slowly gets decorated as the days go on. 😉
I used a mix of small mercury glass ornaments – my favorite! Here I used mostly silver and a few white and green, but I have them in several colors. Last year I used blue and the year before I found some pink! They are fun to leave in bowls around the house or add to any little vignette.

Christmas Tree Advent Calendar Resource List

*affiliate links added for your convenience*
Happy Holidays!
Sheila
xo
Please be sure to visit all the other simple holiday decorating posts below!
Designthusiasm • Mini Christmas Tree | Maison de Cinq • Advent Calendar | On Sutton Place • DIY Centerpiece
Shabbyfufu • Pink Decorations | StoneGable • Easy Arrangement | In My Own Style • Colorful Decor