Stunning Classic Cape Cod Home – Inspiring Home Tour
I would be willing to bet that you've never seen a house quite like today's inspiring home tour! This home in Massachusetts manages to evoke a classic Cape Cod style home, yet also be amazingly unique.
I'm so excited to share my friend Sandra's home with you today! Sandra blogs at Old Silver Shed, which is also the name of her home overlooking Old Silver Beach in Cape Cod, Massachusetts.
They fell in love with the location and bought a run-down 1905 Victorian home in 2004 with the hopes of restoring it. I can see why they fell in love – the setting is truly magnificent!
Unfortunately, the house was too far gone. So they carefully disassembled it piece-by-piece, leaving only the original beach rock fireplace and chimney. They saved everything they could and hoped to incorporate some of the original elements into the new home so that it would look like it had always been there.
And it does!! I would never think this was a brand new build!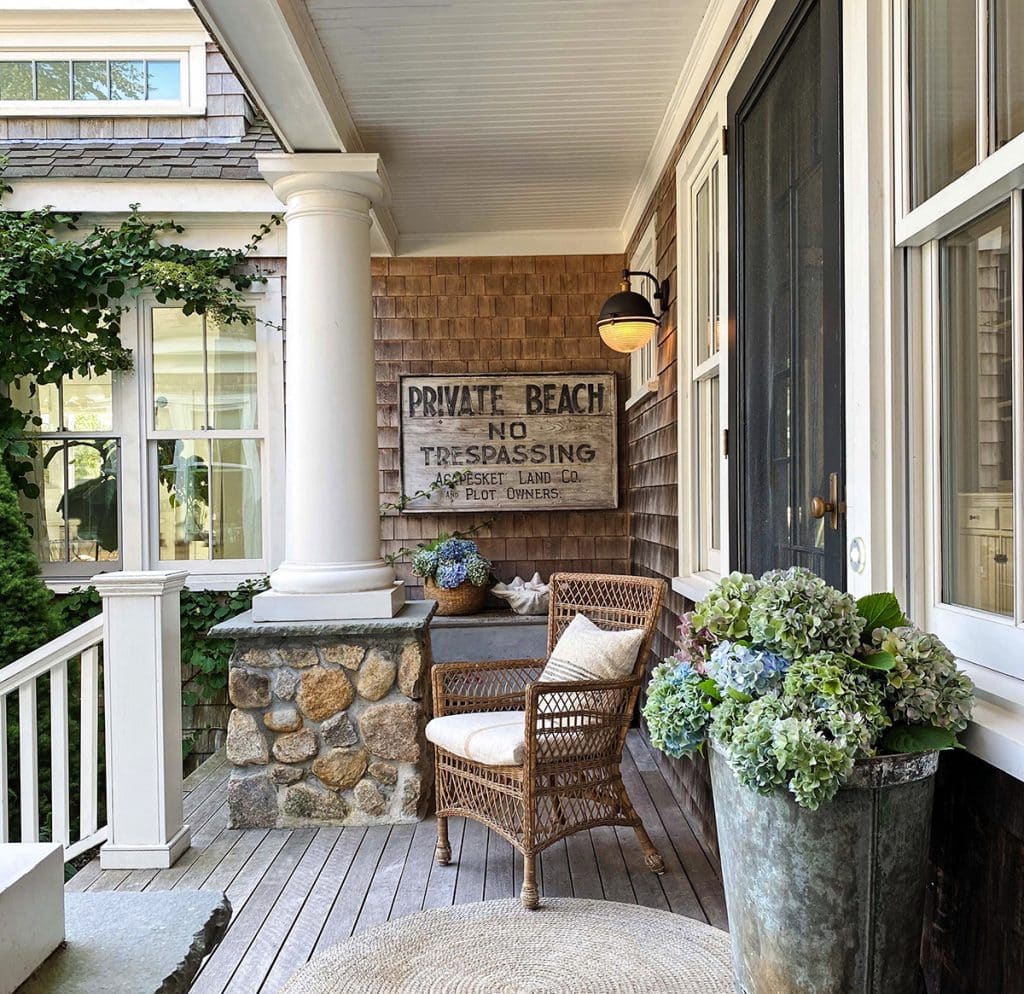 The wood porch conveys the classic Cape Cod style right from the start, with comfortable wicker chairs, pots of hydrangeas and an authentic old sign. Love the pillars!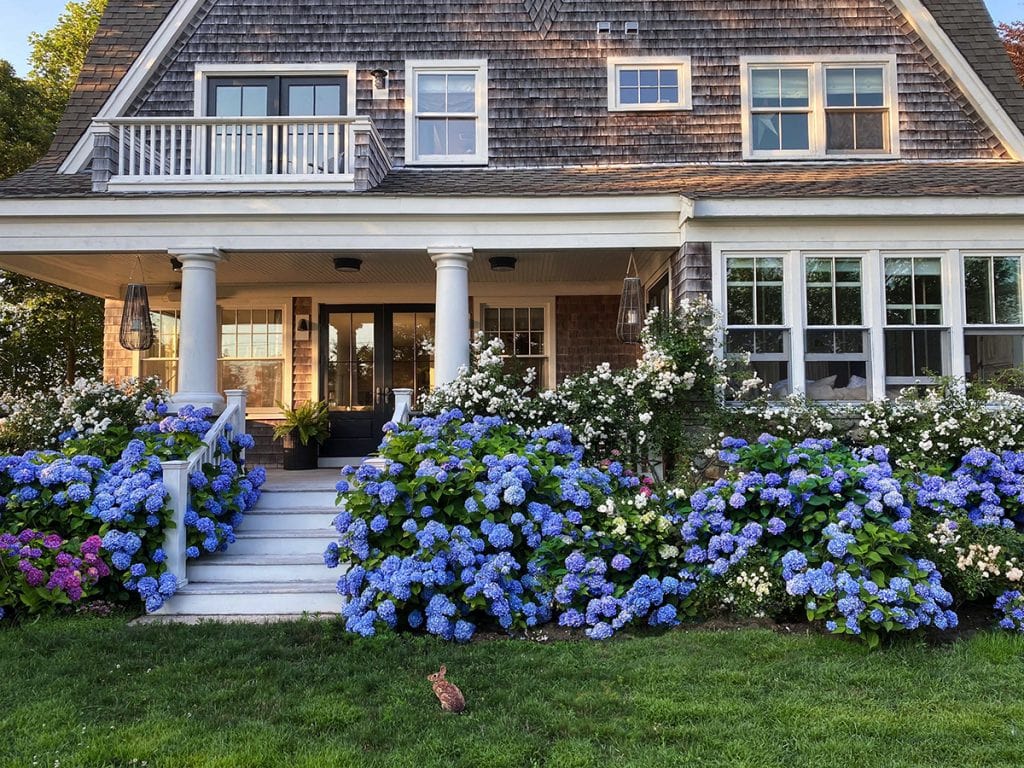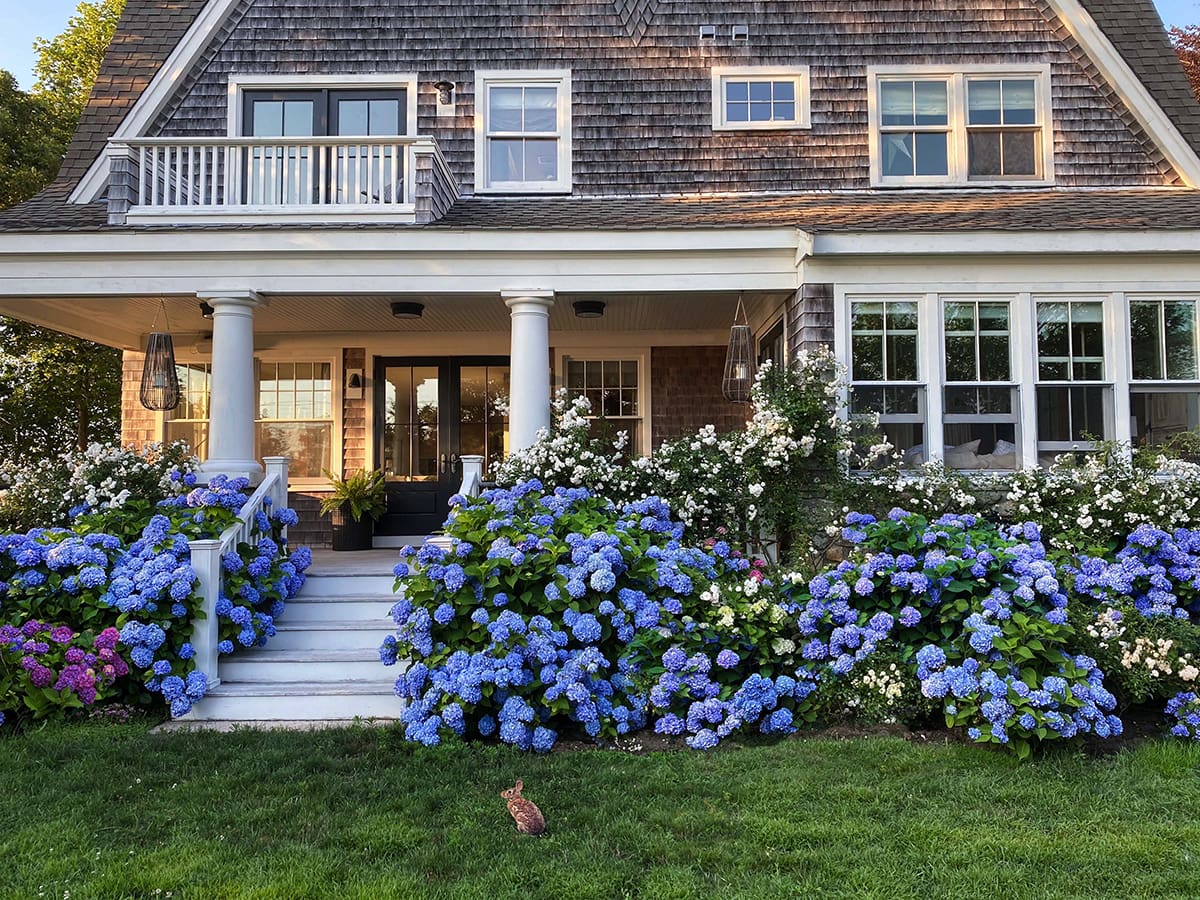 Sandra says they got inspiration from the big turn-of-the-century beach "cottages" that lined the New England coast. They wanted a home that looked like it had been here 100 years, and would look appropriate 100 years from now, too.
Upon entering the home you can immediately see the amount of care and thought that went into this build.
For personality, we added leaded glass transoms to our entry hall as a way to subtly divide the space without affecting the beautiful light that streams in throughout the day.
Living room view. Sandra uses vintage light fixtures almost exclusively throughout the home.
Sandra uses this little corner of the living room as her "office."
I love that she adds lots of coastal touches, but the rooms never feel too theme-y or cliché. Shells mixed with vintage furniture and modern elements makes for a beautiful mix that reflects her unique style, while keeping things fresh.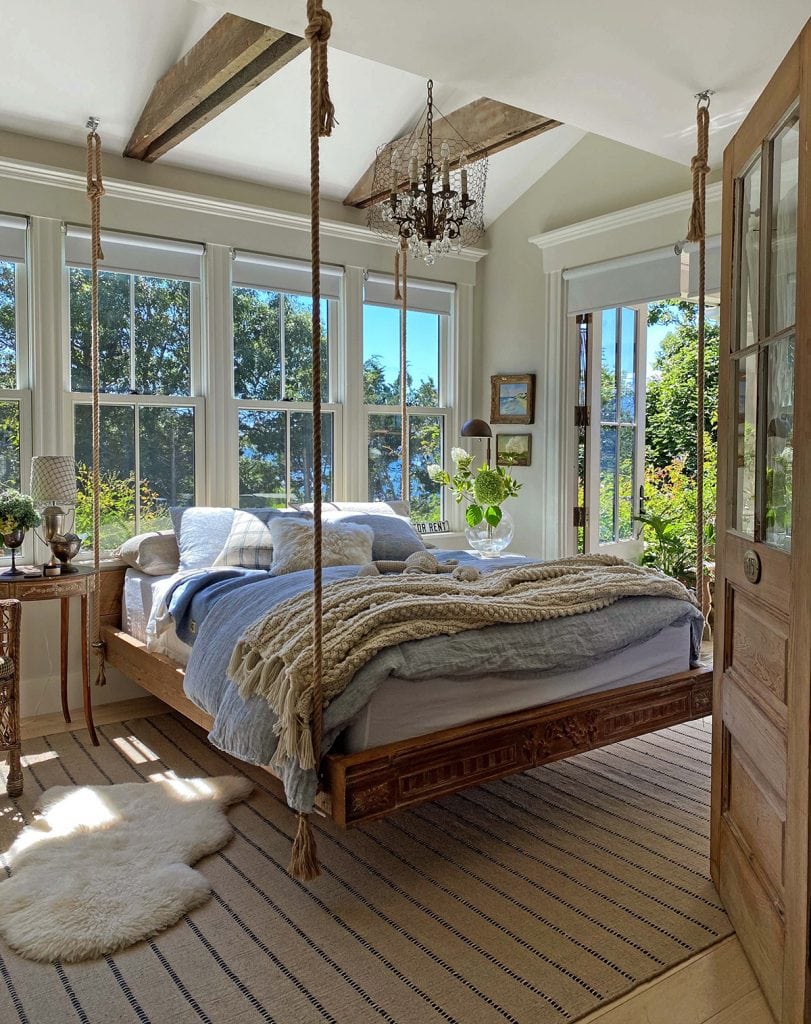 My favorite room in the whole house is this guest bedroom they fondly call "the sleeping porch"!
I'm pretty sure if I had this view she'd never get me to leave!
When they planned the home, they included design elements important to shingle-style architecture while paying homage to the original cottage. To take advantage of the expansive views, the strategic placement of windows was a priority.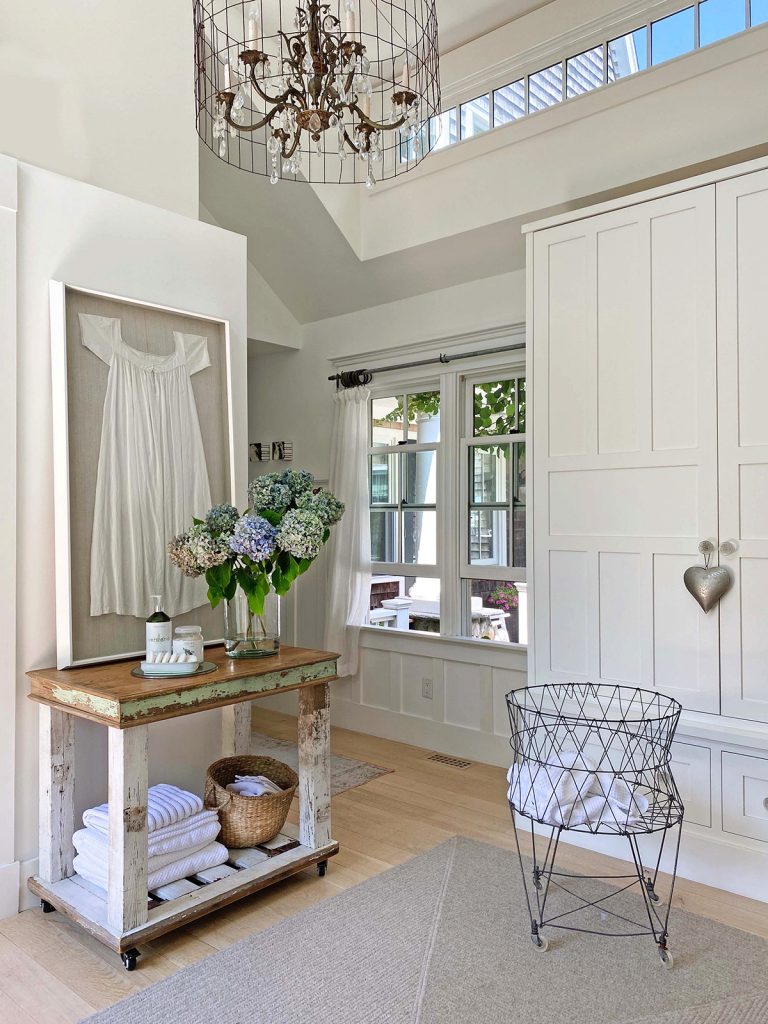 The laundry room is so charming and another of my favorite spaces!
We used the original cottage for design direction; the ceiling height, window style, and the interior trim work. We stripped and reused all the original doors, and reinstalled the butler's pantry.
Pass through to the family room with original rocks from the property.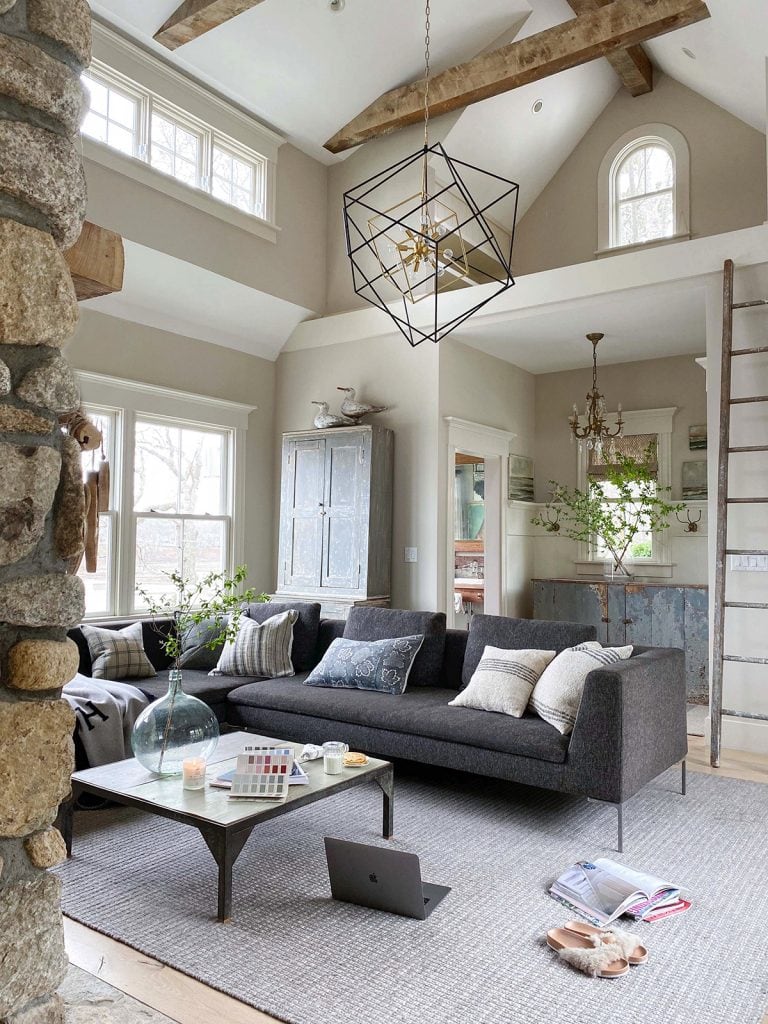 The family room was designed following the details of the original cottage with it's arched entry, shed dormer and pitched roofline.
The powder room is another example of her gorgeous mix of old and new. I love the old original sink from a hardware store mixed with modern elements.
Sandra loves vintage! And has procured almost all the bathroom fixtures, cabinet and door hardware, lighting, and newel posts at junk shops and salvage yards.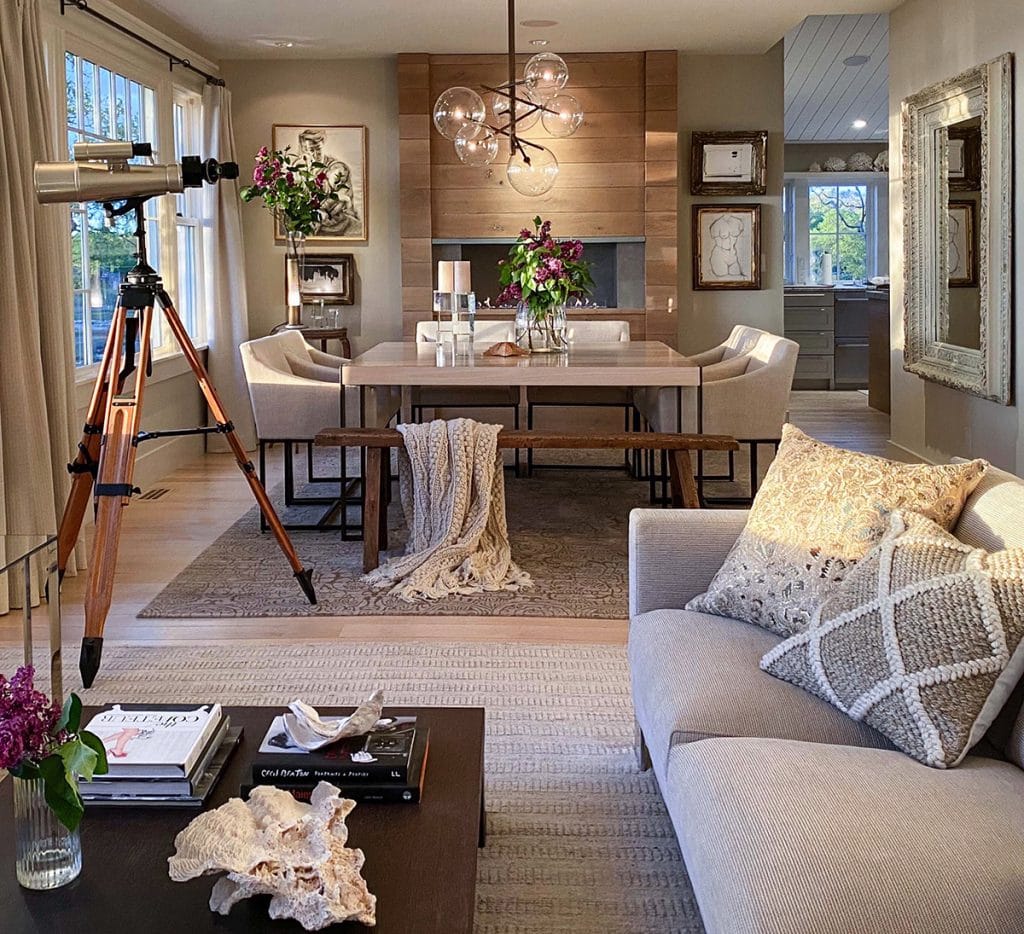 The dining room is just off the kitchen to the right.
I love her display of shells and coral above the kitchen sink! And the view! I don't even think I'd mind doing dishes here. 😉
This little alcove in her back hall is perfection. I love this cabinet with the original blue paint!
And if you think the inside is gorgeous, wait until you see the deck, patio and that view!!
The deck looks out onto the marsh.
And her patio is utterly charming with an old table found at a junk shop mixed with vintage wicker chairs.
So much of this home speaks to me. I love that everything is so thoughtfully curated, with lots of original and/or vintage touches. They have created a home that is truly magical!
I hope you enjoyed this classic Cape Cod home tour! You can see more of Sandra's home on her blog, Old Silver Shed and on her Instagram page here.
Sheila
xo
If you enjoyed this tour, you may want to check out my other Inspiring Home Tours below!