The Innate Style of a Classic Leather Jacket
When I think of "style" I think of classics; a great pair of jeans, that perfect trench coat, or the wear-with-everything black blazer. I never think of trends or things that are hot for just a season. I think of wardrobe items that are always in style, that always look good, and that make you feel chic the minute you put them on. One of those items is a classic leather jacket. It's an investment, for sure, but it is so worth it! If you pick a quality leather jacket, it should last you several years or more. And with all the options we have nowadays, you don't need to spend a fortune. You can get a high quality leather jacket, in a classic style that will last, for a reasonable price.
So with the holidays coming up, I say, if you don't already have a leather jacket, put one on that holiday wish list.You will find that you pull it out again and again. And it will make you look pulled together and stylish (even when you don't feel like it!)
THIS POST MAY INCLUDE AFFILIATE LINKS. CLICK HERE FOR MY FULL DISCLOSURE POLICY.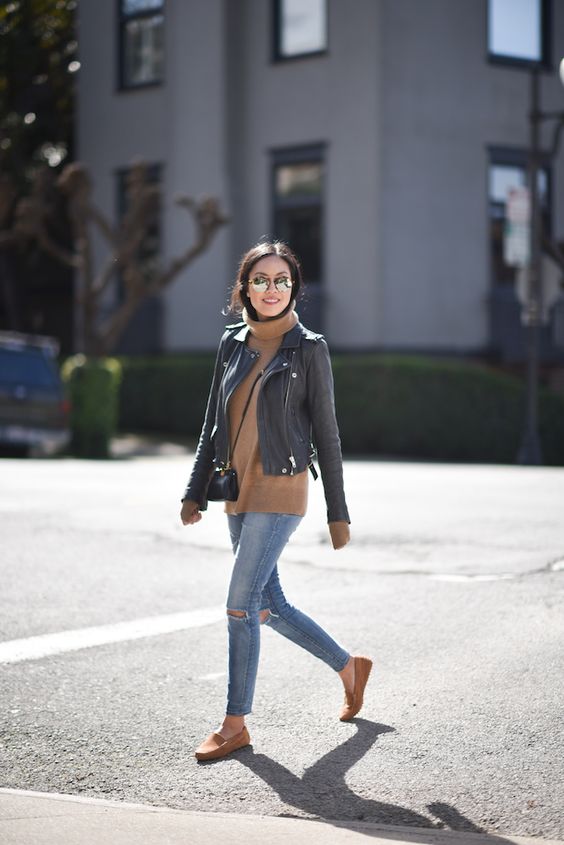 Love this absolutely classic black motorcycle jacket. But the way she's combined it, it doesn't look hard at all. She's paired it with a pretty camel sweater, camel suede loafers and denim. Chic weekend wear if ever there was!
Here a black cropped jacket with green jeans and heels. Love this!
And a leather jacket doesn't always have to be black! This cream one is so cute, and would go with just about anything you put it with. I found a very similar one here!
And another good option is a brown or camel jacket. I'm loving this longer style!
And how cute is this leather jacket with a skirt? Such an unexpected combination, yet so elegant. Part of the reason is that this leather jacket, though technically a "motorcycle" style, doesn't have a lot of hardware.
Absolutely love the color of this one! I would wear this pale grey one with just about everything!
And how cute is this?! I would never think to put a leather jacket over this lace dress and yet, it's gorgeous!
I love that this jacket adds an edginess to the dress yet it still looks classy. Again, choose a moto style that doesn't have lots of buckles or studs. The simpler, the better.
Just such a classic outfit. I love the jacket, the simple white tee, the scarf! and those loafers. Casual chic perfection!
With that, I've rounded up some of my absolute favorites for you; in different colors and different price points. Mostly leather options, but there are a few suede ones, too. My only note is that I didn't include any faux leather. I know they look great now (not like when I was a kid!) however, they don't last nearly as long as a real leather jacket. They don't wear as well, and they're hot! And frankly, sometimes they are not that much cheaper so I would recommend saving and spending just a little more to get the real thing!
Shop Leather Jackets

Happy Friday!
Sheila
xo