Warm & Cozy Winter Nights by the Fire
When I was a kid, we had a fire in our fireplace quite frequently, and warm and cozy winter nights by the fire were some of my favorite memories. So when we moved here and finally had a wood-burning fireplace of our own, I couldn't wait until it got cold enough to light a fire!
Once we were settled I promptly called a nearby lumber yard that sold firewood and ordered a half a cord of wood. Now, I may have grown up with a fireplace, but this California girl had no idea how much a cord of wood actually was! For those who are uninitiated in these things, it's a lot!! I ordered a half (thank goodness) but it was still so much that it took up most of one side of the house out back, and it took us years to finish it!
Not only that, lighting a fire with real wood does take some time, and some skill. And unless my husband was home, I just wasn't comfortable doing it by myself. So I was dependent on him being home if I wanted to enjoy a fire. That is, until I discovered Duraflame.
I just love the atmosphere and cozy ambiance that a fire brings to the room. We love to sit here in the winter in the evenings. Sometimes I'm blogging or reading. Or doing our latest obsession, jigsaw puzzles! It's a great way to spend some simple, quality time together as a couple or a family.
Duraflame Every Night logs make it so easy to light a fire. You simply place the log (in it's paper wrapper) on your grate and light it – it's that simple! No kindling or crumpled newspaper required. And you get a fully lit fire in just 3 minutes. I'm not exaggerating when I say it could not be simpler!

I'll even work or blog from here in the daytime ~ we've had a pretty cold winter so far (well, cold for Southern California) and my house has apparently zero insulation so it's pretty darn cozy working in here on a rainy day!
Another thing I love about the Duraflame Every Night logs is that they burn for about 2 1/2 hours. It's just the right amount of time for a movie (or an evening of puzzle-doing 😉 ) And there are no worries about having to make sure it's totally out before we turn in for the night. That is so much more reassuring than having to think about whether it's really out and safe to head to bed.
And did you know that firelogs burn much cleaner than real firewood? Made from sawdust, agricultural fibers, waxes and oils, they produce 80% less emissions than a similar duration wood fire. That's something that really matters to us, and a fact that makes us feel better about using them.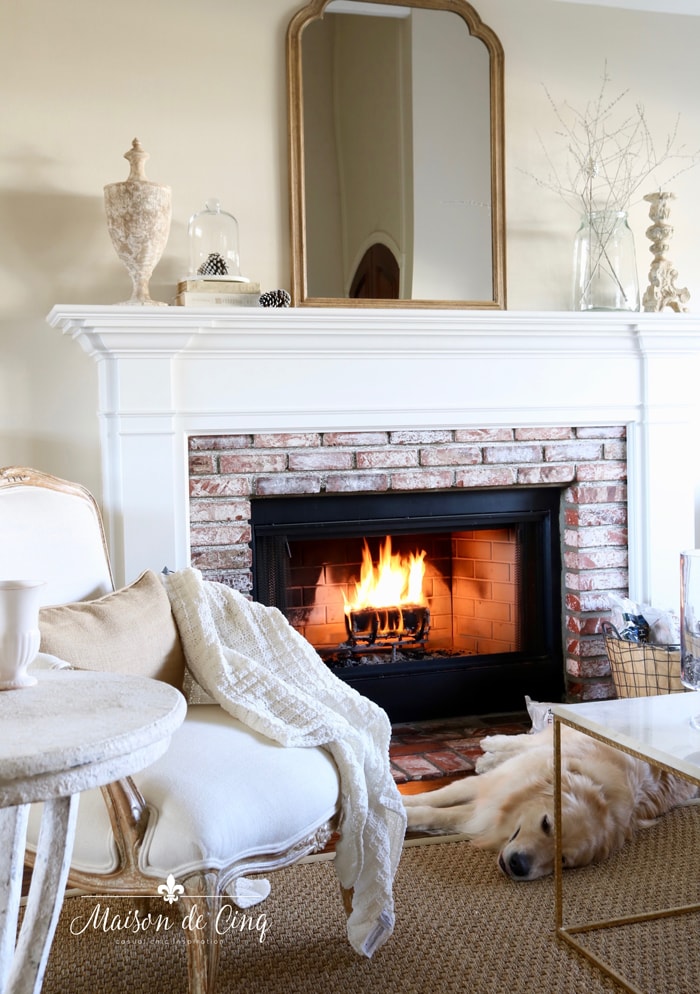 Hudson seems to like the extra warmth, too! Here's to more cozy winter nights by the fire.
Shop the Post


*affiliate links are added for your convenience*
Sheila
xo
*This post was sponsored by Duraflame, but all opinions are my own*