Cranberry Whiskey Sour: Festive Holiday Cocktail
This cranberry whiskey sour has the perfect blend of sweet and tart, with depth from the whiskey, and an oh-so-festive color. It just might be the perfect holiday cocktail!
This cocktail recipe is one of my favorites, and I'm not even a whiskey drinker! Well, I wasn't until I tried this drink. 😉
I'm a person who loves to host at the holidays, and every year I look forward to our annual cocktail party. And one thing I love to do is have a 'signature cocktail' to offer each year. We usually have a full bar as well, but it's so nice to have a festive and delicious cocktail to offer everyone for the night, and that's how this Cranberry Whiskey Sour was born!
If you've never had one, a whiskey sour traditionally consists of whiskey, lemon juice, lime juice, and simple syrup. In this incarnation, a cranberry simple syrup creates that gorgeous color. And the lime is left out as the cranberries add enough tartness.
THIS POST MAY INCLUDE AFFILIATE LINKS. CLICK HERE FOR MY FULL DISCLOSURE POLICY.
Making the cranberry simple syrup is super easy. If you've ever made simply syrup, it's much the same with cranberries added. And if you make extra, you can use it for drizzling over ice cream, scones, and more.
And it's as easy to double or triple this recipe for a bigger batch as it is to just make a couple of drinks one evening. Because after all, it is the holidays!
If you can't have a delicious cocktail on a weeknight this time of year, when can you?!
Rather than use regular ice, I used one large cube in each glass. These are made from silicone molds and they're so cool! My husband is a bit of a whiskey lover so I gave them to him last Christmas and we love them!
They make any drink look more glamorous – and they melt more slowly so your drink doesn't get watered down as quickly – a win/win!
I love this spin on a whiskey sour because it's just the right amount of tart and sweet, and cranberry flavor just screams "holiday" to me! And if you're wondering how I got that nice little foam on the top, it's because I used an egg white. Yes, an egg white!
Now before you think I'm crazy, it's actually pretty common in bars, especially when they serve artisanal cocktails. The egg white adds a bit of texture to the cocktail so it's silkier, and of course, it creates that pretty foam on top, too. (But if you're worried, you can always leave it out. It will still look and taste delicious!)
The key to making sure the egg whites are mixed thoroughly is to shake the mixture twice. First, combine the egg white with the other ingredients in a shaker without ice and give the mixture a "dry shake" for about 10 seconds. This helps to completely mix the egg white in with the other ingredients, as well as to ensure it's foamy enough.
Then, add in the ice and shake it a second time to chill the cocktail.

Yield: 2 servings
Cranberry Whiskey Sour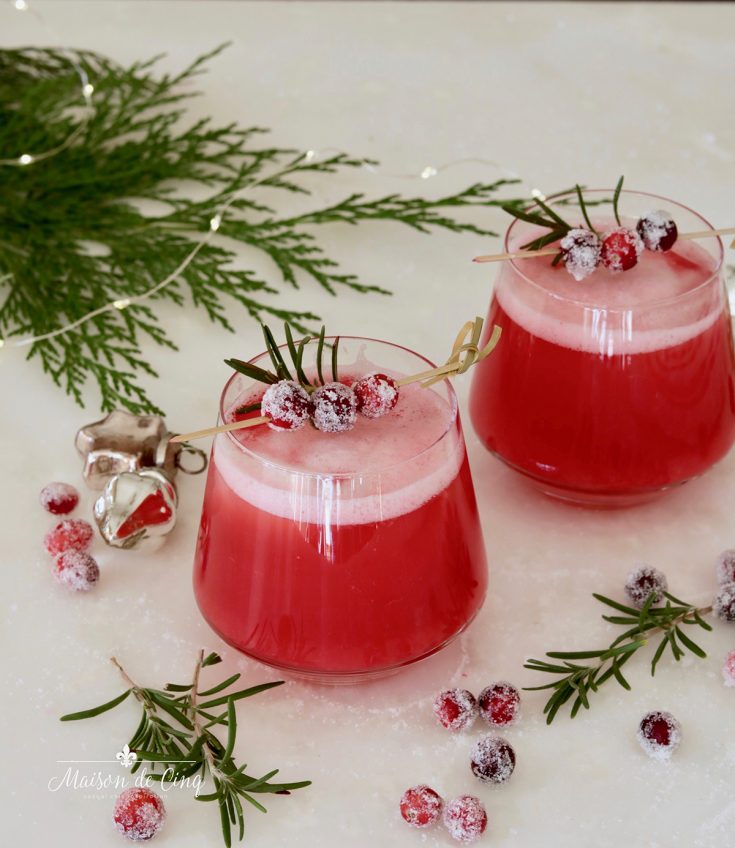 A seasonal twist on a classic cocktail, this Cranberry Whiskey Sour is a mix of sweet and tart, with an oh-so-festive color. It just might be the perfect holiday cocktail!
Ingredients
3 ounces whiskey (preferably bourbon)
3 ounces fresh squeezed lemon juice
3 ounces cranberry simple syrup
4 tsp. egg whites - one large egg has about 6 tsp. (optional)
ice
Fresh or sugared cranberries and/or rosemary sprigs for garnish
Instructions
Place the whiskey, lemon juice, cranberry simple syrup and egg whites in a cocktail shaker.
Seal the shaker and shake vigorously for 10 seconds (this is a 'dry shake' - essential for incorporating the egg whites with the other ingredients).
Add ice to the shaker, reseal, and shake again for 10 seconds to chill.
Strain into glasses filled with ice. (I used silicone ice cube trays to create one large cube.)
Garnish cocktails with sugared or regular cranberries and/or a rosemary sprig.

*To make cranberry simple syrup, stir together 2 cups cranberries, 2 cups sugar, and 2 cups water. Bring to a boil and continue to cook until cranberries begin to pop, about 3 minutes. Lightly mash berries with a fork until they are mixed in pretty well. Over a small bowl, strain fruit through a fine mesh strainer, pressing with a spatula to release all the juices, discard solids. Set bowl aside to cool completely. *Syrup keeps, covered and chilled, two weeks.
Notes
Using raw egg whites carries a slight risk. But by carefully ensuring you are working with fresh, clean eggs, you can drastically reduce the risk. 
When serving raw eggs, always ensure the eggs are clean, fresh, and cold. And I use organic eggs as they carry less salmonella risk.
Cocktails with raw eggs should always include both citrus and alcohol as both act as sterilizers.
And if it bothers you, simply skip it! It won't have the pretty foam on top, but it will still look and taste delicious.
I used sugared cranberries to garnish the drink, but plain, fresh cranberries work just as well. But if you do want to make them, you can find the recipe for those here.
This Cranberry Whiskey Sour is beautiful, festive and delicious – the perfect holiday cocktail! And if you're not a whiskey lover, you could always substitute vodka for an equally delicious option. 😉
Shop Cranberry Whiskey Sour Essentials

Wishing you all a wonderful holiday season full of delicious cocktails!
Cheers!
Sheila
xo
*adapted from Rachael Ray
I'm joining some friends who are also sharing delicious holiday drink recipe ideas, so be sure to check out them out by clicking on the links below each image!
Low Carb Keto Homemade Eggnog at The Happy Housie
Cranberry Whiskey Sour at Maison de Cinq
Bourbon Spritz Recipe at Place of My Taste
Hot Cocoa with Peppermint Schnapps at Craftberry Bush
Gingerbread Flavoured Coffee Syrup at The DIY Mommy
Christmas Morning Mimosas at This is Our Bliss
Ruby Red Grapefruit Punch at A Pretty Life in the Suburbs
Just Add Cinnamon Twist on Classic Hot Chocolate Mix at This is Simplicite
Christmas Sorbet Punch at Clean & Scentisible
Cranberry Raspberry Cocktail at Life is a Party
Blue Latte Recipe at Dans le Lakehouse
2 Step Mock Champagne Punch Recipe at Grace in My Space
Hot Chocolate Bar & Free Printables at the Handmade Home
Custom Soda Labels at Fynes Designs
Keto Sugar Free Peppermint Hot Chocolate at Tatertots & Jello
Deliciously Easy Holiday Eggnog at She Gave it a Go
Holiday Drink Recipe Ideas at Jennifer Maune
Homemade Hot Chocolate with Whipped Cream at My Sweet Savannah
Sparkling Cranberry Cocktails at Finding Silver Pennies
If you enjoyed this post, be sure to check out more holiday recipes and entertaining inspiration below: