How to Decorate Using Odd Numbers: Design Basics
Did you know that one of the most basic rules of decorating is that you should decorate using odd numbers? Whether it's a small vignette or a large wall grouping, odd numbers are more pleasing to the eye.
I've had conversations with many of you over the last year and one of the things you've asked me to talk more about are design basics. From the right rug size, to how to place furniture, to basic design rules, these are things that so many of you struggle with. And I get it! I also struggled for years with a lot of the same issues.
But through trial and error in my own home, lots of design study, as well as working on other homes in my design business, I feel like there is so much I have to share with you!
So… I'm starting a new series titled Design Basics where I'll be sharing fundamental rules and basic design knowledge that you can apply to your own decorating. And today I'm starting with one of the most basic design rules, and that's the rule of decorating with odd numbers.
THIS POST MAY INCLUDE AFFILIATE LINKS. CLICK HERE FOR MY FULL DISCLOSURE POLICY.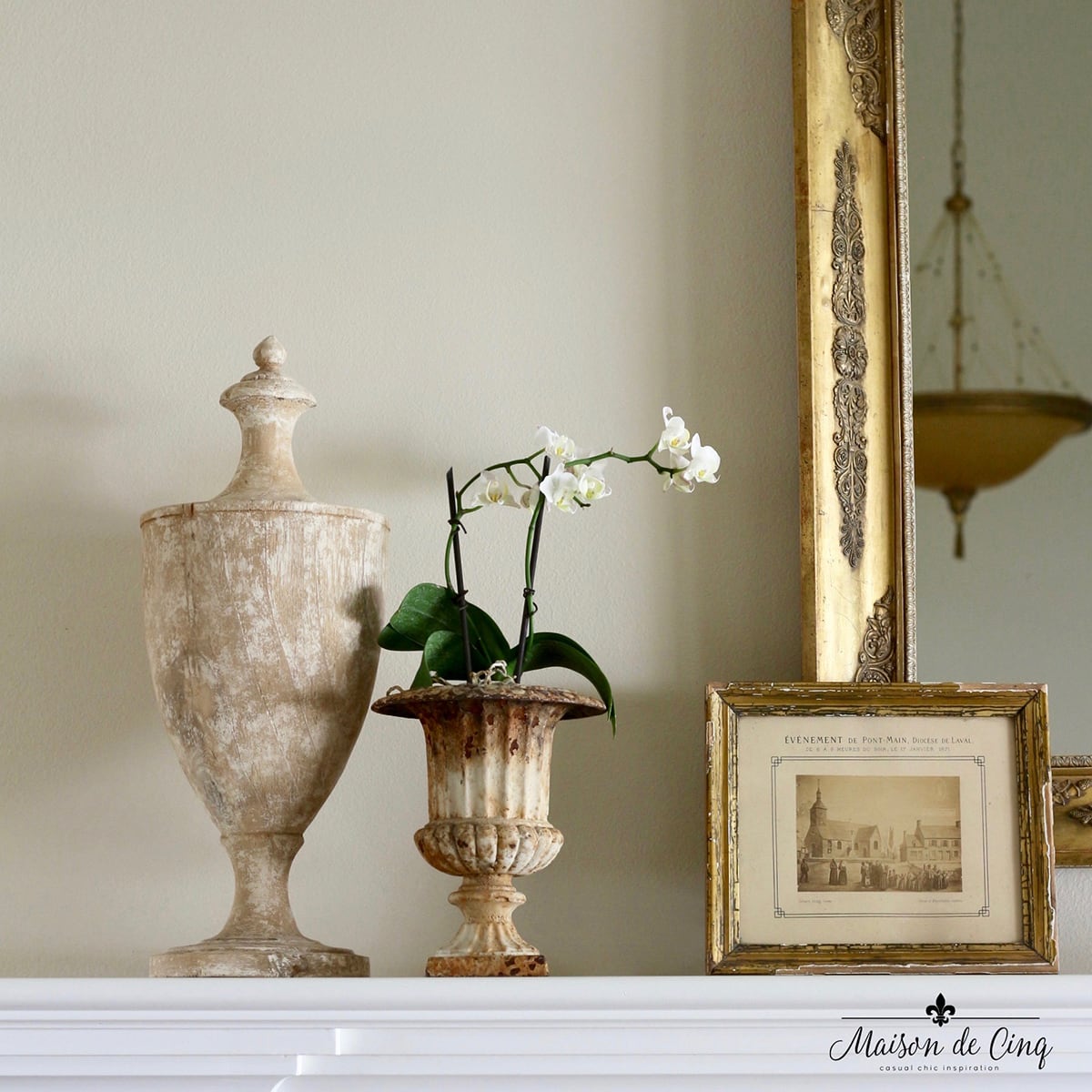 When it comes to decorating, I've often said there are no rules. And that's mostly true. 😉
No one should tell you what to love and you definitely don't need to decorate the way that everyone else does. In fact, I would argue just the opposite! Decorating should be unique to you and reflect your own personal style.
But there are basic decorating rules that everyone should know and apply. And one of the most important ones is to decorate using odd numbers. The idea of odd numbers has been studied and it turns out as humans we naturally gravitate to that pattern and find it more aesthetically pleasing.
With odd numbers your eyes are forced to move around more and thus, it brings more interest to the display. This is why it's used not only in interior design, but in everything from graphic design, to advertising, to photography.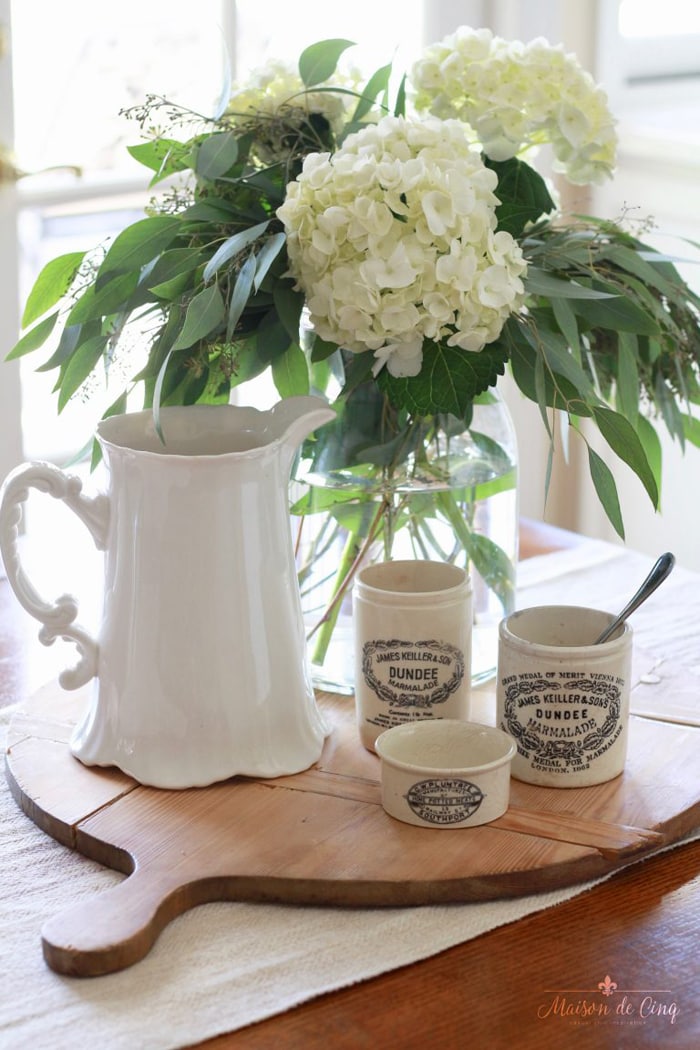 You may even have heard or read about the "Rule of Three" when it comes to decorating. Three is a universally pleasing number because it's the smallest number in which the brain can recognize a pattern. And groups of three create visual balance.
The Rule of Three is a great way to start decorating using odd numbers and it can be applied anywhere. But a larger number like 5 or 7 works equally well and is useful when decorating large areas such as a long mantel, console table, or wall.
And oddly enough, (haha, see what I did there?) odd numbers create symmetry! It's counterintuitive, but true. A mantel with a mirror in the center and two candleholders on each end has three items and perfect symmetry. A bed flanked by two nightstands? Also a grouping of three, and also symmetrical. So you can love symmetry and also use odd numbers in your decorating!
Vignettes
Vignettes are probably the place where the odd number rule plays out most effectively.
Whenever I create a vignette I almost invariably decorate using odd numbers, most often three.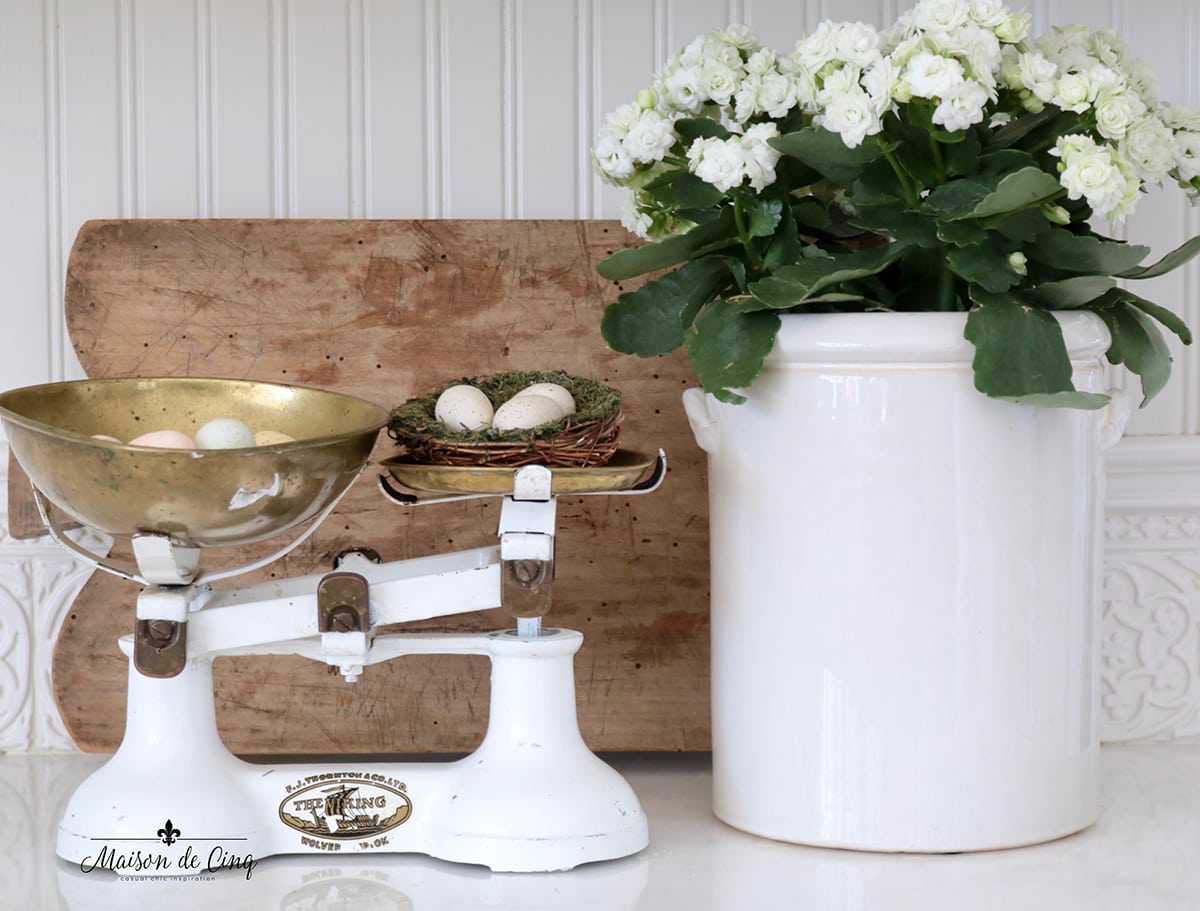 Just be sure to vary the heights, shapes and colors of the objects in your display, which adds visual interest.

Coffee Table Styling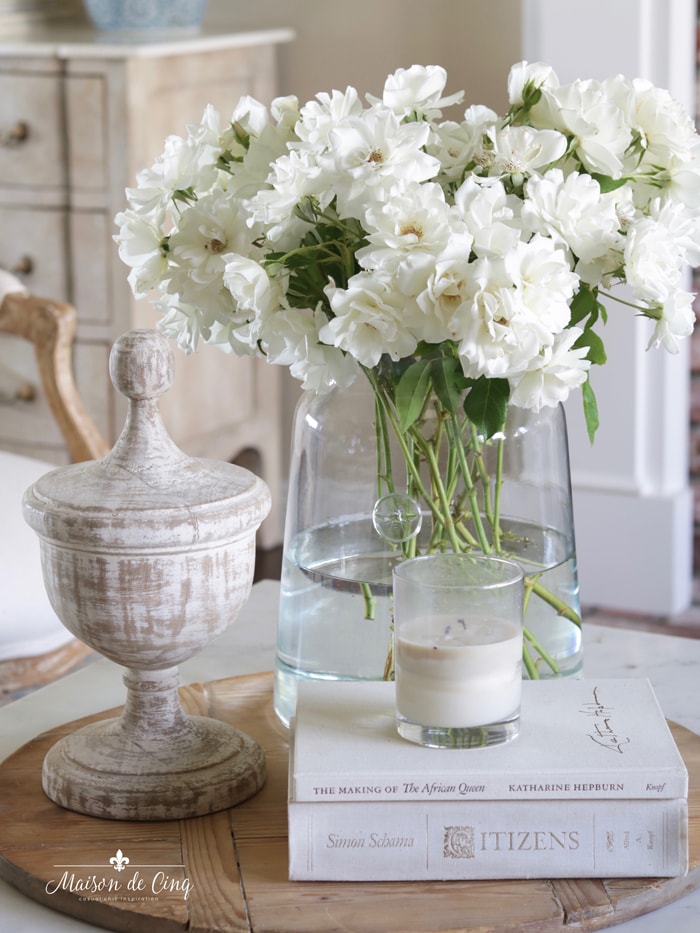 When it comes to the coffee table you may have more than just 'three' objects depending on the size of your table. You can see more details on how to style a coffee table here.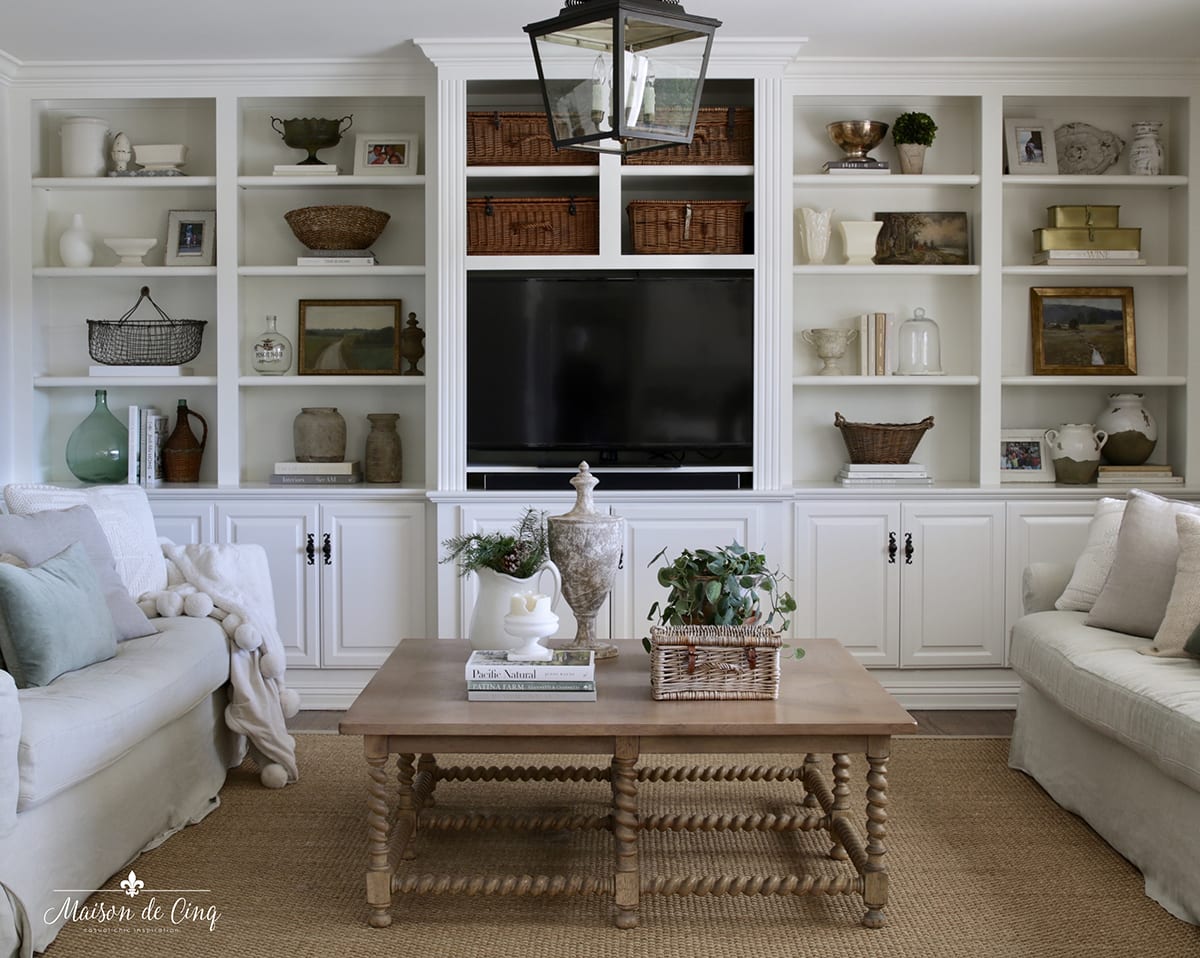 On this coffee table, there are five 'footprints.' A stack of books, even if there are two or more books, only counts as one item. And a stack of books with an object on top is still just one item. Your brain registers a stack as just one visual 'item.'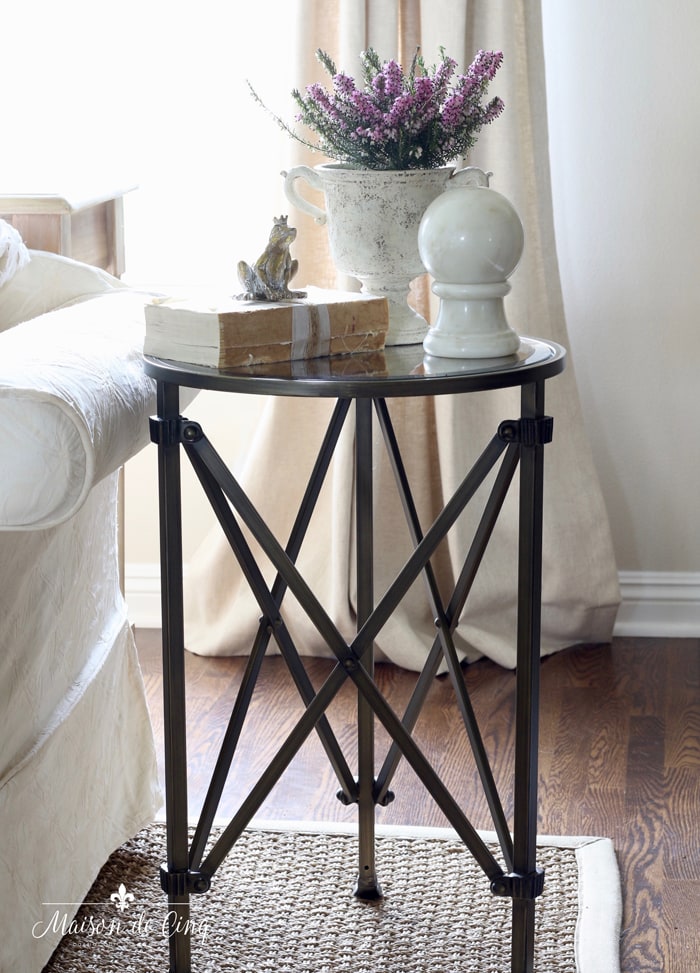 Mantel Styling
A larger mantel may need more than three items, but still should consist of an odd number.
In this spring mantel, there are 5 footprints:
1. urn on the left
2. books with shell
3. mirror
4. painting
5. pair of candlesticks (because these are thin, they count as 'one' object).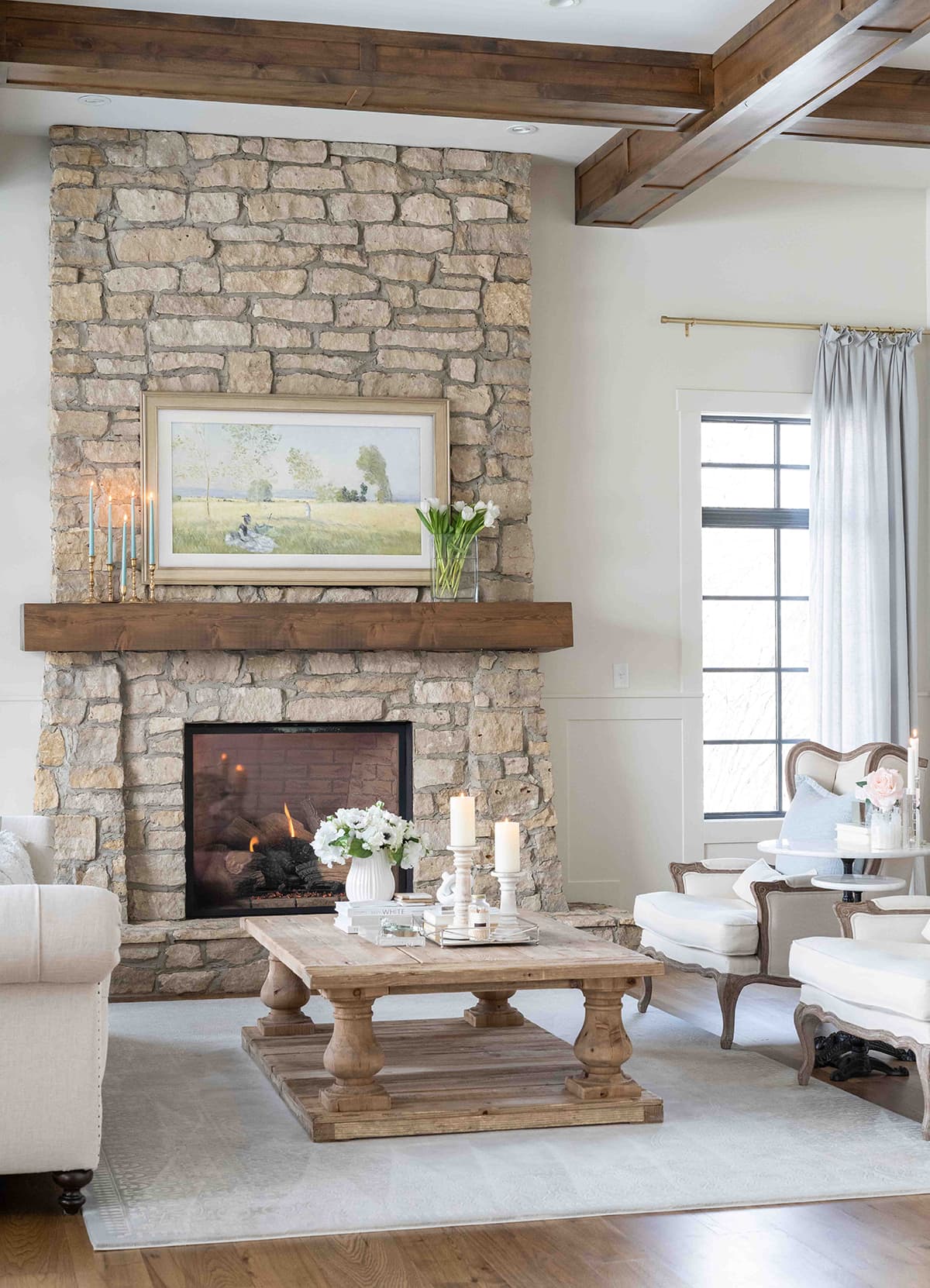 Here my friend Kaitlyn has 3 footprints on her mantel. The candlesticks on the left are the first (even though they are a group, they are seen by the eye as one item), the painting in the middle is the second, and the vase on the right is the third. And note that even the group of candlesticks is an odd number, there are 5. Which means even if you count every item, there are 7. Still an odd number!
Wall Decor
When arranging paintings or groups of art, I almost always use the rule of three. A group of three will look much better than two or four.
And a gallery wall is always better with an odd number. Even if you don't think your eye notices the difference between 12 or 13 photos, your mind's eye does notice. A grouping of odd numbered objects will always register as more pleasing. Above, Suzanne Kasler has 11 items in her gallery wall, via Ballard Designs.
In our master bedroom there is a group of three intaglios on one wall.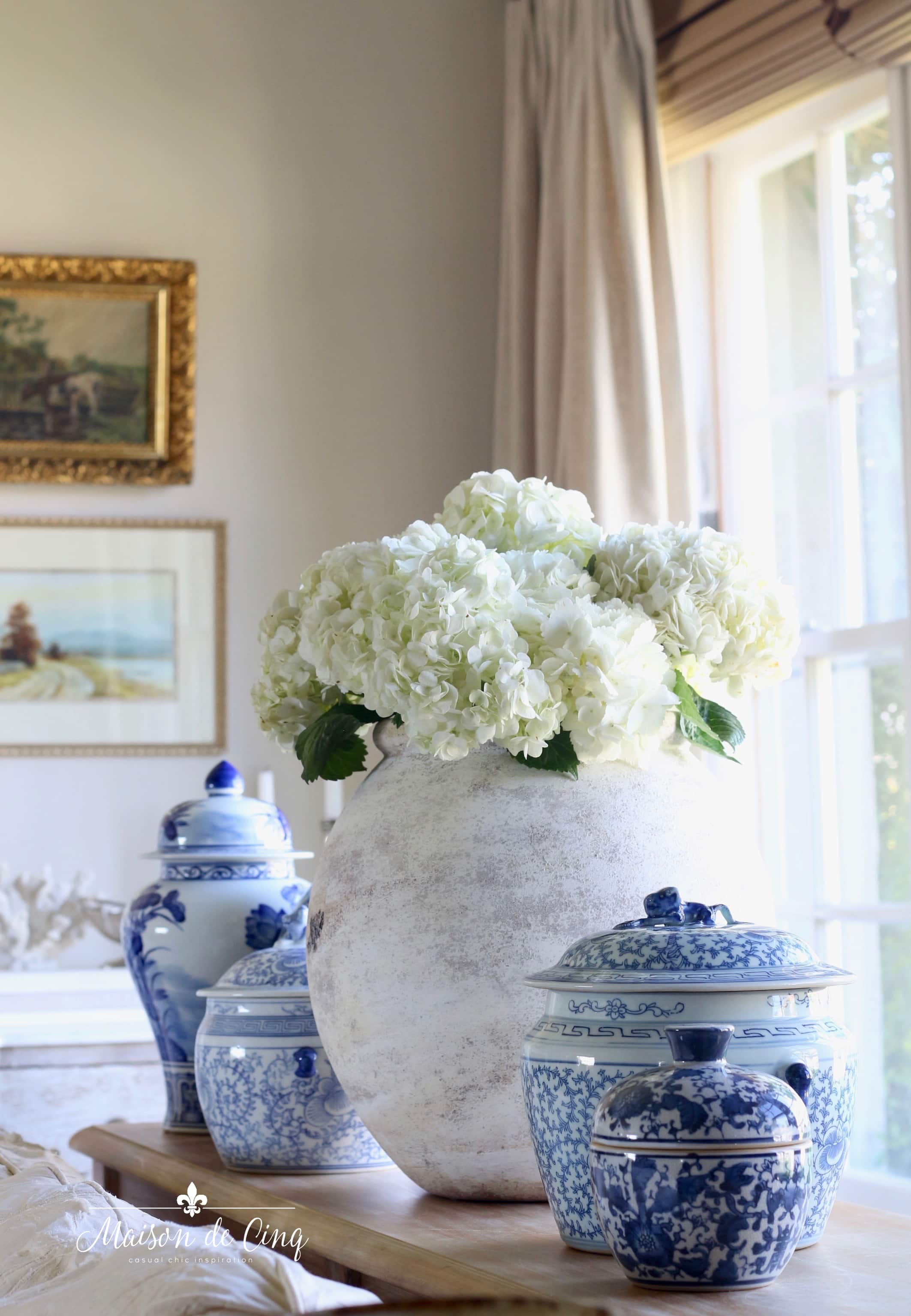 And two pieces of artwork layered vertically also count as one rather than two (just like books on a table). If you only have two pieces to work with, you're better off stacking them rather than hanging them side by side.
Throw Pillows
When using throw pillows on a sofa or bed the same rule of decorating with odd numbers applies. Whether it's 3, 5 or even 7, it will always look more balanced with an odd number.
Five pillows is usually the perfect amount on a sofa. Via Studio McGee.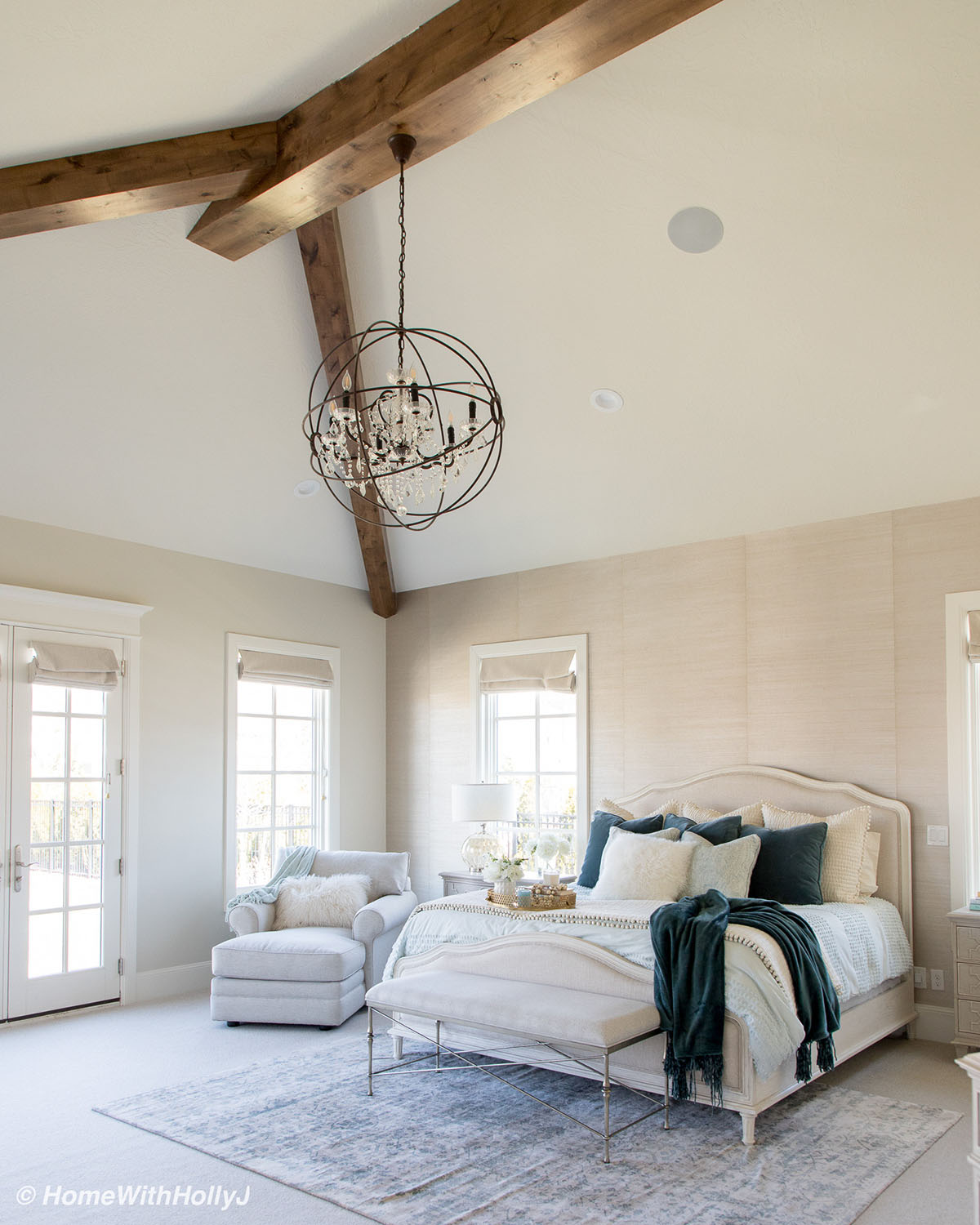 If you're someone who loves more pillows, you can add more just stay with the odd number rule. More of this gorgeous home here.

The Rule of Three plays out in furniture as well. Take for instance the classic combo of a sofa and two chairs, or a corner grouping of two chairs with a small table in between. These are classic combinations for a reason!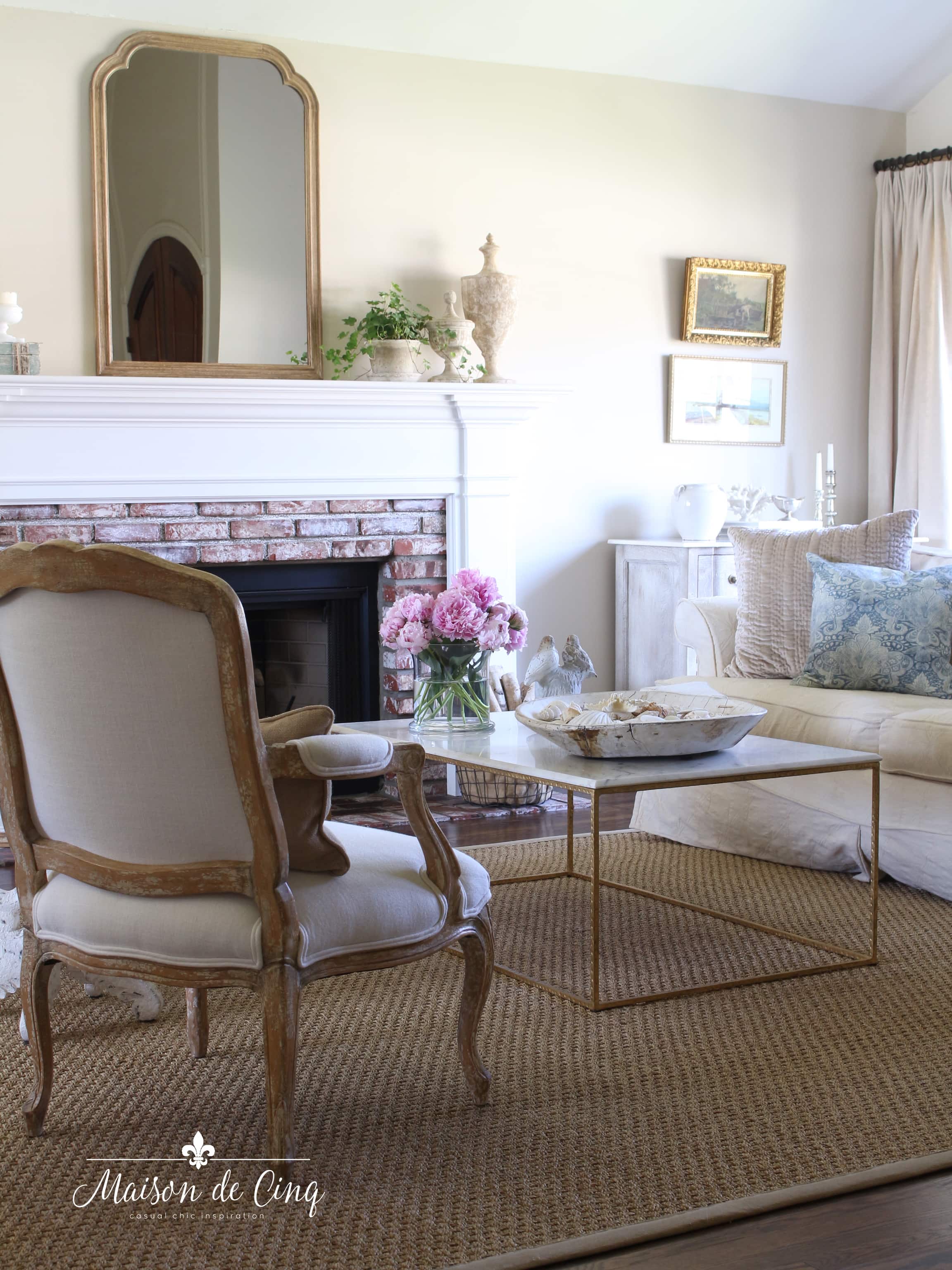 Bear in mind there are exceptions here and there. For instance, two chandeliers over a table or two pendants over an island might be ideal. Sometimes one is too few and three is simply too many.
Also, when styling mantels or tables it can be confusing depending on whether you include the mirror or artwork as backdrop or as part of the 'set'. Use common sense and your eye to tell you what looks balanced.
"Decorate using odd numbers" is meant to guide you and will usually be the way to go. But play with groupings and see what you like best. And as time goes on and you experiment with styling a little more, you'll find it becomes easier and easier to see what works in your home!
I hope this has helped you better understand how to decorate using odd numbers. And I'll be back from time to time with more design basics posts!
Sheila
xo
If you enjoyed this post, you might want to check out some of my other posts about design below: