Hello everyone! I don't know about you, but I am definitely ready for spring! Here in California it has been so, so rainy this year and unseasonably cold! I'm sure not cold to any Easterners, but cold for us, haha! 😉 All the grey days have made me even more ready for spring than usual, so I've been bringing in lots of flowers to cheer up the house. I find flowers brighten up even the darkest days, and make the house feel much more cheerful – even in the dead of winter!
Today I thought I would share some tips on how to decorate with flowers. Flowers are something that I'm absolutely crazy about (I know, a shocker, right?!) I share them quite often on Instagram, and get lots of questions about where I buy mine, etc., so I thought I'd put together a post all about them! These are my seven best tips on how to decorate with flowers. I am by no means an expert, but these are just the things that I do that work for me!
1. Keep it Simple
This is personal preference, of course, but I love casual bouquets of flowers, especially at home. I don't do fancy arrangements, not only because they are more expensive to put together, but also because they just aren't my style. I'm sure it's no surprise that I prefer simple, as that is true in my home decor as well. For me, there is just nothing quite as stunning as a big bunch of one type of flower in a gorgeous vase or vessel. And the bonus is, they are much less expensive that way!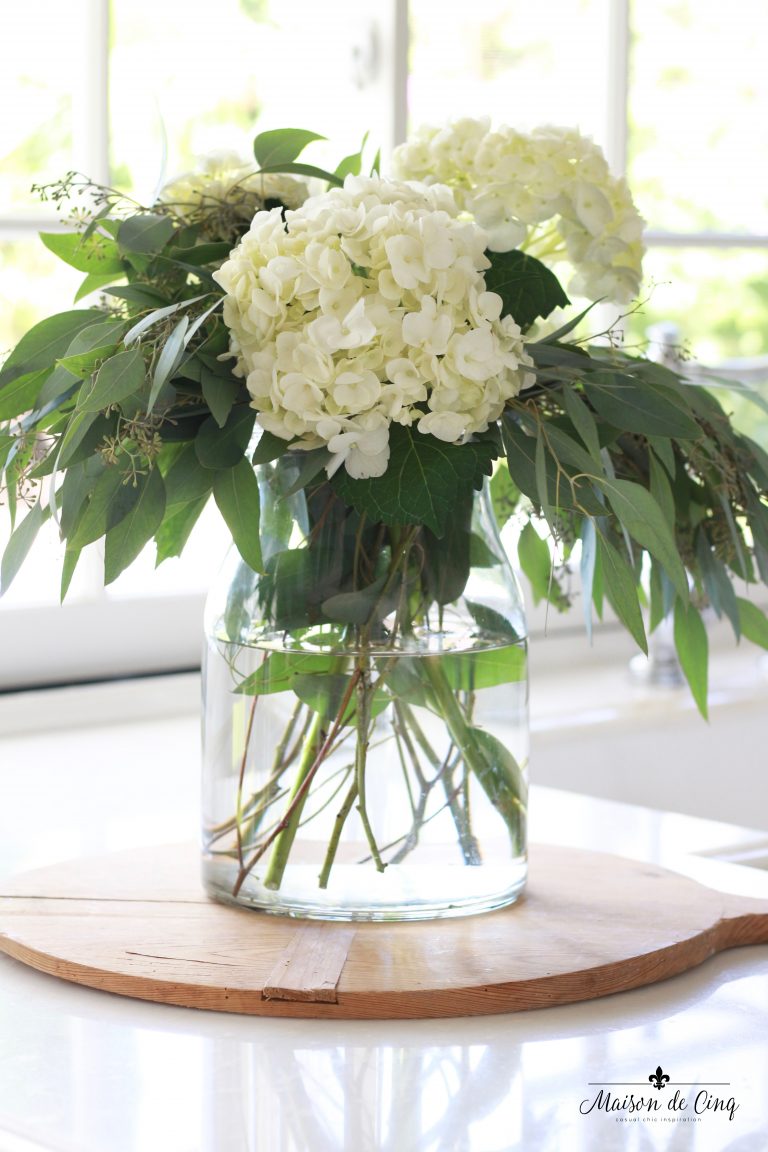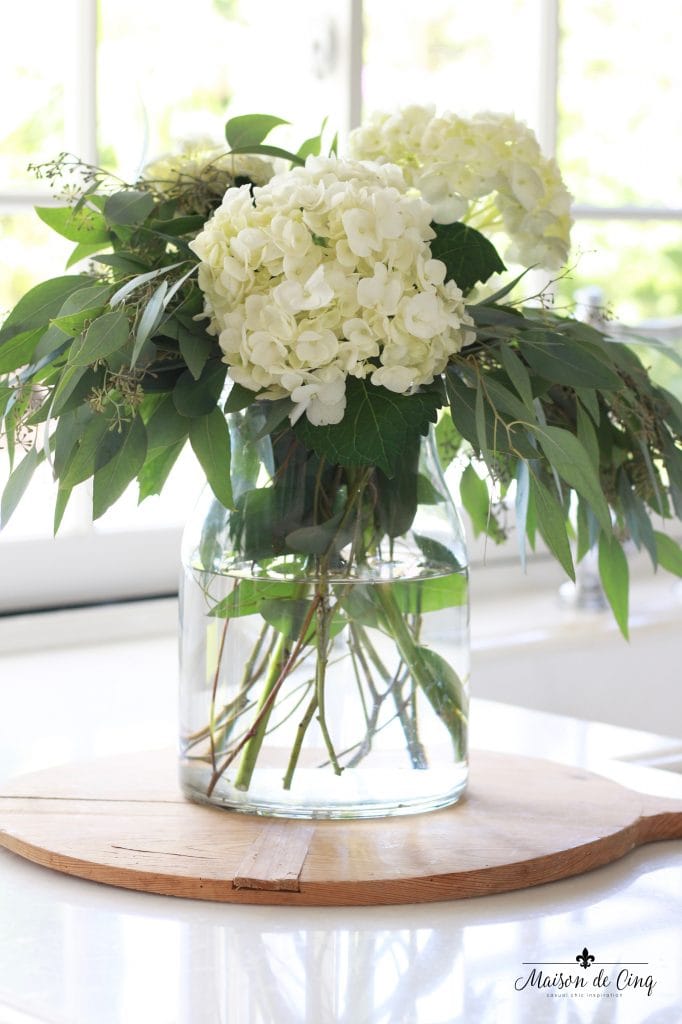 2. Use Interesting Vessels
Think outside the box when it comes to a vessel for your flowers – you don't have to use a vase! In fact, I would say that more often than not, I don't even use a vase. I tend to prefer pitchers so I use those quite often. But I've also used vintage trophies, dough bowls, and antique urns. Truly, the sky's the limit! Try using an old bucket, several small old creamers or glasses, or a vintage silver bowl. As long as it can hold water (or you can fit something inside of it that can hold water), it can work! And using something more interesting than a basic vase really elevates it and makes it more special.


3. Use Grocery Store Flowers
I think the question I get the most on Instagram is "where did you buy your flowers?" And people are always shocked to hear me say Trader Joe's or the supermarket! I almost never go to the flower mart unless I'm doing a big seasonal tour and I can't find peonies or something special that I need. Otherwise, I stalk my local Trader Joe's which is a great source for reasonably priced fresh flowers. And if they don't have it, then my local Ralph's or Whole Foods usually does. Trader Joe's even sells tons of different greenery such as eucalyptus, so it's a one-stop shop for me! Not only do you save money buying at a grocery store, but it makes it much easier to keep them in your home on a weekly basis.


4. Shop Seasonally
Another way to save money is to shop the flowers that are in season! I love peonies, in fact, they are my favorite flower on earth. But I only buy them in the spring when they are in season. That way, they are fairly reasonable. I have seen them during the winter months, but they are always a lot more. So if it's a special occasion you may want to splurge on something out of season, but otherwise, go with what is plentiful and affordable.
5. Don't Be Ashamed to Use Some Faux
I admit that for a long time I was a "fresh flowers only" purist. But let's be honest, it's not always possible or practical to get fresh flowers every week. So what's a flower-loving girl to do? That's the time to use quality faux! Faux flowers have come a long way since I was a girl and my mom had an arrangement that looked plastic and collected dust on the dining room table! I only recently bought my first faux flowers. And though they still aren't my first choice, they really come in handy at times. And even better, they can fill gaps when combined with your real flowers! That's right – I've mixed faux with real in the same vase and no one's been the wiser! However, the one thing I don't ever use is faux greenery. I think the fresh greenery really adds much-needed texture and it keeps the whole arrangement looking more real that way.
These tulips are faux!! Can you believe it?! They are the most real looking faux flower I've ever seen! A little tip for you – bend them and spread them apart so they are more like fresh flowers. Since real tulips fall over, take them and bend them to make them more like fresh!
These are also faux! In fact, these were the first faux I ever bought last fall. But I really think the key is using live greens! The fresh greens make the whole arrangement register as "real."

And here on the mantel, I used a mixture of faux flowers (the gold ones) mixed with live hydrangeas (the green) and fresh eucalyptus. You'd never know!

6. Don't Forget Flowering Plants
Probably one of the best ways to save money and still enjoy fresh flowers is to buy flowering plants rather than cut stems. There are several containers in my home that are long and low and I can't really do fresh cut flowers in them, so I buy flowering plants instead. And even if they are $10 rather than the $5 I typically spend on cut stems, they still save me money in the long run. I often buy two $10 hydrangeas and put them in the antique urn in my dining room and if they last three months, I'm way ahead of the game. That's only about $7 per month for gorgeous live flowers! A win-win for sure!

Orchids are always lovely! And they are long lasting and easy to maintain. Though I've never had one last longer than about nine months, that's still a lot less than you'd spend on cut flowers.
7. Set a Budget
If you drool over flower photos on Instagram or Pinterest like I do, set a budget so that you can make fresh flowers a priority. Up until about six or seven years ago, I bought flowers very infrequently. It wasn't until a friend of mine told me she bought them every week – and had made it part of her budget – that I actually starting doing it. If you think you can't afford it, perhaps think of something else you buy that you could give up. Do you get weekly manicures that could be reduced to every other week? Or are you a Starbucks junkie who buys coffees almost daily? Those can really add up and just cutting those down some could provide you with fresh flowers every week! Fresh flowers are important to me so I'm willing to cut elsewhere in order to have them. I simply do without some things I used to treat myself to, and now I get flowers most weeks instead – and I'm so much happier!
I hope these seven tips on how to decorate with flowers have inspired you to bring more fresh flowers into your home! They are truly one of the best things in life and I can't imagine my house without them. I'd love to hear if you have any tips that work for you as well!
Shop the Post!


*please note some affiliate links have been added for your convenience*
And for even more floral inspiration, I have some posts on decorating with specific flowers – my two favorites, actually! You can find either of those posts by clicking on the titles below…
Decorating with Hydrangeas
The Beauty of Peonies
Sheila
xo
Sharing this week at Stonegable, French Country Cottage, A Stroll thru Life