Decorating with Blue: Pantone's Color of the Year is Classic Blue
Every year Pantone releases their much-anticipated "Color of the Year," and this year, they've picked Classic Blue! There's been a lot of talk about it ever since the release last month, both for and against. Pantone's official statement says that it "reflects our desire for a dependable and stable foundation on which to build as we cross the threshold into a new era." And decorating with blue is clearly very popular these days.
However, some designers and experts have come out swinging! They think it's too predictable and boring. Or worse yet, safe.
But I actually agree with Pantone. I think it's a cooling and calming color, and that it gives a sense of peacefulness to any room. That may translate as "safe" to some, but to me, it is everything I want my home to be.
Blue is not only peaceful, but also soothing in a way almost no other color is (with the possible exception of green – another favorite of mine!)
I've started decorating with blue, and I love the way it cheers up any space. It also plays well with others! It's great with neutrals and brown, and it's gorgeous with green! So if you don't want to commit to a whole room or any major pieces of furniture, you can use just a pop to add life to your home.
Now I do lean toward a slightly softer version of blue than the Classic Blue they chose, but really, is there any shade that doesn't remind you of the sea and the sky and lift your spirits?
Decorating with Blue
A gorgeous all-blue room via Williams Sonoma. Love the rug!!
Via Jane at Home.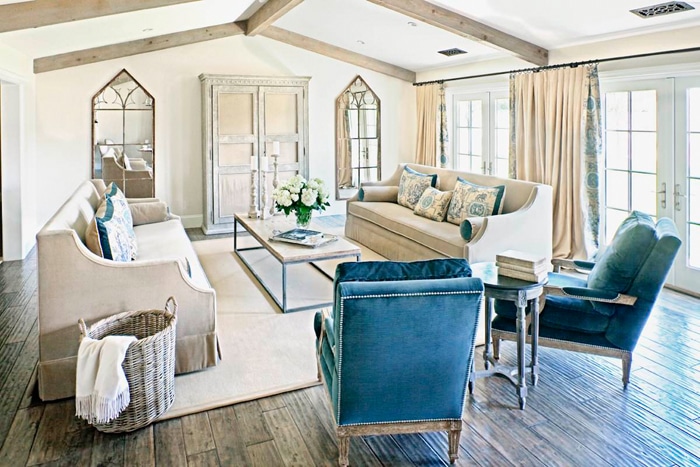 It's so good in a neutral room! Love these blue velvet chairs! The Refined Group via Houzz.
Using Just a Pop of Blue
Vivid pops of blue via Better Homes & Gardens.
A gorgeous indigo pillow adds texture and color to a neutral space. Design by Brooke Giannetti via Velvet & Linen.
A blue range!! Via Better Homes & Gardens.
Such a cute dining room. And what a statement just a simple but bold blue bowl makes! Burnham Design via Coastal Living.
Adding Blue with Ginger Jars
One of my favorite blue and white images of all time! Pure gorgeousness via Mary McDonald.
Design by Summer Thornton via 1st Dibs.
Gorgeous collection on an entry way table. Via Ballard Designs.
Stunning room by Emily Hertz via The Glitter Guide.
Tile is a Great Way to Bring in the Color Blue!
Need I say more?! Design by Mark D. Sikes via House Beautiful.
Tiled patio via Emily Henderson.
A Blue Front Door is Always Charming!
Via Southern Living.
Get the Look


*affiliate links have been added for your convenience*
To me, blue is timeless and beautiful – in any shade! What do you think of decorating with Pantone's Color of the Year? Are you a fan of blue, too?
Sheila
xo
If you liked this post you might want to check out my post all about Violet: Pantone's Color of the Year from a couple years ago!