Decorating with Copper – How to Add Warmth to your Fall Decor
Looking for a unique way to decorate for fall? Learn how to warm up your home by decorating with copper this season.
You know how sometimes you just fall in love with something, even something that you passed right by only a few years ago? That is how my love affair with copper is. I am crushing on it… hard.
So in love that I'm looking for more vintage pieces to buy – I seriously can't get enough! Which is funny, because about five years ago I had the chance to buy a copper tea kettle at a fantastic price, and I turned it down. Of course today, I'd be snatching that up as quickly as possible!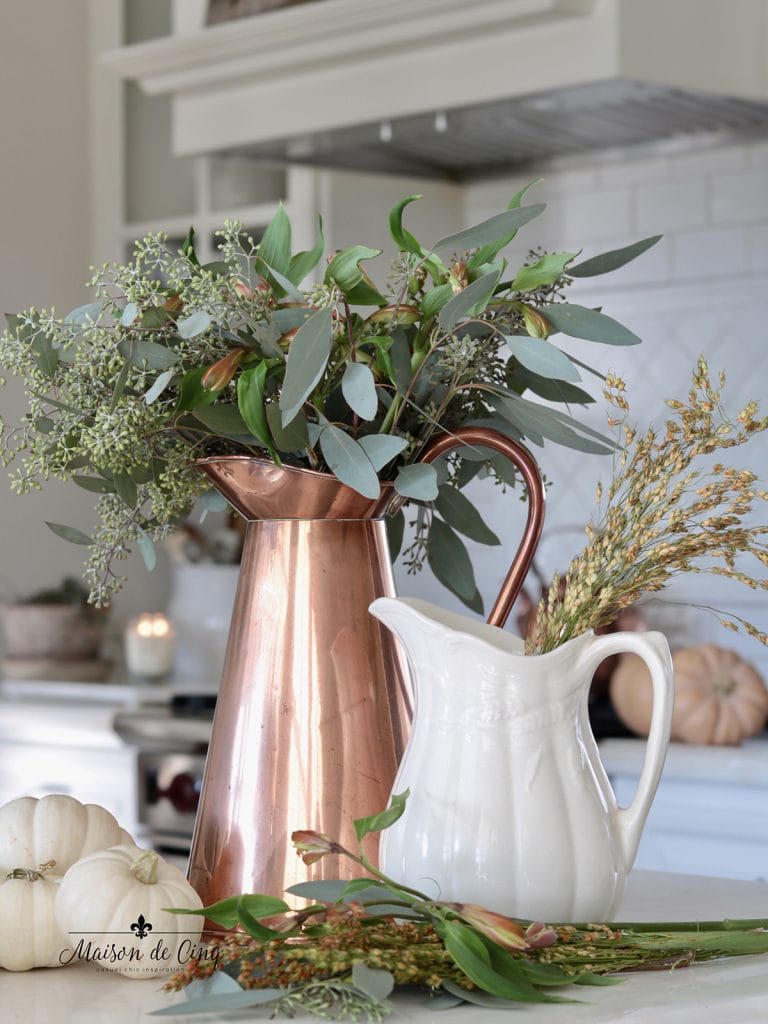 Not only is copper back "in" – which is great, because it makes it that much easier to find, but decorating with copper is perfect for fall! It adds warmth and patina, and mixes beautifully with all those warm autumnal colors. And because it is so in now, it's easy to find new copper decor and accent pieces – they are everywhere!
So today I thought I'd talk about how I've been decorating with copper, as well as where I've found some of my favorite pieces. I love any copper, but the vintage pieces really have my heart. I love their patina, and the fact that they aren't perfect makes them even better!
This post may include affiliate links. Click here for my full disclosure policy.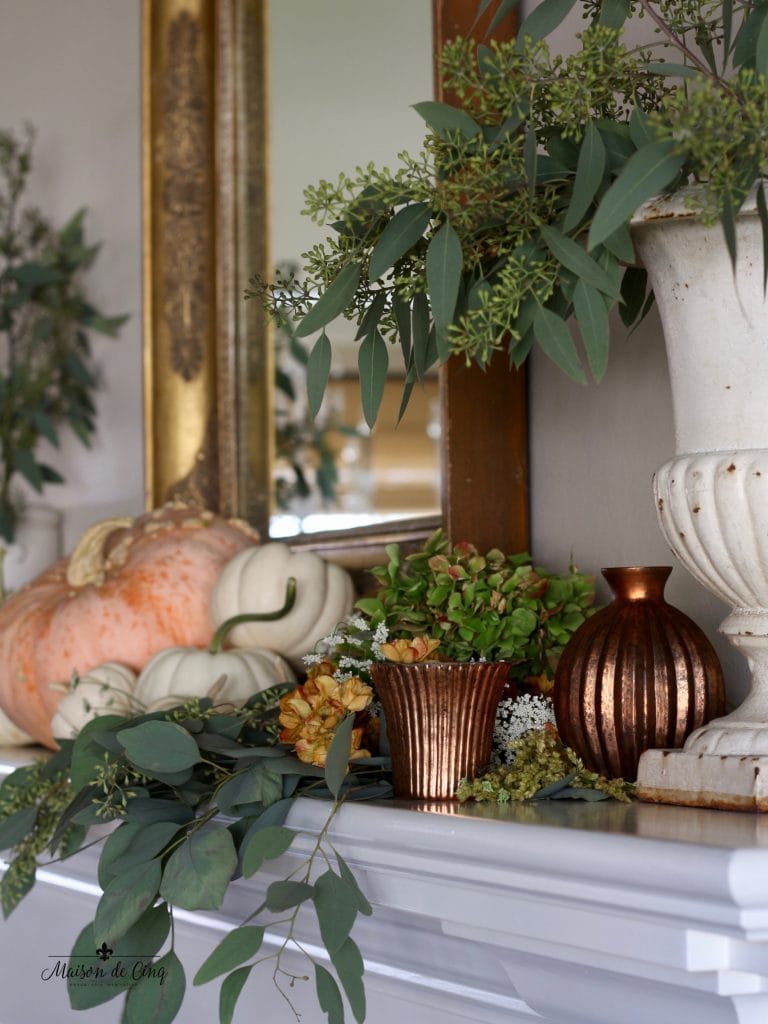 It all started with my romantic fall mantel. There were so many people asking about these copper votives! I bought about ten of them I think, in different shapes and sizes, and I just can't get enough of them. They are so versatile, and I've since used them in every area of the house, as well as in this Thanksgiving tablescape.
Sadly, they are sold out but I managed to find some similar options below.

This copper pot was a vintage find and perfect for displaying apples or mini pumpkins all season!

I especially love decorating with copper in an all-white kitchen. The copper really adds warmth and gives the space such a pop!
This copper teakettle is one of my favorite things – it makes me so happy to see it sitting on the stove all season!

Then last year I found some great vintage French copper pots that I love! How charming are those handles?!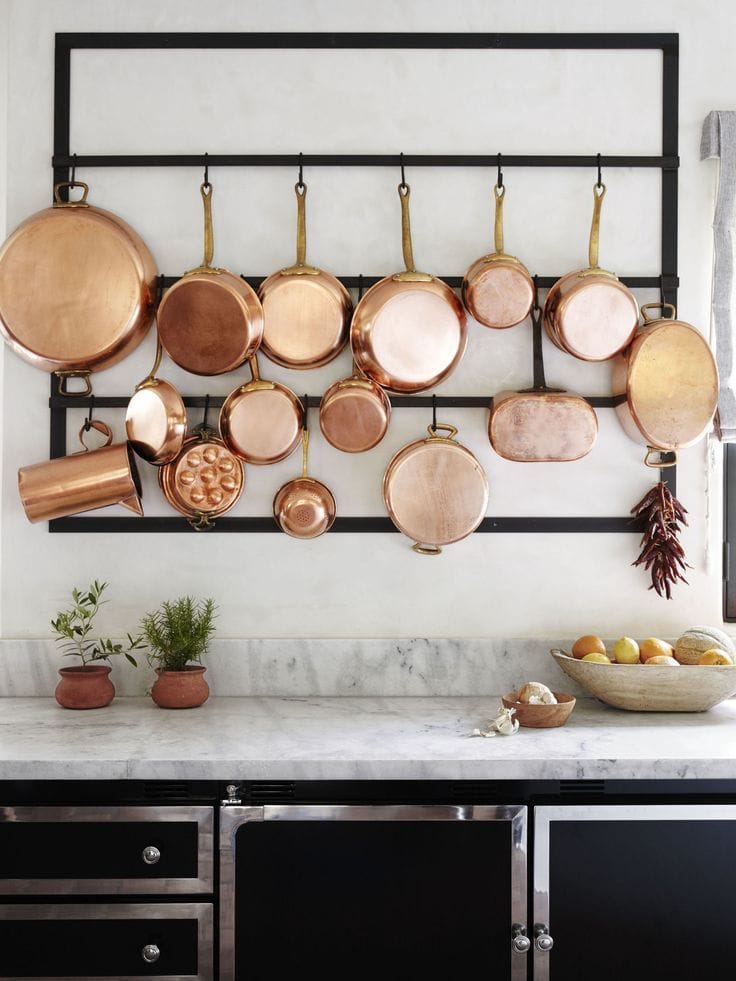 I love how they displayed these copper pots! I'm thinking next year I may try to hang mine. Via Good Housekeeping.

This little French pitcher is a favorite. I found this on Etsy, and I'm seriously in love!

My copper mugs come out every fall and winter. They're great as a little vase for a few flowers, too.

The little vintage plant mister was probably my very first copper piece! I think I bought it about three years ago at an antique mall.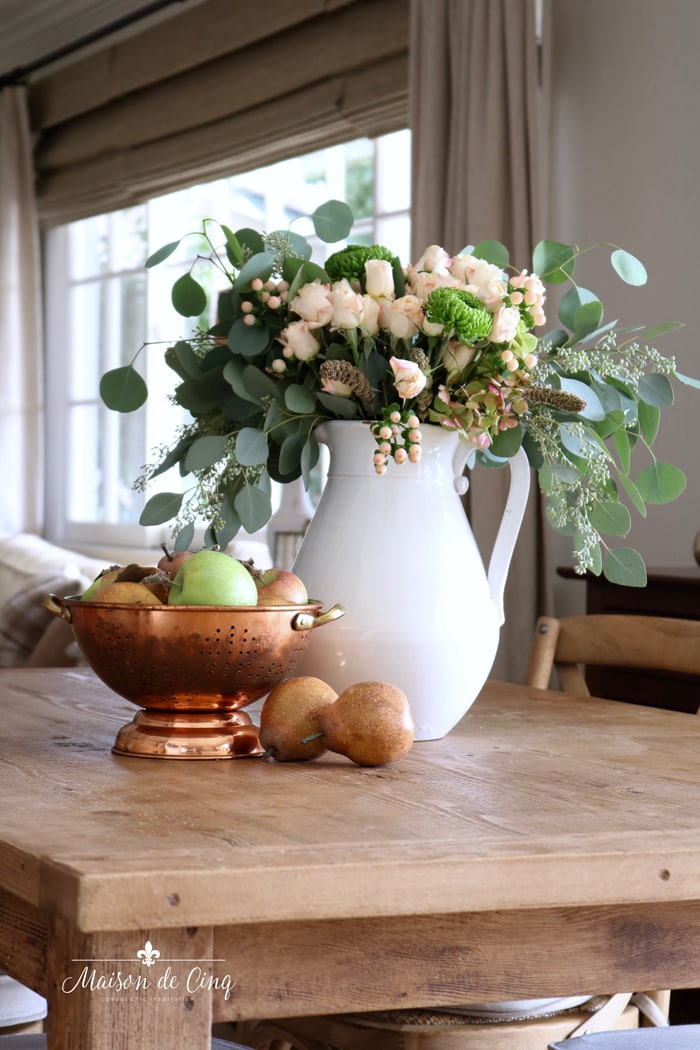 Candle holders, pots, pitchers, teakettles – even colanders – all of it works and can be used to add lots of fall warmth!

I hope I've given you some inspiration for decorating with copper in your own home! And if you're as crazy about copper as I am, I've found some great pieces for you! Lots of fun, new items as well as some great vintage pieces!
Shop Copper Decor

Happy Fall!
Sheila
xo
If you enjoyed this post, be sure to check out some of these other favorites!