Five Simple Tips for Decorating with Flowers on a Budget
Do you love flowers but think you can't afford them? Today we're sharing our top 5 tips for decorating with flowers on a budget!
As much as I love a stunning and complicated floral arrangement, that isn't really something I gravitate to. That's fine for a hotel lobby or an elegant wedding, but at home I prefer things a little simpler.
And lucky for me, that also equals cheaper! 😉
One of the questions I get asked the most on Instagram is how to decorate with flowers on a budget, so today I thought I'd share some of my best tips. It's actually easier than you think!
Let me clarify. None of these are earth-shattering secrets. But, they are the things that work for me. You see, for years I never bought fresh flowers at all! It's kind of hard to believe, even for me, but they always seemed like such an extravagance. However, because they are something that I love so much, I found a way to make it work for me!
THIS POST MAY INCLUDE AFFILIATE LINKS. CLICK HERE FOR MY FULL DISCLOSURE POLICY.
Tip One: Set a Budget
Okay, this may seem obvious, but you'd be surprised how many people don't do this! You must set a budget. If fresh flowers are something you want in your life on a regular basis, then you need to set an amount that you want to spend on them. And it is entirely up to you.
One person might spend $50 a week and be comfortable with that, while someone else may only have $5 a week to spend. This needs to be an amount you're comfortable with.
When I first decided to buy flowers on a regular basis, I knew I needed to stay within a budget. So I started looking at some of the things I could do without.
If you think you can't afford it, perhaps think of something else you buy that you could give up. Do you get weekly manicures that could be reduced to every other week? Or are you a Starbucks junkie who buys coffees almost daily? Those little "extras" can really add up. Just cutting those down some could provide you with fresh flowers every week!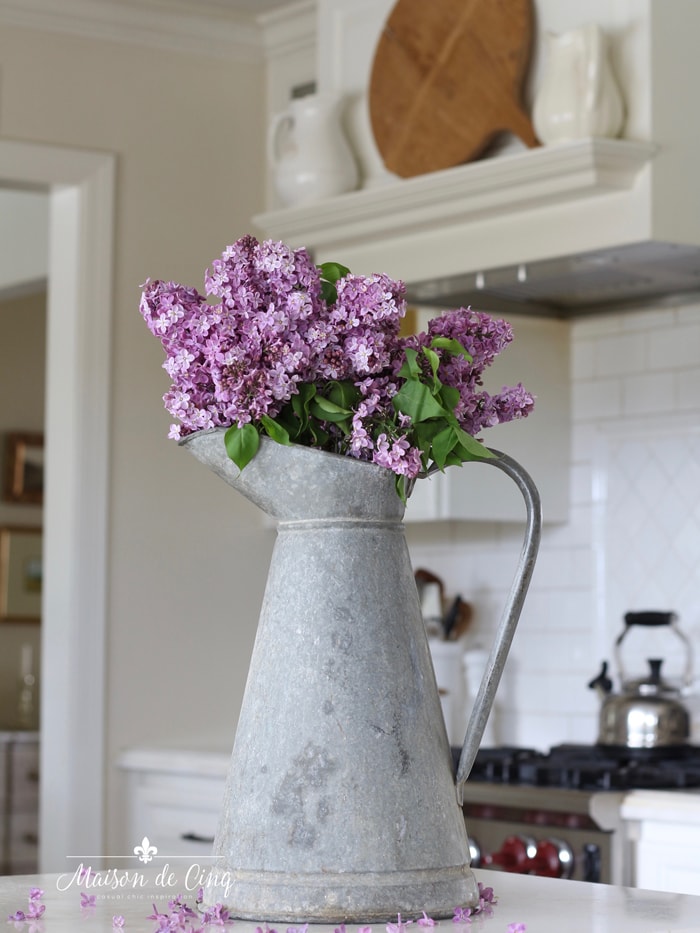 Tip Two: Buy in Season
Another thing that helps you to save money is to buy what's in season. Sure, Whole Foods has peonies in December, but they're a fortune! If you stick with what's in season, it's always going to be more affordable.
I love peonies, but because of their price, I only buy them in the spring. Same with ranunculus. One great place to get amazing prices on flowers that are in season is at a farmer's market. If you have any locally, they are frequently a great budget choice for fresh flowers.
These people are small businesses, which I love supporting. And they only carry what's growing now – they aren't shipping tulips from the Netherlands in May! Also, if you go late in the day they'll often barter and give you better prices because they're trying to lighten the load they take home (much like a flea market).
And sometimes you can even develop a relationship with them. There's one sweet older gentleman I buy from and he sells roses. Last week when I went to buy two dozen, he gave me two dozen more – for free!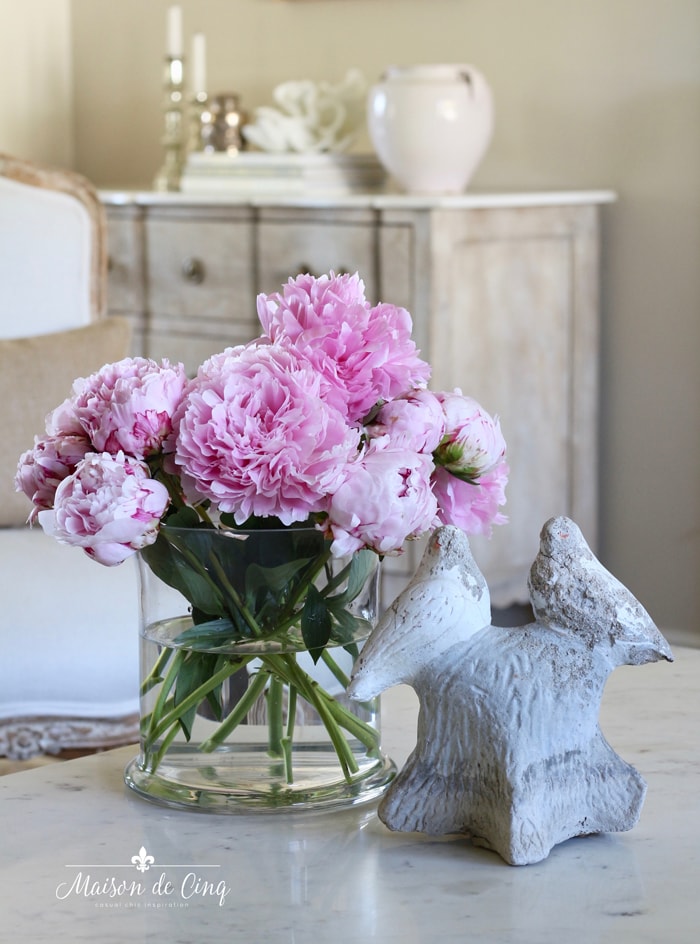 Tip Three: Buy at the Grocery Store
If you can't find a farmer's market where you are, or you simply can't get there every week, try the local grocery store. It's amazing what they carry nowadays! Their flowers are reasonably priced, and sometimes they even have a clearance section with some that are drastically marked down.
And of course if you have a Trader Joe's near you, then you're really in luck! Trader Joe's has hands-down the best prices out there (second only to a farmer's market). Their flowers are gorgeous, affordable, and they carry a pretty great selection most of the time. I've had great luck getting the majority of my flowers there and it's definitely the first place I usually stop.

Tip Four: Don't Forget Flowering Plants
Probably one of the best ways to decorate with flowers on a budget is to buy flowering plants. There are several containers in my home that are long and low and I can't really do fresh cut flowers in them, so I buy flowering plants instead.
And even if they are $10 rather than the $5 I typically spend on cut stems, they still save me money in the long run. I often buy two $10 hydrangeas and put them in the antique urn in my dining room and if they last three months, I'm way ahead of the game. That's only about $7 per month for gorgeous live flowers! A win-win for sure!

Tip Five: Go Outside
This may be the biggest budget tip yet! If flowers are important to you and you can't afford to buy them, then get them from your yard. By planting roses, peonies, hydrangeas or any of the other popular flowers in the stores, you will have your own regular supply – all on a budget!
The great thing about having flowers growing in your yard is that the only money you'll spend is your initial investment. After that, every flower is free!
We have a ton of iceberg roses growing in our front yard, yet until last year, I never clipped them to bring inside! Then last spring I was doing a tablescape for the blog and didn't have time to go get flowers. I decided to grab my clippers and brought some roses inside.
I couldn't believe I had never done that before! Iceberg roses are rather floppy, floribunda types so I had never thought of putting them in a vase, but they looked great, and they lasted for over a week!


I hope you found this helpful and that it inspires you to bring some fresh flowers into your own home! Decorating with flowers on a budget can easily be achieved by utilizing some, or all, of these tips.
Whether it's a splurge on some peonies, a bunch of grocery store flowers, or even a flowering plant, flowers can bring so much joy! They can brighten up a whole room, and can even lighten a mood. To me, the psychological and emotional benefits are well worth the investment.
I'd much rather spend my extra money on flowers than on a Starbucks!
You can see more tips all about styling flowers in my How to Decorate with Flowers: Six Easy & Stylish Tips!
Shop the Post


Happy Spring
Sheila
xo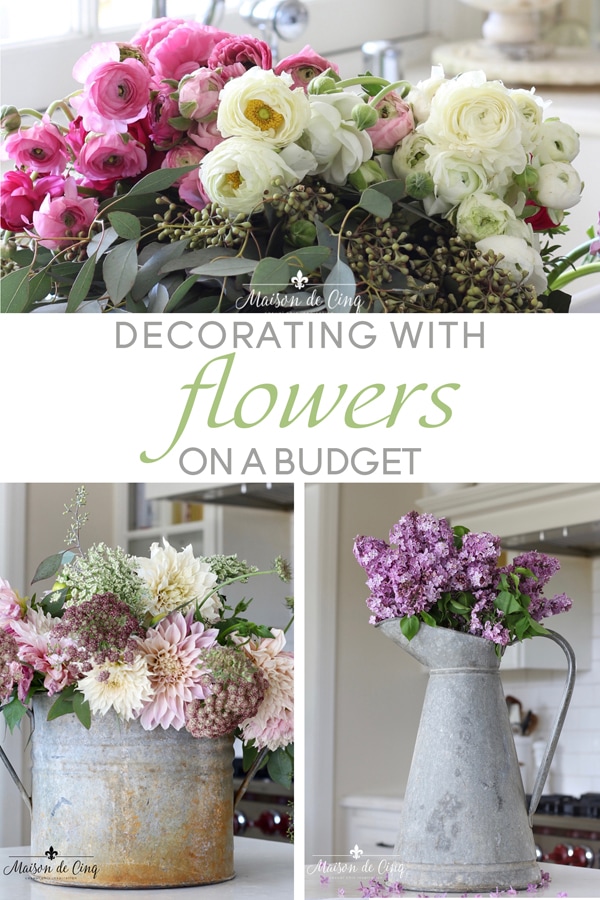 Be sure to visit my friends who are also sharing their posts all about flowers below!
Tidbits: Look Inside these 7 Books on Growing Flower Gardens
Seeking Lavender Lane: Tulips for Spring
Shades of Blue: A Spring Floral Arrangement
So Much Better with Age: How Flowers Bring Joy & Calm
If you enjoyed this post, be sure to check out more decorating ideas and inspiration below: