Decorating with White Hydrangeas – My Favorite Flower!
Today for my Friday Favorites post I thought I would talk about decorating with white hydrangeas. White hydrangeas are my all-time, absolute favorite flower! As some of you already know, I'm a big fan of white flowers in general. I even switched over my garden to all green and white a couple of years ago. But the one flower I find I always come back to, the one that has my heart, is white hydrangeas.
I grow them in both my front and back yards, and I almost always have a pitcher of them on my counter. Not only do I love their charming, fluffy blooms, but they are one of the longer-lasting flowers you can buy. And they're almost always available at the market or Trader Joe's. Often times I can make a $6 bouquet last a couple of weeks! And for even more flower tips and tricks, make sure you check out my post all about
Decorating with Flowers!
An arrangement I did last spring with white hydrangeas and seeded eucalyptus in a vintage ironstone pitcher.
And the best thing about them? They work year-round in decorating. A lot of other flowers have a strong seasonal association. Peonies in the spring, paper whites in the winter, or gladiolas in the summer. But hydrangeas really are around most of the year, so they look great at any time, for any occasion.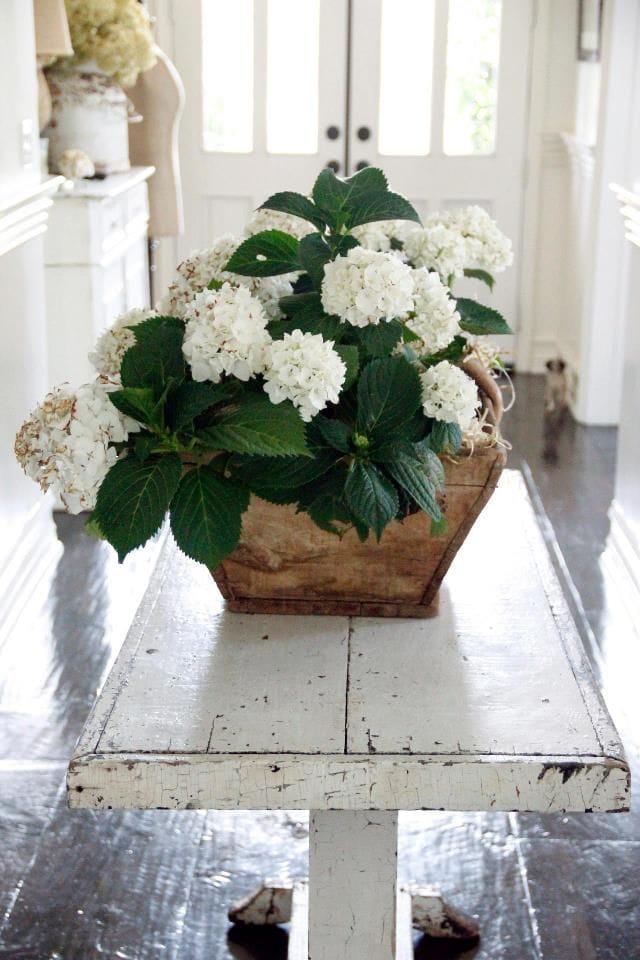 Seriously?! Does it get any lovelier than this? I adore the white hydrangeas against the old wooden box. Via Debra Hall Lifestyle.
Via The White Company.
A vignette I did on the kitchen counter last year, combining white hydrangeas in a white pitcher with white cake stands and cloches.
Via Atelier de Campagne.
Floral design by the fabulous Carolyn Roehm.
They look spring-y and fresh in the spring and summer months (especially the Limelights that have a slightly green tinge), but they also look amazing in the winter! I love them mixed with eucalyptus in fall, or pine and berries at Christmas.
My dough bowl with white hydrangeas in it.
From my recent post on vintage French bread boards.
Absolute crusty urn perfection! Via Atelier de Campagne.
Love them mixed with other white flowers. Via Pottery Barn.
From my Summer Tour in Shades of Blue.
See what I mean? They look good with everything, and in anything! From an old crusty urn or bucket, to a crystal vase and everything in between. Not just gorgeous, but versatile, too. For me, they are the ultimate flower!
And in case you're looking for some unique containers for your hydrangeas (or any other flowers!) I've gathered some of my favorites below. From buckets, to my favorite glass vases, to some blue and white pottery, there are so many wonderful options for showcasing these gorgeous flowers!
And for more tips and tricks, as well as ideas on how to keep flowers in your home every week while still keeping on budget, check out my post How to Decorate with Flowers: 7 Easy & Stylish Tips!
Shop the Post!


*please note some affiliate links have been included for your convenience*
Happy Friday!
Sheila
xo