Do you want to add some indoor plants to your home but don't know where to start? Today we're sharing 5 easy tips for decorating with houseplants.
One essential I always talk about when it comes to decor is having something "alive" in your spaces. I've talked about that when it comes to styling a coffee table, as well as decorating shelves. And houseplants are the ultimate way to add greenery and freshness to your spaces all year round!
Did you also know that living with houseplants cleans the air and reduces indoor toxins, improves productivity, and can even help reduce stress? Things from nature help us feel more calm and I know I can always use a little more of that. And bringing greenery into your home literally adds life to your space!
THIS POST MAY INCLUDE AFFILIATE LINKS. CLICK HERE FOR MY FULL DISCLOSURE POLICY.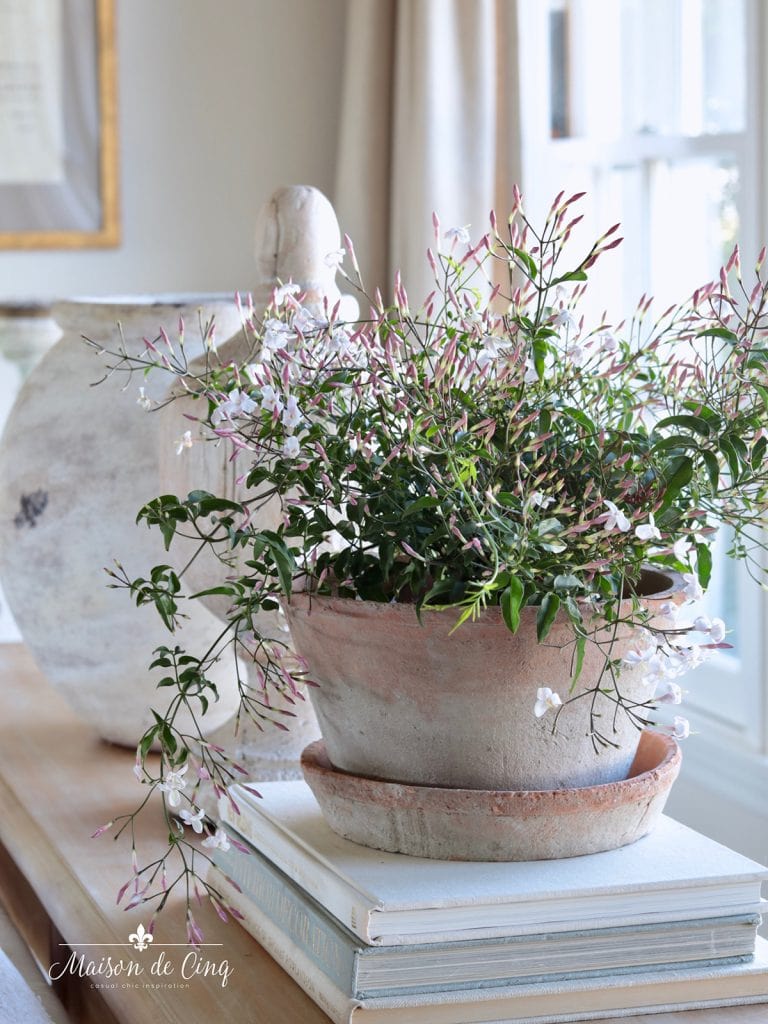 Flowering jasmine in a terracotta pot.

Decorating with Houseplants
If you've been wanting to add some indoor plants to your home, these are some easy tips to get you started!
1. Choose different sizes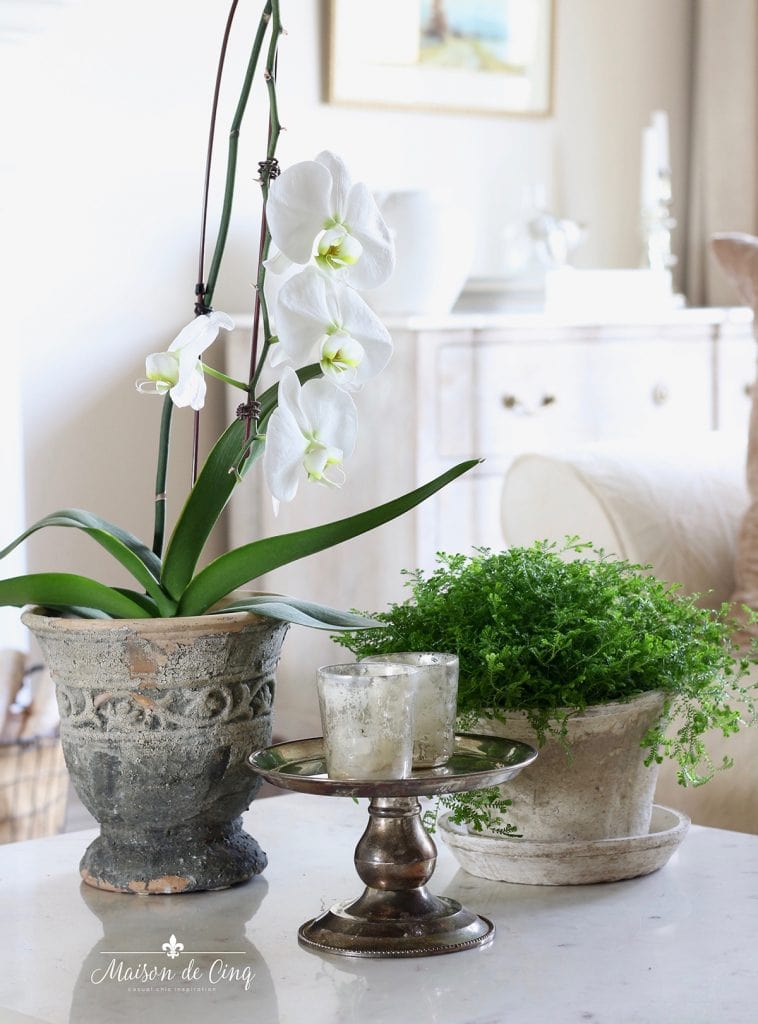 Not only different plant and pot sizes, ranging from small to large. But also, different size leaves. If you're mixing a few plants in one room, try using one smaller leafed plant along with a larger leaf.
The plant above has an airy, ethereal quality with wispy leaves. I love the way it is juxtaposed with the large leaves of the orchid next to it.

A large fern in an antique cast iron planter.

2. Select an Array of Different Pots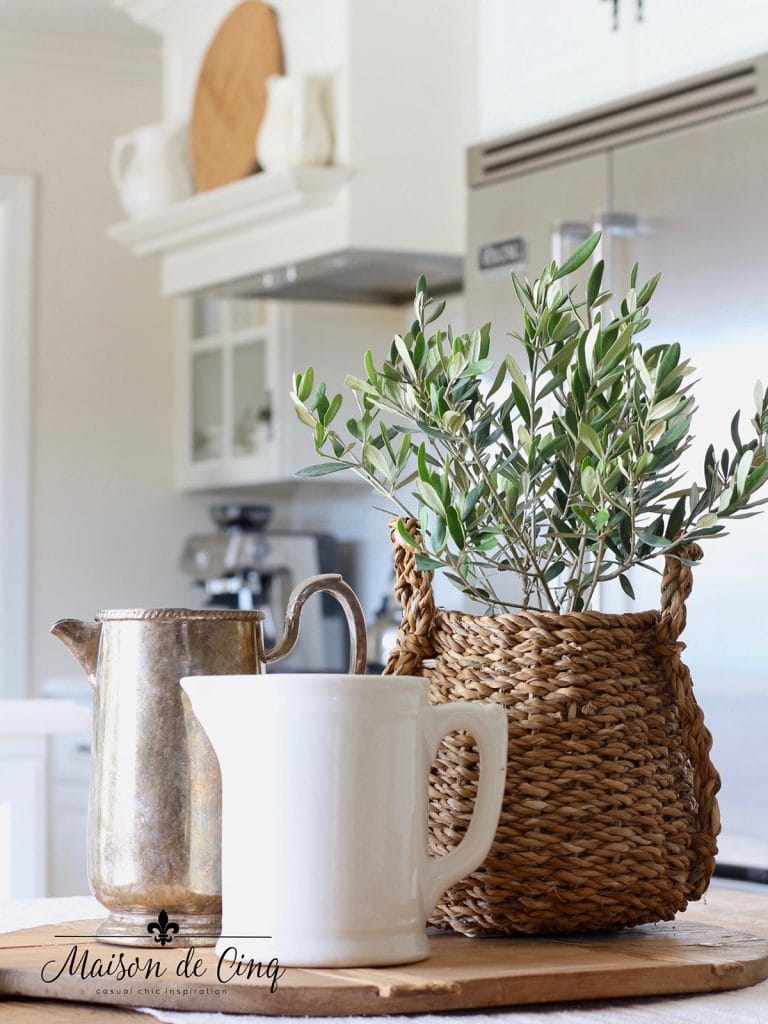 I really love terracotta and use that for the indoor plants I have as well as the outdoor ones. However, I don't want everything to be in the same style pot; I like to mix it up a bit. If you have a vintage urn or cast iron planter, mix that with some terracotta pots or concrete planters.
Or use baskets as planters. A plant in a basket is one of my favorite looks!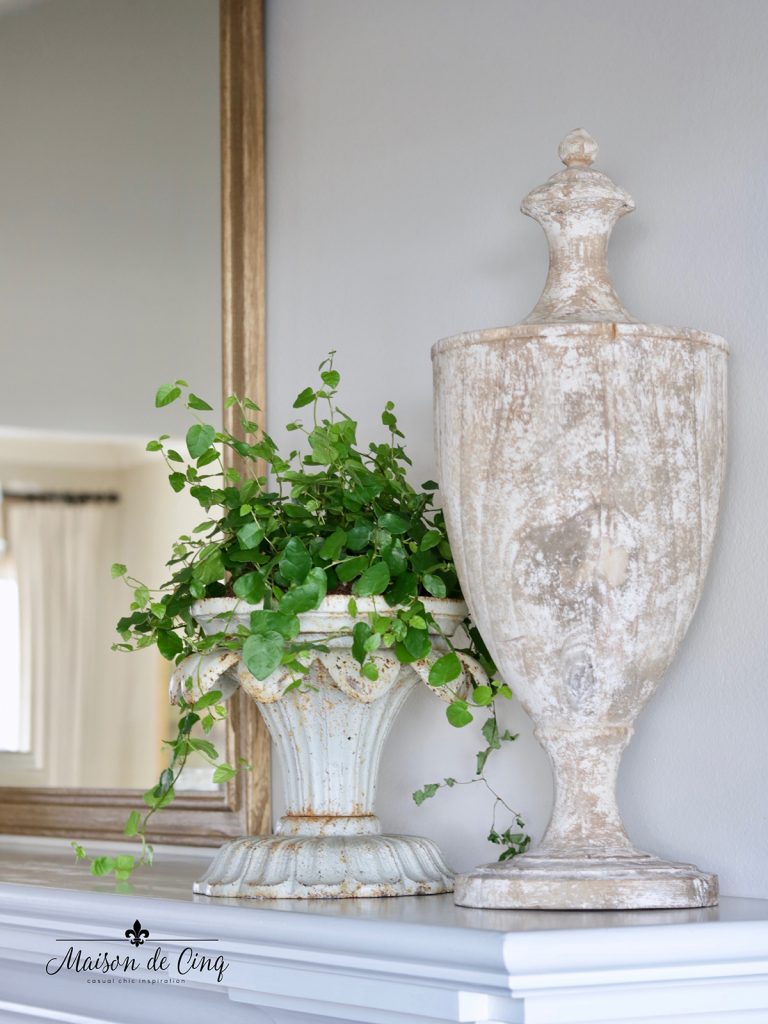 And this antique planter holding Creeping Fig really adds elegance on the mantel. This plant is a particularly easy one to grow indoors.
In fact, almost anything can make a cute planter as long as you drill a hole in the bottom. From an old teapot to a transferware bowl, an unexpected container can be so charming!
You don't need to mix a ton of different styles, just make sure that you're using at least two different styles in the same room.
3. Make sure to water your houseplants at least once per week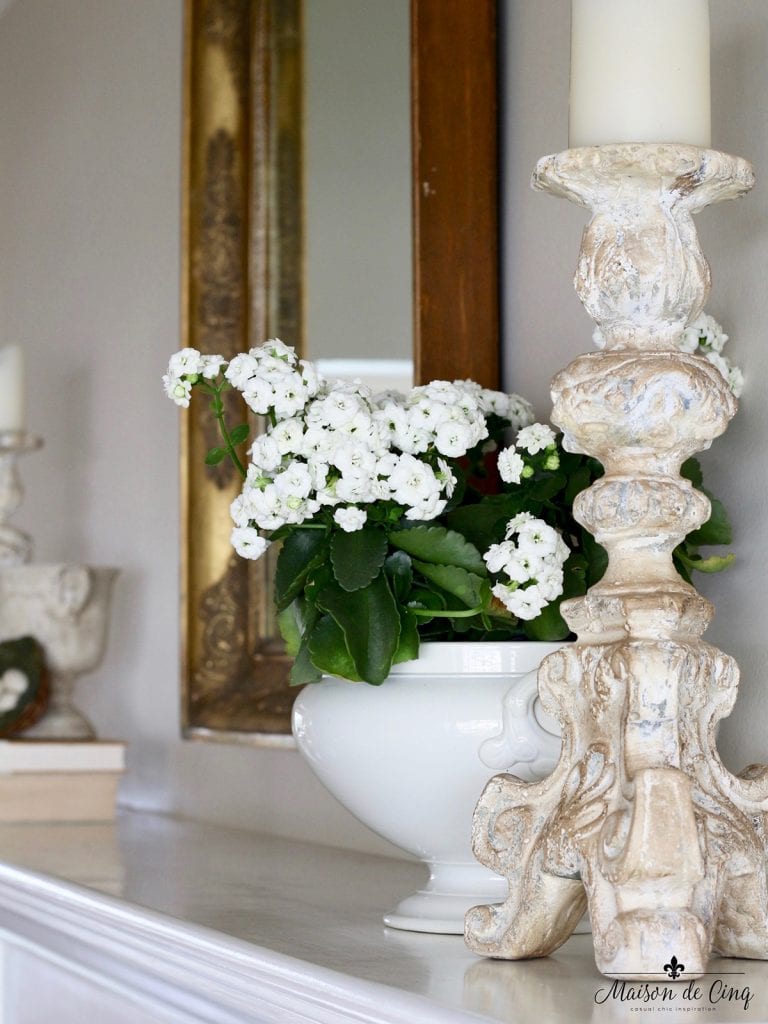 This flowering plant is actually a succulent called Kalanchoe and it's one of my favorites!
Believe me, I've killed quite a few houseplants over the years and I finally have it down pretty well. Though you can over water indoor plants, they're usually more in danger of not getting enough water. That's due to the fact that many of the plants we call 'houseplants' are tropical and as such, need more moisture.
Still, if you water thoroughly, once a week is usually fine. Though you may need to do it a little more during the warmer months. Misting plants in between is something I do frequently and I find that helps to mimic their moister environment without having to water more often.
The best way to tell if your plants need water is to stick your finger about an inch into the soil, and if it feels dry, it's time to water. If it's still damp, check back again in a day or two.
Of course, if you have succulents or more drought tolerant houseplants this is not as much of an issue. For those, a once-per-week watering schedule is usually sufficient.

4. Mix in some flowering plants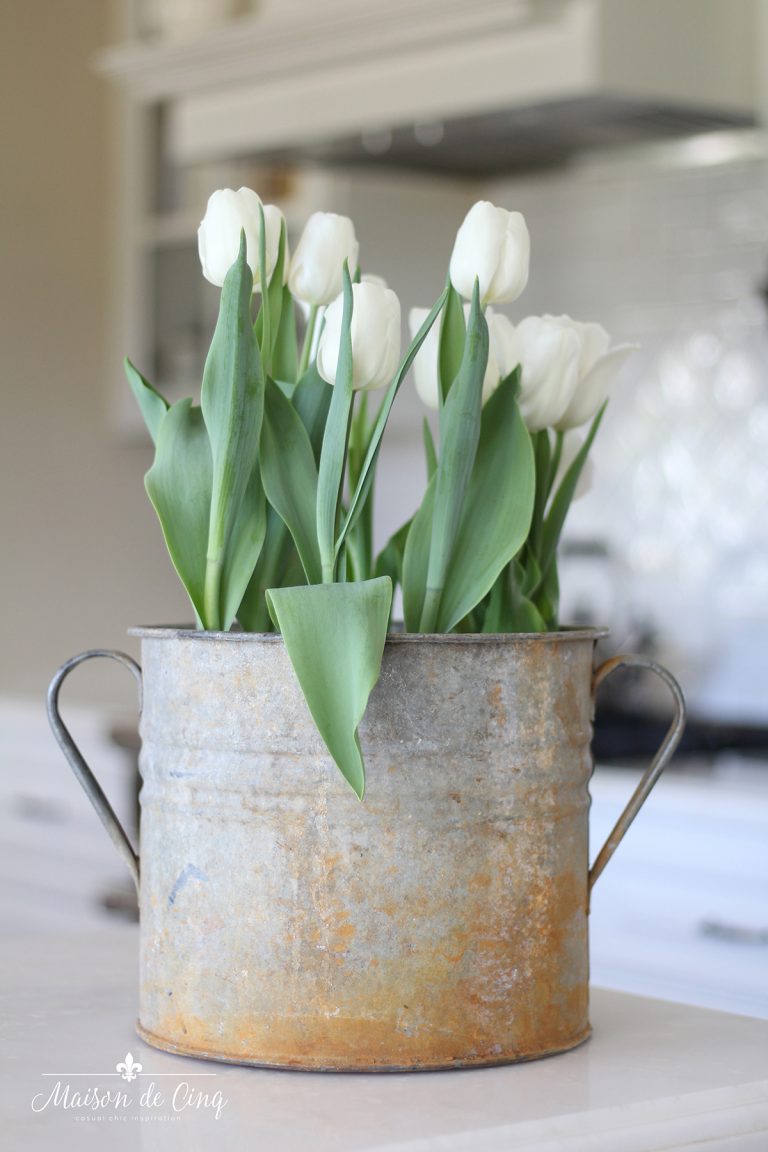 I'm sure it's no surprise to you that I lean toward flowers even when it applies to indoor plants! I love adding green plants to every room, but I also often have a flowering plant as well. I love the mix of the two.
But I also love that flowering plants can stand in for cut flowers at a much more reasonable price! This is something I've talked about before in my post all about adding flowers to your home. With flowering plants you still get all the beauty of flowers, but without the expense!

I used two hydrangea plants to fill this vintage French cast iron planter.
5. If you're apprehensive, start with plants that are (almost) impossible to kill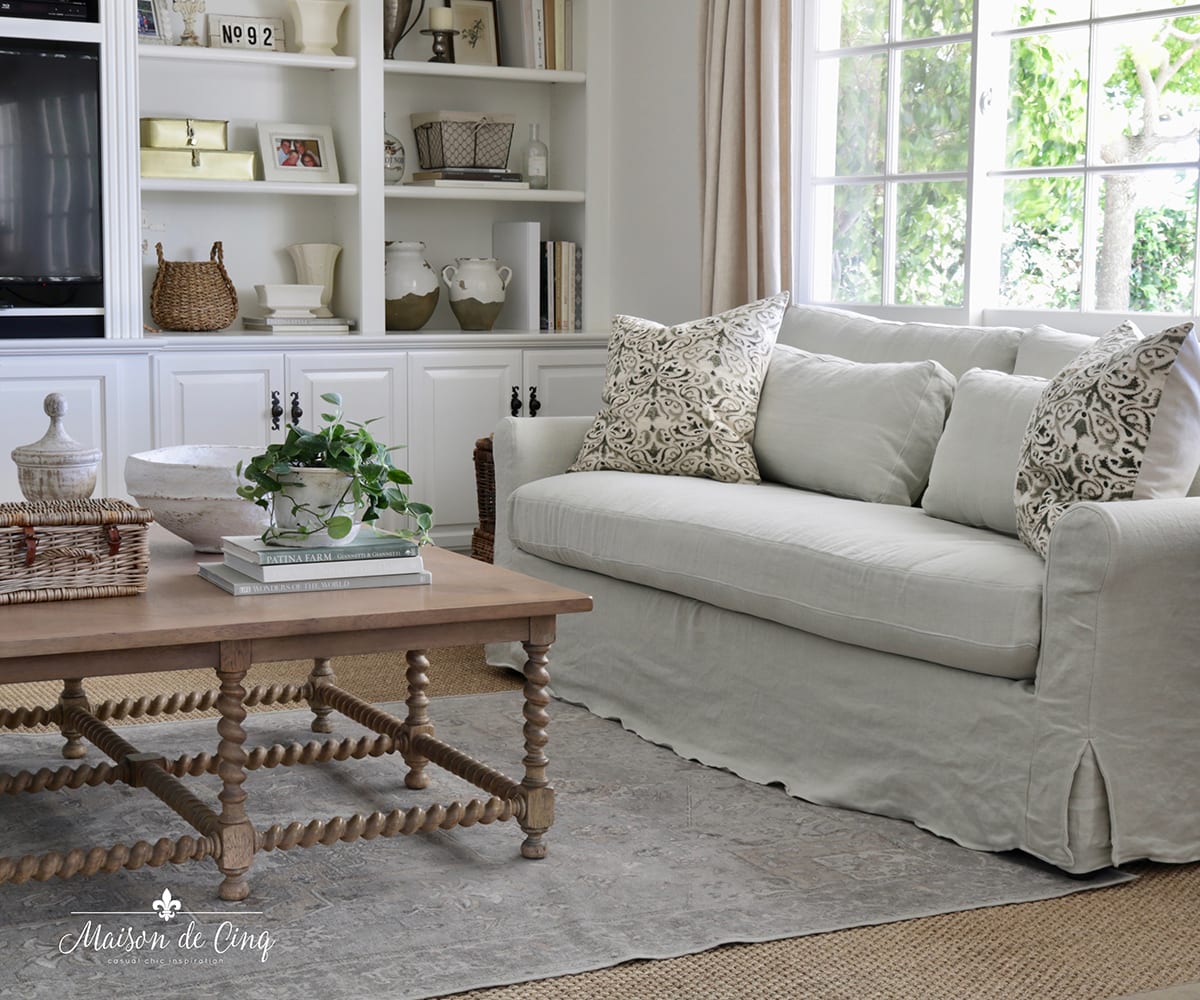 I love this Satin Pothos I have in the family room – and this is by far the easiest plant I've ever grown!
As I mentioned before, I've definitely killed my share of houseplants! But I finally learned that by picking more low-maintenance plants, it was way easier to keep them alive. By choosing a less demanding plant or even a succulent, you'll find it much easier to succeed. And then you can always move onto slightly fussier plants in the future – or not!
Here's a list of some of the easiest indoor plants to grow:
1. Pothos
2. English ivy
3. String of Hearts
4. Peace lily
5. Ficus
6. Dieffenbachia
7. Snake plant
8. Spider plant
and of course, most succulents are relatively easy to care for.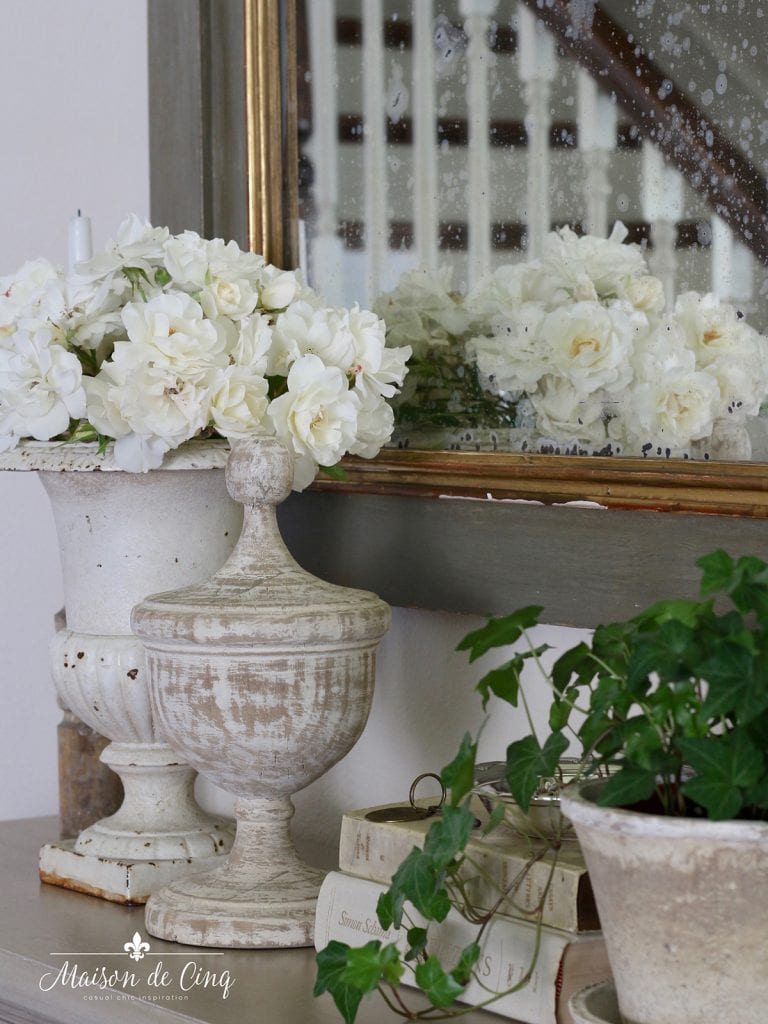 Low maintenance English ivy is always a favorite!
And in case you need some pretty new pots or planters, I'm sharing some of my favorites below!
Shop Houseplant Containers

I hope if you've been toying with the idea of adding some indoor plants to your home that you'll give it a try. Decorating with houseplants can bring so much life to a space. In fact, I would say every room needs at least one plant!
Sheila
xo
Now be sure to check out some of my friends who are also sharing ideas for houseplants and flower arranging below!
If you enjoyed this post, be sure to check out some similar ones below!