More Designer Dupes: Home Decor Finds for Less
Do you love to find designer home decor bargains as much as we do? Today we're sharing another installment in our Designer Dupes series – get that designer decor look for way less!
I heard from so many of you after our last Designer Dupes installment that I decided to write another one! If you missed our first installment, this Designer Dupes series is where we find very similar or even the exact same designer decor item for much less!
This series is really fun for me to do. Not only do I love getting a deal, but even more, I love sharing those deals with you! And honestly, I could have shared even more (I guess I'll save those for the next installment!) Today I've got a few RH dupes, one from Serena & Lily, several Pottery Barn ones, as well as other designer furniture and decor that I know you'll love!
THIS POST MAY INCLUDE AFFILIATE LINKS. CLICK HERE FOR MY FULL DISCLOSURE POLICY.
I've always loved this French-inspired RH dresser but it's on the high end at almost $3000. Get this well-rated wood dresser for less than half that!

This stunning transitional platform bed from McGee would look good in any space, but this Wayfair version gives the look for much less.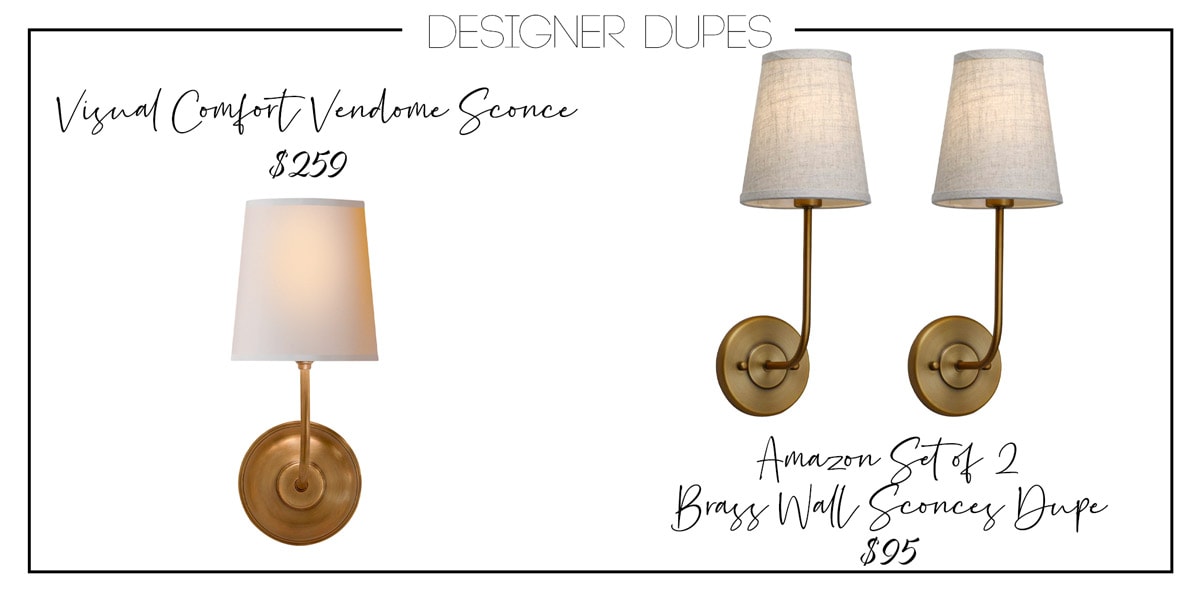 Visual Comfort makes one of my favorite sconces, but you can snag this Amazon set of 2 for less than half the price!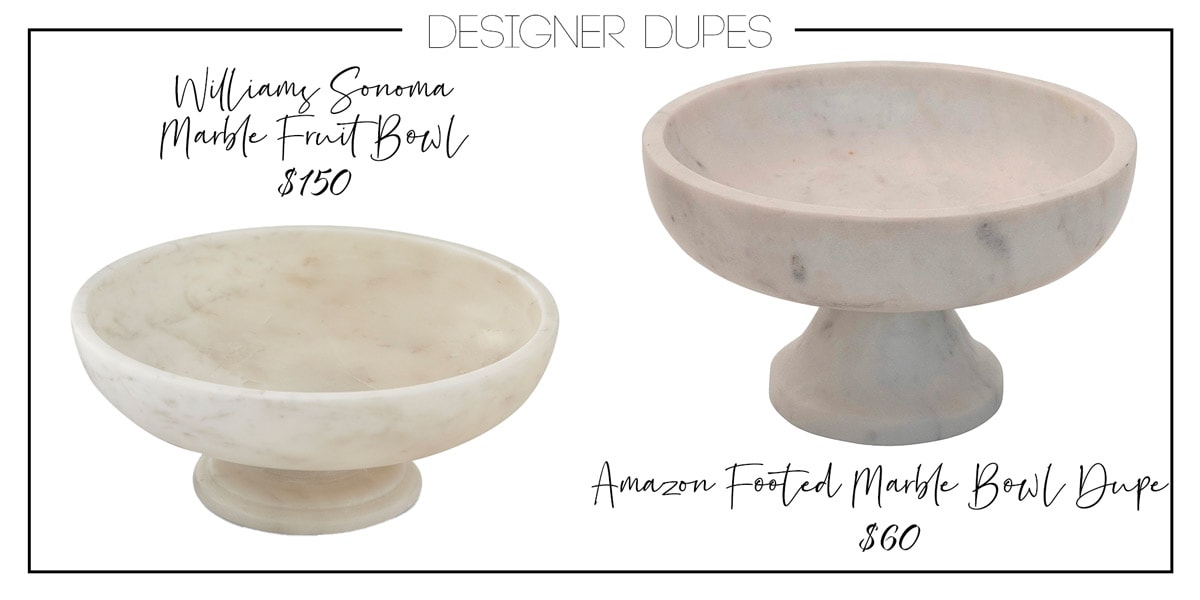 This Williams Sonoma marble bowl is a great statement piece, but this slightly smaller Amazon version gives a similar look for less than half the price.

This chic tufted desk chair is perfect for any home office, but you can get the look for much less with this Overstock version that looks almost exactly the same!

This Arhaus gold mirror is so classic in style, but you could pick this Amazon dupe and spend 1/3 as much!

One of the best dupes I've ever seen! This Walmart 3-piece set is a dead-ringer for the pricey Serena & Lily version.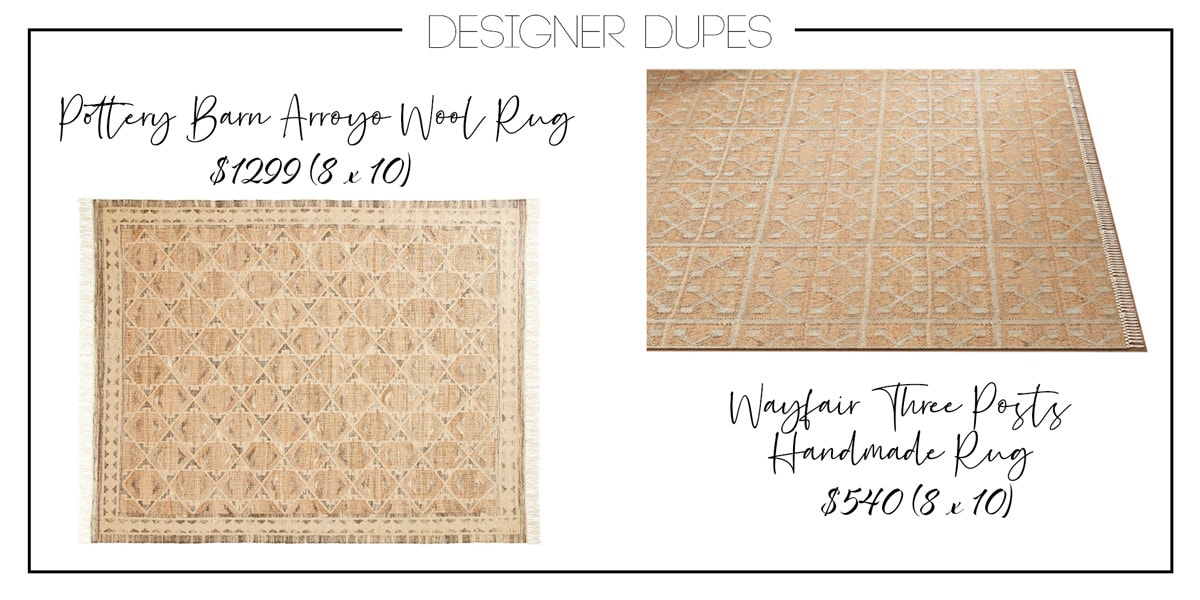 This beautiful wool rug is a favorite of mine because of it's versatility, but this Wayfair version is so similar and less than half as much.

This stunning RH table clocks in at over $2000, while this hammered version gives the same look for a fraction of the price!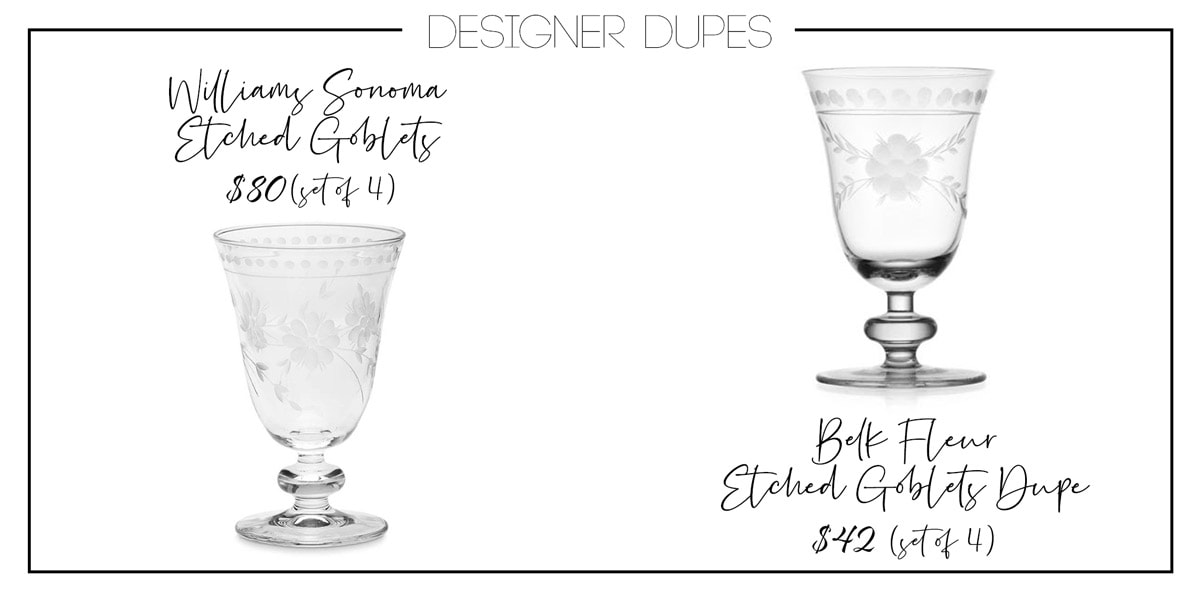 I was debating getting these pretty etched goblets, but then I found this version for about half the price!

The rustic look of this lamp will set you back about $400, while this Kirkland's dupe is about 50% of that.

And here are a few more home decor finds for less!
I love linen tea towels for their European look, but they can be pricey. These are the exact same ones at half the price!
These are my favorite basic linen napkins, but these are almost the exact same, cost less, and come in way more colors!
The Balustrade Salvaged Wood coffee table from RH was selling for $2325 before it was discontinued, but this solid wood table gives a very similar look for only $1349!
My favorite pepper mill can be a bit steep, but Ebay has it for way less here.

Shop Designer Dupes

I hope you found this as fun and educational as I did! And keep your eyes peeled for a Fashion Dupes installment coming soon!
Sheila
xo
If you enjoyed this post, be sure to check out more inspiration below: