DIY Farmhouse Table: Anthropologie Knock-Off for $120!
Are you someone who looks at DIYs and feels intimidated? Well, so were we! But we DIYed a farmhouse table and it turned out great. Read all about how we made a gorgeous Anthropologie knock-off outdoor table for around $100!
If you've been a reader for awhile now, I'm sure you've seen my farmhouse style outdoor table. In fact, the number one question I get on Instagram is "where is your table from?" And to the surprise of many, I tell them my husband made it!
It all started a few years ago when I fell head over heels in love with an Anthropologie table, to the tune of $3000! Well, as you can imagine, that was just a wee bit more than we wanted to spend, especially on an outdoor one.
But when I started googling that Anthropologie table, I found a blogger who had DIYed it. And she had only spent about $65!! I was in!
THIS POST MAY INCLUDE AFFILIATE LINKS. CLICK HERE FOR MY FULL DISCLOSURE POLICY.
And though I wouldn't classify us as avid DIYers by any means, my husband is pretty handy. And I had a birthday coming up, so I talked him into making it for me as a birthday gift 😉
My thoughts at the time were that if we spent $65 and it didn't look great or didn't last long, it wasn't a huge investment. And now, over 6 years later, it's still here!
This is the photo I originally found on Pinterest showing the table that Shanty 2 Chic built, based on plans by Ana White.
DIY Farmhouse Table Details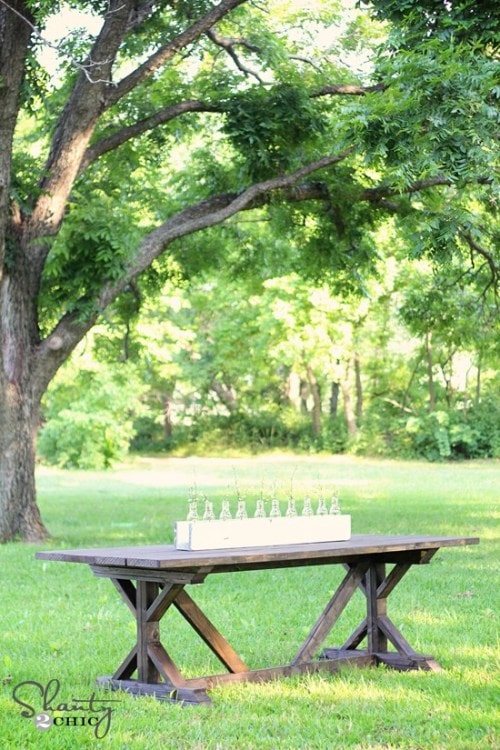 So cute, right?!
DIY Farmhouse Table Measurements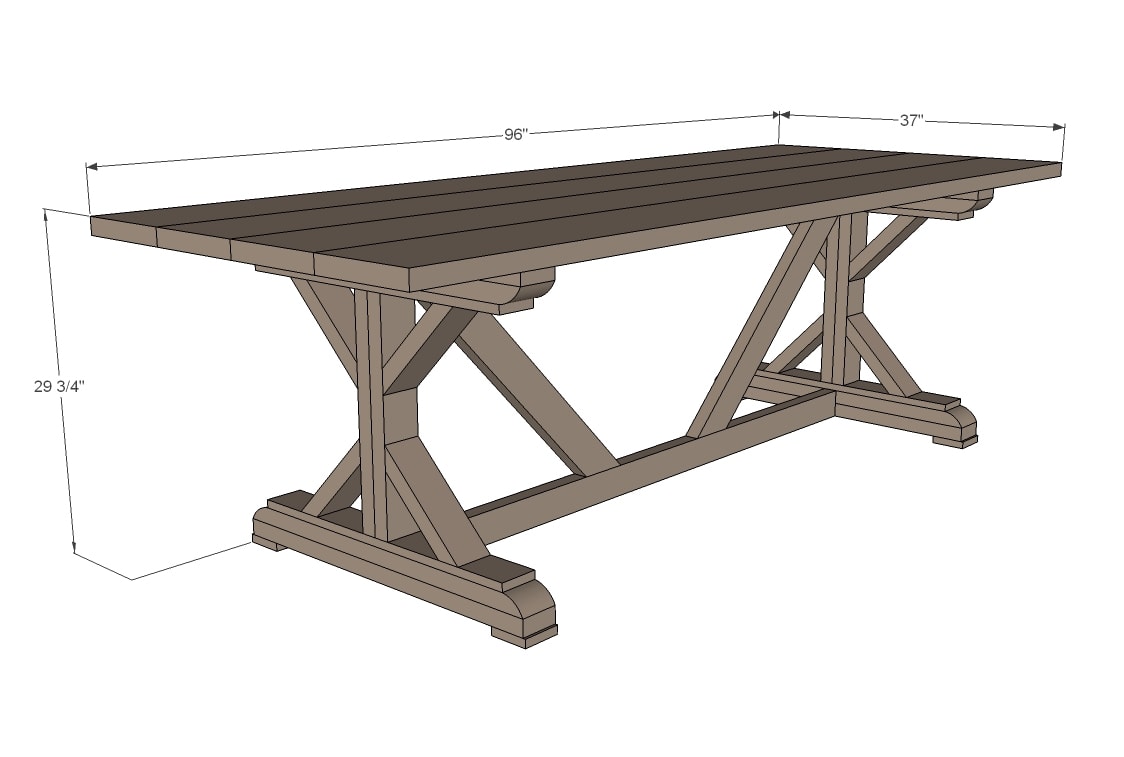 We followed the plans pretty closely, especially as far as details and cuts, etc., as well as the measurements. You can get the full plans on Ana White.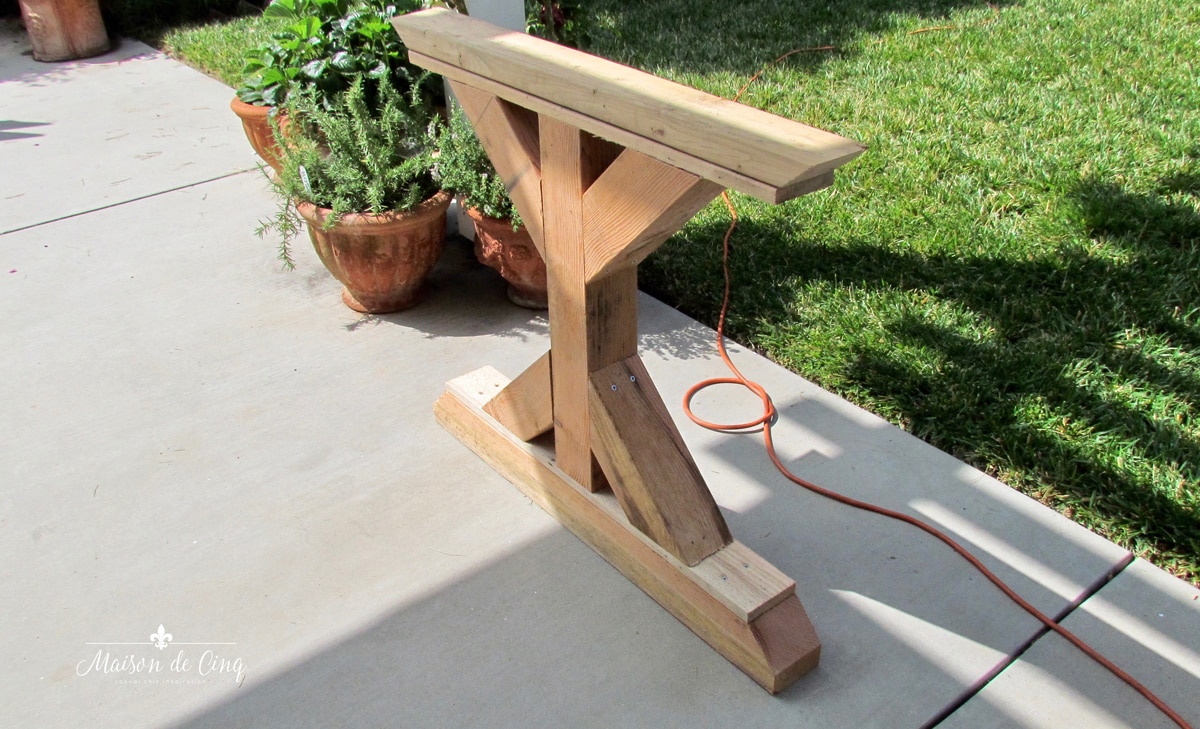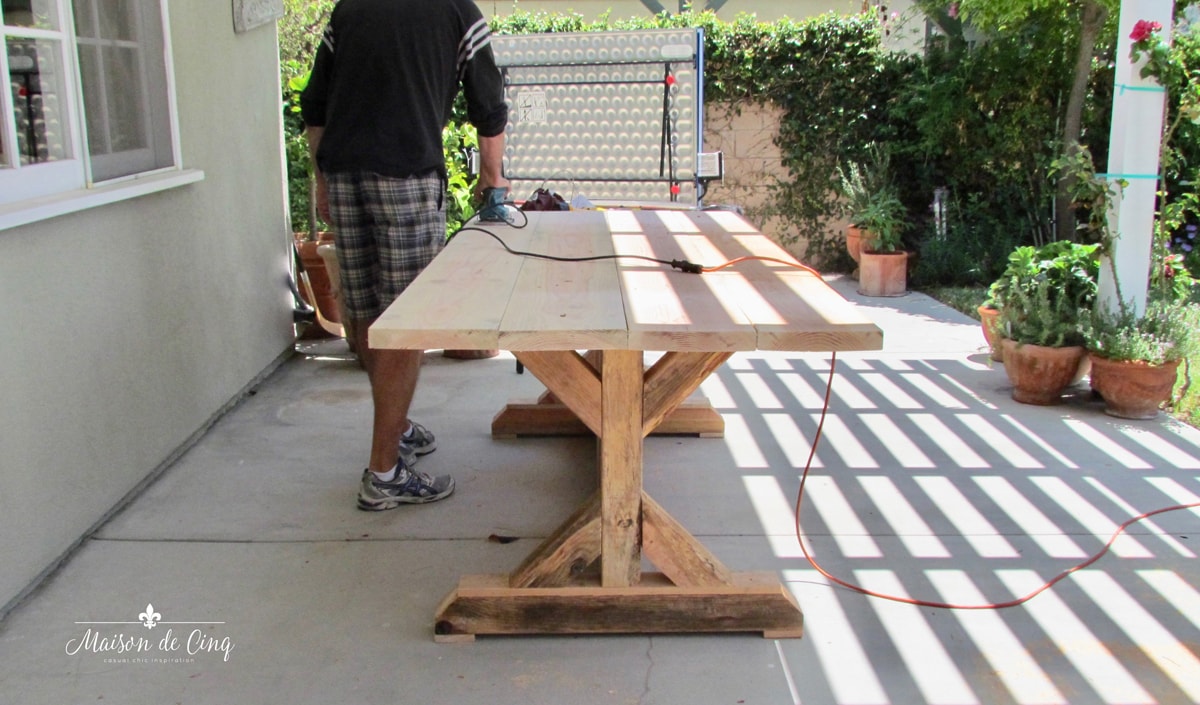 It's so funny to see the old backyard, too! This is before we added the fountain and redid the hardscape and pool.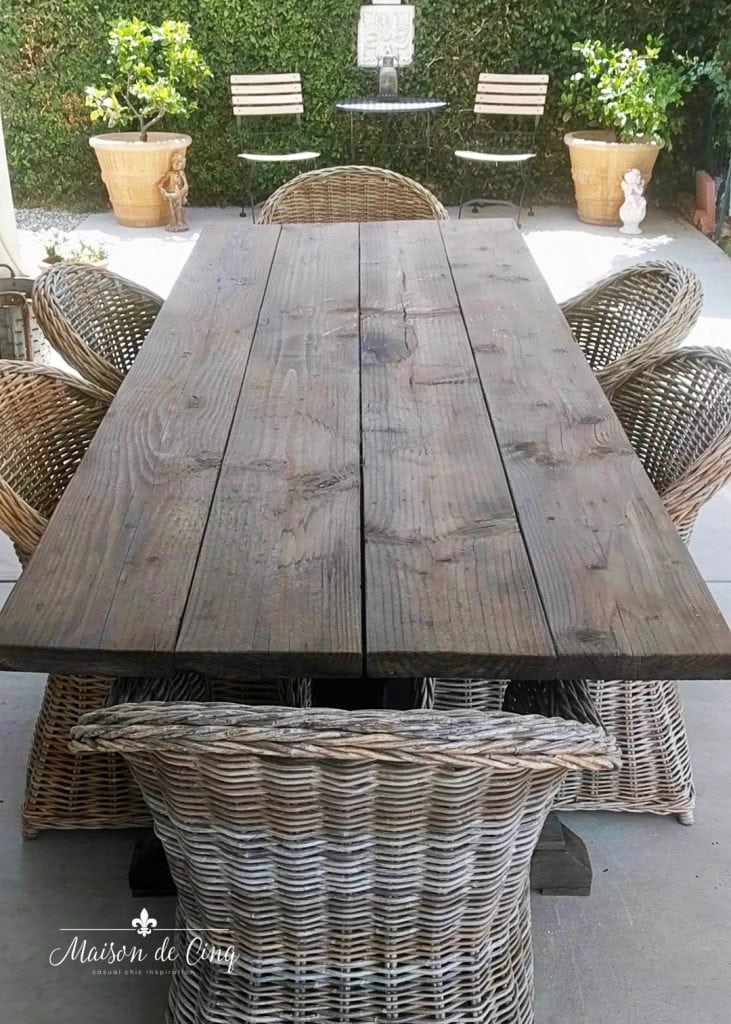 And it was done! It only took my husband about 2 days to build, and all in all it turned out great. We spent more than $65 on wood (I guess that's California prices for you, haha!) Our total investment was around $120.
Stain We Used
I went back and forth on what to stain it. Originally I was going to use the same colors Shanty 2 Chic did, but I didn't want it quite that dark. I ended up finding this product, Vintage Wood by Amy Howard. I like that it isn't too dark and it gives it more of a weathered-wood look (without letting it sit out for years and years – win/win!)
We are having trouble with our top boards warping, so it's no longer completely flat on the top. My husband is talking about rebuilding, more to learn how to do it better than anything else. I also think we would spend more and use a hardwood. We used pine and it's too soft for this table and I have a feeling that's why it's warped some. It's not awful, just not perfect.
I guess it has patina, right?!
The other thing I'd love to change if he does rebuild one is to make it larger! At 96″ wide it seemed really big, but the trestle/legs take up a fair amount of space. He made the table before I bought the chairs, and I can just barely fit two of these on the side. It would be nice if it had just a little more wiggle room!

But all in all, I've been very happy to have it, and it is well worth the $120 we spent!
We spend so much time here in the summer. We drink coffee and read the paper here in the morning, eat lots of dinners here in the evening, not to mention every summer holiday and lots of get togethers, too.
The other question I get asked on Instagram the most? These chairs! These were from World Market and unfortunately, they don't carry them any longer. However, it's not all bad! My same chair is available on the Birch Lane site (and if it's sold out, you can sign up to get an email when they come back in stock).
My wicker chairs are not rated for outside, so they are starting to show wear and I'm sure they won't last more than a few more years.
One of the reasons I didn't buy all-weather ones was the price. At the time, I couldn't find any that were under $700 a chair so I figured I'd risk it and buy the indoor version. To be honest, I probably should have just bit the bullet and spent more, but so far they are hanging on! If you're interested in a chair made for the outdoors, these gorgeous chairs from Williams Sonoma are almost exactly like mine and are made from all-weather wicker.
If you want to risk using the indoor chairs like I did, then I recommend having them on a covered patio only. Also, I do treat them each year with a spray-on protective coating which has helped a lot. I'm sure if I covered them all winter they'd fare even better but unfortunately, we are a little lackadaisical about that!

Have you ever DIYed anything? I'd love to hear if you have and what your experience has been!
Though we built the patio cover and added molding in the house in lots of places (you can see our wainscoting here and picture-frame molding here), this was the first piece of furniture my husband ever attempted. And we would definitely do it again!
Shop the Post

Sheila
xo
If you enjoyed this post, be sure to check out some of my other outdoor posts below: