DIY Raised Herb Garden Planter Box
Looking to start your own herb garden? Our DIY Raised Herb Garden Planter is an easy project that lets you start growing your own herbs, in your own yard, today!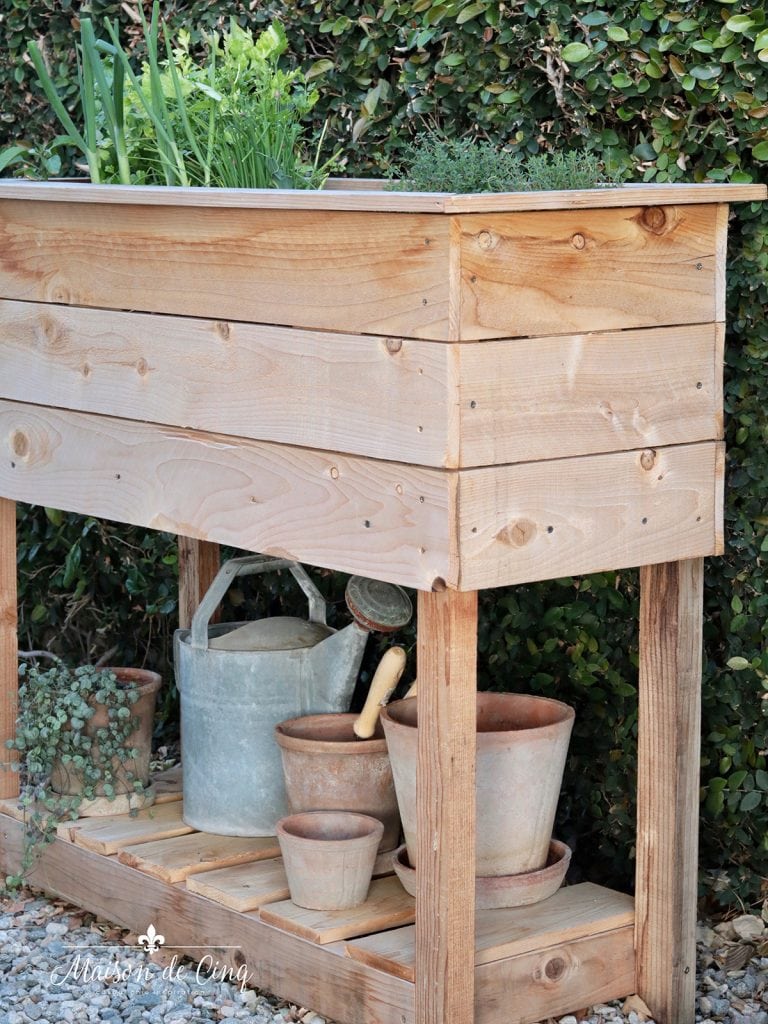 We've been 'wanna be' gardeners for awhile now. A few years ago we started an herb and vegetable garden, but the area of the yard we chose doesn't get enough sun so it turned out to be an expensive recipe for failure.
Then a few years later we started growing some herbs in various pots, but a few too many bunnies put an end to that plan. But we still really wanted to grow herbs. As an avid home cook, I cook almost every night and fresh herbs from the market can add up. Not only that, there's nothing worse than planning a meal only to realize at the last minute that it needs some fresh herb I forgot to buy! How nice would it be to simply walk into the backyard and snip what I need?
So we decided a raised garden planter would be the perfect way to grow herbs! We could move it to any sunny spot in the garden we wanted, and it would keep out the bunnies or any other hungry critters who might be around! 😉
After looking around at what was available, it seemed all of them were well over $100 so my husband agreed to make one instead. I gave him some ideas of what I wanted it to look like, and he planned it out himself. It's simple, practical, and exactly what I wanted.
THIS POST MAY INCLUDE AFFILIATE LINKS. CLICK HERE FOR MY FULL DISCLOSURE POLICY.
Specs:
Dimensions: 4′ W x 40″H x 18″ D, with legs that are 1″ x 3″
Tongue and groove sides
Cedar box
Supplies You'll Need
•(8) 1"x6"x6' cedar fence boards for box sides and bottom shelf planks
•(2) 2"x2"x6' furring strip boards for bottom shelf frame
•(2) 1"x3"x8' redwood boards (for box trim)
•(1) 1"x2"x6' pine board for interior bracing
•(4) 2"x2"x8' furring strip boards for legs
•(3) 1"x6"x6' cedar fence boards for box bottom (or one wood pallet + scrap spacer boards from lumber yard)
•Miter saw
•Screw gun
•Nail gun
•C clamps
•Hammer
•Pry bar
•1 1/4" deck screws
•2 1/2" deck screws
•1 1/2" brads
•wood glue
•herbs of your choice
•Garden soil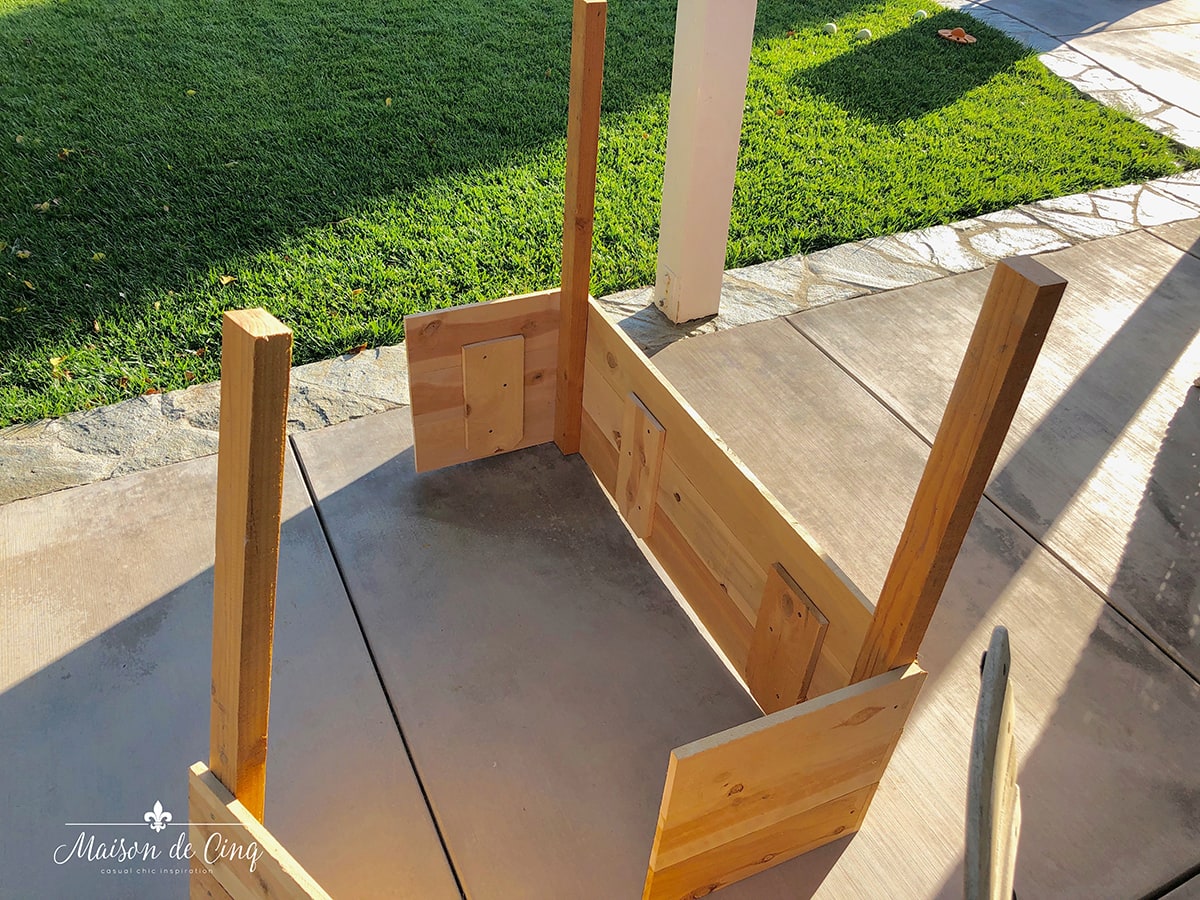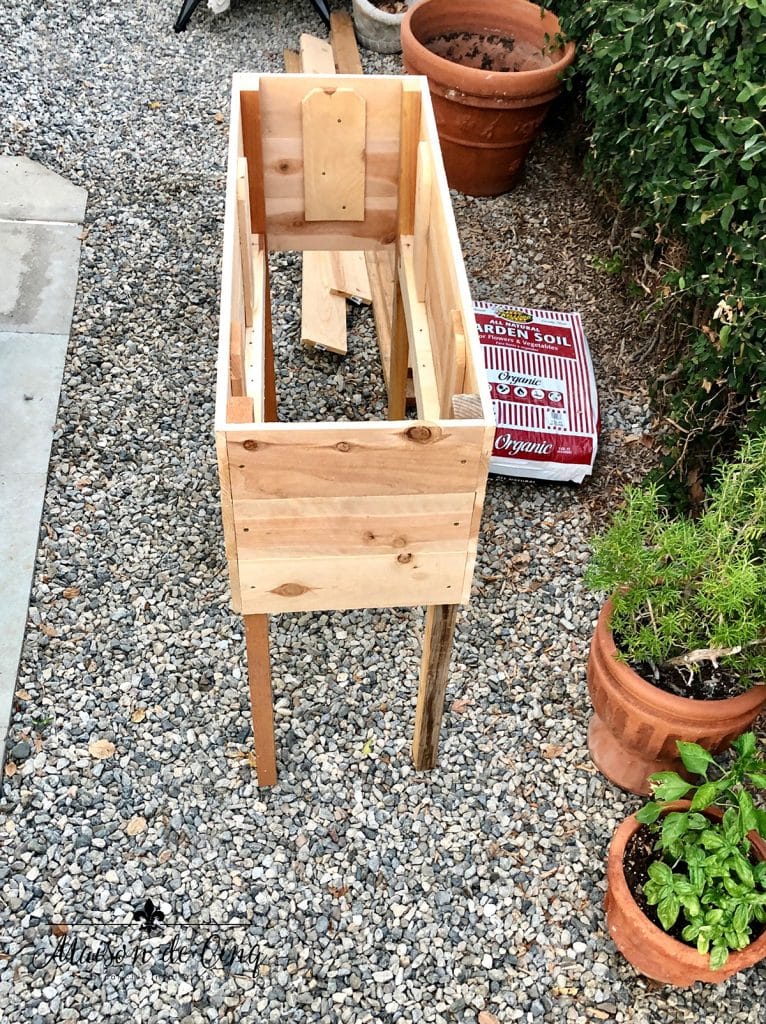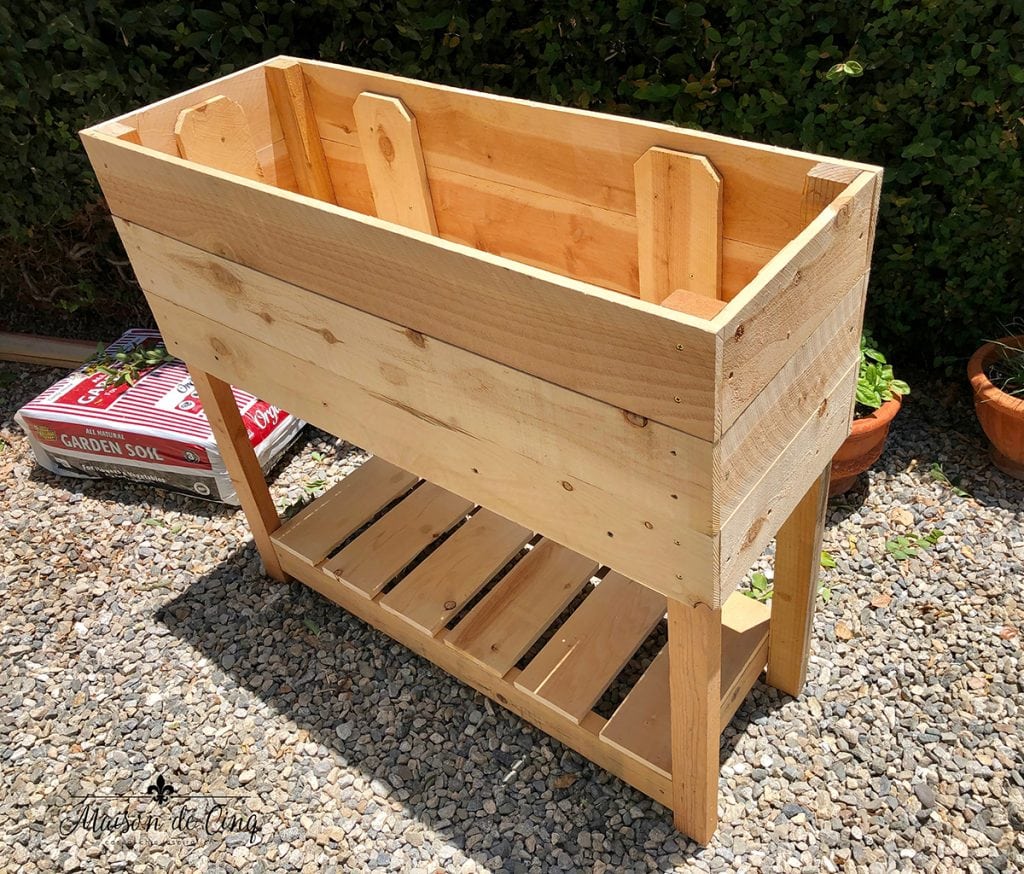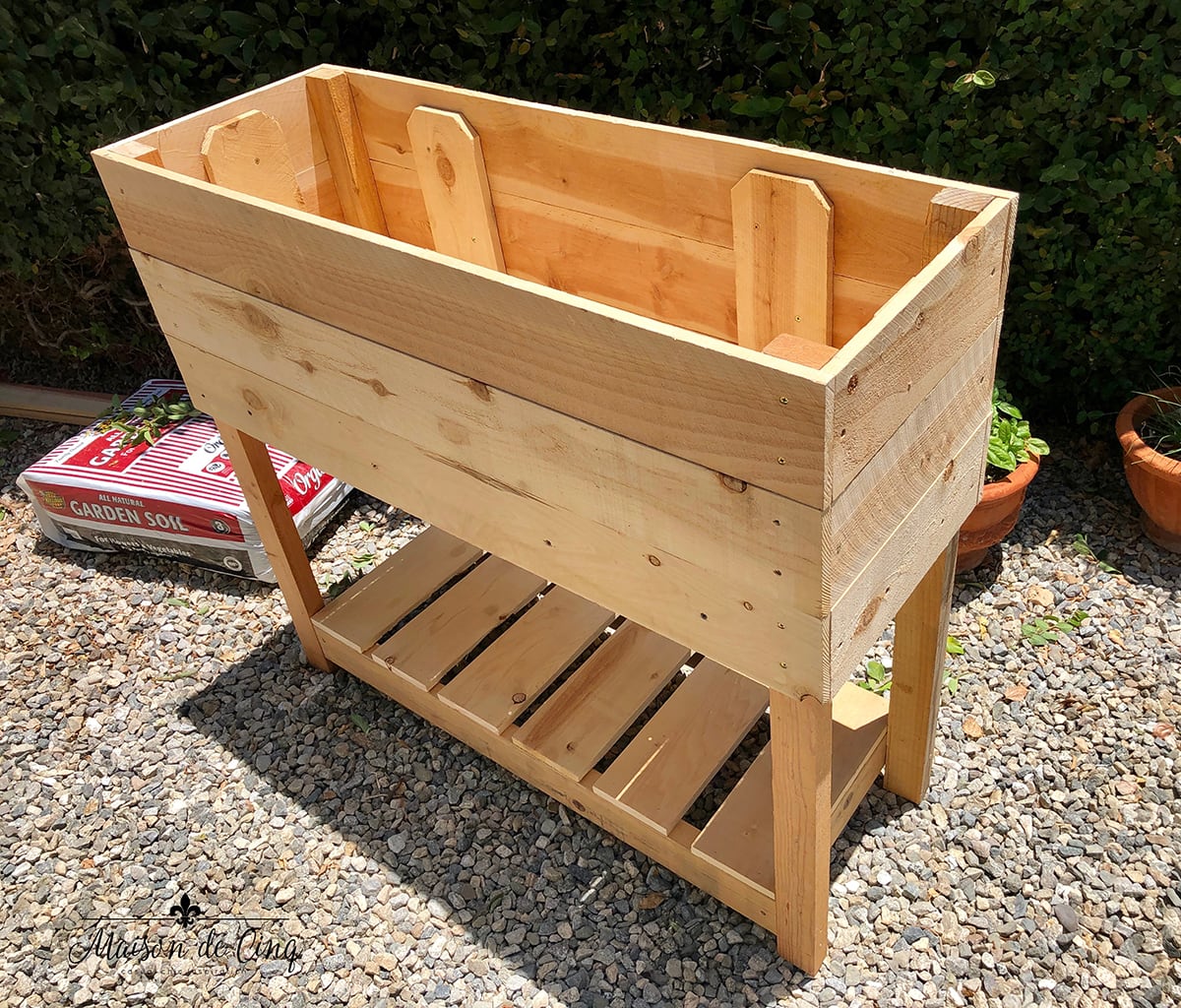 We went back and forth about what wood we wanted to use, but ended up using cedar planks for the herb box itself, and wood from a pallet was used for the bottom.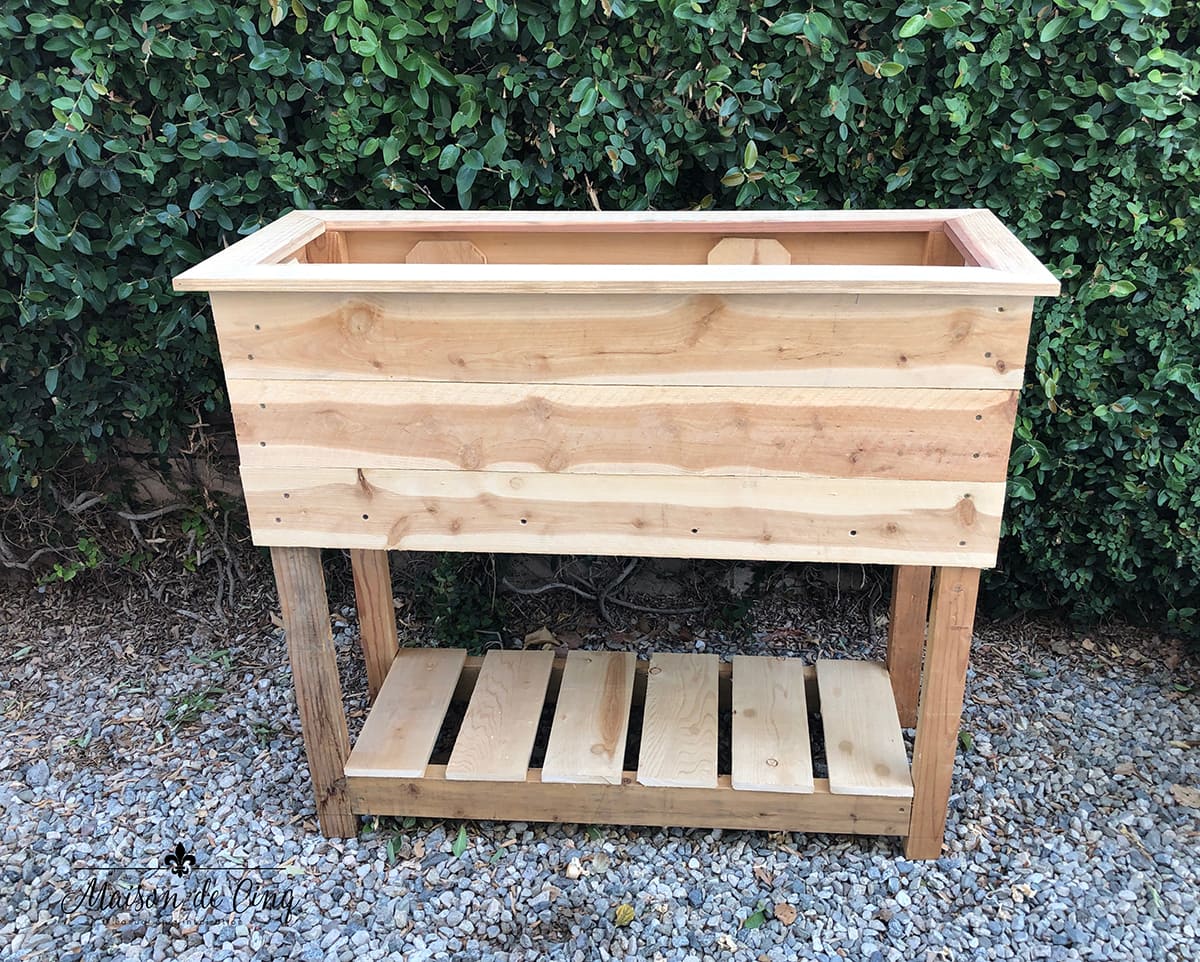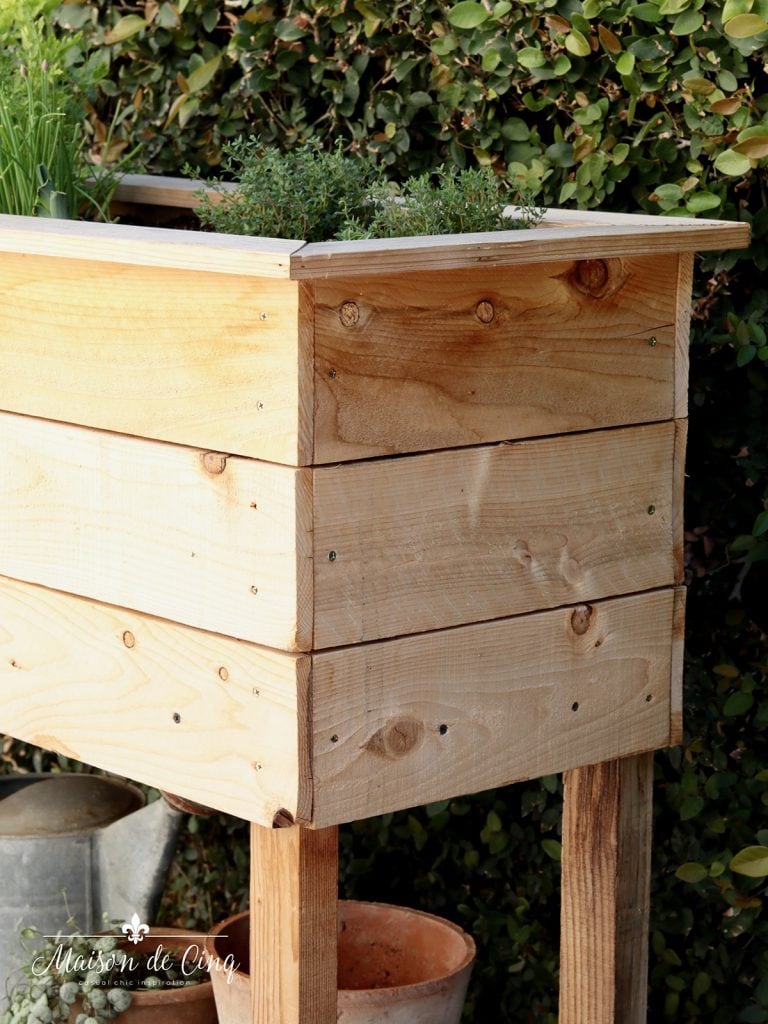 It's the perfect size for a kitchen herb garden. In fact, we're thinking of building a second raised herb garden planter so that we can have a 'shade' herb garden box and a 'sun' one!
It's lightweight enough that you could even add wheels if you wanted to be able to move it around.
Right now we're currently growing thyme, green onions, Italian parsley, chives, sage and basil. But we've also already grown mint, and I hope to add tarragon eventually, too.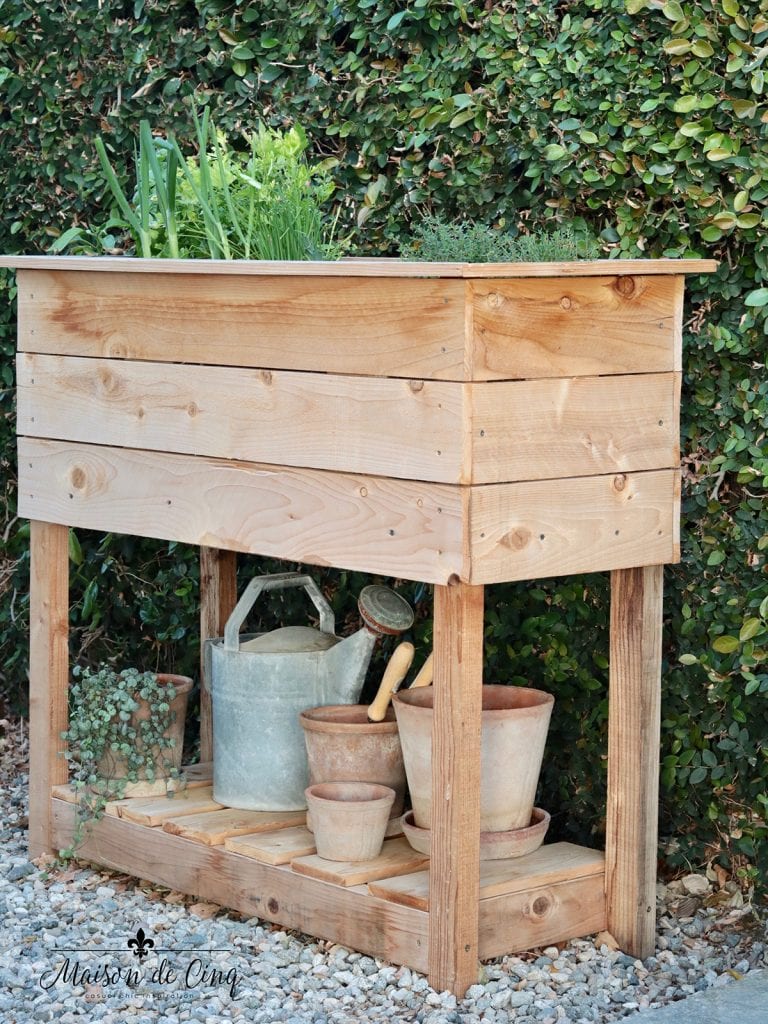 Shop DIY Herb Garden Planter Essentials


Happy Gardening!
Sheila
xo
Now be sure to visit some of my friends who are sharing their garden ideas and inspiration below!

My 100 Year Old Home | How to Grow Tomatoes at Home
Finding Lovely | DIY Aged Terracotta Pots
Twelve on Main | Super Cute DIY Mini Greenhouse
Inspiration for Moms | DIY Planter Trellis
Maison de Cinq | DIY Raised Herb Garden Planter Box

Happy Happy Nester | Lady Banks Rose
The DIY Mommy | Tiered Herb Planter with Dollar Store Buckets
Zevy Joy | Gardening Tips and Ideas From Our New Yard
My Sweet Savannah | DIY modern pedestal planter
If you enjoyed this post, you might want to check out a few other gardening projects below!