Today I'm sharing five quick and easy Christmas decorating ideas. These are simple ideas that are easy to recreate, and that'll help you bring the best of the holiday season to your home, with minimal effort!
Maybe you don't want, or can't have a large tree, or you don't like to store a lot of Christmas decor, but you still want to decorate for the holidays – then this post is for you!
Today's post is part of our monthly series, 20 Minute Decorating. The five tips I'm sharing today are easy, actionable ideas that will make your home feel festive – without spending a lot of time or money!

Use ornaments everywhere!
I sprinkle ornaments everywhere – they're not just for a Christmas tree! They're a great way to make a room feel festive and they can be used almost anywhere. If you don't want to store or buy a lot of ornaments, pick one or two colors to purchase. By staying with a simple color palette they will work year after year.
Ornaments in a vintage French ironstone tureen on the kitchen table.
Mercury glass ornaments in a vintage bowl on the coffee table.
Pink and silver ornaments in a vintage urn.

Use wreaths to add seasonal cheer!
Wreaths add so much holiday cheer to a space, and they are way easier to store than a full size tree! I love wreaths on a mirror or on a front door, but they can also be hung almost anywhere! I've used small ones on the mantel in the kitchen and on the backs of chairs, and also on interior windows and doors.
Pine wreath on the wall in the dining room.
Mistletoe wreath hung on artwork in the kitchen.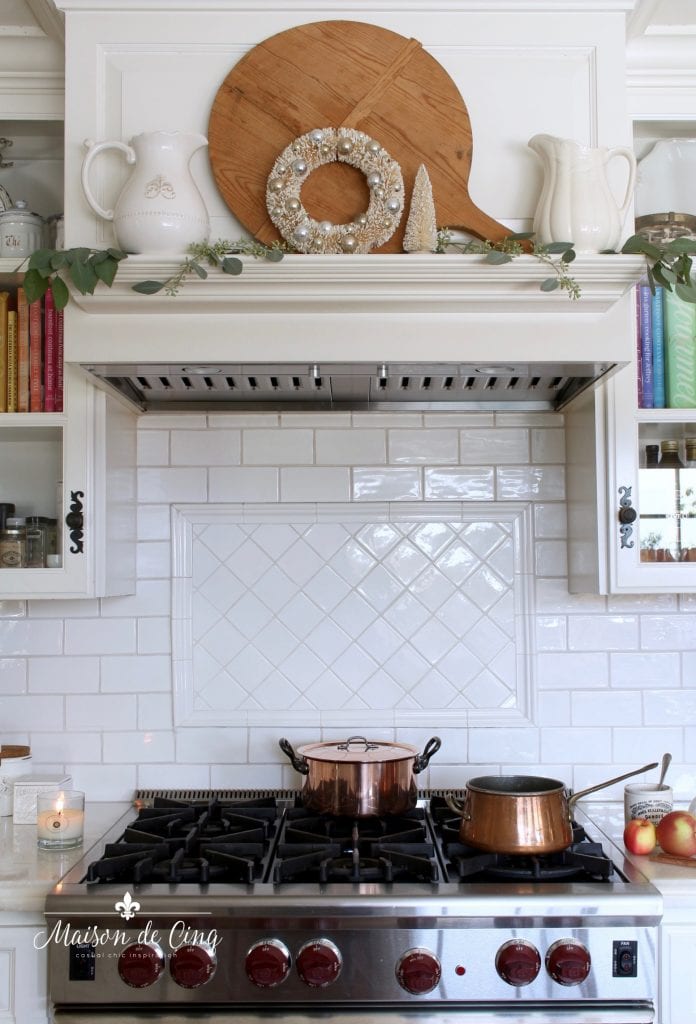 Little white wreath on the range mantel in the kitchen.
Little wreaths added to the backs of the dining chairs.

Use greens to create that Christmas feeling
This might be the easiest of the easy Christmas decorating ideas! If you've been a reader for awhile now then you know how much I love using eucalyptus and other greenery. It's wonderful for creating a natural touch, and it really makes a space feel festive!
Pine and cedar branches in a French urn in the living room.
A mix of pine branches and cedar in a bucket on the porch.
Some pine branches added to a white ironstone pitcher on a side table.

Add pinecones and other natural elements
Pinecones are a great way to decorate without spending a dime! They can usually be found for free, and if not, they can be found for very little at Michaels and other craft stores. They feel very indicative of the holidays and winter time and I love the texture they bring, too!
In fact, they feel so much like winter to me that I frequently use them in January as part of my winter/after Christmas decorating which means you can keep them out after the holidays!
Frosted pinecones in a little white planter on the coffee table.
Pinecones in a lantern on the porch.
Little pinecones in a silver bowl as part of a side table vignette.

Start a collection!
I just adore my bottle brush trees, and I love putting them all over the house during the holiday season. You could do something similar with almost anything; snowmen, brass bells, vintage Santas… whatever appeals to you. Scatter them around in each room, or group them together for impact. Either way, they bring seasonal cheer that's simple and easy!
A grouping of bottle brush trees creates a vignette on the kitchen table.
Bottle brush trees under a glass cloche in the living room.
A collection of bottle brush trees on a silver tray in the living room.

*affiliate links included for your convenience*
I hope these simple and easy Christmas decorating ideas have given you some inspiration for your own home – it doesn't take a lot to make a home feel festive this time of year! A wreath, some simple greenery and and some ornaments scattered around can bring holiday cheer to any space!
Happy Holidays!
Sheila
xo
Please be sure to visit all the other simple holiday decorating posts below!
Shabbyfufu | How To Make New Christmas Ornaments Look Vintage
Maison de Cinq | Five Quick & Easy Christmas Decorating Ideas
StoneGable | Use What You Have Christmas Arrangement
Designthusiasm | Christmas Porch and Entry Foyer
On Sutton Place | Christmas Shelf Decor
In My Own Style | DIY Christmas Ornament Lamp Finial