Keeping it Simple: 10 Easy Holiday Decorating Ideas
Do you love Christmas but feel too busy to go all out right now? Or maybe you're craving simplicity this year. Either way, our easy holiday decorating ideas will have your home feeling festive without a lot of work or fuss!
I love Christmas. It's absolutely my favorite time of year, and the decorating is a big part of that. But even I've had some years where I just couldn't face it.
Years when I was short on time or money. Or when a friend or family member was sick and it all just felt a bit overwhelming. But even then, I still wanted to bring the spirit of the season into our home. And I found the best way to do that is with simple little decorative touches that are easy to do, but create a big impact.
Today I'm sharing 10 creative ideas for decorating simply without going overboard. These holiday decorating ideas are festive, but easy.
And they're perfect all by themselves, or in addition to whatever decorating you're already doing. Either way, they make a big impression!
THIS POST MAY INCLUDE AFFILIATE LINKS. CLICK HERE FOR MY FULL DISCLOSURE POLICY.

Hang a swag on a mirror or piece of art
Here I used live greens, but I've also used faux to achieve the same look. Either way, it's such a nice alternate to a wreath and feels so French!


Attach little wreaths to your dining chairs
One of my favorite seasonal touches is small wreaths added to dining chairs. It's inexpensive and oh-so-charming. I usually use a straight pin hidden in the fabric, and when it's a wood chair I use a ribbon. Easy peasy!


Create a vignette with a cloche
Using a cloche is such an easy way to create a vignette. And it also makes anything you put under there feel special – no matter how small!

Create a focal point in the kitchen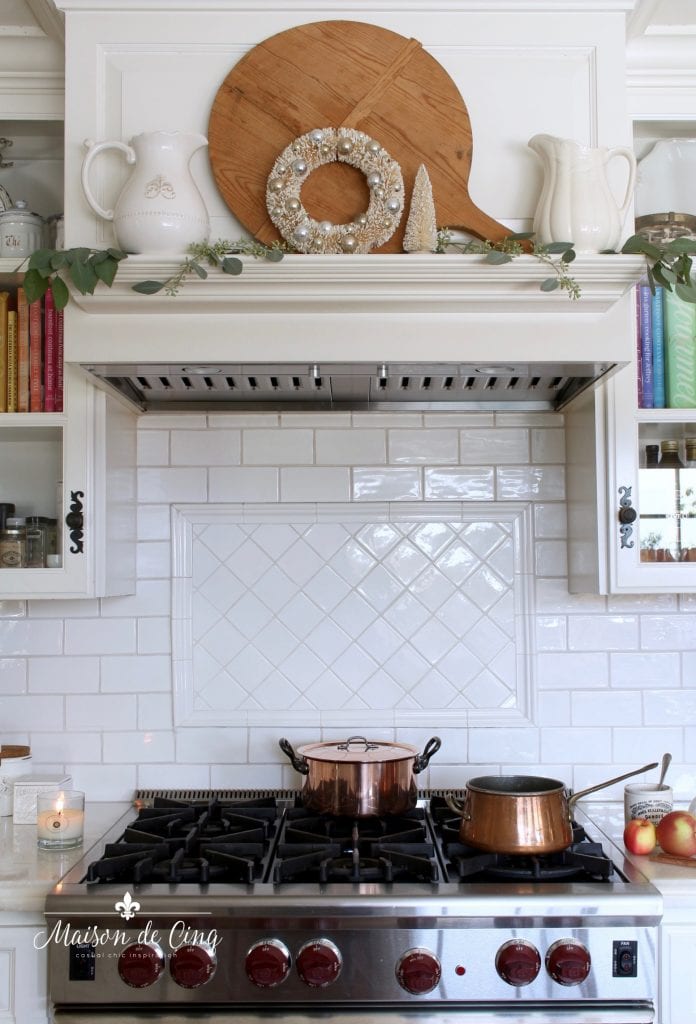 Using the mantel space over your range to create a seasonal display is a wonderful way to bring lots of seasonal charm into the kitchen. If you don't have a mantel, you can simply hang a wreath on the hood.
Either way, it creates a focal point and really makes the whole room feel more festive!


Group ornaments in bowls
I've put ornaments in everything from this marble bowl, to vintage buckets, to French urns, to wood bowls, to baskets. I use larger ornaments in the larger vessels, but I'll even add tiny ornaments to little bowls in the kitchen or on a side table.
There's no simpler decor than this and yet, it really brings a lot of bang for your buck. Any room with buckets of ornaments feels Christmas-y!


Decorate a tabletop tree instead of a larger one
A tabletop tree feels as cheerful and festive as a larger tree. So if you don't have the space or just don't want to do a large tree every year, you can still bring the holidays to any space with a smaller tree.
I've put them on tables or stacked baskets, or here on the hearth. This little charmer is 3 feet tall, but I think anything from 3′-4′ is great for this purpose.

Use greenery in vases or urns
I love using greenery in vases or pitchers, it adds lots of holiday cheer and freshness to a space. And feel free to use live or faux branches- or both! I'll often cut branches from our yard and then mix those with some additional faux branches to get a fuller look.


Sprinkle small trees everywhere
Possibly my favorite tip! I love little trees and put them everywhere! From the kitchen counter to the coffee table to a bedroom or bathroom. Their ability to bring in holiday cheer is much greater than their size!

Display brass bells for vintage Christmas spirit
Another favorite are these brass bells! I love their vintage charm and I use them every year. They look cute in a vignette on the table, or hanging with a swag or wreath on the door. And the small ones can be amassed in bowls just like ornaments.

Plop a small tree in a bucket for major impact
A little tree in a bucket in the kitchen? Why not?! I first did this a couple of years ago and I just love it!
Something about the bucket and the charm of the tree just has my heart. And I love the twinkle lights while I'm cooking or prepping. 😉

I hope these simple and easy holiday decorating ideas have given you some inspiration for your own home – it doesn't take a lot to make a home feel festive this time of year! Something as simple as greenery, small trees, or some ornaments scattered around can bring holiday cheer to any space!
Shop Easy Holiday Decorating


Happy Holidays!
Sheila
xo
If you enjoyed this post, be sure to check out more easy holiday decorating ideas below!