Looking for some easy spring decorating ideas? Today I'm sharing 9 tips for easily bringing in the season!
It's spring! The sun is out and the windows are open. Is there any season as full of hope as spring? I think all of us feel such a thrill when buds start appearing or birds start chirping. It gives us a sense of renewal and possibility – and that's true in our homes as well.
Whether you like to refresh your home with all new pillows and seasonal decor, or you go for a much simpler statement, it's always nice to do a little refresh when spring arrives. Though I never like to get too carried away, I do love to make a few changes that signal the change in the season.
I'll be sharing a full spring tour with you in the next couple of weeks, but in the meantime, I thought I'd share some tips for refreshing for spring, in case you wanted to get started now! 😉
These nine easy spring decorating ideas are simple, actionable ideas that you can implement today. And I bet they'll bring a smile to your face, whether the sun is out yet or not!
THIS POST MAY INCLUDE AFFILIATE LINKS. CLICK HERE FOR MY FULL DISCLOSURE POLICY.

Freshen Up!
Clean, organize, purge.
There's no time like spring to get your house in order! I usually try to clean out every drawer and cabinet and purge expired foods and things I don't use at the same time. At the very least, give everything a good wipe down and make sure things like corners and baseboards are cleaned.
And if you haven't done it already, check out my 30 Things to Get Rid of in the Next 30 Days to get you started on that spring clean out!
Lighten up!
Change out your pillows for some lighter and/or brighter fabrics. Florals or spring tones like blues and greens help to create a lighter feeling in any space.

If you use heavy throws in the winter, lighten those up by switching to lightweight fabrics like linen or cotton in lighter or brighter colors.

Bedding is another place you can lighten up. First, take everything off (even pillow protectors and mattress pads) and wash and dry them. No matter what else you do, everything feels lighter when it's clean!
Swap out your heavy comforter for lighter weight linens, or switch from dark colors to light. A switch from heavy velvet to lightweight linens will change the whole look of your room!
And while you're at it, you might want to clear out some of your extraneous accessories. Less is more is the name of the game in the spring and your home will feel lighter with less weighing it down, both literally and figuratively.

Add Plants and other Greenery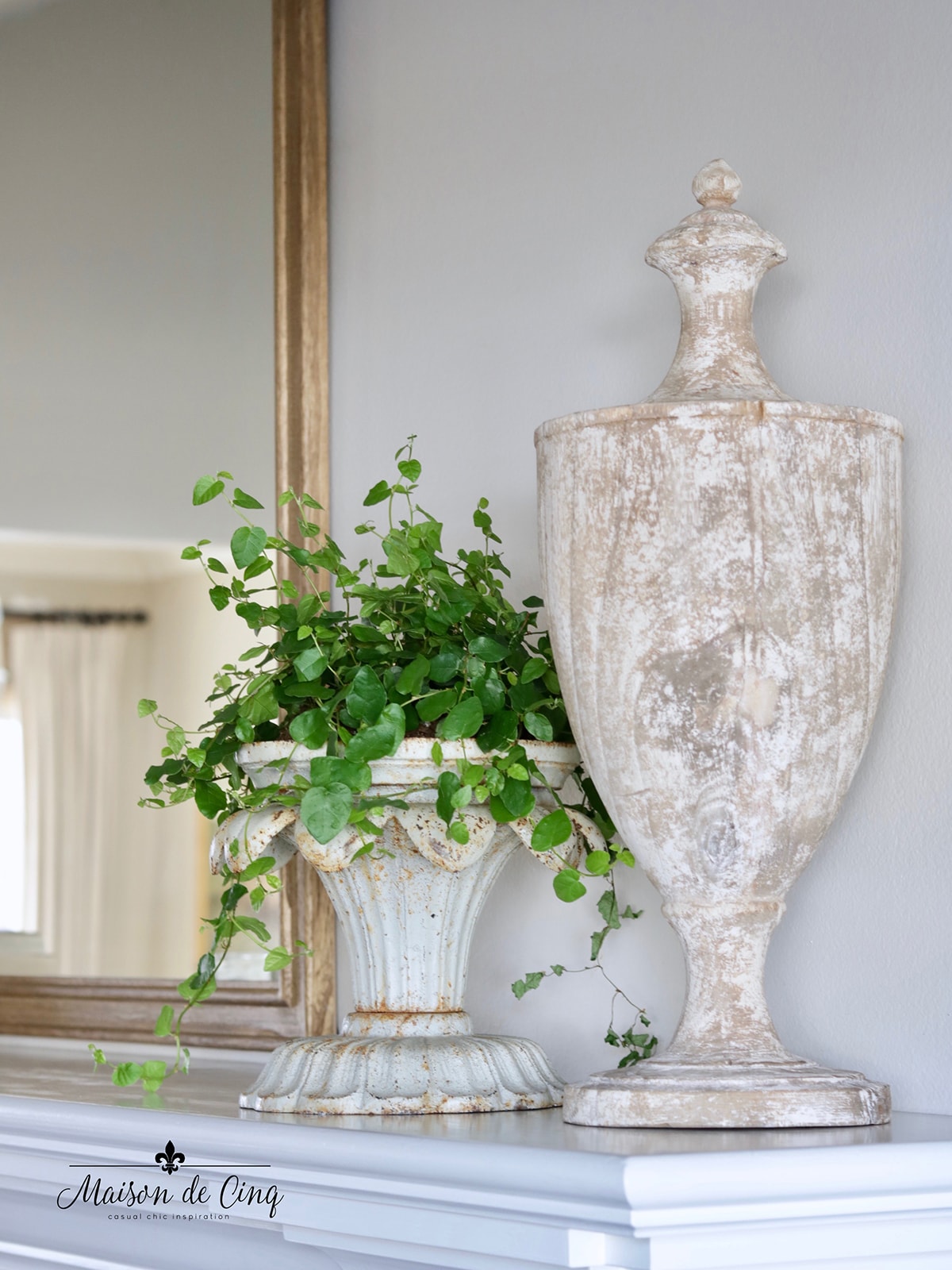 I like to have plants inside year round (you can read all about my easy tips for growing houseplants here) but it seems especially appropriate when spring rolls around. After all, it's the season of buds, and bulbs and gardens!
Bring spring inside by adding plants or even faux greenery for a fresher feel all season. This greenery branch is my favorite and looks so real, and I also love this faux cherry blossom and these tulips.

Add Garden Elements Indoors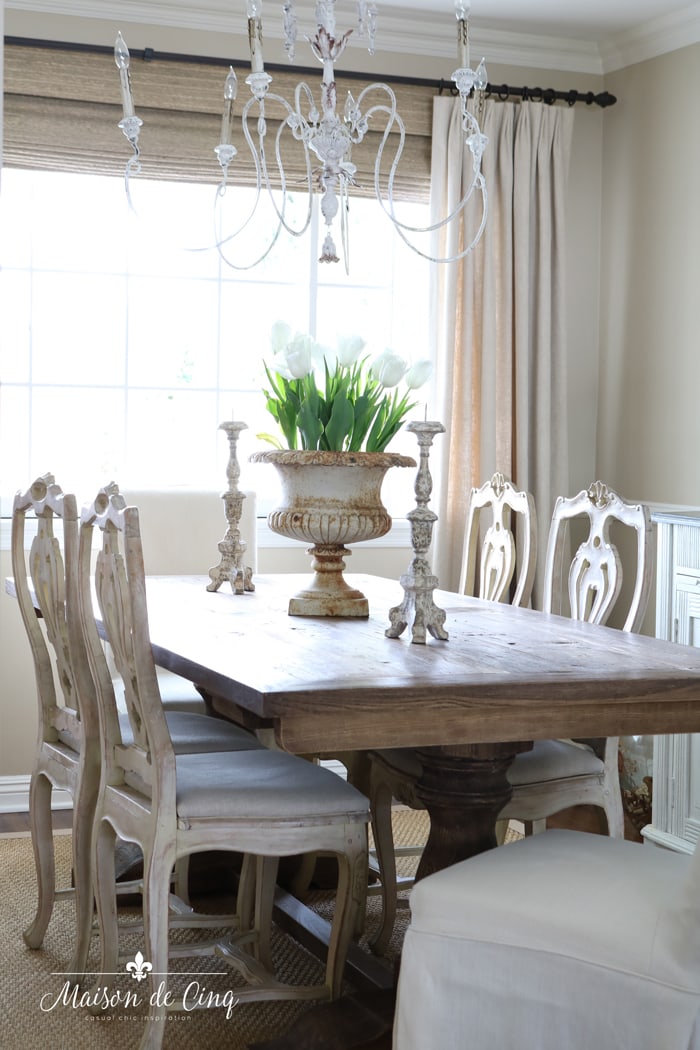 And another way to bring the 'garden' inside is by using garden elements indoors. Whether that's a cast iron garden urn you fill with flowers or a garden statue perched in the dining room, bringing outdoor elements inside really creates that spring feeling in any space.


Add spring colors like blue, pink, or green

Changing out pillows or bedding is one way of adding spring color, but don't forget accessories! Blue ginger jars, blue or white vases, coastal paintings or botanicals are all ways of bringing in those cheerful spring colors.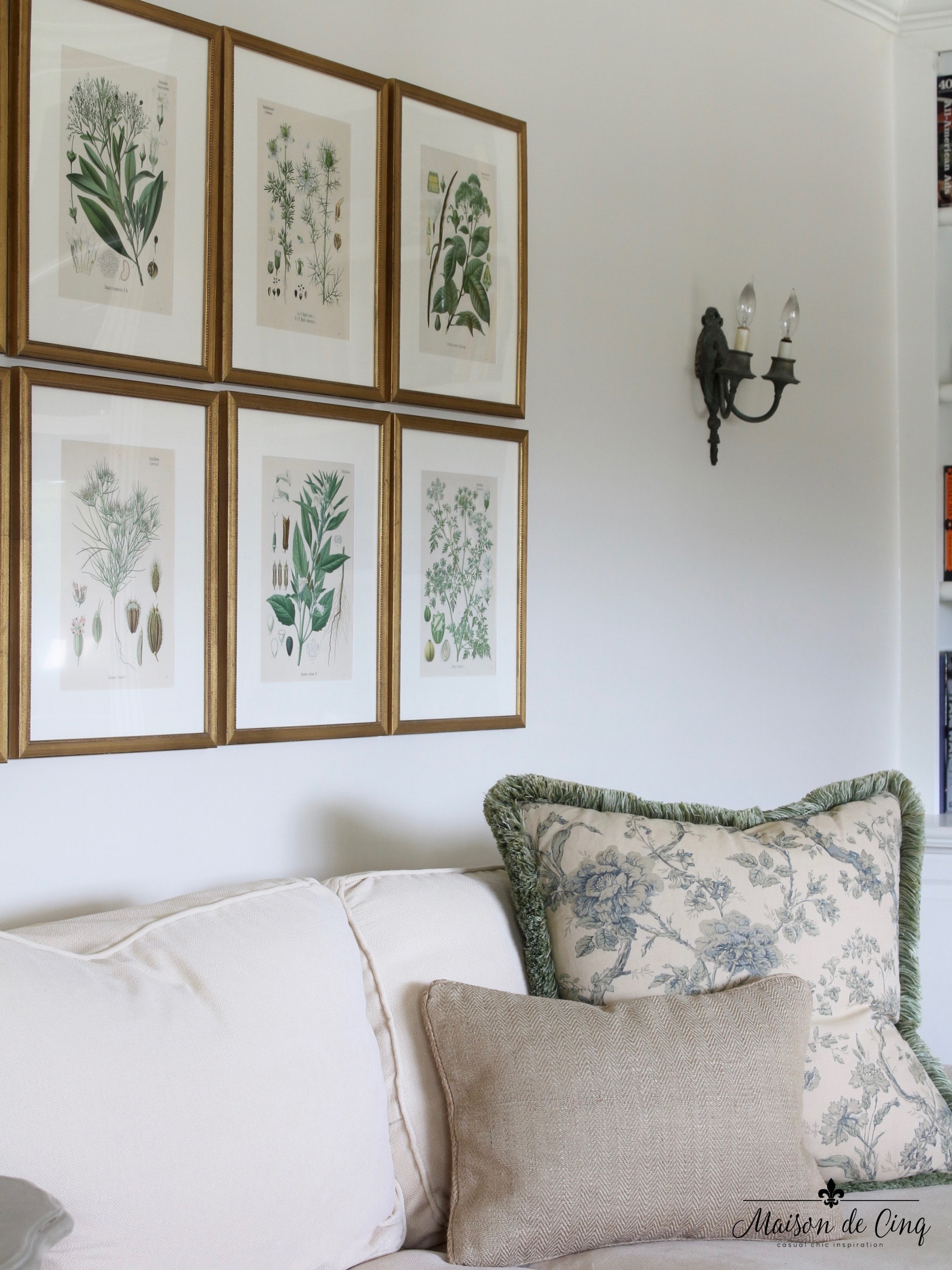 And of course, Add flowers!
For me, flowers are a must in any season but especially in the springtime! Whether fresh or faux, flowers always bring a feeling of spring to a space. And if you want more floral styling ideas, be sure to check out 6 Easy Tips for Decorating with Flowers.

You can even purchase small plants from a nursery or the grocery store, plop them in an urn or pretty planter and they'll last several weeks (much longer than cut flowers!)

Add Seasonal Elements
For me, I love to add little nests to my decor in the spring. They bring such a sense of rebirth and renewal – and they make me happy!

Baskets, Easter and otherwise, also bring seasonal freshness to a space, whether you fill them with eggs or flowers, or both!

These gorgeous alabaster eggs say spring in a beautiful and subtle way – and they're such fun to collect! (And you can easily use faux eggs in the same way).

Add Something Unique
I absolutely adore vintage Easter decor, so I'll add something special each season. This vintage French egg basket is so cute – and useful too!

This vintage egg holder is a favorite of mine. Here I filled it with faux eggs, but you could absolutely use it to serve real hard boiled eggs year round!

Freshen up your porch or outdoor space
Sweep off the cobwebs, freshen up the dead flowers or plants in your pots, add a pretty wreath (or two) and even a fun doormat, and your porch will feel like it got a face lift!

Likewise for your backyard or patio. Add some new flowers to the planters, clean the furniture, and wash any outdoor rugs and textiles so everything feels fresh and clean for the season.
And if they need a refresh, add an outdoor rug or new pillows in pretty springy colors that will take you all the way through fall!

It's amazing what a difference these easy spring decorating ideas can make! Simply by swapping out some pillows or accessories, lightening up your fabrics or bedding, and bringing in the outdoors through plants or flowers, your whole home will feel fresher and ready for the season!
Shop Easy Spring Decorating


Happy Spring!
Sheila
xo
If you enjoyed this post, check out more spring inspiration below: