7 Tips for Elevating Your Kitchen
Wondering how to get a more sophisticated look in your kitchen but aren't sure where to start? These 7 tips for elevating your kitchen will take it from plain-Jane to gorgeous!
We're not talking new cabinets or renovation here. I've read lots of articles that are all about swapping in high-end materials, painting, or changing out hardware or seating. And of course, we all know you can change those things to make your kitchen space look better.
But what if you don't have the budget for that? Or you actually like your kitchen, but it just doesn't feel like it has that 'wow' factor. There are lots of simple ways to elevate your kitchen and give it more of a high-end look – without renovating!
Read on to get our 7 tips for elevating your kitchen, without breaking the bank!
This post may include affiliate links. Click here for my full disclosure policy.
1. Add a Runner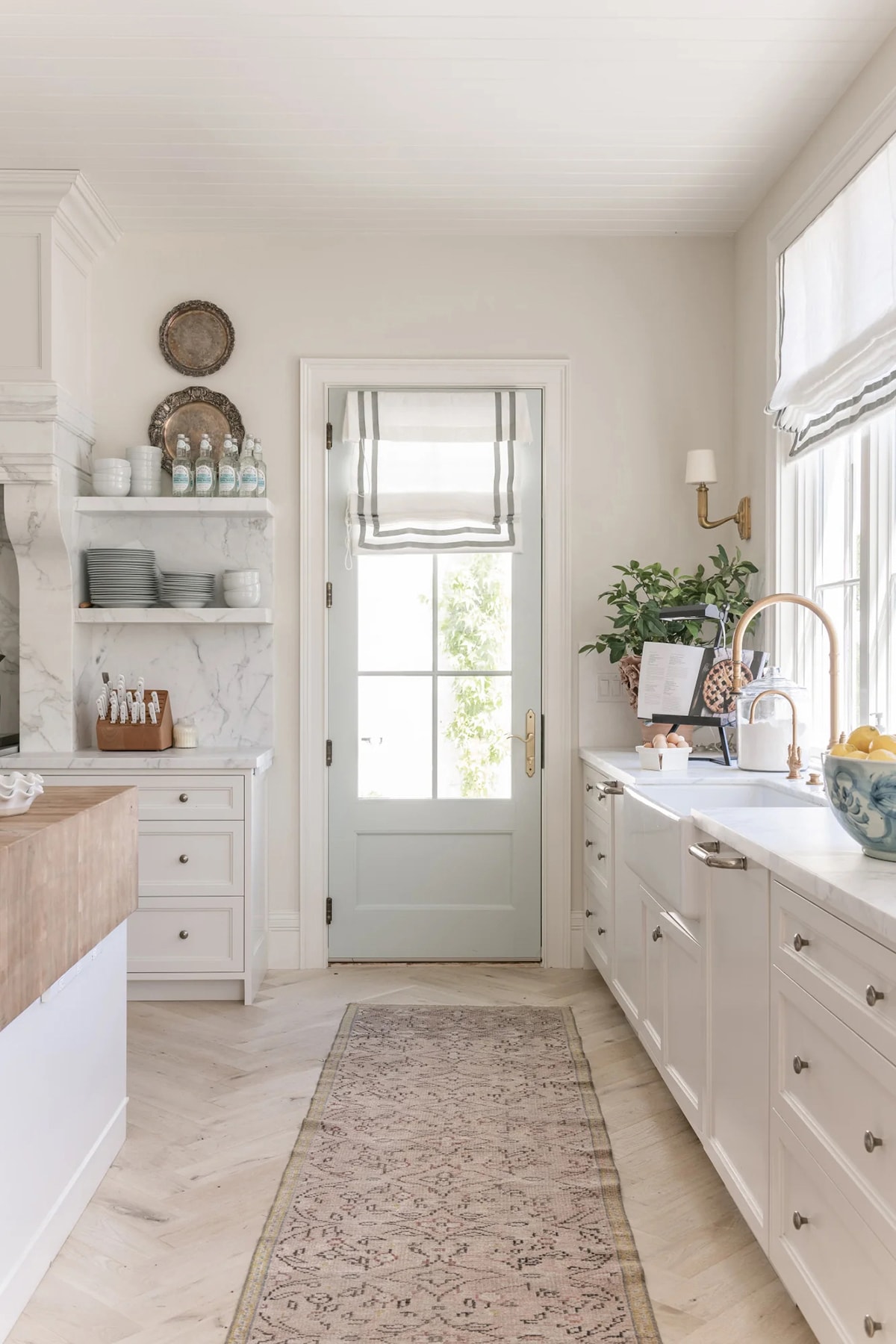 A runner is a great way to add texture and warmth to your kitchen. It can help make your space more comfortable and cozy, while making the whole kitchen feel more stylish.
When choosing a rug for a kitchen, go for durable fabrics like wool or cotton. Natural materials are actually very easy to clean and can often be washed (gently) in a machine. Synthetics made to withstand spills are also an option.
My personal favorite is to add a vintage Persian or Turkish runner (or a vintage look-a-like). They are classic and really up the sophistication level of the space. And if you have an all-white kitchen, they're also a great way to add some color!
2. Upgrade Your Basics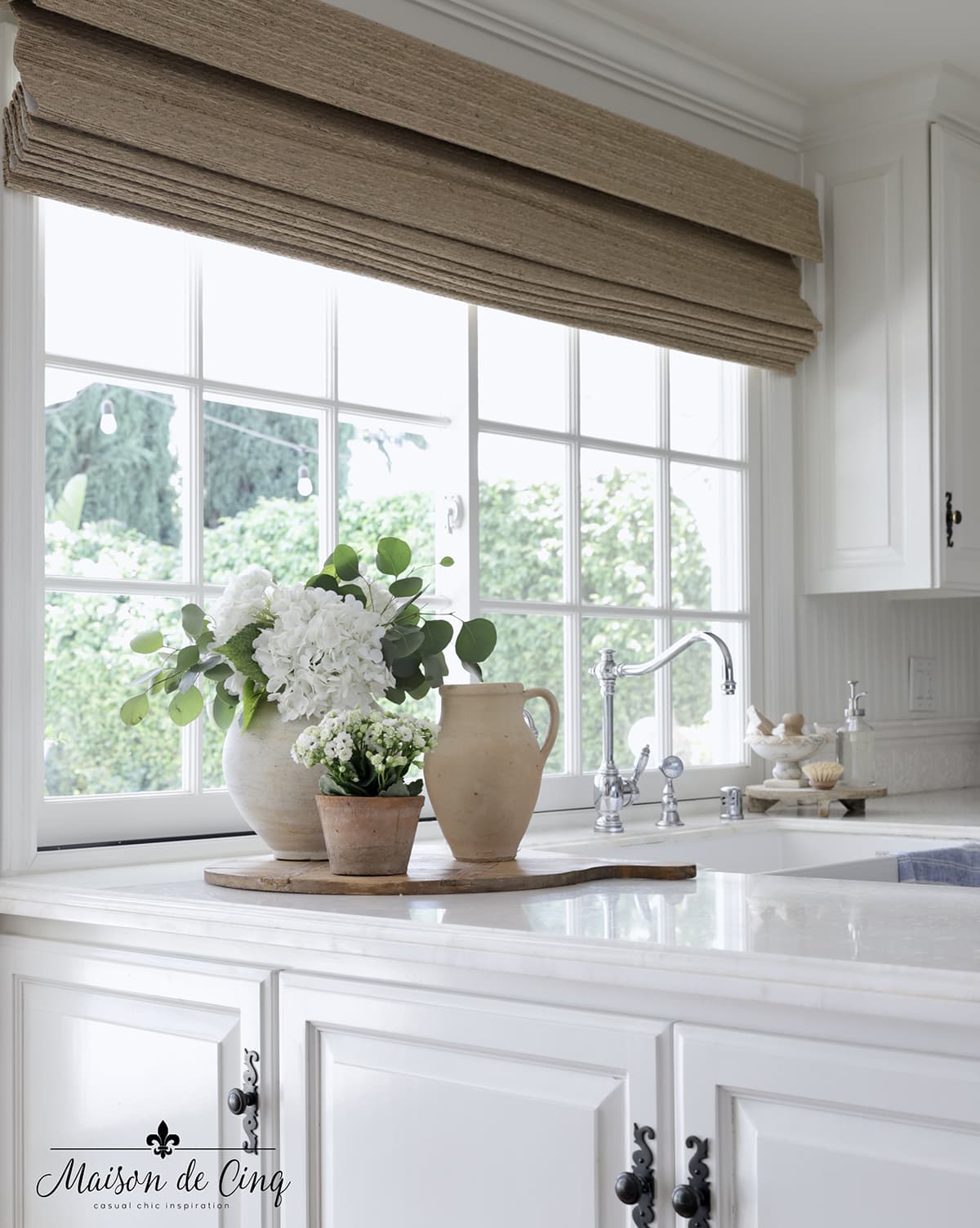 I've spoken about this aspect before, but it bears repeating. There's no reason to have a bright yellow sponge and a bottle of orange Palmolive sitting out on the counter! This is where form meets function and there are lots of easy ways to elevate your basics.
Get a gorgeous bowl and let it hold your sponges and brushes next to the sink. Or grab a marble tray to set the soap and other dishwashing necessities on. And be sure to add a pretty glass bottle to hold your dish or hand soap.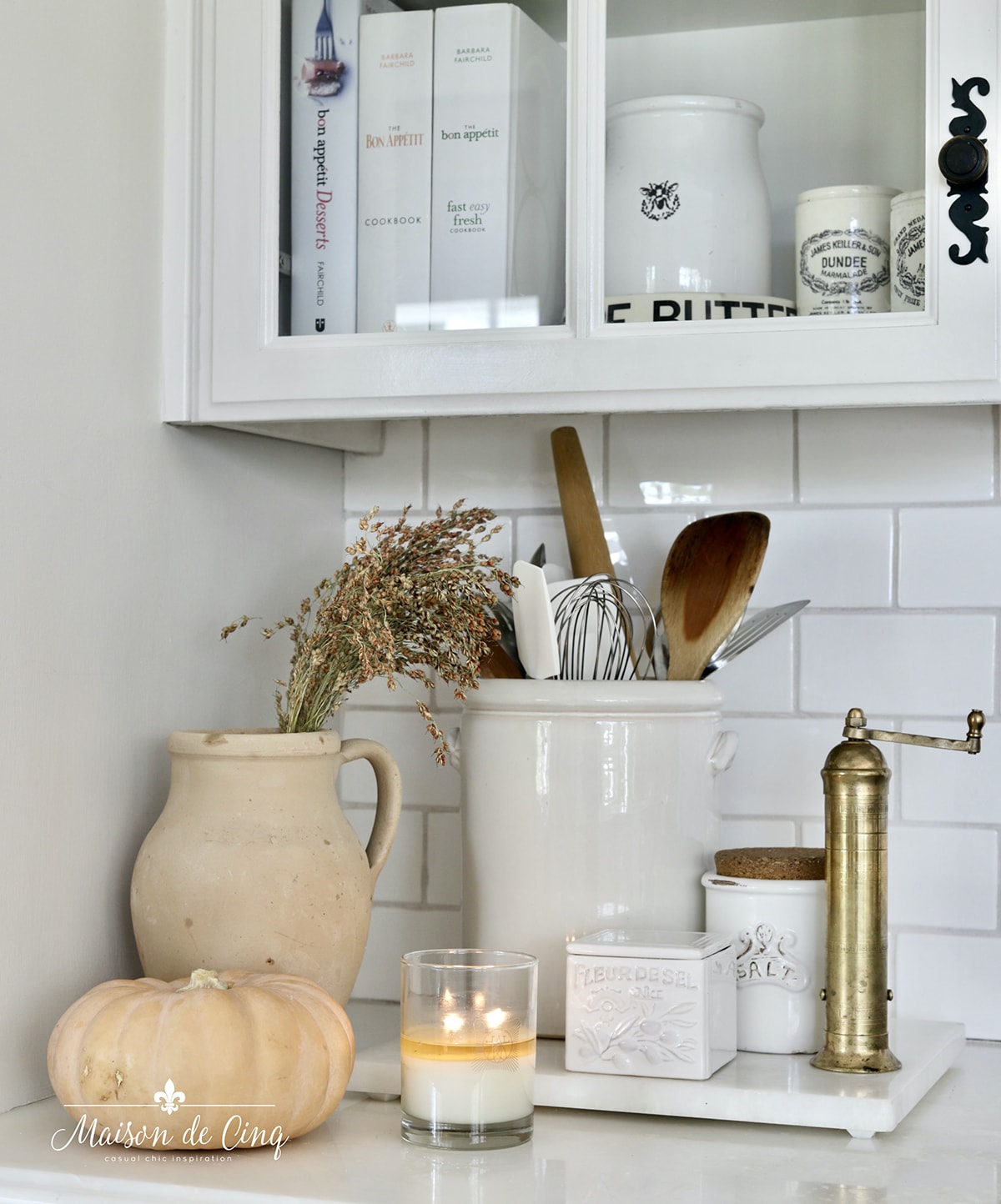 While you're at it, make sure you have a tray to corral oils, salt and pepper, and other essentials next to the stove. These are small changes that really make a big impact!

3. Hide Your Appliances
Years ago I met a woman who had absolutely no appliances on her counters, and her kitchen always looked so clean and uncluttered! And though I'm not advocating hiding all your small appliances, it does help to put away the ones you don't use as often.
For us, we keep out our coffee maker because we use it daily and I actually love the way it looks. On the other hand, my stand mixer, blender and toaster all hide in a cabinet. These are not items I use every day so it's worth the effort to tuck them away. Not only does it help the kitchen look tidier and less cluttered, but it also gives it room to breathe!
Our kitchen is fairly small and I can't tell you the difference it made just eliminating the toaster!
4. Add Elevated Details Like Art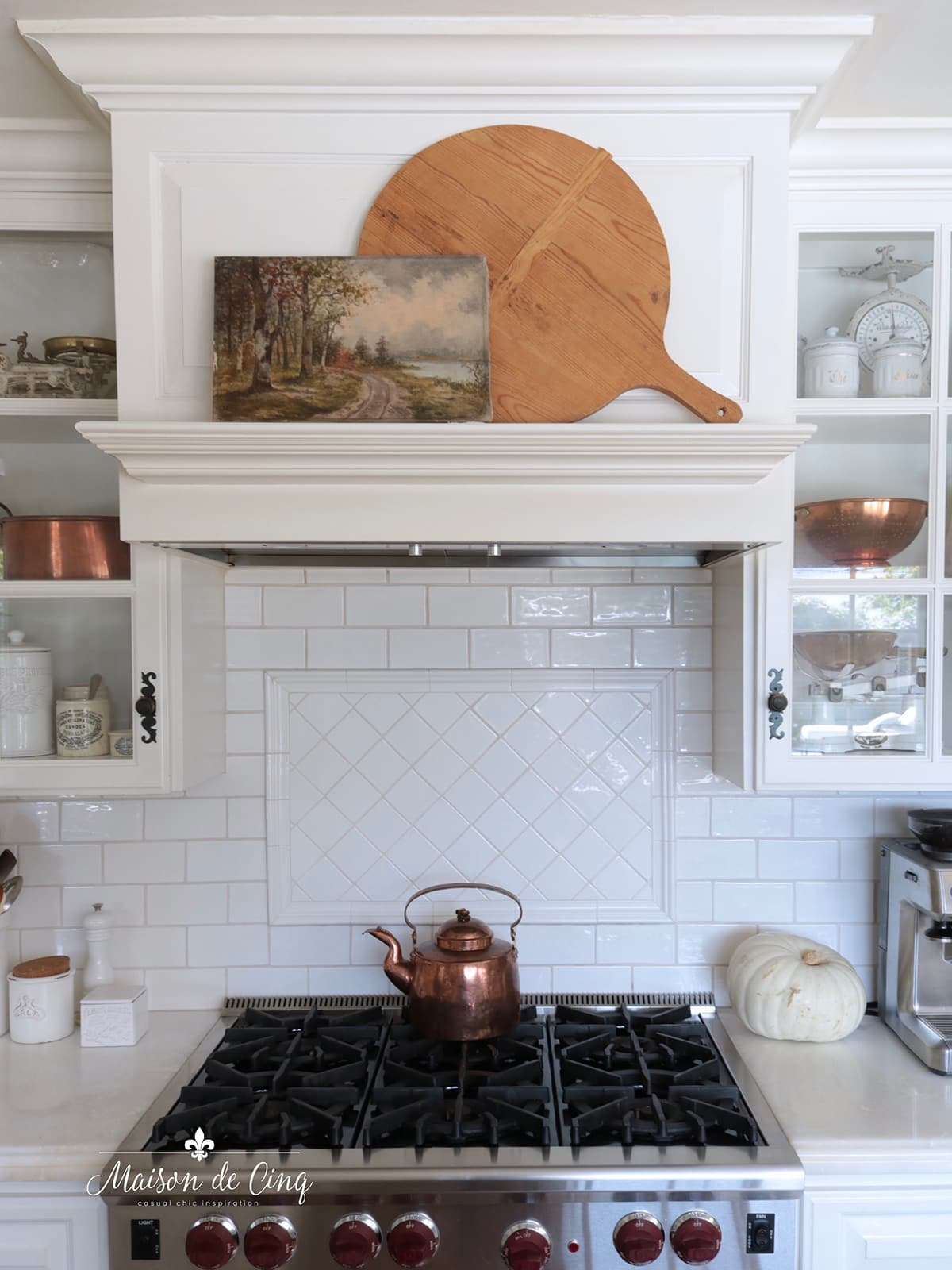 Since I wrote a whole post about how much I love adding art to a kitchen, you could definitely say I'm a fan! Artwork brings warmth and color to an otherwise utilitarian space. It's a great way to add personality or make a statement.
But of course, it goes without saying that anything you display in the kitchen shouldn't be too valuable due to oils, spills, smoke, and the like. I keep inexpensive oil paintings I've bought on Ebay or Etsy and haven't had a problem. And there are also lots of sources of inexpensive, downloadable art that's perfect for the kitchen!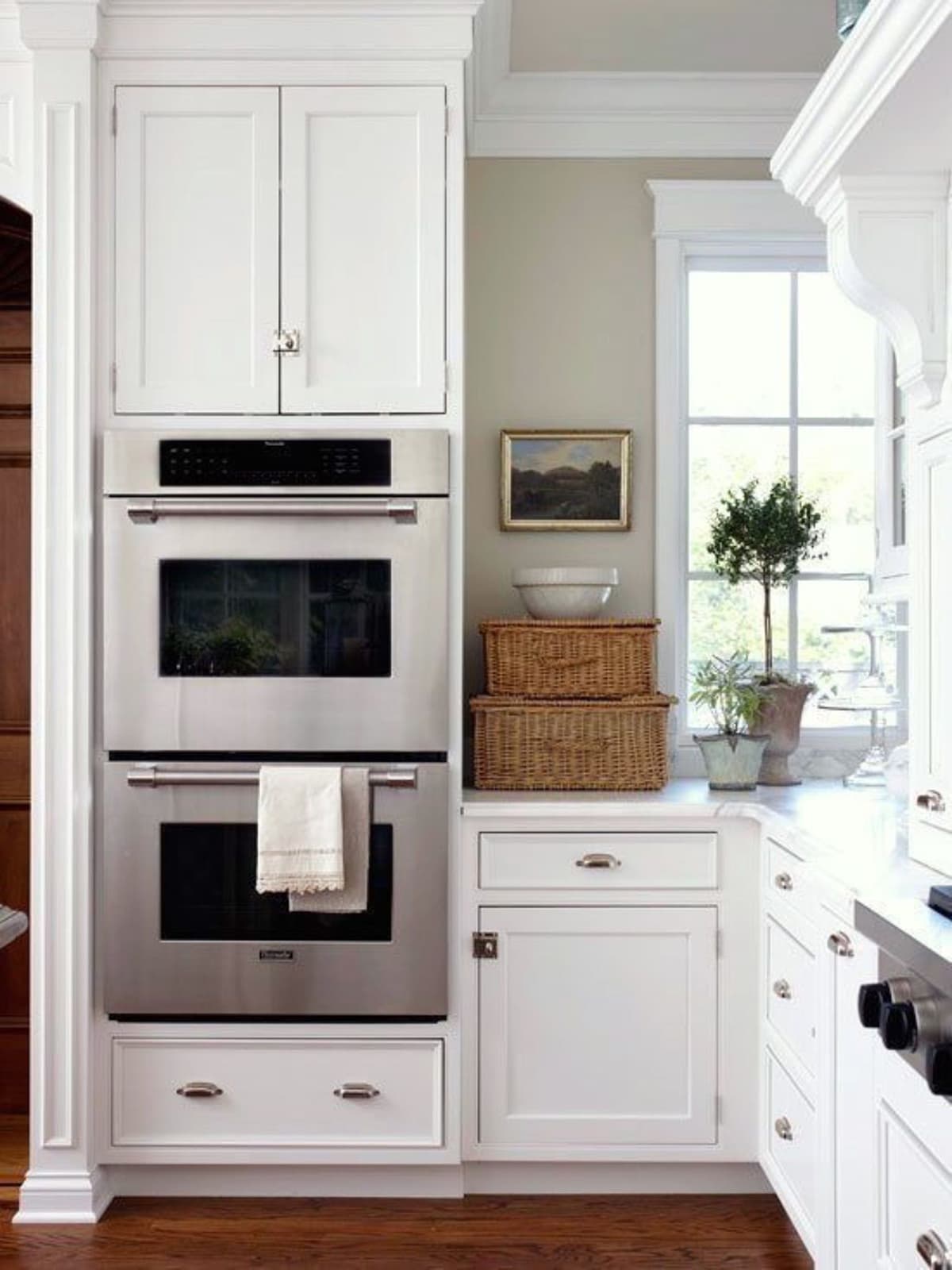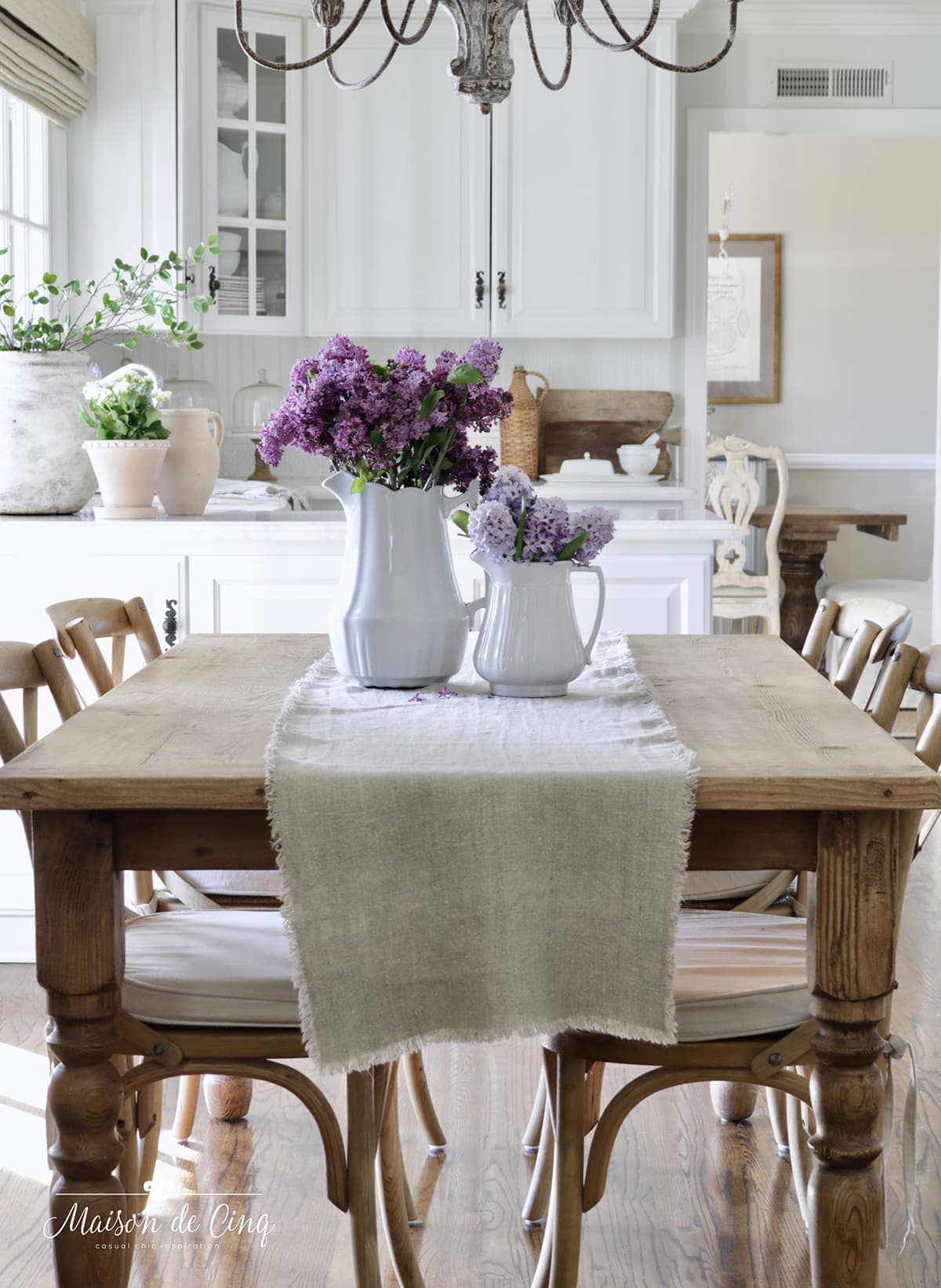 Another detail that really elevates a kitchen is displaying plants or fresh flowers. Plants and flowers add color and life to a room, and even purify the air. Try a vase of fresh flowers on the counter, a potted plant on the island or peninsula, or do a grouping on a dining table if it's in the same space.

5. Decant Your Food
I like to decant my crackers, snack foods, nuts, etc., into clean and simple containers. This is especially important if you have any glass cabinets or open shelving as you want the look to be uniform and uncluttered.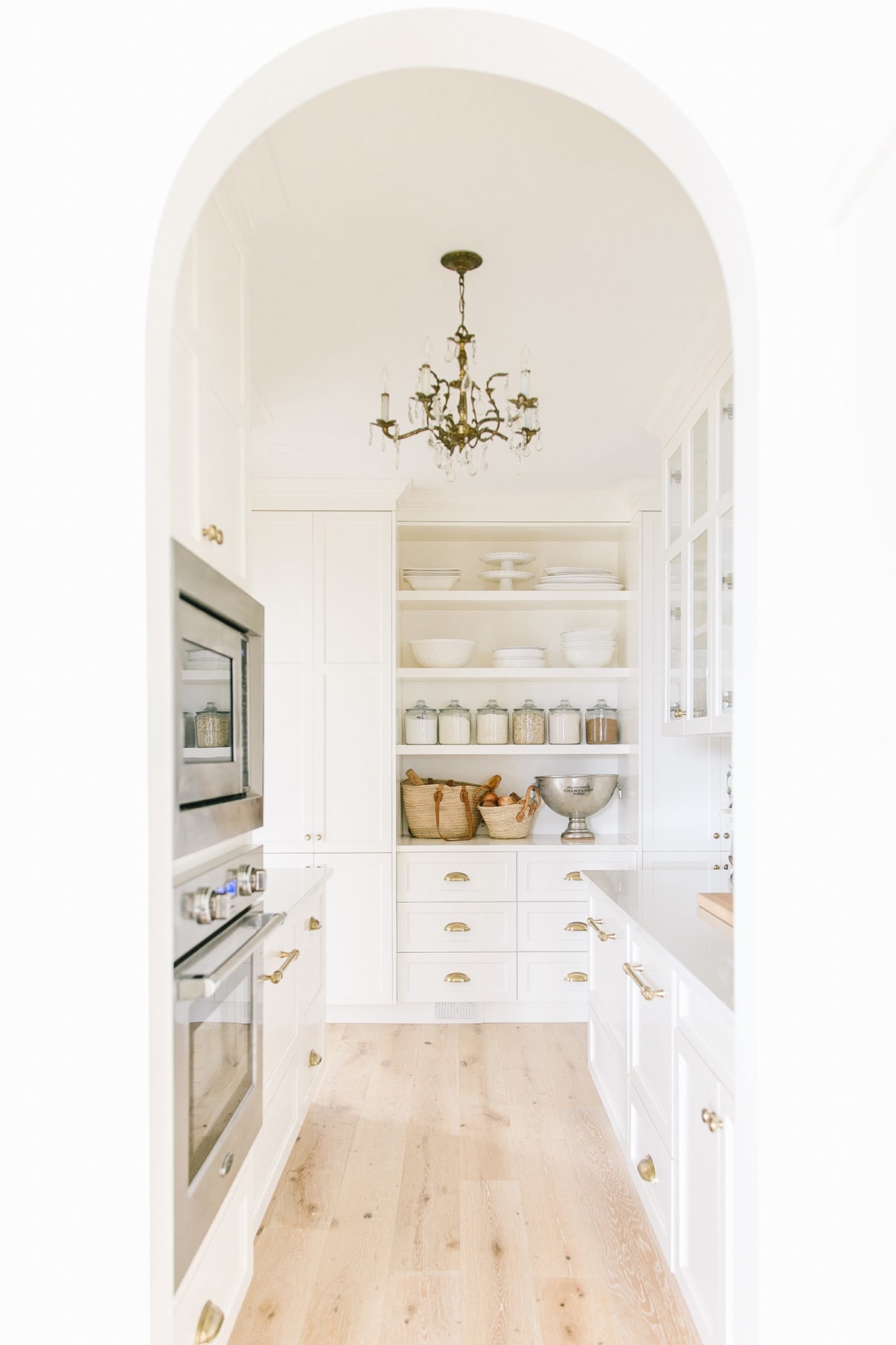 But even if all of your food is otherwise hidden, it can be a fun way to add another level of texture and interest to the kitchen. If you have some extra counter space, try decanting sugar and flour into pretty containers and displaying them. Or decant coffee into a nice jar and have it near your coffee station. These storage pieces will add practicality as well as beauty to your counters.
6. Display Your Prettiest Decor & Serveware
Quite often we have the ugliest things out for all to see (sponges, bottles with labels), yet we hide away our pretty serving pieces or Grandma's beautiful china we inherited. Why is that?
Once you've gotten rid of the less attractive things, why not bring out some of the beautiful pieces you already own? To me, we should be using our beautiful things, not saving them for a special occasion!
I'm lucky to have glass cabinets that I can use to display my favorite serving pieces, but you can use pretty pieces in other ways as well. Why not bring out that antique silver sugar dish that's been locked away, add a silver champagne bucket to hold utensils, display antique wood cutting boards as decor, or use an antique wood bowl to hold fruit?

At the very least, anything that is out on display should be something you love. If you don't already have nice butter or sugar containers, attractive cutting boards, or a pretty fruit bowl, now is the time to upgrade those! Whether you use antiques you already own or choose to buy new, they'll be like a mini face lift for your kitchen!
7. Clean & Declutter!
I know I've mentioned this before, but it's amazing how many people don't do this! Start by cleaning out every cabinet and drawer and giving them a good wipe down. Make sure everything is organized and streamlined so that it's easier to keep it tidy in the long run.
Clean off the countertops and clear out the clutter. If you don't have a 'junk drawer' where family members can hide some necessities, clear out enough space to create one. And put everything away, every day. And everyone should put their dishes in the dishwasher (or wash and dry them if you don't have one).
It's amazing what a clean and organized space can do for you, mentally and emotionally. Plus, once everything is clean and tidy, you'll be able to see all that pretty decor you just added! 😉
I hope these seven tips give you ideas for elevating your kitchen. By adding textural details like a runner and artwork, upgrading your everyday items, hiding unnecessary appliances, and bringing in beautiful serveware, your space will feel so much prettier and sophisticated.
Of course, if you have a little more to spend you can do even more. Add new hardware or fixtures, reface your cabinets, change out your lighting or seating, or paint the cabinets or walls.
But even the simple changes mentioned above will have you loving your kitchen again!
Shop Kitchen Decor


Shop My Kitchen

Sheila
xo
If you enjoyed this post, be sure to check out more decorating ideas below: