5 Tips for Elevating Your Outdoor Space
Thinking about spring and summer and spending more time outdoors? Get yours ready with our five tips for elevating your outdoor space.
As the weather warms up, we all start thinking about our outdoor spaces. How to improve them. How to style them. However, it can be discouraging when you look at photos on Pinterest and Instagram of gorgeous outdoor spaces that seem unattainable. But even the smallest, simplest patio can feel more luxurious with just a little effort!
Now is the perfect time to get started on improving and elevating those outdoor spaces. The trick is to treat your outdoor spaces like your indoor spaces! Here are our five tips for elevating your outdoor space so it'll look its best, whether it's a large yard in the suburbs or a modest condominium patio.
THIS POST MAY INCLUDE AFFILIATE LINKS. CLICK HERE FOR MY FULL DISCLOSURE POLICY.
1. Add an Outdoor Rug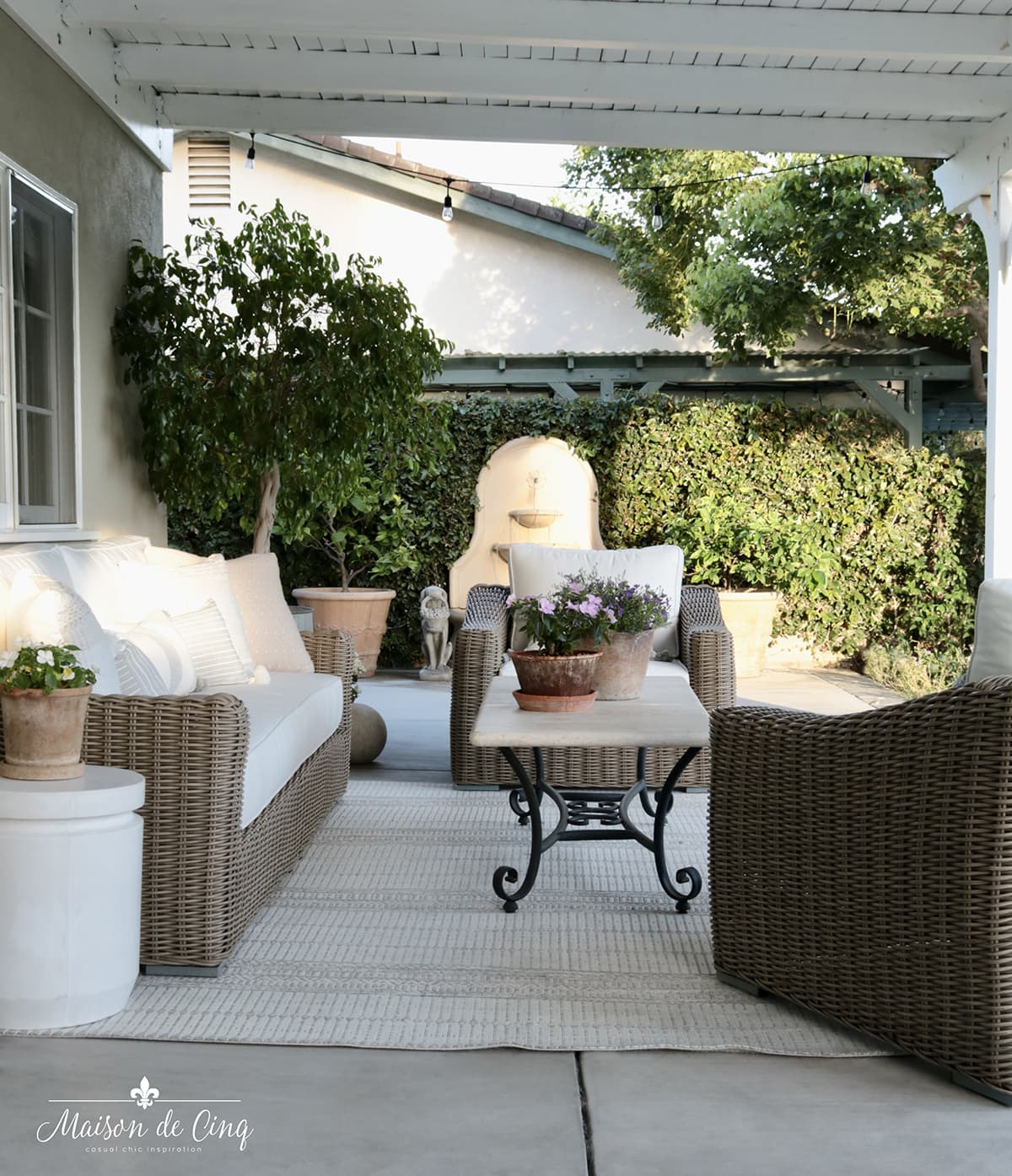 One of my favorite ways to make an outdoor space look more elevated is to add an outdoor rug. And oddly enough, it's one I resisted for years! But I'm a convert.
Seriously, it's hard to overstate what difference an outdoor rug makes in your space! It can define a dining or lounging area. It makes any outdoor space feel more inviting. And honestly, it's also so much cleaner!
I love that when I sit down now, my feet are resting on a rug rather than the dirty concrete. And if you buy a rug specifically made for outdoors, they're also super easy to clean with just the hose and mild soap.

Don't forget to follow the same rules for buying an outdoor rug as you would for an indoor rug. The rug should be large enough that all of the front legs of the furniture sit on the rug.
And if you're buying it for under a dining table, all the chairs should fit on the rug as well as be able to be pulled out while still on the rug.
2. Incorporate Potted Plants and Flowers
This one might seem obvious, but it's one lots of people don't do. I think it's one that's easily forgotten, but don't underestimate the difference pots of pretty flowers and plants make to a space. These are my favorite aged-looking terracotta planters, but there are lots gorgeous options out there these days!

Not only do they add color and beauty, but it's a quick and easy way to elevate your outdoor space. So grab a few pots and planters you love and get planting!
3. Add Pillows and Throws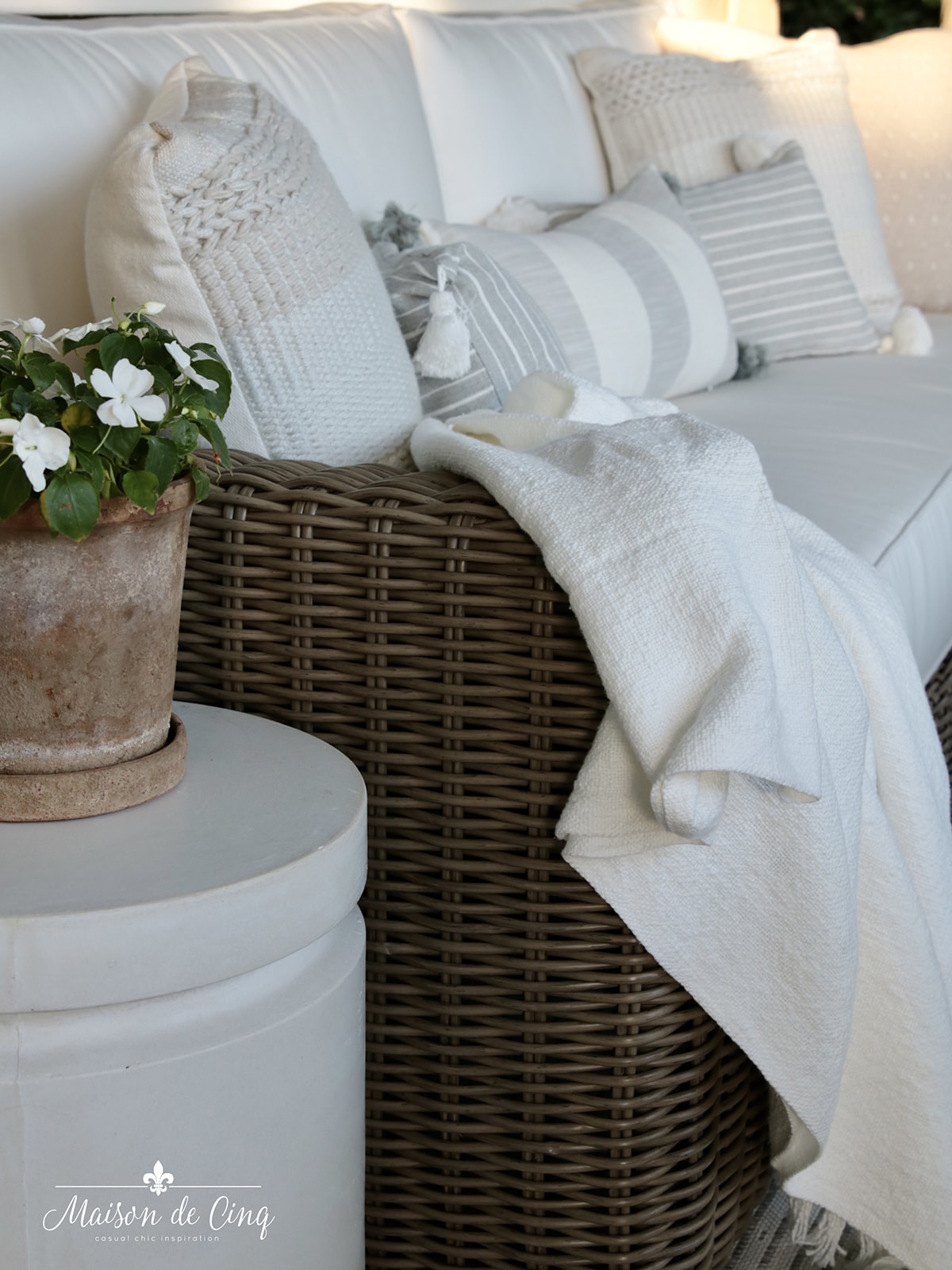 As I mentioned before, think indoors when decorating outdoors. That includes adding pillows and throws to your lounge furniture or seating areas. Outdoor pillows make a space feel cozier. They also add texture and comfort.
Not only that, they're a great way to bring in color if that's something you want to do.

And just like the outdoor rug, if you buy quality outdoor pillows they should last years, even when exposed to the elements. I try to find outdoor pillows with zippers, if possible. That way, they're easier to wash and keep clean.
4. Accessorize Like you Would Indoors
When you think of the prettiest outdoor spaces on Pinterest or Instagram, they're usually accessorized like an indoor space. You can even bring a few indoor decor pieces outside.
Last year I splurged on these concrete spheres to add architectural interest to the garden – I love the the European feel they bring to the space!
Think vases of flowers and candles on the dining table, lanterns on the coffee table, and trays for corralling objects or for serving outdoor meals. And of course, those potted plants and flowers also make great decor!

5. Set the Mood with Lighting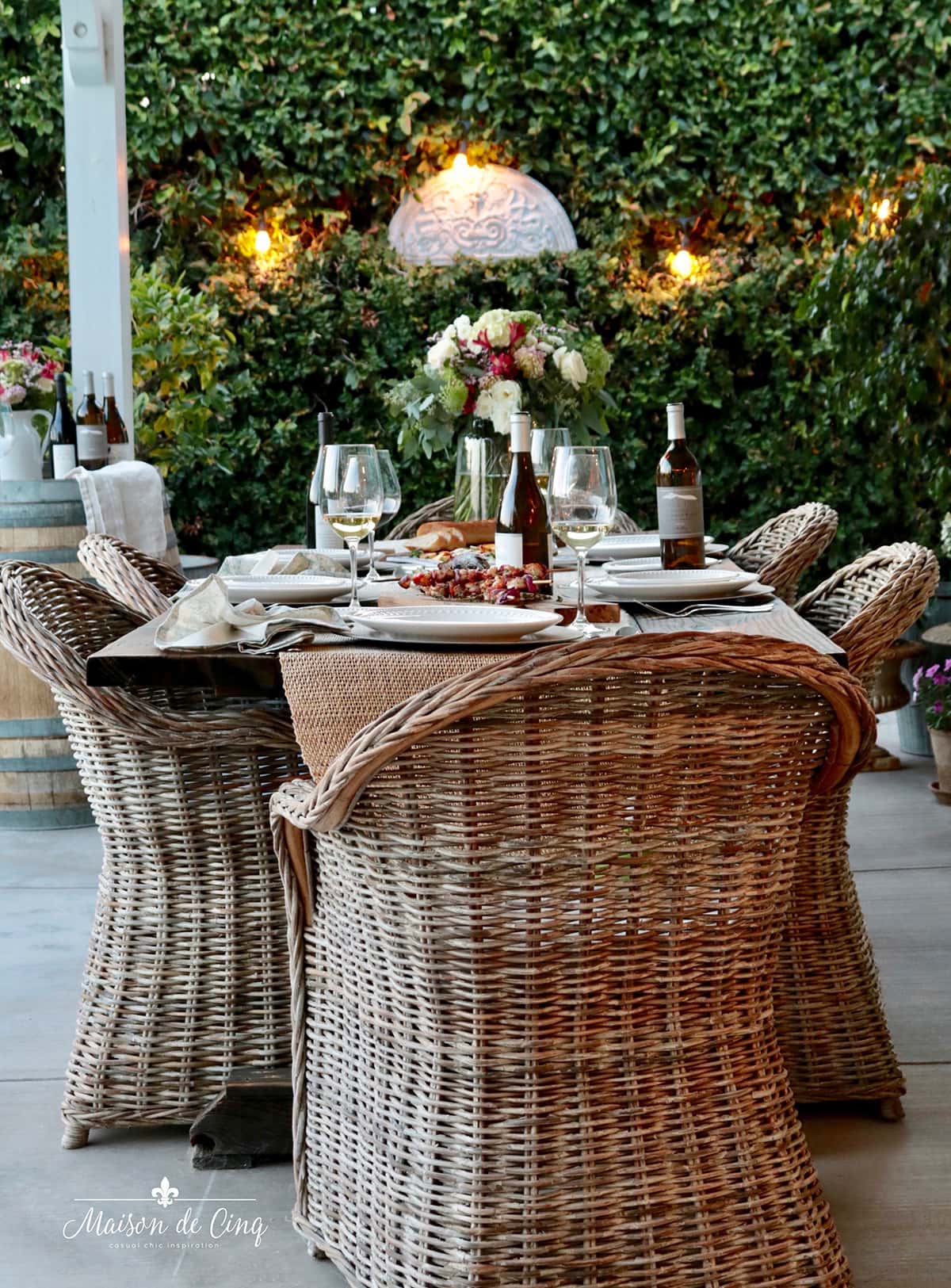 If you have built-in patio lighting, that's always optimum. But even with overhead lighting that isn't always enough on a dark summer night. Bring in light in other ways.
Install path lights along a walkway or hang string lights overhead on a pergola. We added string lights to our patio two summers ago and I love them! They feel romantic and really create an ambiance.
And if you're lucky enough to have hard-wired outdoor lights, don't forget to update them. Outdoor lights really take a beating so check them from time to time to make sure they're still looking their best.

You can also add lanterns around your dining table or the sitting area, or sit them directly on the dining or coffee table.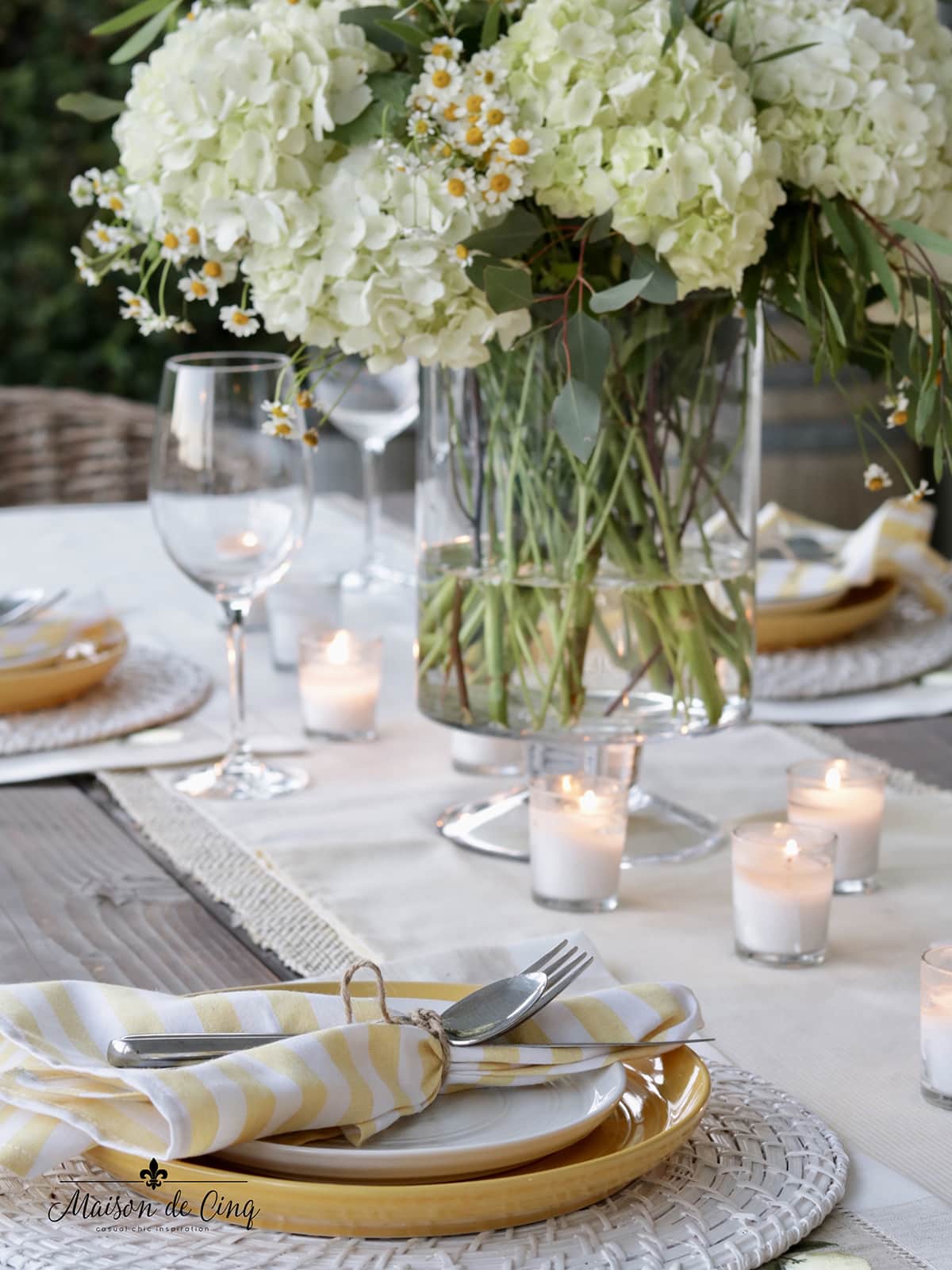 And then there's always candles. I use real candles in candleholders or votives on the dining table when serving dinner. Nothing elevates a meal more than candlelight! I'm also a big fan of flameless candles and use them in all my lanterns on both the patio and the front porch.
All that ambient lighting is sure to make time spent in your humble outdoor space feel like you're in the South of France, even if you're not. 😉

6. Clean!
Okay, I know I said I was giving five tips, but just think of this one as a bonus. And really, it's one I shouldn't even have to mention! But it seems people do forget how much difference cleaning can make. Nothing is less inviting than a dirty space. Even if you don't buy a thing, deep cleaning everything can make a huge difference!
Dust off the furniture, clean cushions if you have them, and sweep or hose the hard surfaces. Your space will feel so much better – and yes, it will surely feel elevated from its former dirty, messy self. 😉
I hope these five tips give you ideas for elevating your outdoor space. Simply by adding cozy indoor elements like rugs and pillows, incorporating greenery or flowers, and creating a mood with additional lighting, your space will feel so much cozier and prettier.
Of course, if you have a little more to spend you can do even more. Add a fireplace or fire pit, grow vines up a trellis or arbor, or build a patio cover or pergola. Take a peek at the diamond pattern espalier we created to add interest to a big, boring wall.
But even the simple changes mentioned above will have you loving your outdoor space, and hopefully, using it more, too!
Sheila
xo
Shop Outdoor Decor



Shop my Outdoor Space

If you enjoyed this post, be sure to check out more summer and outdoor decorating and entertaining ideas below: