20 Essential Decorating Measurements – Design Basics
Wondering how high to hang your chandelier? Or what size rug to buy? Make sure you get it right the first time with these 20 essential decorating measurements!
Decorating is a creative pursuit, but many people don't realize there are mathematics involved if you want to get it right. Even the most beautiful room will look 'off' if art is hung too high or the rug is too small for the room. Many times the professionally designed rooms look better not because they have more expensive furniture or accessories, but because they have proportion and measurements down to a science.
I frequently see people make the same mistakes over and over, and I know there's lots of confusion as to what the basic decorating measurements are. So read on to prevent decorating mistakes and get it right the first time!
Once you know these essential decorating measurements, you'll be on your way to creating a beautiful home.
THIS POST MAY INCLUDE AFFILIATE LINKS. CLICK HERE FOR MY FULL DISCLOSURE POLICY.
Lighting: Chandelier Size and Height
I would say hanging lighting and chandeliers too high is the most common decorating mistake I see, so I'll start with this one!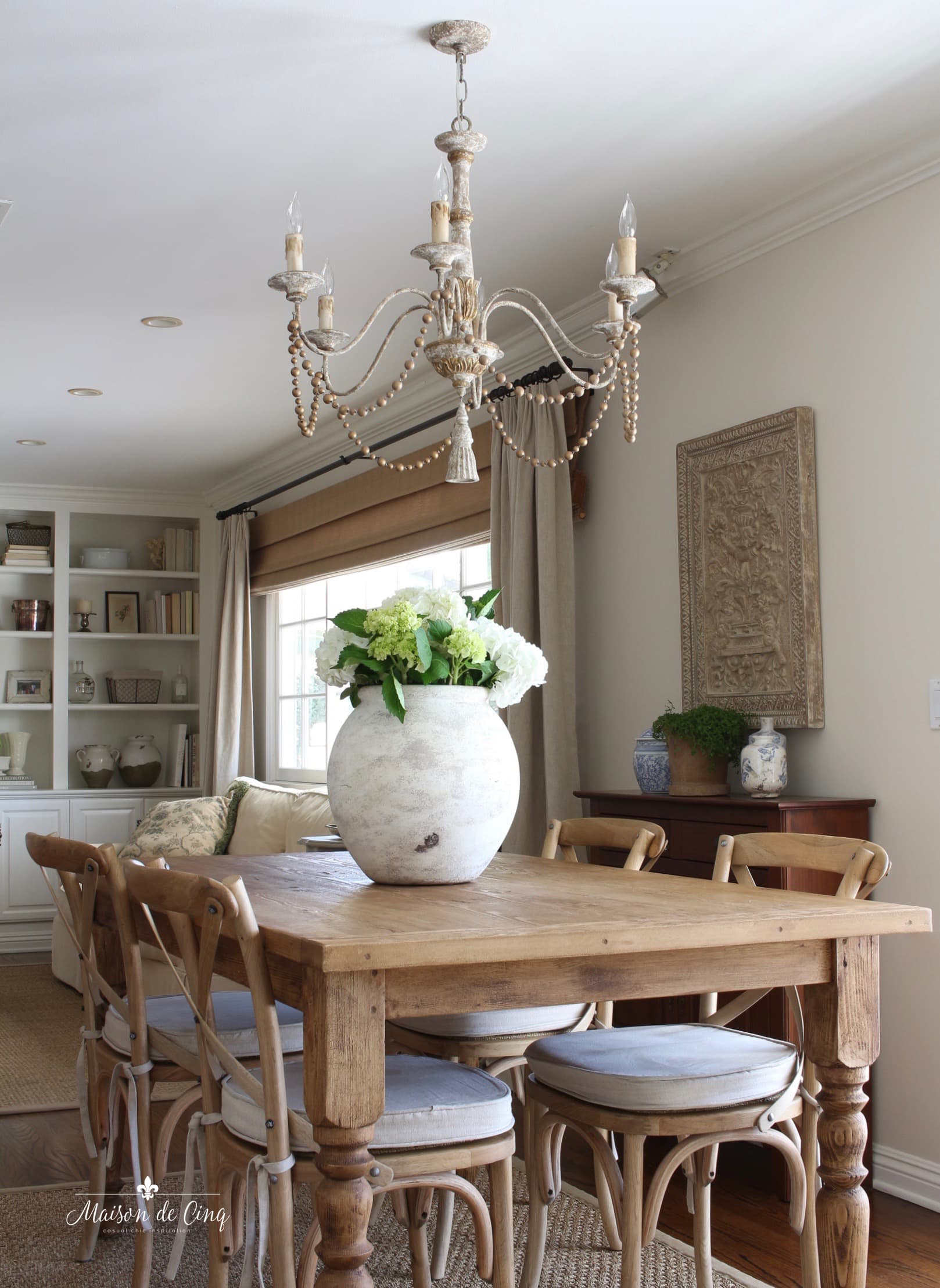 FOR A CHANDELIER THAT HANGS OVER A TABLE:
SIZE:
• The chandelier should be about 1/2 to 3/4 the width of the table.
HANGING HEIGHT:
• The bottom of the chandelier should be 30″ – 32″ from the top of the table for ceilings that are between 8′ and 9′ high.
• Higher ceilings will require the light fixture to be hung higher, approximately 3″ for every additional foot of ceiling height.
FOR LIGHTING IN AN ENTRY WAY OR LIVING ROOM:
SIZE:
• The rule of thumb for a room where you don't have a table is to add the length and the width of the room together. Treat that sum as inches, and you have the suggested diameter of the chandelier for that room. For example, if the room is 20-feet by 15-feet, the sum is 35 feet. Convert that to inches, and the ideal diameter of the chandelier for that room should be about 35″ wide.
HEIGHT:
• Allow 2.5-3 inches for each foot of ceiling height. A standard 8-foot ceiling will accommodate a chandelier that is 20″-24″ in height.
• When hanging a chandelier in an open space such as a foyer or hallway or anywhere it will be walked under, allow at least 7′ of clearance underneath.
FOR KITCHEN LIGHTING:
HEIGHT:
• The standard distance between a kitchen island and a pendant light (top of counter to bottom of light fixture) is 30″ – 36″. Make sure to adjust the height to ensure your view is not obstructed when standing at the island.
Artwork: Hanging it at the Correct Height
Probably the second most frequent mistake I see is people who hang their art way too high! If something feels off in your space, it may be because your artwork is not hung low enough.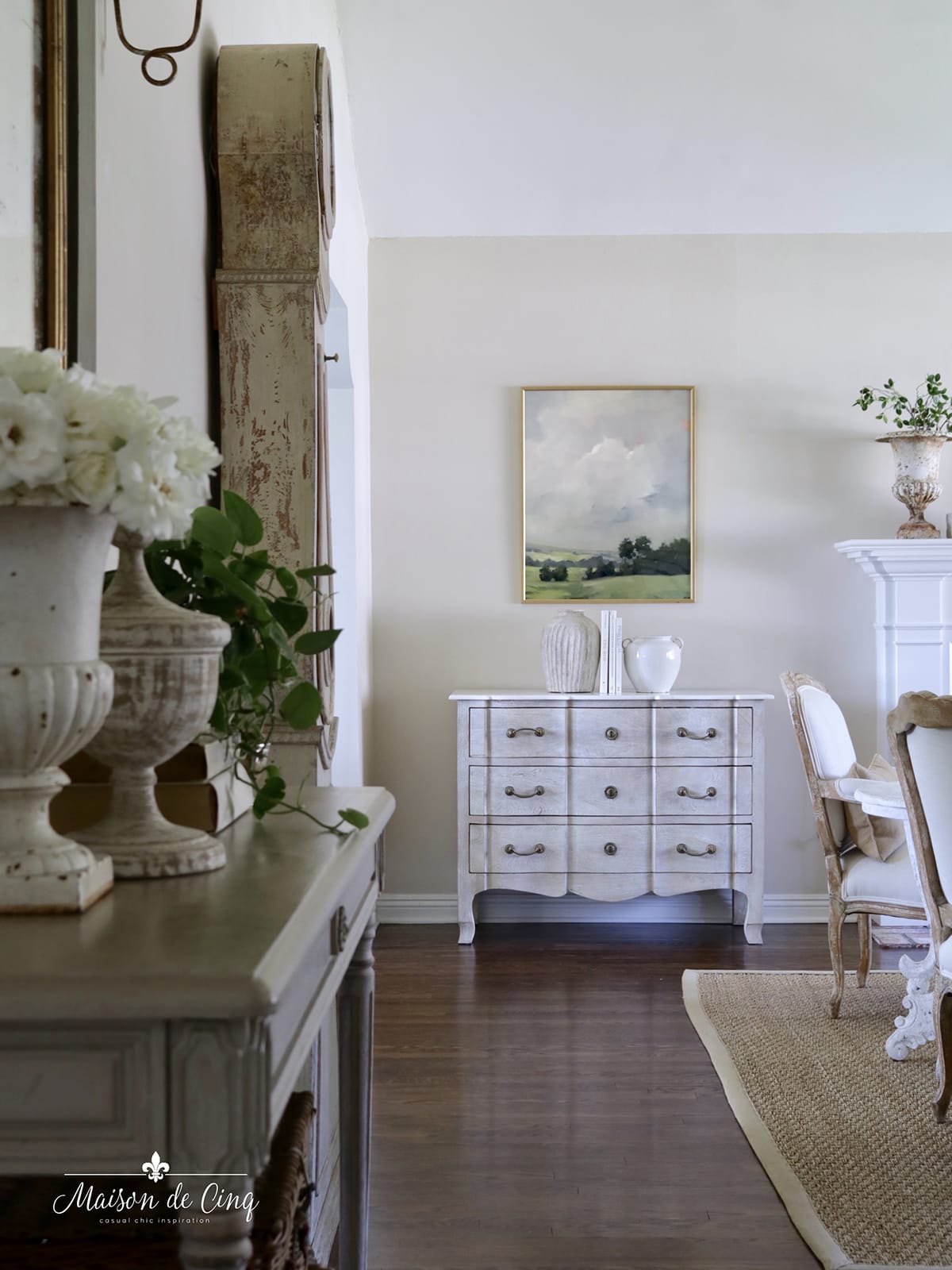 • Typically art is hung at 'eye level' which for decorating purposes is roughly 60″ from the ground. Therefore the height from the ground to the center of your artwork should be 56″ – 60″.
• When hanging two or more pieces of artwork over one another (vertically), treat them as one large piece. Find the center point between them and use the same rule.
• For any groupings, hang things closer than you would think! 1 1/2″ – 2″ is the approximate space that should be between any pieces in a gallery wall or grouping. If you space them too far apart, they act as separate pieces rather than a cohesive statement.
• When hanging an art grouping above a sofa or piece of furniture, the grouping should be approximately 2/3 the width of the furniture below it.
• The ideal space between the top of a sofa and the bottom of a piece of art (single or group) is 5″ – 9″.

Find the Perfect Size Rug for Your Room
When it comes to rugs, bigger is always better!

IN A LIVING ROOM:
• The standard rule of thumb for rugs is that every piece of furniture should have at least the front legs on the rug. If possible, all the furniture should be on the rug but if you don't have the space or can't find a rug large enough, the front legs only is fine. What you don't want is a rug that has no furniture on it except the coffee table. This tends to look like a postage stamp in the middle of the room and rather than enlarging the space, will actually make it look smaller!
• Really you want to get the biggest rug you can for the space, while still allowing 12″ – 24″ of bare floor between the edges of the area rug and the walls of the room. This will not only anchor the room but actually make it look larger!
IN A DINING ROOM:
• Make sure the chairs are all the way on the rug, even when they are pushed out. Usually 24″ – 30″ wider and longer than the table provides ample space for this.
IN A BEDROOM:

• Area rugs under a bed should extend at least 18-24″ beyond each side of the bed. In our bedroom, our 8 x 10 rug works perfectly with our king size bed, allowing it to come out over 24″ on each side of the bed.
window treatments: hanging them at the right height
Nothing ruins a pretty room faster than drapes that are too short or hung too low! These decorating measurements will guide you to hanging all your window treatments perfectly.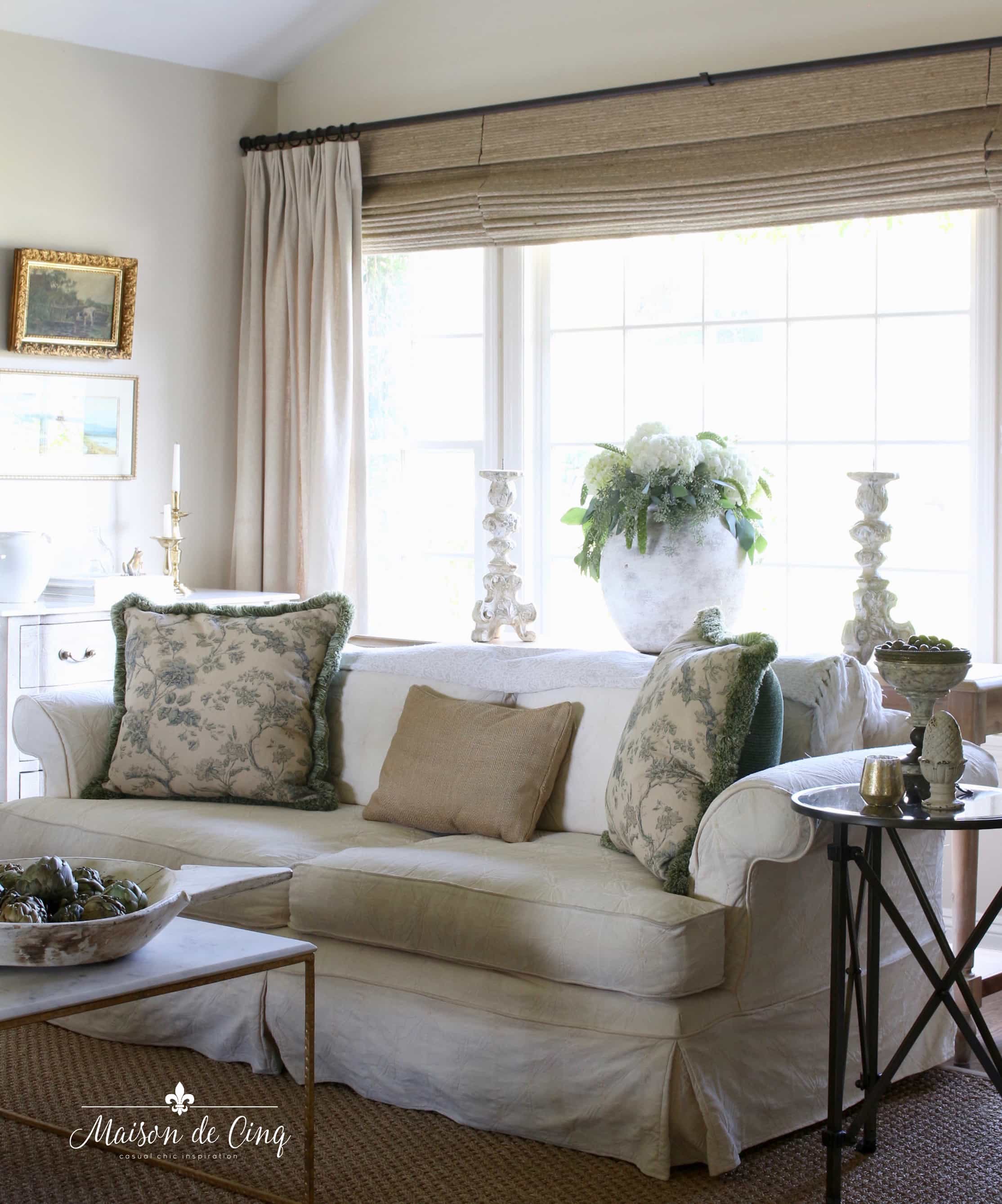 • Ideally you should hang drapery rods as high as possible above the window casing or trim. This creates the illusion of height, making your room and windows feel taller. A good rule of thumb for the average window is to mount the rods 4″ to 10″ above the trim if space allows.
• Likewise, you want to mount your drapes outside the window casing on each side as well. Extending the drapery rods 4″ – 10″ beyond on either side will create the illusion of wider windows.
• Curtains should just skim the floor, neither puddling excessively nor being too short. I like the look of a slight 'break' which is equal to about 1″ extra in length.
• Drapery panels should have a combined width of 2-3 times the width of the window. So if you have two panels framing a window, each panel should be 1 to 1½ times the window width. And this applies whether they are functioning or not! Even if you are hanging them for decorative purposes only (as I did above), go with the wider width. If you go any thinner they will end up looking skimpy.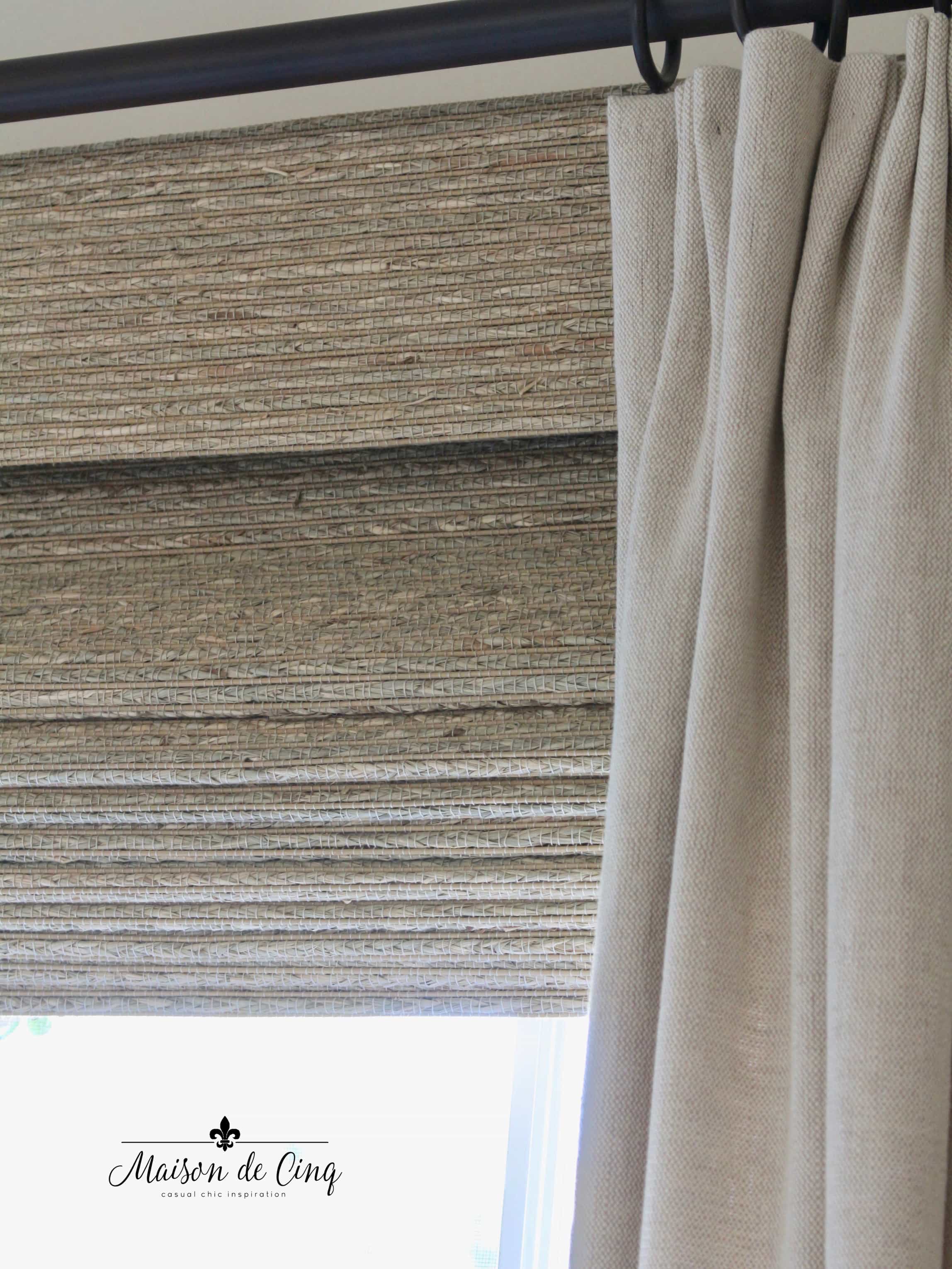 • Also, if you are layering drapes over any kind of shade, make sure the drapery rod is at the same height as the shades (as above). Do not allow there to be space in between the two! This creates a foot or more of 'dead space' and ruins the 'elongation' of hanging the rods higher.
I hope you've found these essential decorating measurements helpful! But if you find that your measurements are slightly different yet you love your home, or you like the look, don't worry. Rules are simply guidelines, a starting point. And as we all know, rules are made to be broken!
But if something does seem off in a room in your home, take a look at these basics and make sure you're applying them. You may just find that they make a big improvement!
Happy Decorating!
Sheila
xo
You can shop more of my home below:
Living Room
Dining Room
Kitchen
Primary Bedroom
If you enjoyed this post, be sure to check out more decorating ideas below!