Today we're sharing our 7 essentials for summer – the must-have items that help us get through the season in comfort and style!
Summer is home to some of my absolute favorite things in the world. Eating dinner alfresco on the patio, reading by the pool or on the beach, enjoying nature and beautiful weather, picnics in the park….
But summer can also be tough! It's hot. It's humid. That's why we all need ways to make the season not only more special, but also more comfortable, delicious and stylish!
So on that note I'm sharing my favorites for around the house, yard, beach, and more. These are the things that get me through the fun part of summer (read: warm summer nights or days spent outside) as well as the not-so-fun part when it's well into the 90s and has been that way for weeks!

This ice cream maker is hands-down one of my favorite appliances I've ever bought!!
One of my favorite things to do once the weather warms up is to make homemade ice cream. And no, you don't need to add salt or stir by hand or any of the other super involved things you hear about. 😉
Once you've made your recipe, whether it's custard based or a no-cook one (my favorite!) you simply pour your cream mixture into the ice cream maker and turn it on. And twenty minutes later you've got delicious, made-from-scratch ice cream! No additives, thickeners, chemicals or any of that other stuff you don't need. It's mind-bogglingly (is that a word?!) delicious, I promise!
My kids loved it when they were little and they still do. Sometimes when we're having friends over I'll make two or three flavors and serve an ice cream bar with toppings as dessert. It's so fun and seriously, so delicious!!


My favorite folding beach chair that makes going to the beach or park so much easier!
A beach chair might seem simple, because of course you can buy the cheapest one at the nearest Rite Aid. However, once you've had one this good, you'll never go back!
This beach chair is perfect in every way. It folds up for easy storage and carrying. Has a built-in cup holder (love that!) And it even has a storage pocket in the back. And the best part? It converts to a backpack for easy carrying which is amazing when your arms are loaded down with beach bags, coolers, bags of buckets and shovels, umbrellas, etc!
There are lots of chairs out there that look similar, but the key is that backpack feature. I have both this brand and this brand and they are equally good with all the same great features!


Another summer favorite is galvanized buckets. I literally use them anywhere and everywhere!
I have the galvanized party bucket from Pottery Barn, but I also use my vintage and plain-old hardware store versions for lots of other things, too. We have an old French galvanized tub that sits on the patio holding towels for the pool, and some smaller ones where I stash the sunscreen.
In fact, I love almost anything 'galvanized' for summer – from vintage pitchers to chargers and trays. They have a great casual look and for some reason, they scream summer to me! And of course, you know how I adore galvanized buckets for any and all manner of flowers! 😉
They really speak to my French-loving heart 😉


Pillows, pillows, pillows!
Outdoor pillows are essential for making your outdoor spaces feel cozy and welcoming.
I mix and match from all different stores – you can find them at literally every price tag. I will say the more expensive ones usually have a zipper so then you can launder them and they'll last for many more seasons that way.
Some of my favorites are these from Serena & Lily, but I also love these from World Market and they're so reasonable. There are so many cute ones out there, now!


This one is so simple, and inexpensive – it's a no-brainer! I've been using Jergen's Natural Glow Self-Tanner for years now and I'll never go back.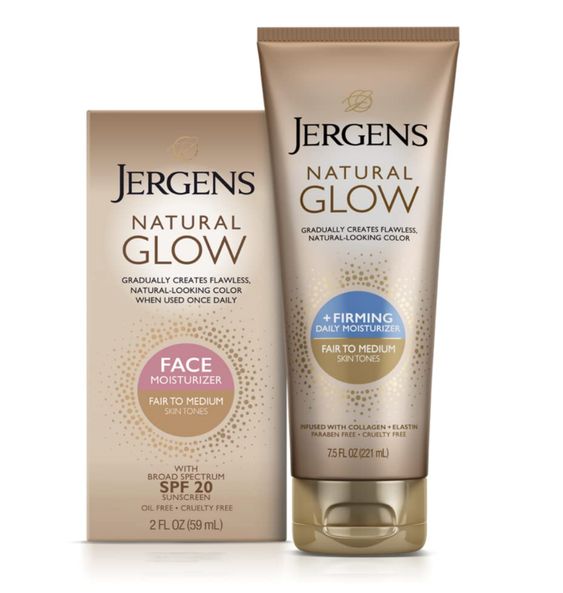 Before I discovered it, I actually never used any kind of tanner. I had heard they streak or turn your skin orange or even stain the palms of your hands.
But this is different. It's very subtle, which is key. I use the medium. No, it doesn't turn you dark brown right away, but that's not really the look I want anyway. I just use it like I'd use a regular body moisturizer. And it builds over time. So once you start using it a few times a week you will notice a nice even color. Brilliant!!


Though I actually love summer fashion (don't we all?!) the only clothing item I'm including is my favorite summer shoe – the espadrille.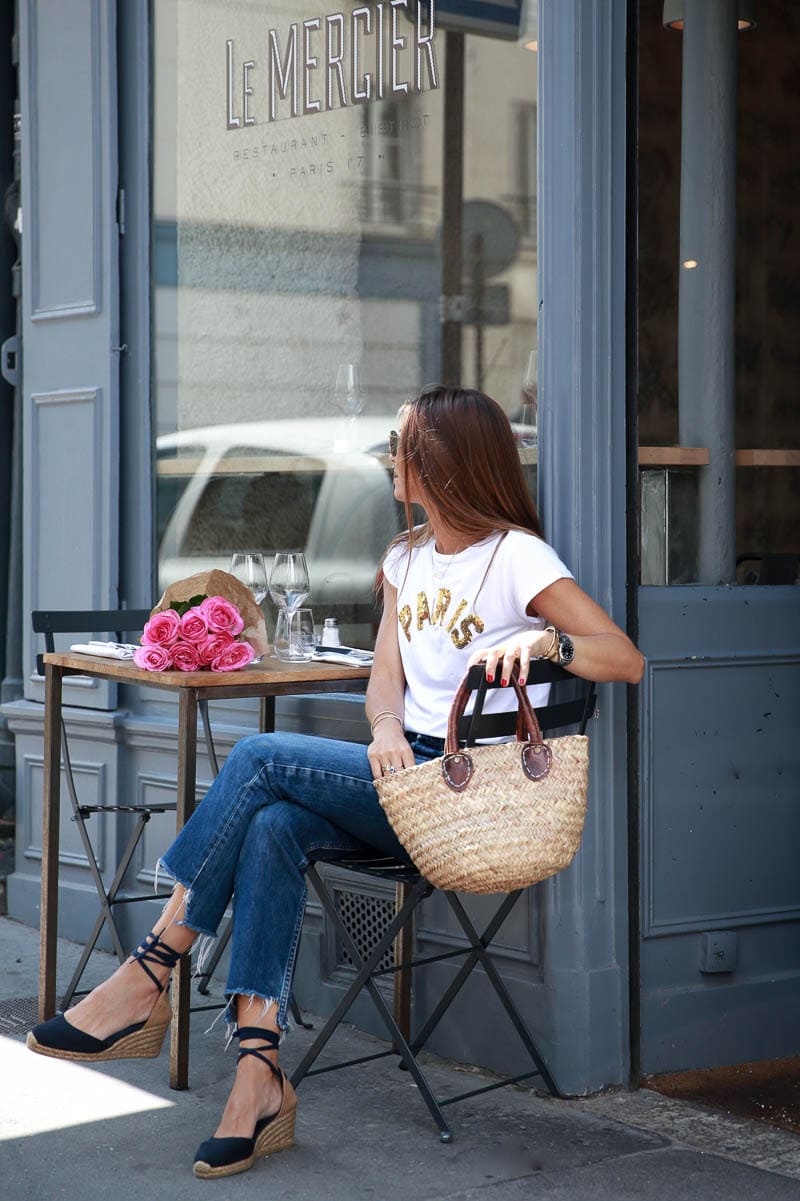 They're so classic, and so French, I can't help but love them! 😉
I just recently bought a pair of adorable light blue wedges. I also have a natural colored wedge that I got last year – I love this look because it's so versatile. And the flat versions are fabulous for just an everyday throw-it-on casual summer shoe. I can't think of many shoes that connote summer quite as much as these do!
For even more French summer fashion ideas, be sure to check out my French Summer Fashion Essentials post!


I did feature this portable table in a summer essentials post I did a few years ago, but seriously it's so good, I just had to include here, too!
We've owned this table for probably fifteen years, and I love it as much now as I did the day I bought it. It's low to the ground, portable, and comes with its own carrying case. It's perfect for the beach, park, or my personal favorite, concerts in the park! 😉
I purchased mine at Crate and Barrel which still carries it (see? that's how good it is!) Sometimes it sells out and there were a few years where it was discontinued, but for now it seems to be back. It's such a perfect essential for summer, and it also makes a great gift. I can't tell you how many people come up to me when we're using it and ask me where I got it!

And there are a few bonus items, too!
I love a straw hat for the beach, but for walking, hiking or boating I prefer a nylon, wide-brimmed hat that has a string (to keep it from blowing away). This is the one I have, but I'm sharing other cute options below, too.
A serving tray is essential for summer entertaining, and bringing things outdoors and back in.
My favorite all-over sunscreen is this one and for-the-face is this one. It's non-toxic and it smells incredible.
Nothing adds more ambiance and charm to even the most mundane outdoor space than string lights. We have these and love them!

I hope you enjoyed my essentials for summer!
And if you have any things you love and have to have for the summer season, I hope you'll share them, too. I love finding out about tips and tricks that can help us all get through the season in style 🙂
Shop Essentials for Summer


Happy Summer!
Sheila
xo
Now check out what summer essentials my friends are sharing below!
Shades of Blue: Summer Essentials
Thistlewood Farms: Simple Summer Decorating
Tidbits: 10 Summer Essentials for Your Home
Seeking Lavender Lane: Family Summer Essential
If you enjoyed this post, you might want to check out some more of my summer posts below!