Fall Decorating Ideas: Cozying Up for the Season
Looking for fall decorating ideas? Today I'm sharing some simple changes in the kitchen and family rooms that are perfect for cozying up your home for the season.
It's finally here! Though we've been talking fall for awhile now (and on Instagram for at least a month!), the real, actual first day of fall is upon us and I'm so ready! I must say that this year I was really hanging onto summer and wasn't in a hurry like I usually am. That is, until we had a few cool days and then I was immediately in the mood for a change!
This post may include affiliate links. Click here for my full disclosure policy.
That cooler weather outside got me wanting to change things up inside.
And the first thing I did? Change out the flowering plants I had on the kitchen counter. They felt very summery, so I swapped those for a large vase with some faux eucalyptus that will last longer than flowers!

Another way to make it feel cozier for fall is to bring in more texture. I added a few more wicker and wood elements and they immediately add warmth to the space.
Although I had the branches on the counter, I really wanted to feature fresh flowers so I grabbed some dahlias, one of my favorite fall flowers. Their cafe au lait colors are perfect for mixing with greenery and whites for a soft take on the season.

The baby boos appeared this week so of course I couldn't resist! I love to sprinkle them around and add a few in each room. They're also great piled in a bowl. Either way, they always add the right seasonal element.

I always display some kind of fall fruit or vegetable, and this year was no different. Apples from our tree sit in a vintage proofing basket, while a distressed wood bowl holds fresh pears. And of course, the best part is you can eat them!

I also switched the artwork that leans on the range mantel for one that had warmer, more seasonal tones. This is a vintage oil, but there are so many art sources on Etsy now, it's easy to print out seasonal art and switch things up when you need a change.

In the family room, I swapped out the pale blues and whites of spring and summer, and brought in the warm colors of autumn.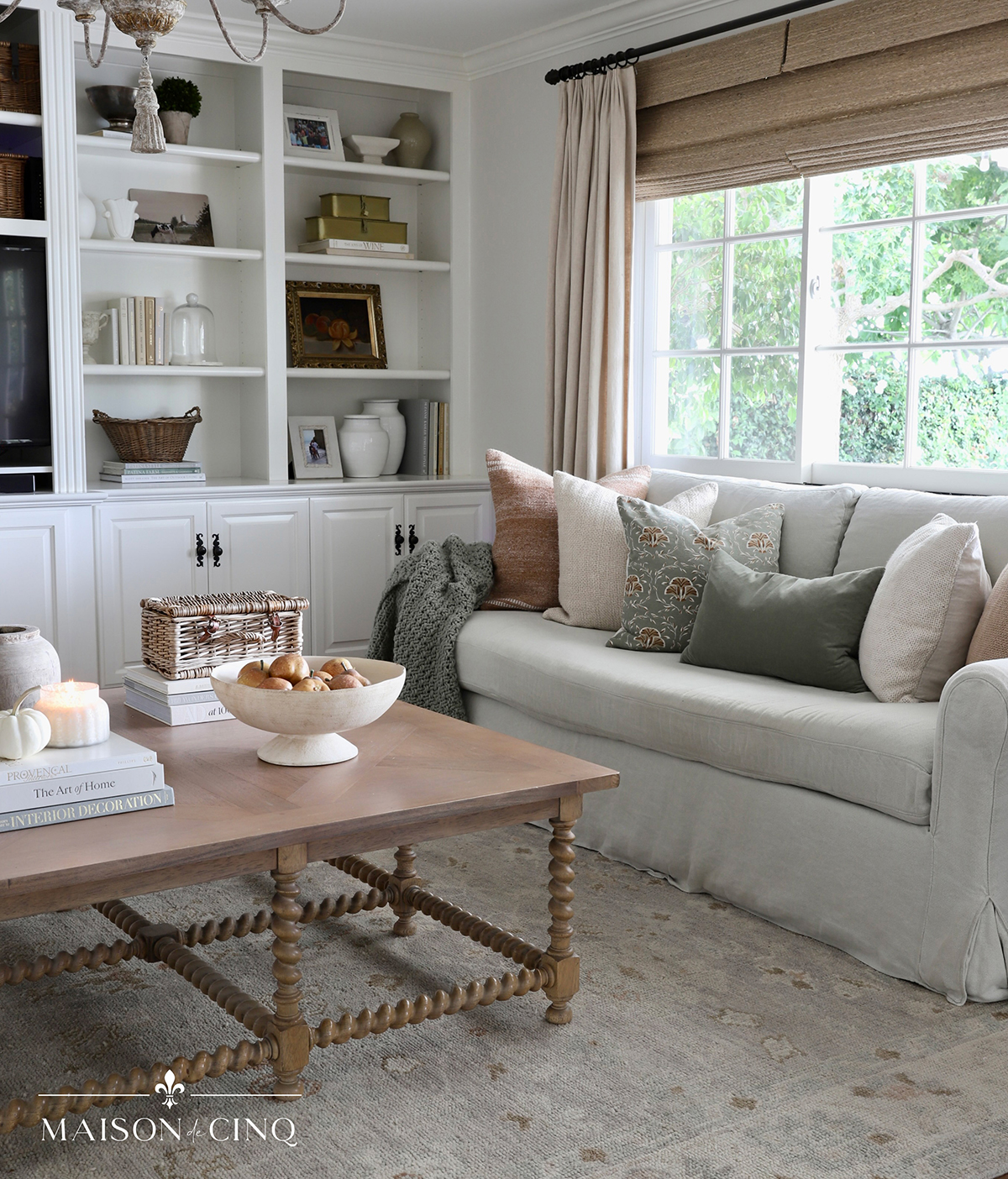 And did you notice the new rug? This isn't actually new for fall, it's been here since late spring. But I do love the warmth it brings to the space and luckily, it looks great with the new pillows, too!

Pillows in shades of faded rust, sage green, and cream feel warmer than what was here, yet they aren't the bright oranges or deep rusts one usually associates with fall. I wanted a softer take and these are the perfect bridge!

These faux dried grasses are one of my favorite things! I love that they look real, yet they don't drop little seeds and pollen dust the way real grasses do.

I hope this gave you some fall decorating ideas of your own! It's as simple as swapping out artwork and pillows, then adding some seasonal branches or flowers. By changing just a few things, your home will feel warmer and cozier and ready for the season!
Shop Fall Decor


If you enjoyed this post, be sure to check out more fall inspiration below:
And be sure to visit our Fall Decor Shop!