How to Host a Fall Harvest Dinner Party
Looking for beautiful fall entertaining ideas? This fall harvest dinner party is an easy but elegant way to celebrate the bounty of the season.
One of my favorite times of year to entertain is in the fall. It's not as casual as the summer, but it's also not as fancy and involved as the holiday season. It's relaxed without being too laid back, and the bounty of the season makes for a perfect night of food and wine.
Today I'm sharing a fun take on a seasonal dinner and showing you how I throw a fall harvest dinner party!
From a pretty table setting featuring pumpkins and fall florals, to cozy recipes that showcase the best of the season, and of course, the perfect wines to serve, you'll find all the tips you need to create a wonderful fall night with family or friends!
THIS POST MAY INCLUDE AFFILIATE LINKS. CLICK HERE FOR MY FULL DISCLOSURE POLICY.
For fall, I always think relaxed, cozy and inviting. That means using earth tones and rustic textures, like linen, stoneware, wicker and wood. Since the food and wine are the stars, you want to keep the decor simple and natural, reflecting the bounty of the season.
To create the centerpiece, I used both faux and real pumpkins and scattered them around the flowers. I also added some acorns for an added nod to the season. And I'm loving this linen runner and the texture it adds!

The centerpiece consists of white hydrangeas mixed with some fall florals and eucalyptus.

A nubby linen runner, wood chargers, a simple white dinner plate, and a green stoneware salad plate are layered to create texture at each place setting.

To emphasize the warmth of the season, I used my favorite gold flatware and a brass napkin ring. Except it's not a napkin ring! It's actually from the hardware department, is solid brass, and it's much cheaper than napkin rings typically cost. (I got this idea from Martha Stewart so I can't take any credit, but it's brilliant!) 😉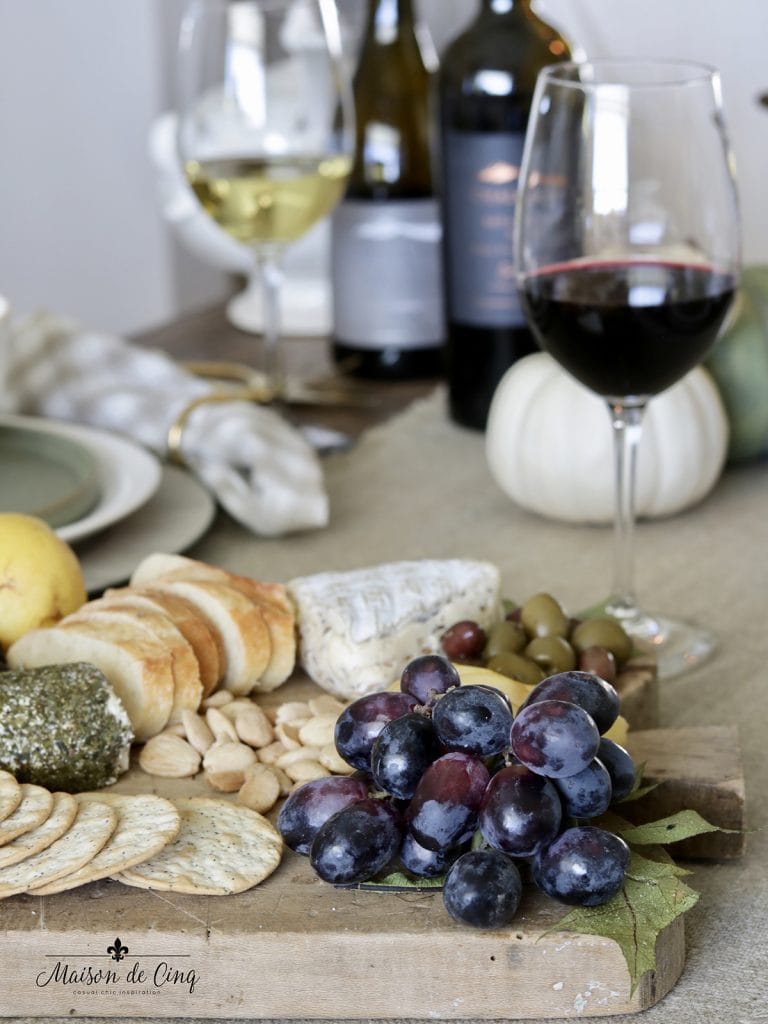 For the meal, I've included a yummy charcuterie plate as one of the starters. Not only does everyone love it, but it can be set out before your guests arrive while you get other things done. And it's a great way to let everyone serve themselves and graze for awhile before the meal.

A few tips for arranging the perfect cheese plate:
Let the cheese sit at room temp for at least a half hour before serving. Cheese is at its full flavor at room temperature.
Include a mix of both soft and hard cheeses, as well as different types such as goat, cow's milk, and sheep's milk.
Add a selection of meats such as prosciutto or salami, as well as nuts and olives for a variety of flavors.
Fresh and dried seasonal fruit such as grapes, figs, apples, or pears add sweetness and are a break from the rich cheese.
The secret to a great cheese board is the garnishes! Opt for a variety of textures and colors to keep things visually interesting.
Choose a large wood board so you have lots of room for all those yummy extras.
For the starter, this super easy (and super delicious) Winter Squash Soup is on the menu!

Another fall favorite recipe? This delicious Fall Harvest Salad with lots of nuts, cheeses, and fruits of the season.

Fall Harvest Dinner Menu
• Charcuterie Tray with a selection of cheeses, meats, nuts, olives and seasonal fruits
• Fall Harvest Salad
• Winter Squash Soup
• Pork Chops with Maple Apples
All 3 printable recipes are included at the end of the post.
To complete the menu, we're serving a few of our favorite wines that all go beautifully with the food!
We chose three delicious options, 2 reds and a white. These are a little more elevated than a typical weeknight wine so they make the fall harvest dinner feel extra special. But no need to stress – pick something that's your favorite and you're sure to enjoy it!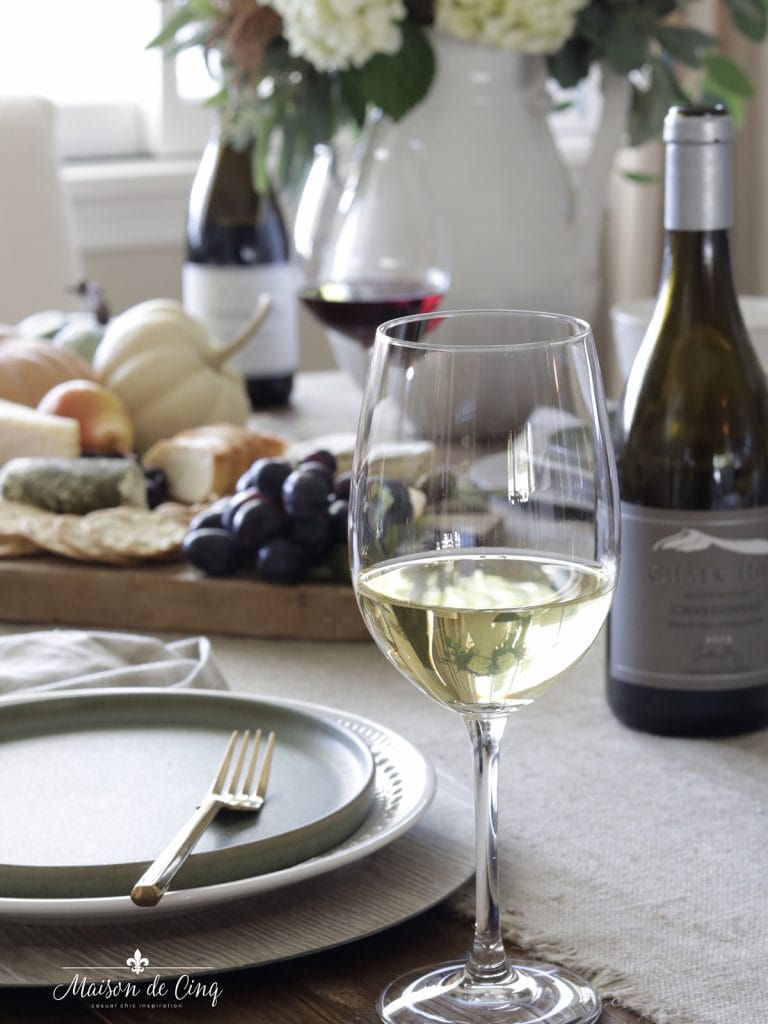 The first wine we're serving is a Chardonnay. Because it's rich and creamy it goes really with the soft cheeses we're serving, as well as the Winter Squash Soup.
You also want to make sure you have good/enough wine glasses. We own these glasses in different sizes, but you can find really nice glasses at very reasonable prices these days! These are gorgeous and these French wine glasses are so cute!

The second wine is a red blend. It's a blend of four different reds, rich and savory with notes of black cherry and chocolate. Smooth and drinkable, it pairs well with the heavier cheeses, and of course, is perfect for cooler, fall days.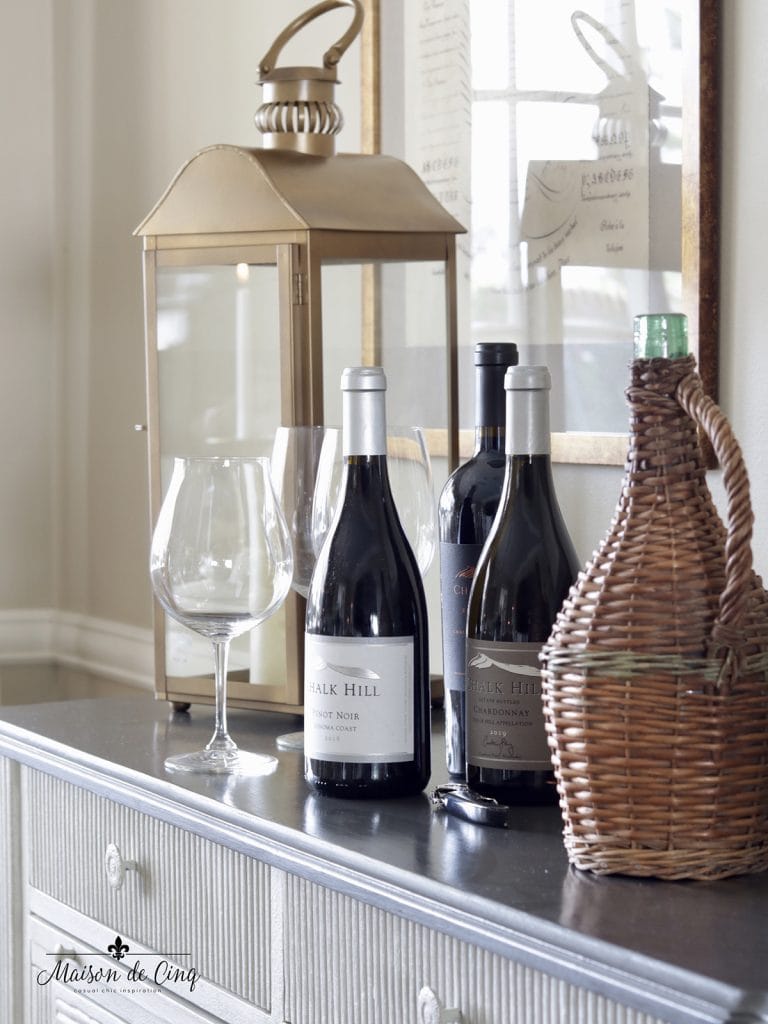 The other red we're serving a Pinot Noir, which is probably my favorite! Pinot Noir is very approachable and one of the most versatile with food. It's lighter bodied than the red blend and is delicious with the pork chops!
Tips for Serving Wines
• Chill the wines for at least a couple of hours but remember to take them out of the refrigerator 15-20 minutes before guests arrive. Even white wine is better served at around 60°F.
• At any gathering it's a good idea to serve both a red and a white wine so everyone can find something they like.
•Include extra glasses nearby so guests can taste both wines if they want without having them mix in their glass.
• Serve wines from lightest to heaviest, usually that means starting with white, then moving to red with the lightest reds served before the heavier ones.
Brass candleholders at each end of the table add a bit of sparkle and ambiance to the night.

With a few bottles of delicious wine, simple dishes that are easy to prepare, and of course great friends, a fall harvest dinner party can feel seasonal and celebratory without being overly stressful or a ton of work!
Shop Fall Harvest Dinner Party


Happy Harvest!
Sheila
xo
Yield: 4 servings
Pork Chops with Maple Apples
These pork chops combine the yummy fall flavors of maple syrup and apples for an easy but delicious autumnal meal.

Prep Time 15 minutes

Cook Time 15 minutes

Total Time 30 minutes
Ingredients
4 pork loin chops, cut 3/4 inch thick
2 TBSP. olive oil
2 apples, cored and thinly sliced
1 small red onion, cut into thin slices
2 cloves garlic, minced
1/4 cup apple juice
1/2 cup heavy cream
2 TBSP. maple syrup
2 tsp. chopped fresh thyme
Instructions
Trim excess fat from pork chops. Sprinkle with salt and pepper. In a 12-inch skillet heat oil over medium-high heat. Add pork chops. Cook for 8 to 12 minutes or until an instant-read thermometer reads 145°F, turning once halfway through. Remove from skillet. Cover with foil while you make apples.
Add apples and onion to skillet. Cook for 2 minutes, stirring occasionally. Add garlic and cook 1 minute. Add apple juice. Cook about 4 minutes more or until most liquid has evaporated and apples are crisp-tender.
Meanwhile, stir together cream, maple syrup, and thyme. Pour over apple mixture. Cook and stir 1 to 2 minutes or until heated through and sauce thickens slightly.
Serve apple mixture over pork chops. Sprinkle with additional thyme, if desired.
Notes
*adapted from Better Homes & Gardens

Yield: 4 servings
Winter Squash Soup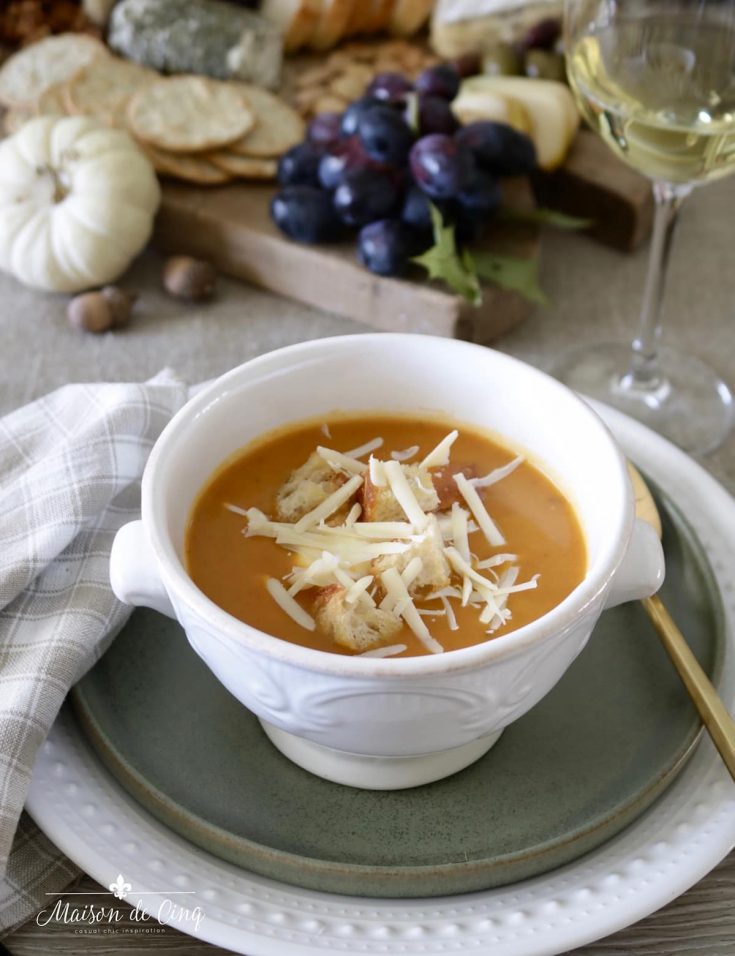 This Winter Squash Soup has the flavors of both butternut squash and pumpkin. It's easy to make and is perfect for a cozy fall dinner!

Prep Time 20 minutes

Cook Time 30 minutes

Total Time 50 minutes
Ingredients
2 TBSP. unsalted butter
1 TBSP. good olive oil
2 cups chopped yellow onions (about 2 onions)
1 15-ounce can pumpkin puree (NOT pumpkin pie filling)
1 1/2 pounds butternut squash, peeled and cut in chunks
3 cups chicken stock
2 tsp. kosher salt
1/2 tsp. black pepper
1 cup half and half
Creme fraiche, grated Gruyere, or croutons for serving (optional)
Instructions
1. Heat the butter and olive oil in a heavy bottomed stockpot, add the onions, and cook over medium-low heat for 10 minutes, or until translucent.

2. Add the pumpkin puree, butternut squash, chicken stock, salt, and pepper. Cover and simmer over medium-low heat for about 20 minutes, until the butternut squash is very tender.

3. Process the mixture using a blender, food processor or immersion blender.

4. Return mixture to the pot, add the half and half, and heat slowly. Test for seasonings. Serve hot with garnishes, if desired.
Notes
*adapted from Barefoot Contessa

Yield: 6 servings
Fall Harvest Salad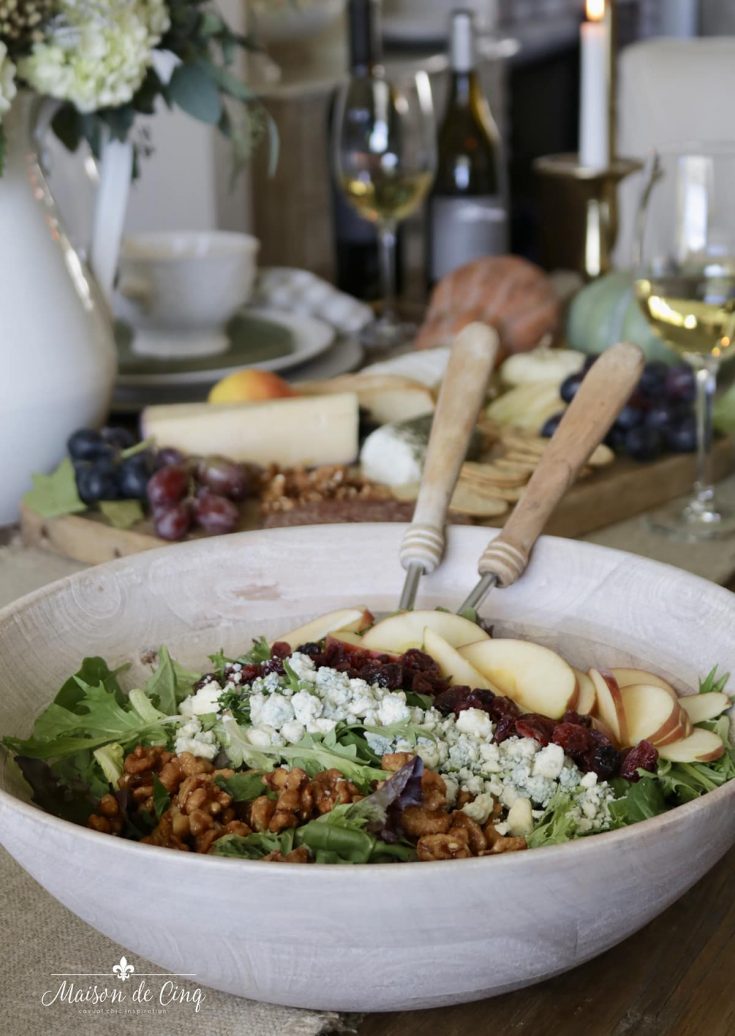 This classic salad features fall flavors with a delicious balsamic dressing.

Prep Time 15 minutes

Total Time 15 minutes
Ingredients
1/4 cup balsamic vinegar
1 1/2 tsp. brown sugar (optional)
1/2 cup olive oil
1/2 tsp. salt and 1/4 tsp. pepper
6 cups mixed greens
2 apples, cored and thinly sliced
3/4 cup dried cherries or cranberries
3/4 cup crumbled blue cheese
3/4 cup caramelized walnuts
Instructions
Whisk the vinegar in a bowl with the sugar and salt and pepper until dissolved. Then slowly pour in oil while whisking constantly. Taste and adjust for seasonings.
Toss a few tablespoons of the dressing with the salad greens. Top dressed greens with blue cheese, walnuts, apples and cranberries.
If you enjoyed this post, be sure to check out more entertaining and hosting tips below!