Fall Living Room Ideas: Rich & Warm Fall Decor
Looking for fall living room ideas? We're sharing gorgeous fall decor that will bring warmth and coziness to any space!

It's here. Officially. And not just-on-Instagram official!
My favorite season has made her appearance and I'm so ready for it! It's interesting that as much as I usually want to hold onto summer, once I start decorating for fall, it completely changes my mood. I'm immediately transported and anxious for the change of season.
When it comes to fall decorating I've done all kinds of looks, from very bold rusts to soft blush, but most years I've tended to stay pretty neutral. But this year, I landed somewhere in the middle – and I'm loving it!
I used muted shades of brown, gray, and tan that bring lots of seasonal color to the space without going too bold. They're saturated enough to feel warm, but not so much so that it doesn't feel like 'me'!
This post may include affiliate links. Click here for my full disclosure policy.
On the coffee table I have a vintage wood vessel with hydrangeas, some dried seasonal berries and eucalyptus. I love the wood texture and the way it contrasts with the white table.

I filled my favorite rustic bowl with these golden faux pears. They bring great color while also tying in my new pillows! 😉

These gorgeous plaid pillows in shades of brown and gray set the tone for the whole space! And I also love that they could be used during lots of other seasons – not just fall. I combined them with these brown velvet ones and a burlap-y lumbar.

Annnd did you notice the new sofa??? Our sofa was over 20 years old (YES!!) and it was time for a change. I went with the Pottery Barn York Slope Arm in an off-white linen and I couldn't be happier! It's a simple, classic design that hopefully, will last a decade or more.

For the mantel, this year I thought I'd go a little differently than in years past, so I ditched the pumpkins and went with a simpler design.
Combining rustic vases with both branches and faux dried grasses (my fave!) along with brass candleholders and artwork in warm, fall colors creates a beautiful and classic fall mantel that can last all season.

Across the way in the dining room I brought in more subtle fall colors.
Beautiful turning leaves in a rustic urn sit with a vintage wood bowl filled with white baby boos!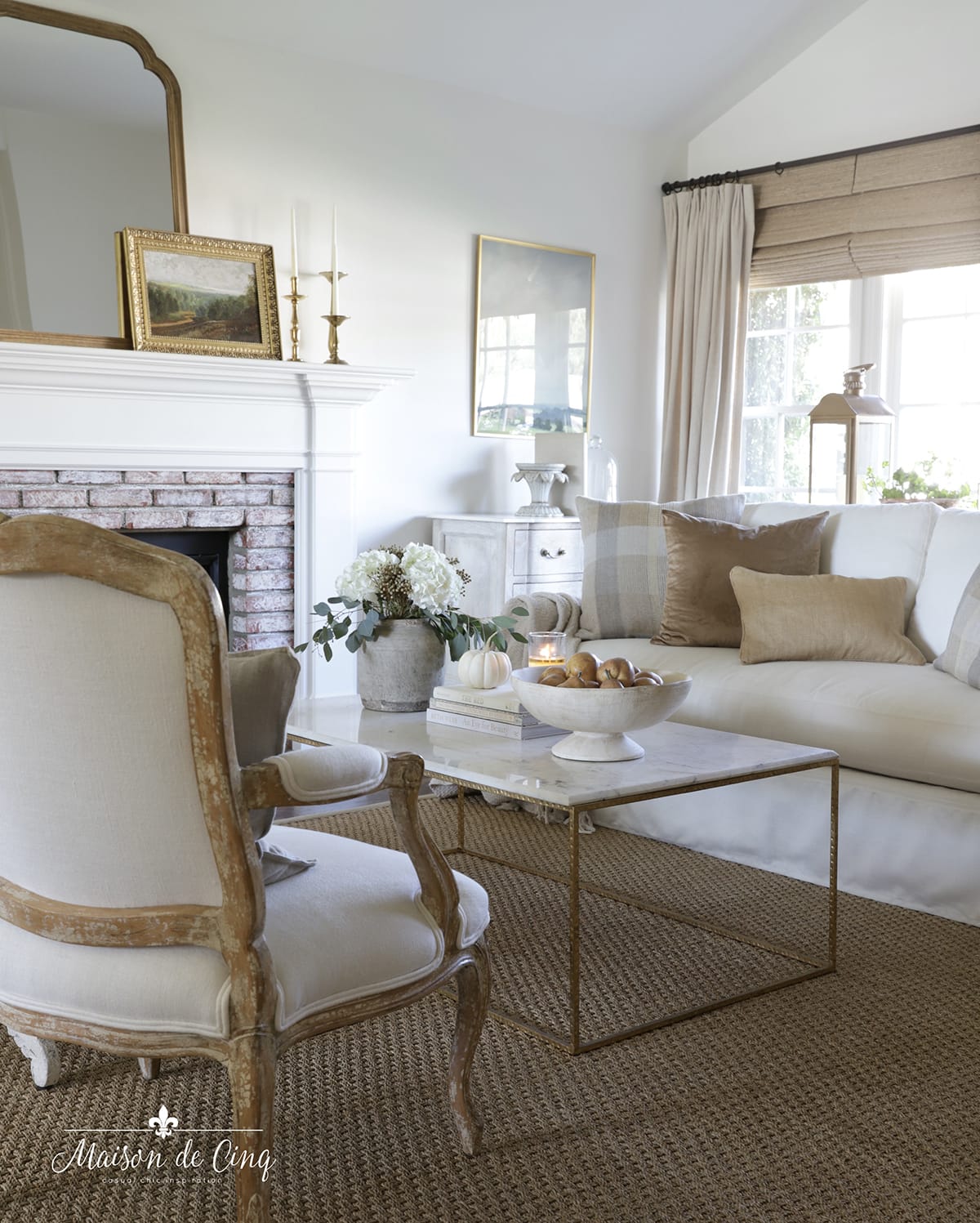 Now that my house is ready, bring on the sweater weather (please!), apple picking, and pumpkin spice latté drinking! 🙂
Shop Fall Living Room Ideas


Happy Fall!
Sheila
xo
If you enjoyed this post, be sure to check out more fall decorating posts below!