Favorite Cleaning Tips: How to Keep Your Home Clean Every Day
Do you want a cleaner home? Today we're sharing our favorite easy cleaning tips that will help you keep your home clean every day!
Do you feel like you're always playing catch up, or that everyone you live with is sabotaging your desire for a clean home? Well, I've often felt the same way! So today I thought I'd share with you some of my favorite cleaning tips. The ones that help me keep everything looking "good enough" so that I don't go crazy. Over on Instagram I get a lot of questions and comments on how clean my home is. Compliments telling me how clean it looks, and also questions like, "how do you keep it so clean?"
First let me say, it's definitely not always clean! I've had many years (especially when the kids were all younger) where it was messy more often than not, and when I felt like I couldn't keep up. But I have found some solutions and practices that have helped, so I thought I'd share what works for me!
These are the things I do daily or weekly to keep my home looking it's best and to keep me from stressing out. Because I don't know about you, but messes do make me feel stressed. I feel like I can't work, think, cook, or relax when I'm sitting in a messy/dirty space. When things are clean and everything is put where it belongs, I feel so much better!
Daily Cleaning Tips
Okay, so first off I should probably tell you that this isn't a post about deep cleaning by any means! These are just a few things that I do daily or almost daily to keep the clutter away and the house in pretty good shape. Deep cleaning is another post entirely! 😉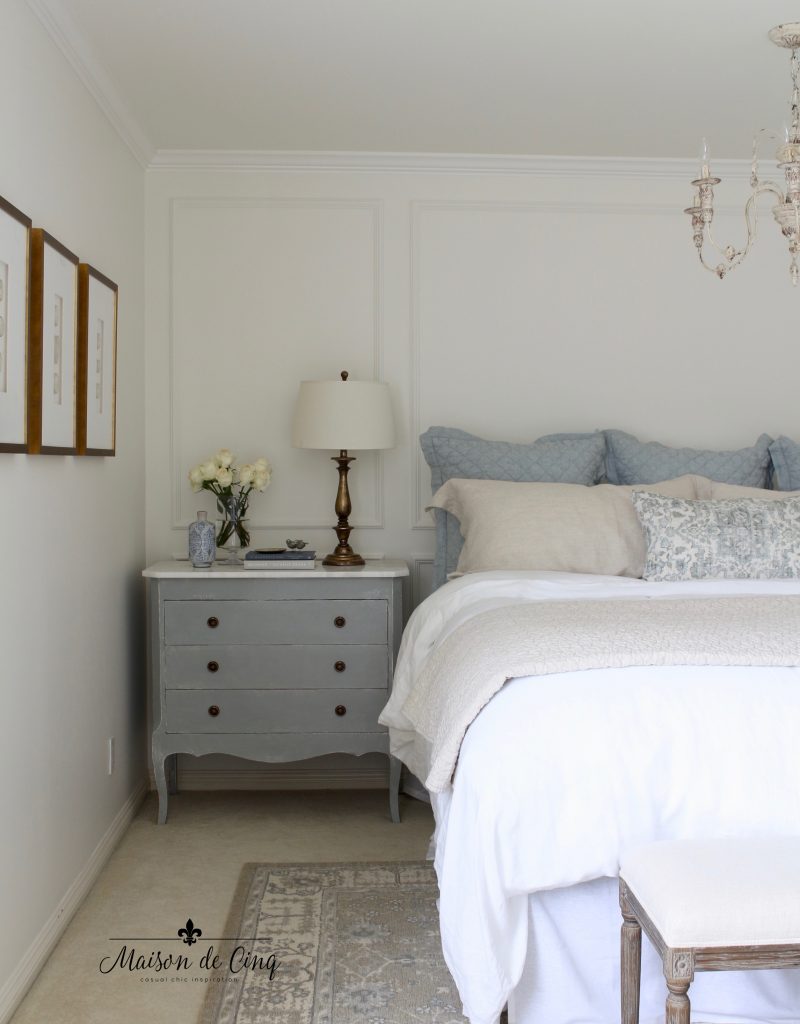 Bedroom
•Make the bed, everyday. This is something I didn't do for years! But once I had kids I made it a rule that they had to make theirs, which meant we had to make ours, too, haha. 😉
Our rule is whoever is last up makes the bed, and it really works for us. But whether you share the chore or do it yourself, it's essential. Not only does it make your room instantly feel neater, it feels so much better to get into a made bed at night rather than one with wrinkled sheets that sat un-made all day! (They also say people who make their bed are more productive, and who am I to argue with that?!)

Family Room/Living Room
•Straighten up the family room. While coffee is brewing in the morning, I fluff the cushions and pillows on the sofa, and rearrange the throw blankets that everyone has used (and usually left on the floor!)
Kitchen
•Empty the dishwasher so that it's ready for our breakfast dishes. Another thing that helps keep the kitchen neat is always putting your dishes in the dishwasher as soon as you are done eating! No leaving dishes in the sink, or on the counter or table. And this applies to everyone!
We do a lot of hand washing here (some pots and pans and any plastic we have, as well as the "good knives"). We used to wash them and leave them in the drying rack but I finally got smart and took the drying rack away. It just looked messy. And you know what? Drying the knife you just washed takes all of like 12 seconds!
If you use it (and it's a hand washable) then you wash and dry it, and put it away immediately. My counters have gone from having tons of dishes piled on the sides and in the drying rack to being relatively clean. So much better!
• Clean the kitchen every night following dinner. Do the dishes, wipe the counters, and wipe down the stove. I find it way easier to do it every day than to let things get so dirty that they are overwhelming. Again, if your kids are old enough, have them pitch in. They can dry, put away, or wipe off the counters at the very least!
• Vacuum Downstairs: Now for those of you who don't have a Golden Retriever living with you, you may not have to do this everyday, haha, but for us, it's essential! He sheds a ton, so I usually do a quick vacuum of the hardwood floors in the downstairs each day (just the family room, entry way, and kitchen – he's not in the living or dining rooms much). There are days that I'm too busy and don't get to vacuum, but at the very least, I'll run a broom over the hairiest areas.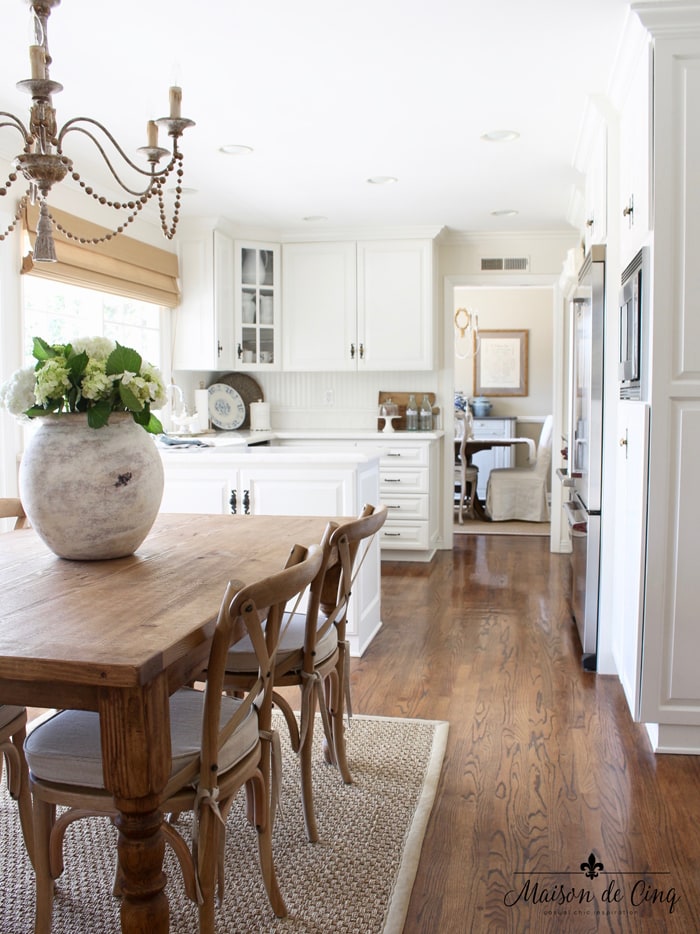 Pick up/De-clutter Downstairs
•Pick up anything that is lying around and not in it's proper place, or as Marie Kondo would say – tidy up! I feel like this might be the most important key to keeping a neat house. Especially in a smaller house, which ours is, it can go from neat to a disaster pretty quickly!
Now I find that if I pick up anything that doesn't belong on a daily basis, it goes a long way to keeping things from getting out of control! If it's my husband's or one of the kids, I either put it in their rooms or on the stairs so that they can take it up next time they go. And of course if it's mine, I try to be mindful of putting it away. Even now, I sometimes slip and my things are the ones that are piled up! But that effort of doing it most of the time really pays off.
Semi-Daily/Twice Weekly Cleaning Tips

Kitchen
•Wipe down the stainless steel appliances. The refrigerator, dishwasher, microwave and range get pretty dirty with fingerprints and food as we cook almost every night, so I like to clean them with a stainless steel cleaner a couple of times a week. I also scrub the sink every couple of days as well.
Bathroom
•Wipe down the bathroom. I either use a rag and multi-surface cleaner, or more often, I simply wet the hand towel that is in the bathroom to do a quick wipe down of the counters and the faucets. Then I change out the hand towel to a fresh one. Quick and easy.
Floors
•Vacuum entire downstairs (including living and dining rooms) once a week. And mop the hardwoods with Bona. In between I feel like vacuuming is enough, but once a week I like to mop. Cause, you know, Golden Retriever! (You can see a complete post on how I keep my hardwood floors clean here).
Also, I don't believe that I'm the only one who should be cleaning! I'm a huge believer in involving the kids and teaching them. So everyone contributes. My husband does his part, and the kids help, and everyone cleans up after themselves and makes their own beds, etc. Not only does it help me not feel overwhelmed, but it's good for them to learn and to take responsibility. I always tell them a family is a team, and teams help each other. 😉
Now there are more things I do on a weekly or monthly basis, and bigger, deeper cleans that go with that. But these are the basics that I do daily or every couple of days to keep the house looking decent. It's definitely not perfect all the time.
Sometimes I get too busy, or sick, or I'm just not in the mood! There are days I make my bed and not much else. But I do find if I consistently do these basics, the house looks good most of the time. And more importantly, I feel better. A clean house just feels better to me. If it's clean and neat, I feel calmer, happier, and more productive.
And if you are interested, here are the products I love and use in my own home:
Kitchen:
•Sink: Bon Ami and Soft Scrub (original, not with bleach) or Bar Keeper's Friend Liquid
•Stainless: Method Steel for Real Stainless Cleaner (LOVE this product! I get it from Grove Collaborative. Great company that sells safer and healthier cleaning products – often for less than places like Target).
•Counters: Mrs. Meyer's Multi-Surface Cleaner
Living Areas:
•Vacuum: Dyson V8 cordless (I have a bigger canister vacuum for the carpets upstairs, but this is great for daily vacuuming downstairs because it's so light weight!)
•Wood Floors: Bona Wood Floor Cleaner with Bona mop
•Baskets: for corralling extras you find when cleaning! I have these in each room, as well as on the stairs.

*affiliate links are included for your convenience*
If you have favorite cleaning tips, I'd love to hear about them! Be sure to share your ideas in the comments. And here's to a cleaner house ~ for all of us!
Sheila
xo
If you enjoyed this post, be sure to check out more decorating and organizing ideas below: