My Five Favorite (Easy!) Organizing Tips
I'm so excited to finally be sharing this post with you today! Not because of the topic, though I do love organizing. But because this is the start of a new series here at Maison de Cinq and something we've been planning for a few months now!
Starting today I'm joining with a group of my favorite bloggers to bring you a new monthly series called Simply Home! And that's exactly what it is! We will be bringing you a variety of topics; from decor and design, to entertaining, cleaning and organizing, and anything else that "home" encompasses.
So now, let's get on with our first month! This post is dedicated to all things organization, and I'm sharing my five favorite organizing tips with you. This is not a full organizing post, but just a handful of easy hacks and items that I've found helpful. I love getting organization ideas from friends and other bloggers and we thought you would, too!
Five Favorite Organizing Tips
Lazy Susans! I know these may seem old-fashioned but I love them!!
I have about three in the kitchen. One to organize all my baking essentials, one for bigger spice bottles, and another that holds condiments like ketchup, mustard, and soy sauce. But I love them in the bathroom, too! They are awesome for holding things like my everyday lotion, deodorant, and skin care essentials. For these, I like the plastic ones with a lip. They're easy to clean if food spills, and no bottles go flying off when you turn them.
You could also use them in the office for pencil cups, paper clips, and the like. The wood ones also look great on a kitchen table with napkins, silverware, and salt and pepper!

Office dividers I use in my closet!
They are technically office sorters or dividers, but if you buy ones with slightly larger slots (3″ or more) they work great for keeping small handbags and clutches organized! I can't find the exact ones I have (I bought these on Amazon probably 8 years ago) but I found a really close match, and they are adjustable! That's actually great since the purses are usually slightly different sizes, and this way, it's customizable.

Keep a basket in the powder room to hold the extra toilet paper. This is such a simple hack it hardly qualifies 😉 But it's one of those things that once I did it I thought, why didn't I think of this before?!
This was a happy accident, actually! I used to keep magazines in this vintage basket in the downstairs powder room, and I emptied out the basket one day when I was getting rid of them. Then the basket sat there empty for a few days and when I came home with toilet paper from the market, I just dumped it in there.
For this bathroom it works really well because there are no cabinets. In the past, I had nowhere to store more TP for whenever we (or guests) needed it. What I love is that this basket is fairly large so it holds a lot of TP and I don't need to refill it very often. Plus, it's a cute way to use a big vintage basket! Any wide, low basket can work ~ new or vintage 😉

Stack your baking trays and muffin tins vertically and use dividers to keep them organized.
This was actually a suggestion by my contractor when we re-did the kitchen seven years ago, and it's brilliant! I used to have the pans stored vertically, but they were not separated at all and they were in a low cabinet.
To be honest, when it comes to baking pans (which I use a lot) they really mar up the cabinet! When I opened the cabinet, it was covered in black marks and really unsightly. Now they are high and above the refrigerator so no one sees how marked up the cabinet is, and they stay upright and organized this way.
I have the dividers from The Container Store which screw in. I do like that they are sturdier, but there are other versions that you simply place in the cabinet. Probably a trade off between being able to move them around, but also having them move when you don't want them to!

Use drawer dividers to increase your storage space and keep your drawers neater!
I've been using these drawer dividers from OXO for years and I'm completely hooked! I have them in almost every drawer in both my dresser and my closet, and I've used some in the kid's, too. I find that even if you fold your clothing carefully and try to have neat stacks, the piles still fall or spill over onto each other! Well, not with these. These separate the drawers beautifully.
They are super sturdy, and they fit any drawer, too, because they're adjustable. In most of my drawers I simply use one to split the drawer in half, but in my bedroom dresser I did two in some of them to create three sections. It makes the drawers so much neater and allows me to store more, too. A win/win!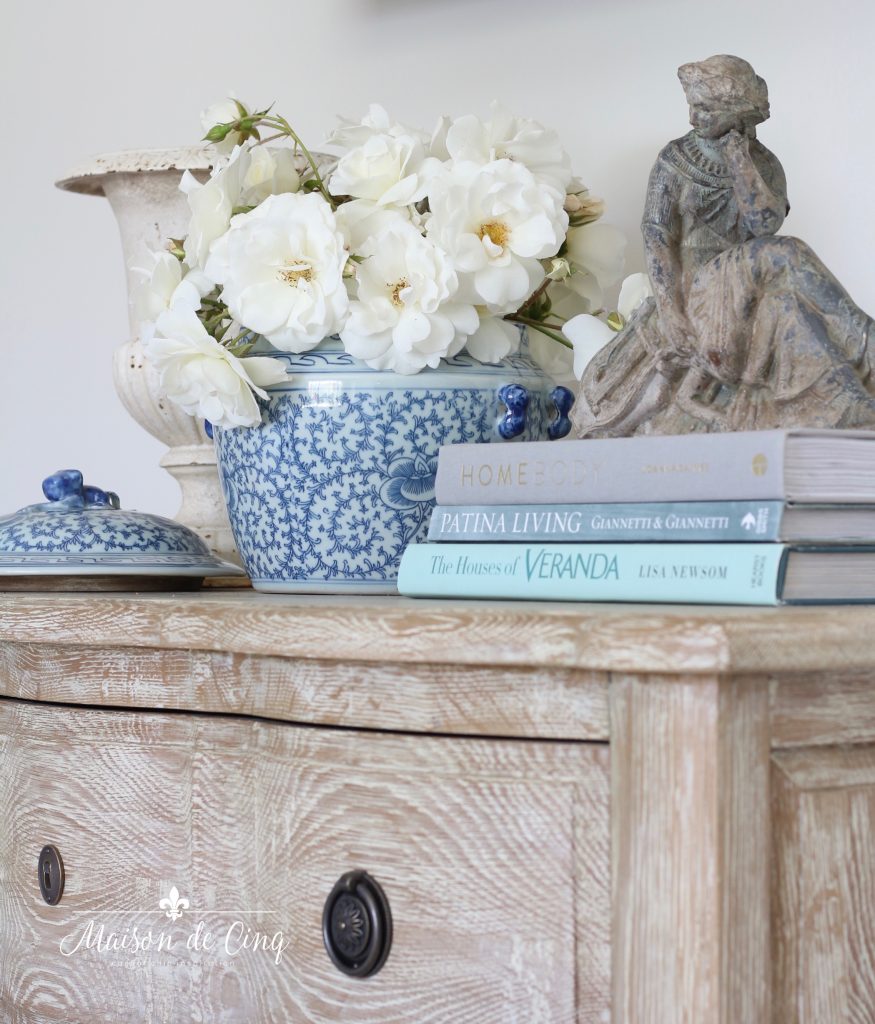 I hope you enjoyed our first installment of Simply Home, and that you'll check it out when we are back next month! Also, if there are any subjects you'd like us to cover be sure to let me know in the comments or shoot me an email!
Sheila
xo
Shop the Post

*affiliate links included for your convenience*
Be sure to visit my friends who are also sharing their best organizing tips below!
Maison de Cinq: My Five Favorite Organizing Tips
Seeking Lavender Lane: Organizing the Spice Drawer
Shades of Blue: How I Organize & Store My Home Decor
So Much Better with Age: Seasonal Decor Capsules
Tidbits: Three Tips for Organizing Your Days