Five Essential Textures that Every Room Needs – Design Basics
Every home needs texture: it's essential in decorating and a room will definitely not look as good without it. Today I'm sharing the five essential textures that every room needs!
I've talked in the past a bit about different decor items that I love, but today I want to focus on the five essential textures that every room needs! These are the textures that are essential for taking any room from average to amazing. Decorating with texture is key to creating a space that has depth and interest, and something that we all see, whether we recognize it or not.
And sometimes that's the issue isn't it?! We know we love a room, and maybe we even want to emulate it. But we aren't really sure what it is that makes it great! Your subconscious reads those things, but it's not always obvious. For me, the more textures in a room the better. But there are a few key points to decorating with texture, and that's what I'm going to focus on today!
Five Essential Textures that Every Room Needs
One: Glass and/or Mirrors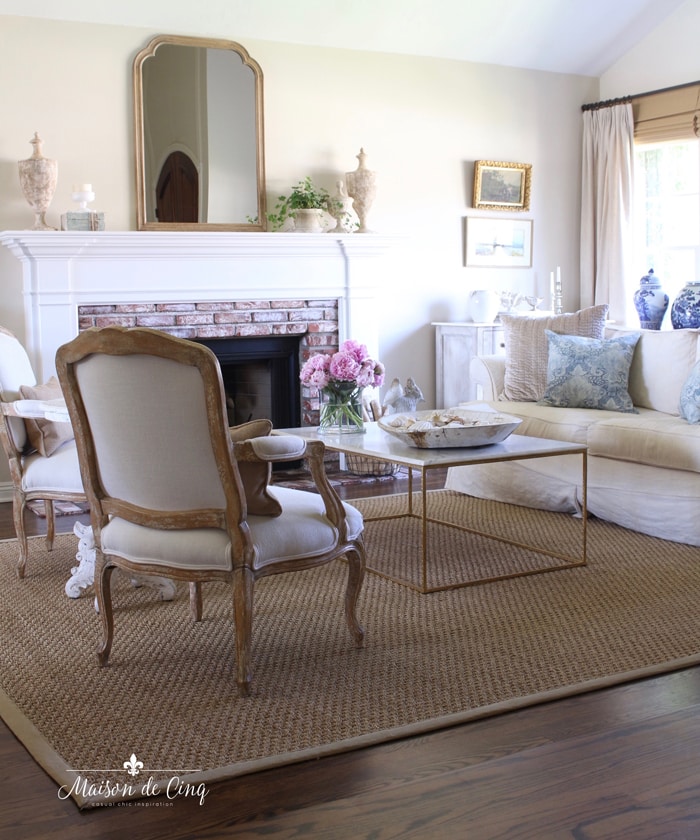 Mirrors and/or glass items add much needed light and reflection to a space. In my living room, I happen to have a large mirror over the fireplace which is a classic look that I love.
Mirrors are a great way to brighten a room and even make it larger. Even a small one can add tons of charm!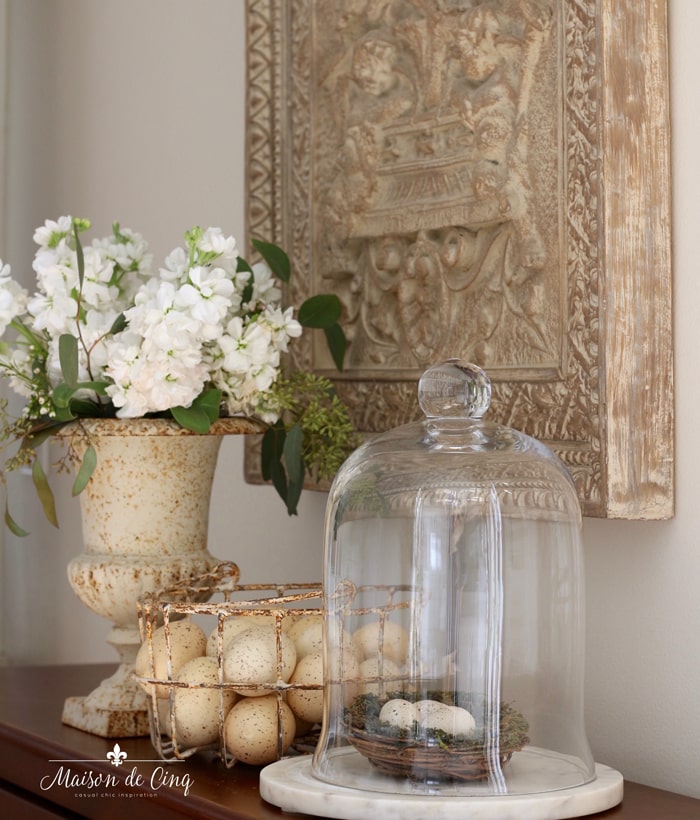 However, if you have art (or a TV) over your mantel, simply make sure you add some glass elsewhere. It could be something as simple as a clear glass vase or cloche, or even colored glass. Even a touch of it definitely brings lightness to the room.

Two: Metallics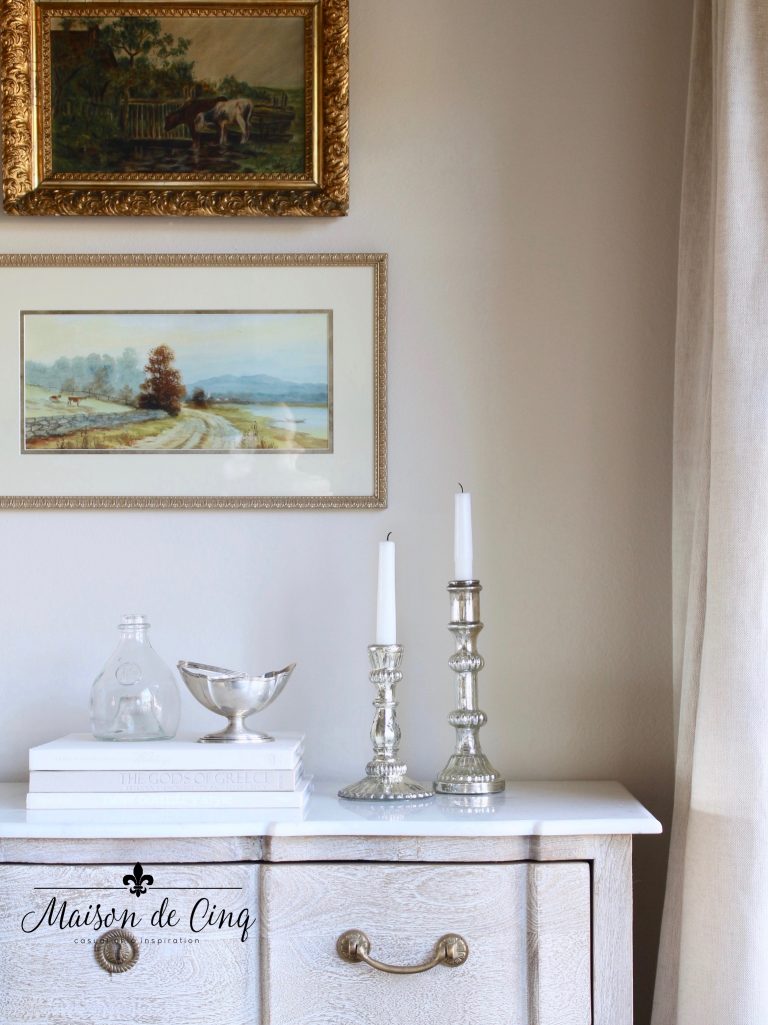 Here in the living room I have a mix of gold framed art along with mercury glass candlesticks on the console table. It really doesn't matter what metal you use – it can be any finish you prefer.
From silver, to copper or brass, or even gold, as long as you have some metals in the room the shine adds some interest to the space and keeps it from looking flat. And if you have a mix of metals, even better!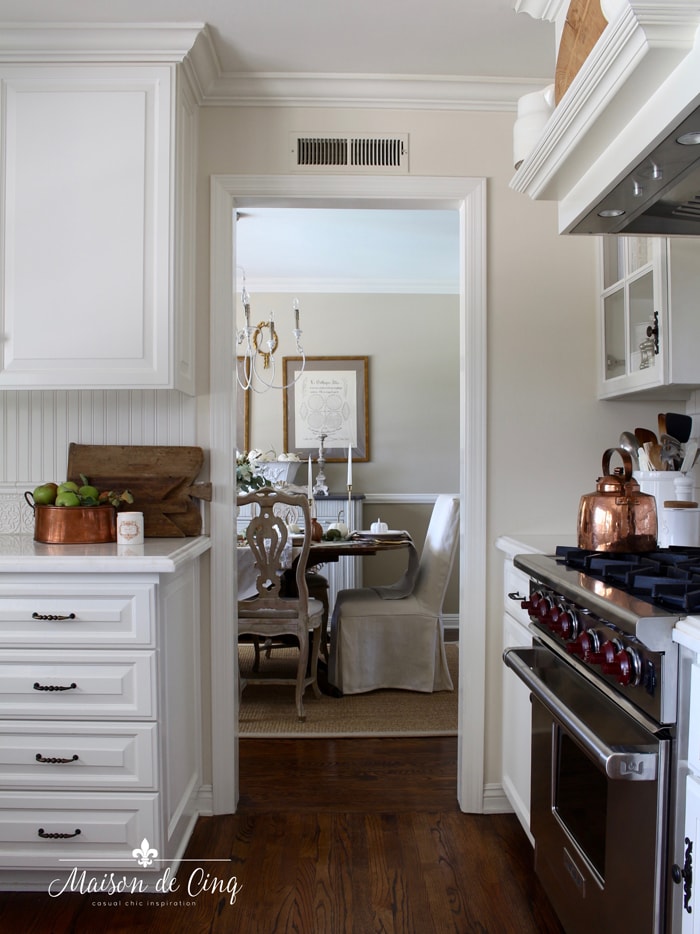 In the kitchen I have stainless in the appliances, oil-rubbed bronze hardware, and yet I often mix in some copper pots. That mixture makes the room more interesting to the eye.
Three: A Mix of Woods
Wood is a texture that is a must for every room! Even if you think you don't like wood, and all your tables are sleek modern pieces or every piece of seating is upholstered, wood really adds texture to a room.
And it doesn't have to be furniture necessarily. You could add wood with accessories like bowls or vases, or in the kitchen use bread boards as I did above.
It can be any color, mind you, from painted to medium or raw, to dark, as long as there are some pieces in each space.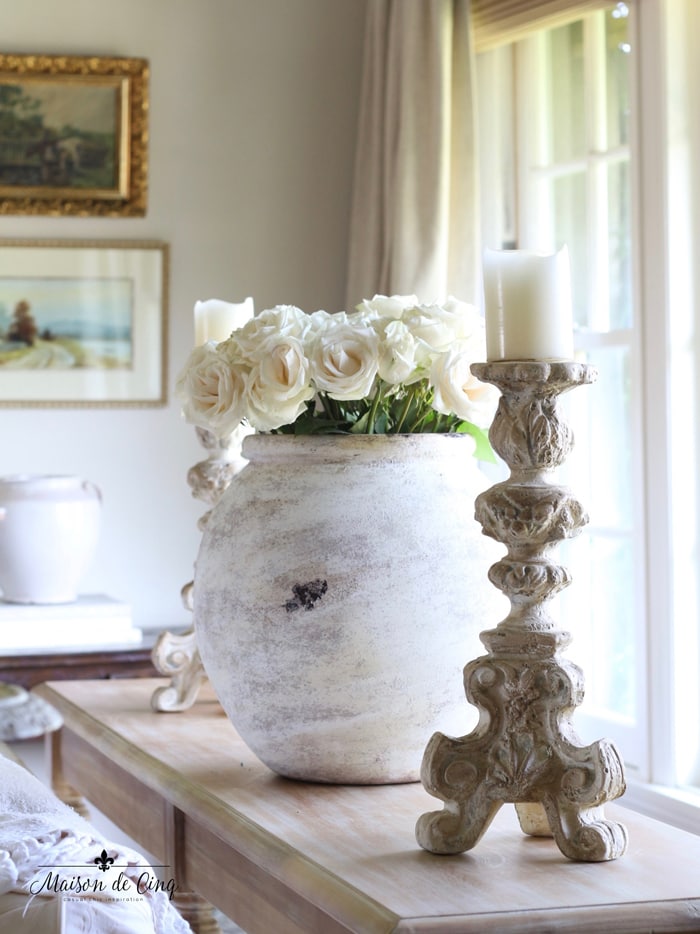 I think the design question I've gotten the most over the years is about mixing woods. And my answer is – yes, you can mix woods! Not only can you, but you must! In the living room, I have the white washed table above, as well as two different painted wood tables.
Ironically, over the last few years I've removed most of the dark woods, and I don't regret it. But I do think I want to add in a few pieces of raw or even medium wood – just to have more of that mix again.
Using different wood tones adds not only interest to the room, but also more of a collected look – something that is always important to a space.
Four: Wovens
One of my favorite ways to add some woven texture to a room is through window coverings. I love woven wood or bamboo shades, and they come in all sorts of shades and styles these days. They really add a layer of interest to your windows, making a difference in the whole space.
You can spend a lot for custom ones, but they are also sold online and at places like Ikea or Home Depot for much less.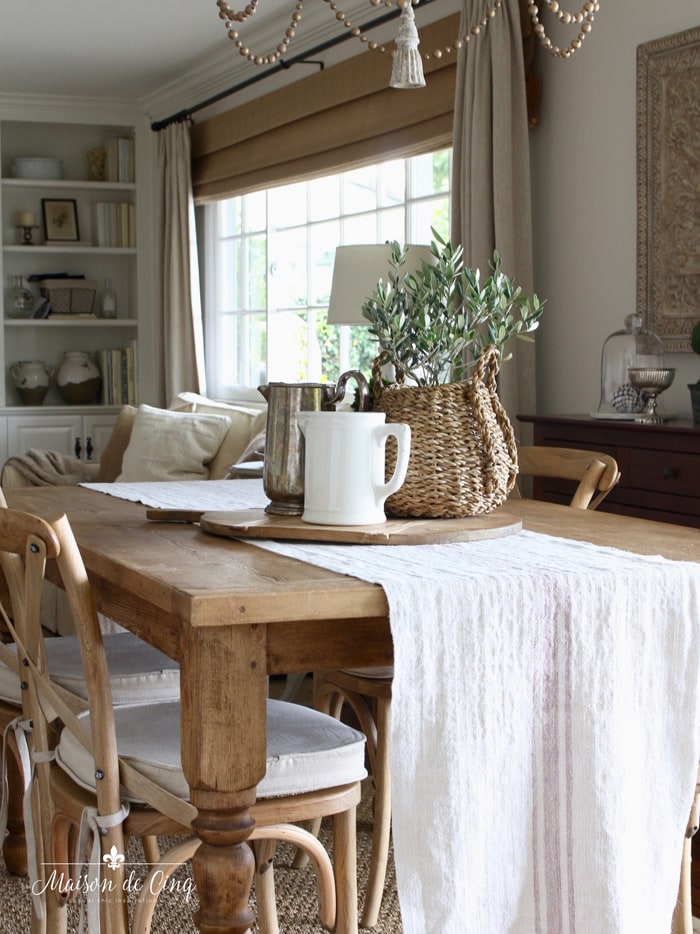 But if you're someone who doesn't want window coverings, you can easily add woven texture with baskets, or rugs, or both!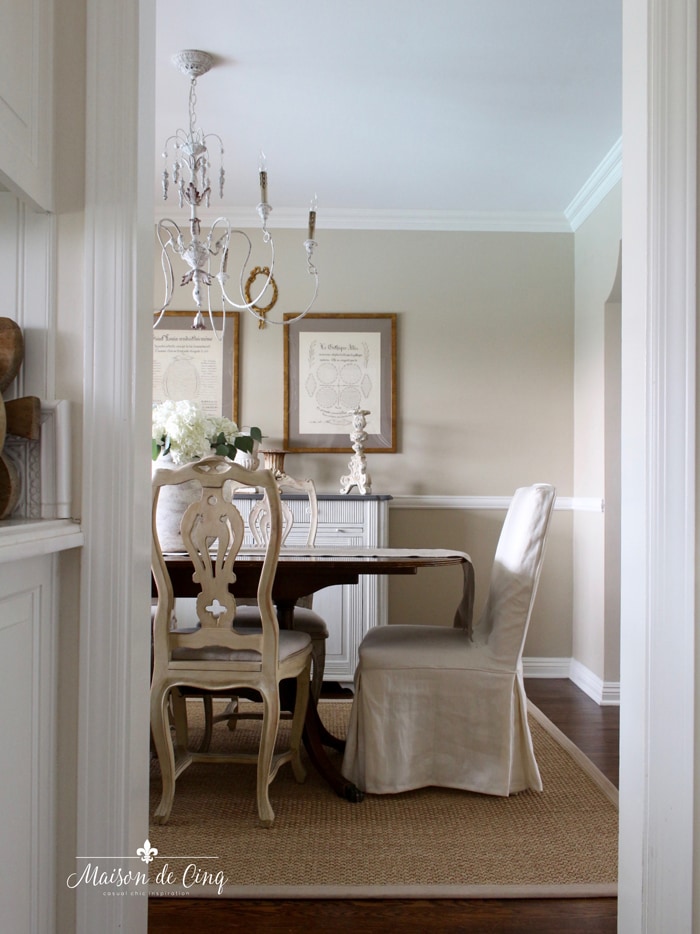 Five: Antique and/or Distressed Items
As I'm sure you know by now, I absolutely adore antiques of any kind – the more distressed the better! And I'm a firm believer that every room, no matter how contemporary, needs some distressed pieces. It breaks up the monotony of everything looking so new and perfect, and really makes a difference in the space.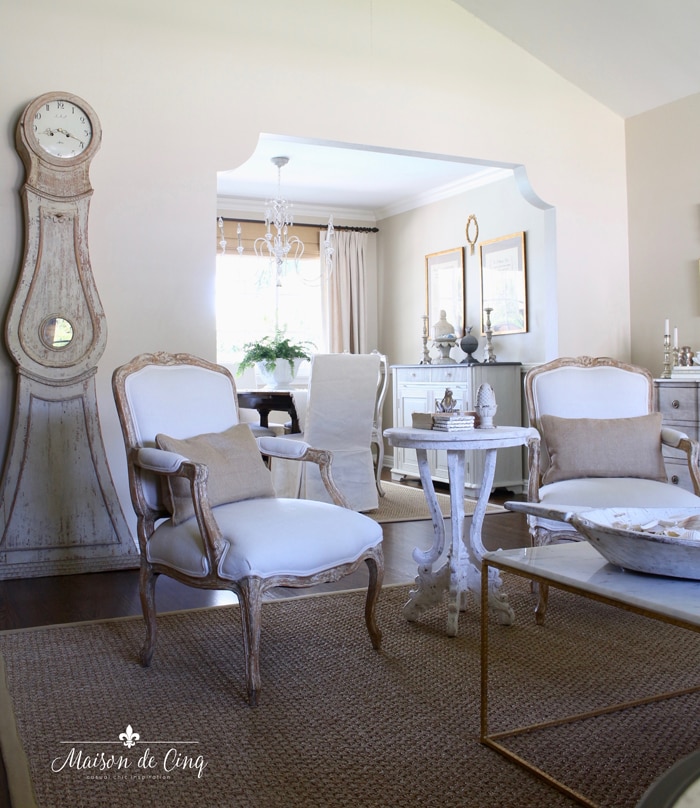 The distressed character of the Mora clock in the living room added so much to the space! And you don't need to spend a lot, either. You can shop thrift stores, Craig's List or even garage sales and get very inexpensive vintage pieces that will all add that much needed character to your rooms.
Or buy something small that's vintage! Vases, buckets, or other accessories are a perfect way to add that vintage feeling to a space without having to invest in larger items.

Even here in the entry way, I have some vintage and heavily distressed candlesticks. I really think they make the difference in the whole display!
You'll even notice that catalogs like Pottery Barn or Restoration Hardware mix in antiques in the photographs of their rooms because it looks better with something old in every space!
I hope that by talking in detail about the five essential textures you'll find it easy to decorate with texture in your own home. I touch on even more of this in my How to Get a Collected Look series so you may want to check that out as well.
Now be sure to visit my friends who are also sharing their tips for decorating with texture below!
Tidbits: Six Old World Textures I Look For
Seeking Lavender Lane: European Farmhouse Textures
Shades of Blue: Three Decor Textures I Love
So Much Better with Age: How to Add Texture to a Room
Thistlewood Farms: Five Spring Mantel Ideas with Texture
If you enjoyed this post, you might want to check out some of the others below: