Summer Essentials: My 7 Favorites that Get me Through the Season
Summer is the season of fun in the sun, but it's also the season of heat. And sunburns. And did we say heat?! Today I'm sharing my favorite summer essentials will help you get through the season in style – and comfort!
Summer is a season that kind of necessitates "essentials," don't you think? From a favorite beach towel to a favorite sunscreen, we all have things that help us get through, and enjoy, the season. These 7 summer essentials are my personal favorites and all of them make the season just a little easier, and a lot more fun!
Straw Beach Bag//Market Bag
I adore straw bags, so much so that I even wrote a whole post on them last year! Their casual vibe just suits how I'm feeling in the summer, and they're practical, too. Because they are made from natural fibers they stretch quite a bit, so they hold an amazing amount of stuff. And the straw lets things like sand fall right through! 😉
I have several straw bags, but my favorite is a mid-sized one that's neither too big or too small. 😉
In the summer, I use it to carry fruit home from the farmer's market, to bring wine and cheese to our annual concerts in the park, and even as a casual handbag.
Mine is from J. Crew and they make it every year. They change it up slightly, but essentially it's the same size and quality and always a good price. But to be honest, I have several different styles because they are just so fun to carry as a casual handbag in summer.


My Favorite Sunscreen
I have kind of a love/hate relationship with sunscreen. Of course, I know I need to use it, but to be honest, most of them are either too heavy, make my eyes sting, or leave a white residue. I haven't ever really loved any.. until now.
Recently my daughter turned me onto Supergoop and I'm totally smitten! They make a whole line of non-toxic sunscreen products, but there are two I'm using and loving so far. The first one is "Play," a basic, all-over sunscreen that I'm using daily. It disappears completely and it smells absolutely delicious! My other discovery is their "Glow Screen" which is a combination primer and sunscreen. I'm using it on my face under my makeup, and then on casual days or days when I'm at home working, I wear just that and mascara.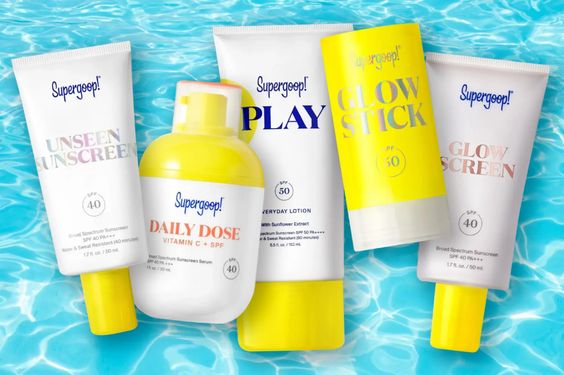 I'm a huge fan of their products so far, and the fact that they are safer then typical versions makes me feel much better about using them!
(And if you're looking for a good drugstore sunscreen, Neutrogena is my favorite).


Toddy Cold Brew System – Iced Coffee Maker
Okay, guys this is seriously the simplest product but I am in love with it! I bought my Toddy Cold Brew System a couple of years ago, and I've been hooked ever since. If you aren't familiar with these, they make cold brew coffee by soaking the coffee grounds for 12-24 hours.
By soaking the grounds with cold water, you produce a coffee that is actually smoother and lower in acid than regular coffee. Which for me, means no stomach aches from acidic coffee on an empty stomach!
This makes a coffee concentrate that you can then refrigerate for up to two weeks. Then whenever you feel like it, you can pull it out to make an iced coffee. And if you're wondering if it's better than making your regular drip coffee and putting that in the fridge? I can only say a resounding "yes"!!
This system is hands-down 100% better! And it lasts a long time. It's also easy to use, easy to clean, and inexpensive. I make a batch every week and I can enjoy a delicious iced coffee on a hot afternoon simply by mixing it with milk – it's heaven! A definite "summer essential" for me! 😉


"Table in a Bag" – Low Portable Wood Table
This is also one of my all-time favorite summer items! I bought mine at Crate and Barrel about 15 years ago and it's still going strong! We have a local park that does concerts in the summertime and it's the perfect thing to bring to that. We pack it up, along with a couple of low beach chairs, and we have the perfect place to put our dinner, wine and cheese, or snacks. We've also brought it to the beach, camping, and sporting events.
It sets up and breaks down easily, and comes with its own carrying case with a shoulder strap. I really can't say enough about this little table! I've bought it as a gift several times now and everyone always loves it. And it never fails that when we bring it to a picnic, at least one person will ask me where I purchased it. A definite summer essential for me!


My Favorite Packable Hat
A packable, crushable, always-stays-nice hat is a summer essential for me for sure. Whether I'm working in the garden, walking the dog, or taking it to the beach, I almost always have a straw hat with me. And I must admit, I'm not careful with them! I'm usually throwing them in the back of the car, squishing them in my beach bag, or cramming them into a suitcase. 😉
Because of this, I found that I was buying new hats pretty frequently as the straw was constantly breaking. That's when I decided to invest in a quality hat that I wouldn't need to replace as frequently. This hat has been great – I've had it for years and it's still going strong. However, it was much less when I bought it a few years ago – it's gone up a lot now so it's a bit of an investment.
But I recently found this great option for much less! I ordered one and I've been happy with it so far – it's almost as good as my high end version! I've linked both my exact hat, along with the more reasonable version as well as a few other popular options.
No matter what you choose to spend, it's so important to wear one on those hot summer days with a high UV index. And if you don't have to worry about throwing it in your car or your suitcase, even better! 😉


Essential Ice Cream Maker
This ice cream maker is hands-down one of my favorite appliances I've ever bought! Once you've made your recipe, whether it's custard based or a no-cook one (my favorite!) you simply pour your cream mixture into the ice cream maker and turn it on.
And twenty minutes later you've got delicious, homemade-from-scratch ice cream! No additives, thickeners, chemicals or any of that other stuff you don't need. It's mind-bogglingly (is that a word?!) delicious, I'm telling you! All the ice creams I've made in it have been amazing. I usually freeze them for an hour or two once it's done, but you can eat it in more of a soft serve state if you prefer.
My kids loved it when they were little and they still do. Sometimes when we're having friends over I'll make two or three flavors and serve an ice cream bar with toppings as dessert. It's so fun and seriously, so delicious!!

My Favorite Self-Tanner
This one is so simple, and inexpensive – it's a no-brainer! I've been using Jergen's Natural Glow Self-Tanner for years now and I'll never go back. Before I discovered it, I actually never used any kind of tanner. I had heard they streak or turn your skin orange. Or worse, get into the creases of your elbows and knees or even stain the palms of your hands so frankly, I just stayed away.
But this is different. It's very subtle, which is key. No, it doesn't turn you dark brown right away, but that's not really the look I want anyway. I usually start using it in the early spring when I'm still pale from the winter to make myself a little less Casper-like!
And now in later spring when I've been walking and outside more, I use it to even out my tan lines from wearing t-shirts and socks. It's actually so subtle you can use it everyday if you want. I just use it like I'd use a regular body moisturizer. And it builds over time. So once you start using it a few times a week you will notice a nice even tan! Brilliant!
But if you're looking for a darker tan, this self-tanner mousse is my favorite. It works super fast, does not streak or run, and doesn't turn your skin orange. It's about as effective as a spray tan for way less! (I use it with this tanning mitt).



*please note some affiliate links have been used for your convenience*
So there you have it – my seven favorite summer essentials! Hopefully you got some ideas for some new essentials for yourself, and I'd love hear about some of your own summer favorites in the comments!
Happy Summer!
Sheila
xo
If you enjoyed this post, be sure to check out more summer favorites and inspiration below!