Five Simple Tips for Decorating with Art
Do you struggle when it comes to decorating your walls? Today I'm sharing five fabulous tips for decorating with art!
I asked you all back in January what topics you'd like me to cover this year, and decorating with art was one of the ones that came up more than a few times. You asked for help with how to choose it. And where to find it.
It seems as if art is one of those things that makes many people feel stymied. If that's how you feel, then this post is for you. Today I'm sharing easy tips for decorating with art. Five ways to incorporate it, and lots of sources of where to find it!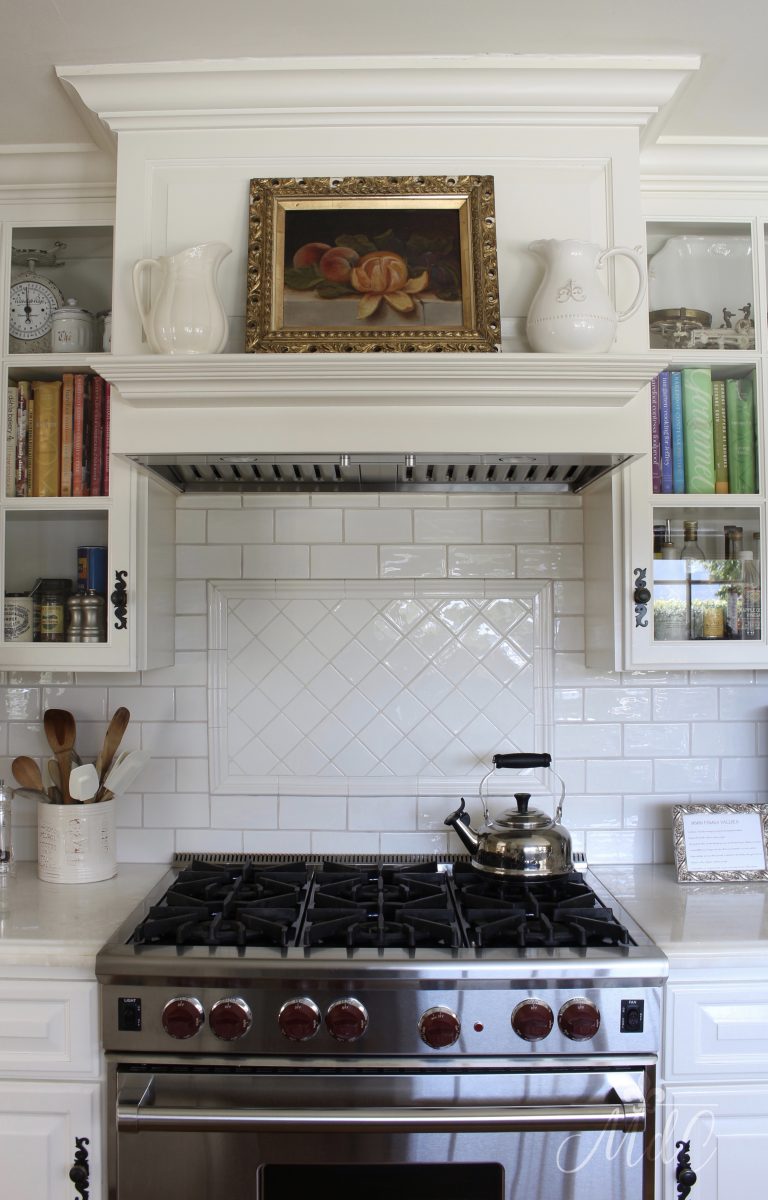 Vintage Oil Paintings
Original art is something that I think is absolutely essential to a space. It adds character and interest that you simply cannot get from contemporary, mass produced prints.
And one of my favorite types of art is vintage art. Old oil paintings or watercolors in chipped, gilded frames. I love the classic beauty of them, and if they're slightly worn, even better. 😉
And the great part? They are available at amazing prices if you look for vintage pieces! There are literally thousands of pieces of vintage art available online. I've ordered many paintings from Ebay over the years, and now Etsy is another great source for vintage art.
Above I have original oil and watercolor paintings in the living room. Some I got from Ebay and others from antiques stores. One of my favorite sellers on Ebay is a man from Denmark. All of his art is from Europe, he carries beautiful landscapes as well as many others, and his prices are very reasonable. I've gotten several from him!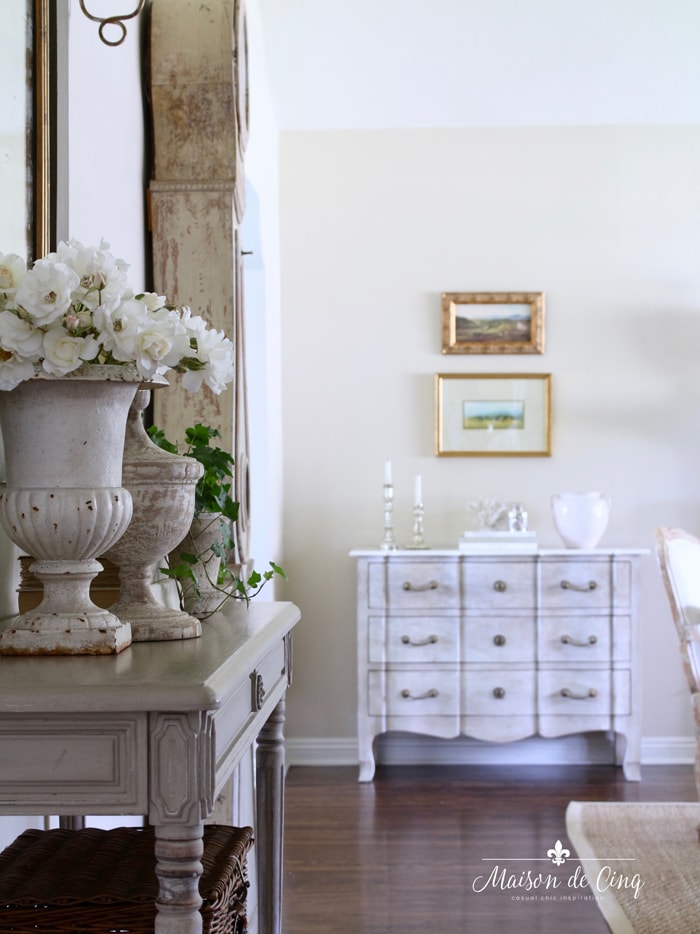 But some of my absolute favorites are ones we purchased while traveling!
That's another tip I have.
When you travel, try to buy an original piece of art. It could be something you buy from an artist on the street, which is where we got one of the paintings above – we bought it on our honeymoon in Florence.
Or from a little store somewhere. Even if it's just a drawing or a vintage print, it's a wonderful way to add original art to your home and get something that reminds you of a special trip.
Photos from a Special Trip or Event
Another way of decorating with art affordably is to frame some photos from a special trip or event.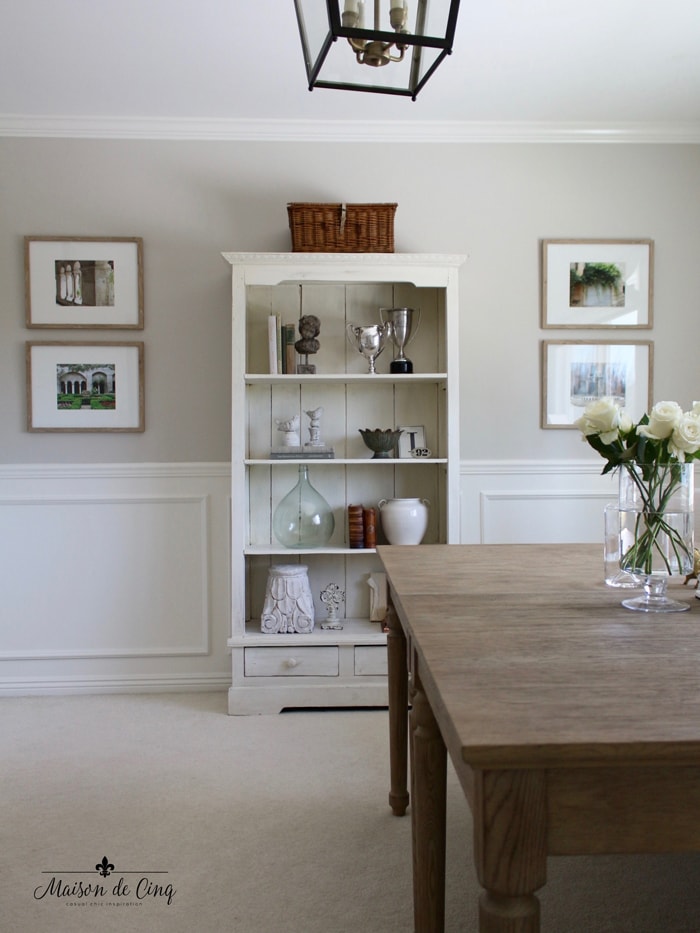 Here in the office I wanted to add something from our vacation in Provence so I framed some photos from the trip. I bought the frames at Target, and got some very pretty art for the walls without spending a ton of money!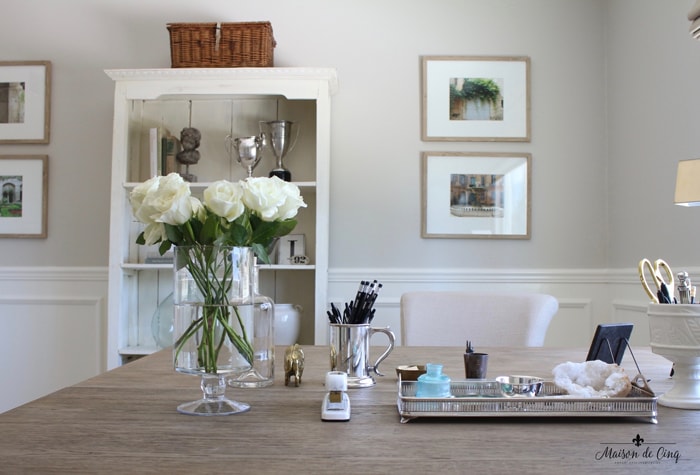 Vintage Botanical Prints
Vintage prints are one of my favorite ways to add original art to your home, and I particularly love botanicals. If original oils are too expensive or not your style, try incorporating some kind of vintage print.
I fell in love with this photo with it's vintage botanicals and set out to find a set of my own. There are many cute reproductions, but I really wanted that vintage look that I knew only an original set would have.
Via Lisa Luby Ryan.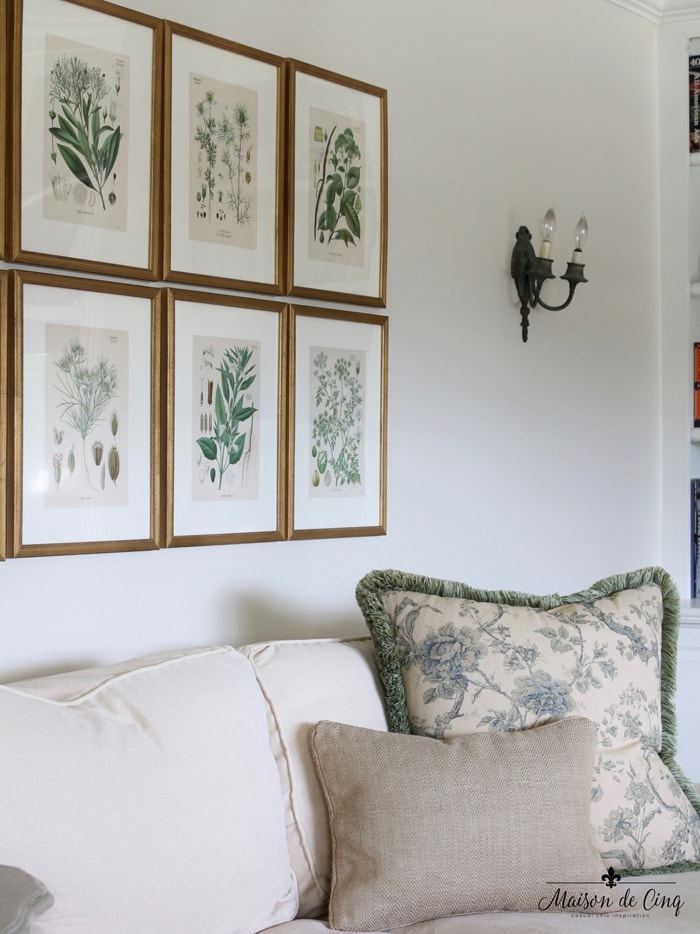 The great news is, they're very easy to find! Ebay, Etsy, antique stores, and flea markets (which is where I found mine) all carry hundreds of options at very reasonable prices. I had these custom framed but you can always get inexpensive frames at Target, Walmart or Michael's.
And there are hundreds of prints, etchings, and engravings that are not botanicals. From architectural prints, to birds, to landscapes. Some are lithographs, some are etchings, and others are simply prints, but many are super plentiful and affordable!
Lean, Rather than Hang, Some of Your Art
I love the casual feel of art simply leaning on a shelf or mantel. It works especially well with vintage art in gilded frames by taking it down a notch and giving it a more casual feel.
Here on the kitchen mantel I added a little farm landscape oil painting. Unframed and simply leaning on the shelf it looks casual and un-fussy, perfect for that casual chic mix that I love. You can see more ideas on how to incorporate art in the kitchen in this post.
This little vintage lithograph leans on the mantel in the living room, creating a casual spring vignette.
Find Custom Artwork from Independent Artists
Another way of incorporating original art is to have some made.
This could be anything from a painting by an artist, to a sculpture, to some sort of original art made from natural materials. Etsy is full of original artists who make all kinds of amazing products in any price point you can imagine.
Last year when I was re-doing the master bedroom, I knew I wanted some intaglios but they are prohibitively expensive. So I took a look around Etsy and found a woman who frames reproduction intaglios and they were just what I was looking for!
They turned out beautifully! And even though they weren't cheap, they were still way less than what Restoration Hardware and others are charging for a similar look. And they're completely mine. Original, and unlike what anyone else has!
You could even make your own art if you're crafty!
I've seen people frame christening dresses, baby shoes, keys, or any other meaningful memento. Again, it creates a piece that is special and unique to you. Or paint something if you're so inclined. I know blogging friends who have simply bought paints and painted their own modern art piece!
I hope these tips on decorating with art have given you ideas of how easy it is to incorporate art in your own home. There's not much that will add so much to your space so quickly as adding a piece of original art!
I'm sharing some great sources that I've found below, but don't forget local antiques stores, garage sales, and flea markets for even more sources of affordable vintage art.
Sheila
xo
Shop the Post!


*affiliate links are included for your convenience*
Be sure to visit my friends who are also sharing their posts all about decorating with art below!
So Much Better with Age: Decorating with Vintage Engravings
Thistlewood Farms: Simple Decorating Ideas for Art
Tidbits: 7 Online Sources to Find Affordable Vintage Artwork
Seeking Lavender Lane: Decorating with Vintage Prints
Shades of Blue: Vintage Lace as Art
If you enjoyed this post, be sure to check out more decorating ideas and inspiration below: