Today I want to share with you my plan for a new master bathroom (yay!), and tell you all how this all came to be! But even more exciting is Floor & Decor is offering a $2500 gift card to one of my readers, so make sure you read all the way to the end for all the details on how to enter!
For those of you not familiar with Floor & Decor, they are a national specialty retailer who sells hard surface flooring, including marble, tile, countertops and other flooring. I recently had a chance to visit the Fountain Valley Floor & Decor store and enjoyed a design appointment with one of their designers. What's amazing about Floor & Decor is not only can you get a designer to personally walk you through the store and help you plan whatever project you're working on, but it is all for free! The appointment is incredibly easy to make. You simply go to their website, and click on the "schedule a design appointment" button. It's as easy as that! My designer, whose name was Crystal, could not have been more helpful!
I brought with me a couple of inspiration photos so that she could get an idea of my taste and what I'm looking to do.
Inspiration Bathrooms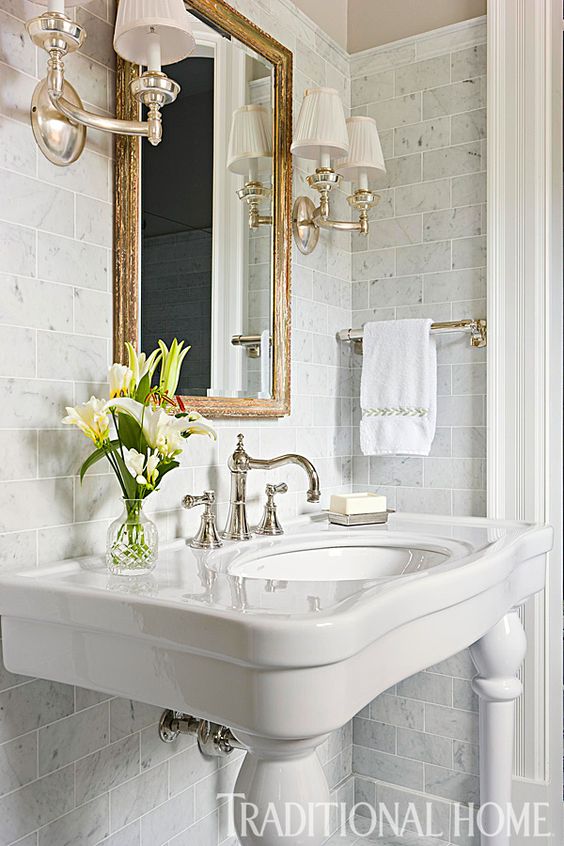 Via Traditional Home. You can see similar options at Floor & Decor here.
Via Mandarina Interior Design Studio.
Both of these examples are pretty close to what I want to do. I love marble and I knew that's something I would want to incorporate. And something I'd like to include in this bathroom remodel is the marble tile wainscoting that goes half way up the wall. Our bathroom is pretty small for a master, so I think this will really add some charm and much needed interest to the space. I also love the idea of a herringbone pattern on the floor so that the whole room isn't entirely subway tile.
Floor & Decor Store Selection
Before we started, she gave me a store walk through so that I could get an overall idea of all the different products they carry. And then we starting looking at marble tile options (kind of my perfect day 😉 ) They had so many to choose from! However, marble is not all they sell. They have many forms of stone, quartz and tile so there are lots of great options to choose from.
I already knew about their low prices, but I was pleasantly surprised by the the large selection and depth of inventory. It made it very easy for me to create my dream bathroom!
Decorative Marble Tiles can be found here.
They even had these fun cement tiles that I'm totally crushing on! I'm thinking maybe for a laundry room at some point down the line!
Designing My Bathroom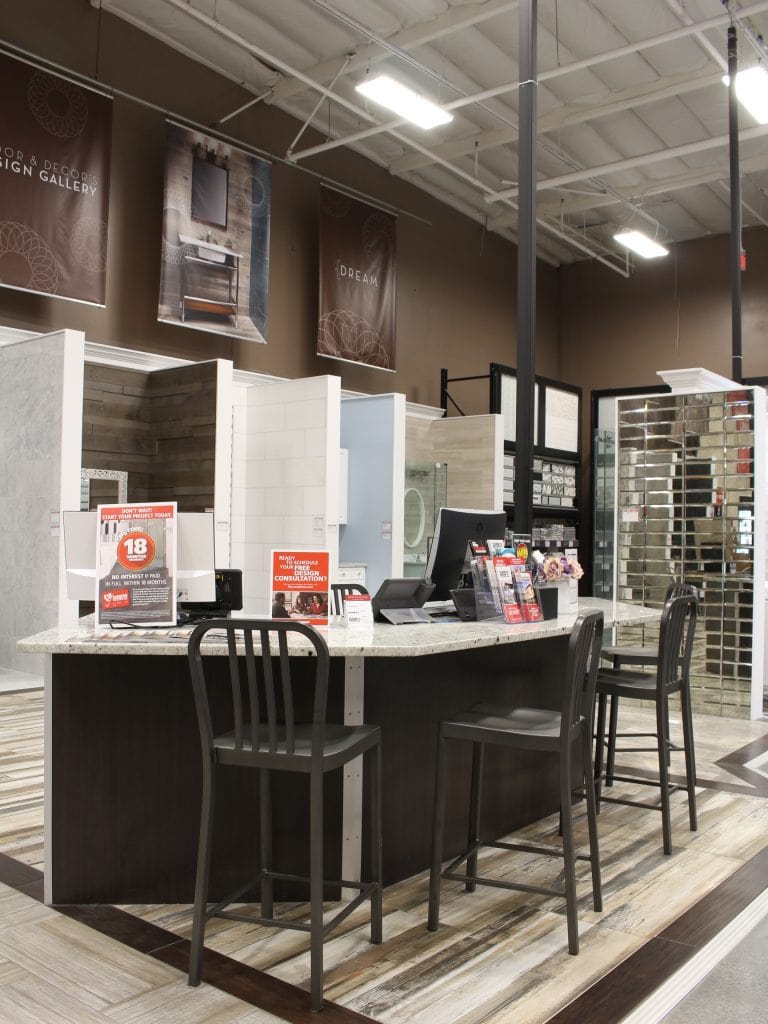 Once we had looked at several options, we went back to the design area (shown above) to talk and plan.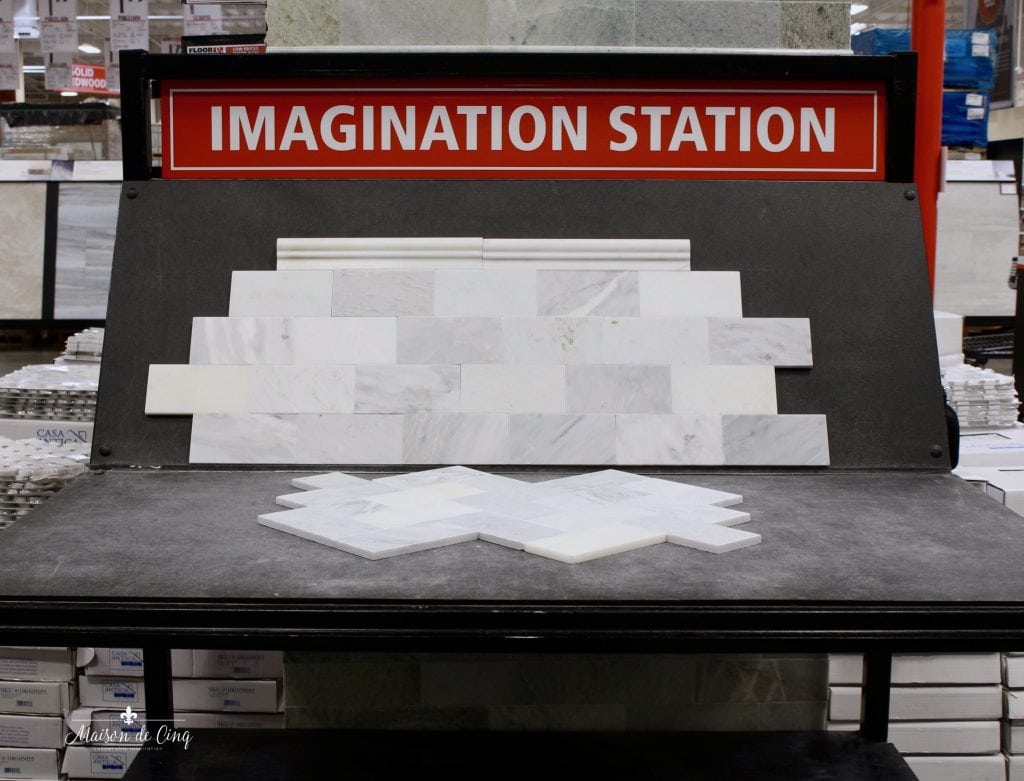 And how great is this "Imagination Station" area?! We were able to play with some tiles and take a look at how it will actually look in the room. I loved this! The marble subway tiles above will be the wall selection, in both the room and the shower. The ones in the herringbone pattern will make up both the floor areas. I chose a white marble that had some grey but also some creaminess to it. I didn't want it to be too grey and this one really fit the bill.
There are several unique things that Floor & Decor has that many other stores do not. One of those is, obviously, the opportunity to work personally with a designer. But they also offer special financing plans, as well as free 14-day storage. That's quite a convenience, actually, because often times your project can get delayed for some reason and many stores force you to pick up your marble even if you're not ready. That can involve storing heavy and bulky product. This way, Floor & Decor will store it for you – free of charge – for up to 14 days! And another plus to working with Floor & Decor? Their generous return policy! You don't buy your product by the box like many other stores, so that at the end you have several half used boxes sitting in your garage (like me!) You buy your product per piece, and you can return any pieces you don't use! Love that!
I really loved my overall experience at Floor & Decor, from the designer meeting to the wonderful selection and I can't wait to start work on the bathroom. I'm hoping we'll be able to do it right after Christmas, fingers crossed!
You will definitely want to check out your local Floor & Decor to see the many options they have, as well as the designer services. You can find your local store at this link.
And now for the giveaway details!!
$2,500 Floor & Decor Gift Card Giveaway!
Guidelines are as follows:
To enter to win the $2,500 gift card giveaway, you need to do the following:
1.Follow Floor & Decor on Instagram (@flooranddecor)
2.Check out my feed on Instagram and find my Floor & Decor post
3.Tag two (2) friends in the comments section of the post
4.Include the hashtags #GetFlooredGiveawayLA and #sweepstakes
For further information and all the rules and regulations, go here.
*Sweepstakes is only open to legal residents of California who live within 250 miles of Los Angeles and are 18 or older at time of entry*
This is a sponsored conversation written by me on behalf of Floor & Decor. The opinions and text are all mine.