Hi all, and happy Wednesday! Hope you're all enjoying your week. I've been busy getting my youngest settled back in school, and we spent this past weekend bringing my daughter back to college for her sophomore year. I tell you, it doesn't get any easier!
I've been really missing her and I know that keeping busy will help. So on that note, I've got another post for you about my breakfast area. I shared all about my new antique farmhouse table with you a few weeks ago, but now I'm going to talk all about my French café chairs!
I've gotten so many questions on Instagram about my chairs that I thought maybe they deserved their own post! But before I tell you where they're from, let's back up a little and talk about why I chose them in the first place….
Originally, I put the dining room chairs in here and I actually liked them quite a bit. And though I didn't want to move them in here permanently, they did get me thinking about getting chairs in an off-white shade. So originally, that is where I was headed. However, in the end I decided I didn't want the two rooms to be twins. My dining room has a brown table with off-white chairs, and I felt that if I did that same thing in the kitchen area, it would just be too similar.
Here you can see what it looked like with the dining chairs in here….
An antique chair would definitely have been my first choice, but with the fact that we eat almost three meals a day here, week in and week out, that didn't seem practical. The dining chairs are antiques and two are already broken! I also wanted a little more casual of a feel in this room versus the formal dining room. So I looked around at all kinds of chairs, both in person, and on every website you can imagine, and the simple French café x-back style chair kept coming back to me.
Old Seagrove Homes via Decorpad.
 They are modeled after traditional café chairs in Europe, and that timeless feel is something I'm always drawn to. I love them, but I did hesitate as they are so prevalent! They are literally everywhere, and I wasn't sure that I wanted something that everyone else had.
But, I do love them. And, they are extremely practical. In fact, they are perfect in many ways for my space. They are lightweight, and as such, easy to move around. They're not particularly expensive, which means if I did want to change them they wouldn't be a huge investment. And despite their prevalence, I think they are still classic. If they are good enough for Parisian cafés, who am I to argue? 🙂
But as I said, they are everywhere.. so where to buy them? I found them many places but in the end, I was looking at three stores: World Market, Restoration Hardware, and Ballard Designs. The World Market chair is the least expensive and if it had been the right color, I would have done that one for sure. However, when I went to the store they looked too grey in person and I didn't think they would work with my antique wood table.
That left the RH version and the Ballard's. The RH is kind of the original (at least here in the U.S.) and they have a natural wood version. I spent a good few weeks calling the outlet daily, trying to find them on sale, to no avail. I was leaning toward getting the RH version at the regular store, when I remembered that I had already seen the Ballard's in person when we ordered them for the farmhouse kitchen I designed last year! I figured since I had one close by I should at least look at in my space.
So after dragging one of the BD chairs from my friend's house over here to make sure they would work (nothing worse than shipping things back!), I ended up ordering the BD ones. In the end I paid much more than I would have for the WM ones and a little more than the RH ones, but the color is perfect!
They are not too brown and not too grey. They have some "patina" on them. And, even more importantly, BD is the only one who makes a quality cushion you can buy for them! I've heard the WM cushions are thin and awful, and RH doesn't even make one. Having cushions was imperative as the rattan seat is not super durable and I still have a son at home who has friends over, etc., and I wanted to have some extra comfort for us as well as some added protection. Personally, I think it's more comfortable on bare legs than the rattan alone.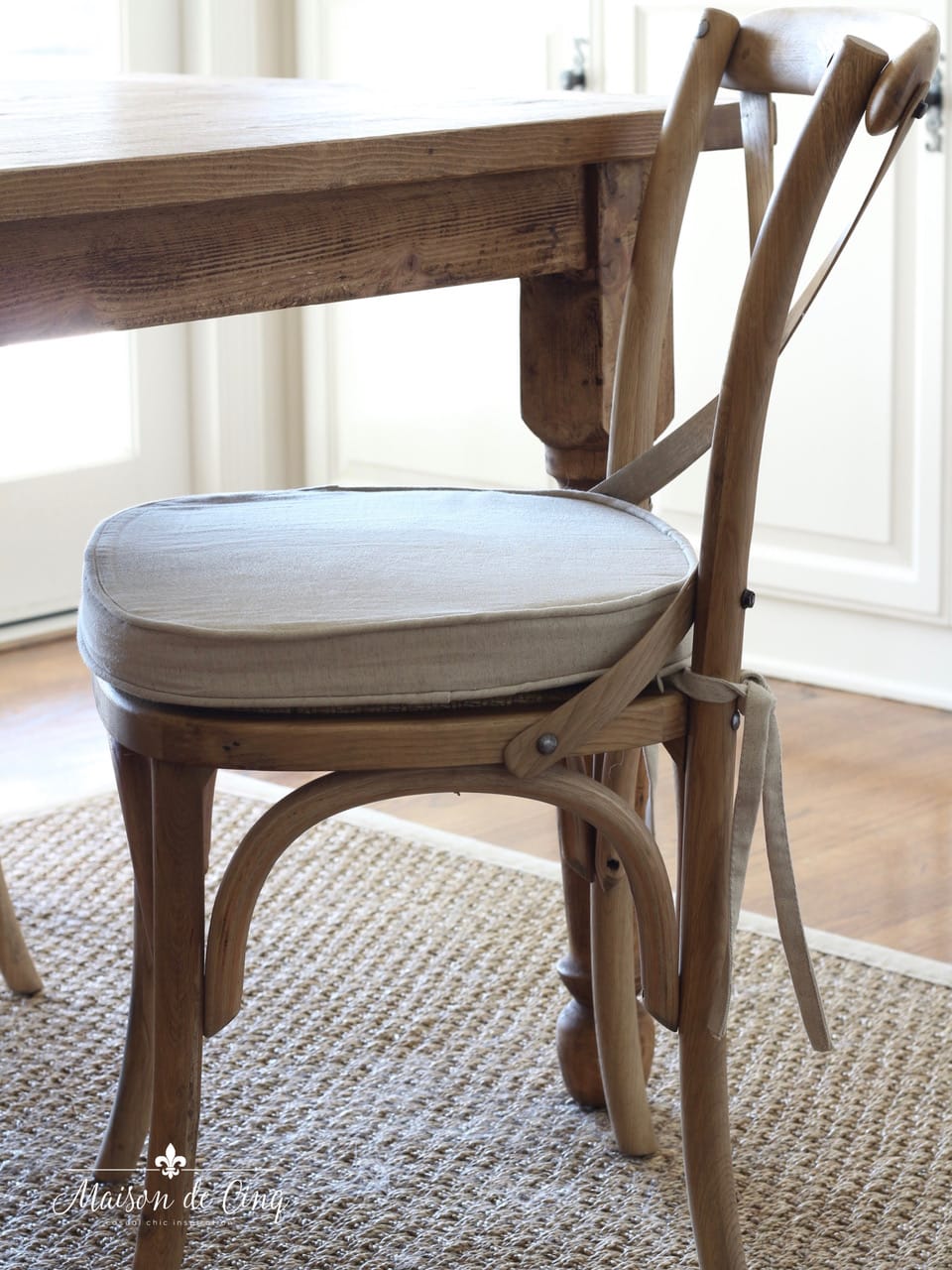 All in all I'm super happy with my choice. And they have proved to be very comfortable as well. And can I say, having a lightweight chair is so much better than the heavy ones I had here before!
So if you are looking for a French café chair, the World Market version is the best deal if the color works for you! The second cheapest is actually the Restoration Hardware (I find that so shocking!) They are also the only one who makes them in four colors, including white, which is great. The Ballard Designs version is the most expensive, but I do love the color. I also used a 20% off coupon which they run quite frequently. And of course, they have the adorable cushions! And you might even be able to use the cushions on one of the other chairs, I didn't actually check measurements on that.
I'm linking both the World Market (because they are the best price) and some other options below in case you are in the market. And if you've bought these, I'd love to know which ones you went with!
Shop the Post!


*affiliate links included for your convenience*
And if you want to check out the Ballard's version, you can find it here, and the cushion here. I also noticed it's on sale now!!
Sheila
xo
Sharing this week at Stonegable