European & French Christmas Decor Shopping Guide
Are you craving a French-inspired Christmas style? In this post we're sharing our love for European & French Christmas decor and giving you lots of sources of where to find it!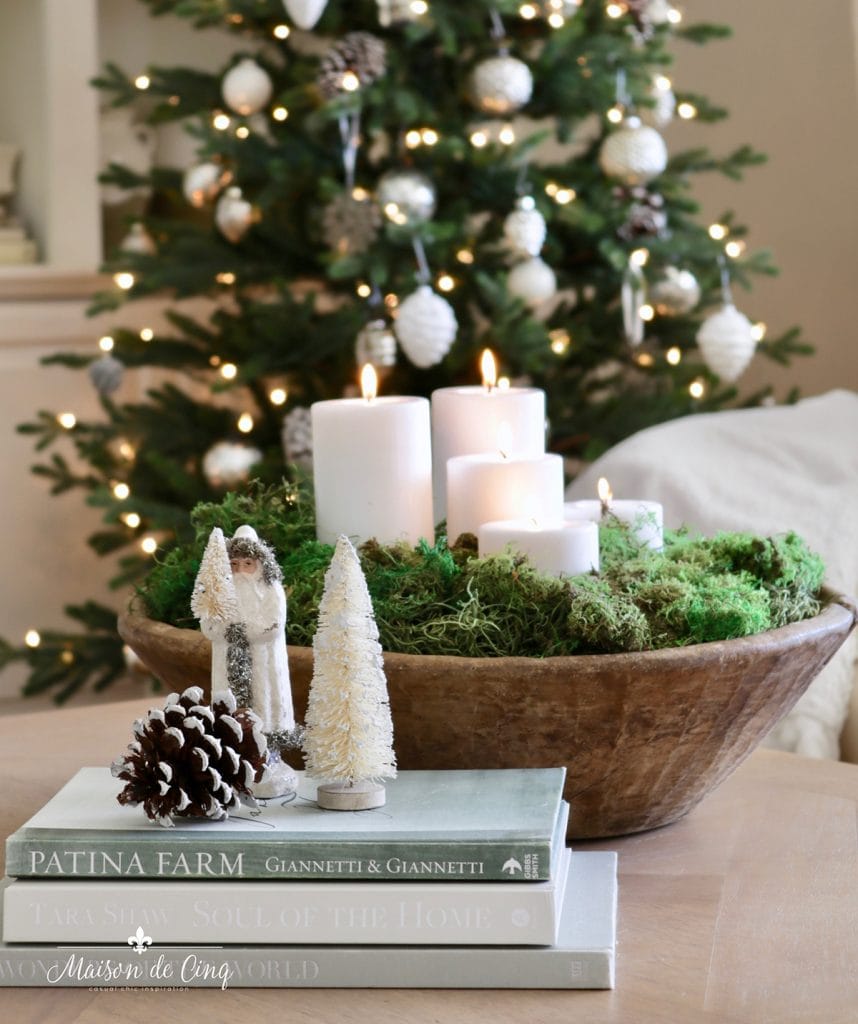 I know it's a little early for some, but last year I had so many questions about where I got some of my French Christmas decor, that I thought it would be nice to put it into a post for you this year. Before it all sells out!
To be honest, a lot of things that appeared in my tours last year were sold out before my posts even went live. It was frustrating for me, and disappointing for you. So today I'm sharing sources for a lot of what I used last year, as well as some gorgeous new French Christmas decor I've found for this year!
And if it's a little early for you, simply bookmark this page to come back to when you're ready to do your holiday decorating!
This post may include affiliate links. Click here for my full disclosure policy.
I love the look of a French or European Christmas. Lots of greenery, accented with gold, white or silver elements, with baskets and lots of texture creates a beautiful, neutral style.
It seems a lot of the good things go so quickly these days, so you need to order early if there are things you really want. But the bright side is, this way you can actually plan and order and be ready for the holidays ahead of time!
And even better? For the first time ever, I'm curating my own Holiday Decor Shop!! In addition to a French Christmas Decor category, I'll be sharing all my favorite wreaths, trees, garland, ornaments, and more. (Link is at the bottom of this post).
Hopefully this will get you inspired to do some early decorating, which leaves more time for the things we love most! Like eating, exchanging gifts, and spending time with those we love. 🙂
This faux Noble fir tabletop tree is the perfect size.
Love this charming brass bell garland!
This yummy "Noel" candle smells amazing!
Continue the mistletoe tradition with this faux version.
These brass bells I use every year – and every year they sell out!
Mercury glass balls lend an old-world sparkle to your Christmas tree.
This faux cedar wreath is my favorite and so real-looking.
Use this nordic wood bowl to hold ornaments or greenery.
How adorable is this Joyeux Noel doormat?!
This chunky knit stocking looks like a handed-down family keepsake.
Display this golden wreath for a French-inspired feel.
This faux cedar swag gives a great old-fashioned look.
A vintage-style Santa figure brings European style to any space.
Top off your tree with this gorgeous gilded iron bird.
These faux cypress potted trees or topiaries could not be cuter!

And I've added even more great French-inspired decor below, including my favorite most realistic faux garland, more stockings and wreaths, as well as different trees, bells, and more!
More French Christmas Decor


And as I mentioned above, I'm sharing a complete Holiday Shop this year full of all my curated favorites – from trees, to wreaths, to ornaments and more!
You can check out the entire shop here.
Sheila
xo
If you enjoyed this post, be sure to check out more French-inspired holiday decorating ideas below: