Today's inspiring home tour is a gorgeous French country style home in the mountains of Utah. The big beautiful kitchen and lots of natural light are just two of the features of this amazing home!
I'm so excited to be introducing a new feature here at Maison de Cinq! Today is the introduction to my new series, Inspiring Home Tours!
I love looking at homes for inspiration! I'm someone who's constantly looking at them on Pinterest, roaming around real estate websites way more than I should, and hoping shades are still up when I walk in the early evening (the better to see the decor inside!) And since I love seeing inspiring homes, I thought you probably would, too! Some will be designers, others will be friends, and others (like today) will be bloggers I know.
So this week is the first ever Inspiring Home Tour and it's a lovely home in Utah with lots of French country style. The home is named Highland House and is owned by my blogging friend, Holly, who blogs at Home with Holly J.
So let's go on in….
The French country influence is evident right from the start. I love the stone facade, the pretty lantern, and those doors are incredible!
Holly says the exterior is her favorite thing about her home. Can you blame her?!
The entry way has beautiful marble floors with black diamonds accenting. I love this look! It's very traditional in Europe and we don't see a lot of it here. It really creates a special feeling in the entry and sets it apart from the rest of the downstairs.
The home is near Salt Lake City and was built in 2014 and Holly and her husband bought it from another blogger, Rachel Parcell, in 2016.
The fireplace is grand, but the brick balances that out. I love that it feels more casual this way, and it really warms up the space as well.
Lots of natural light from the oversize windows makes the space feel so bright and airy.
I love the romance the settee brings, and I'm especially fond of that French country chandelier! Perfection.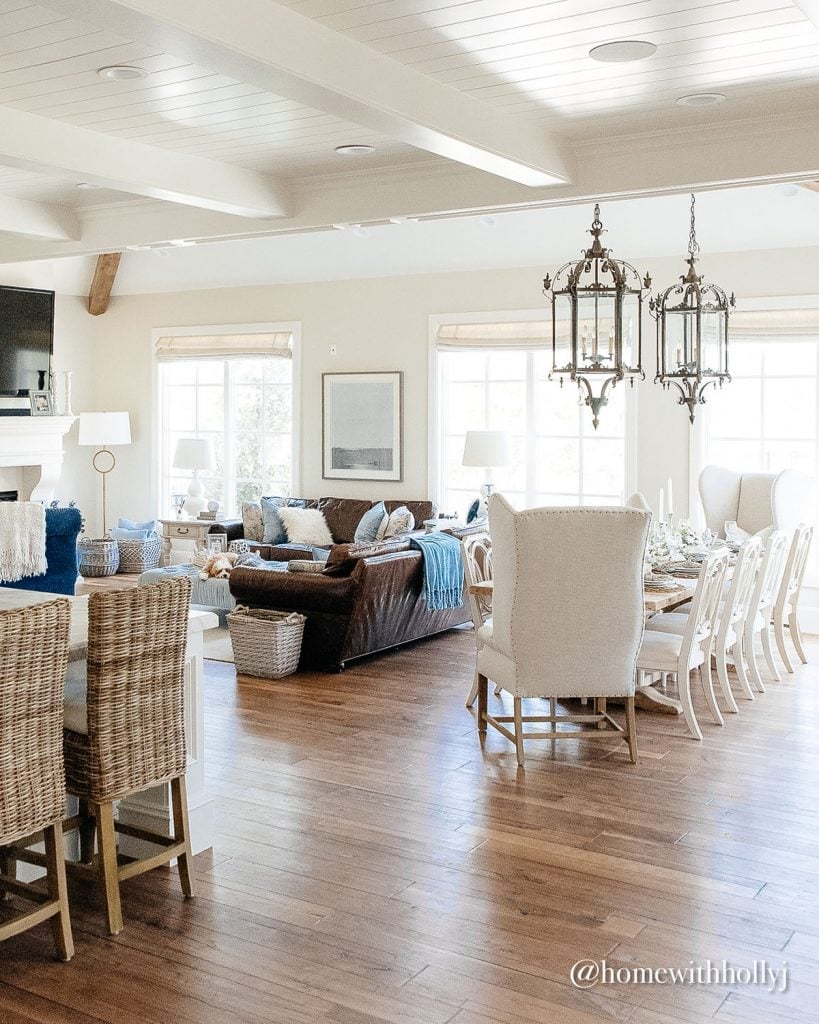 This is now looking back from the living room into the family room area which is adjacent to the kitchen. The wood floors are continuous in the open concept downstairs.
I love that she has a casual leather sofa for this area, but she still continued her touches of blue with artwork and pillows.
The lights over the dining table are so pretty, and I love those end chairs at the dining table!
Holly is slightly famous for her gorgeous kitchen and I'm sure you can see why!
The marble tile to the ceiling is so stunning, and I love the open shelving. I also love that she used wicker bar stools. I'm a huge fan of wicker, and it really adds a lot of warmth to an otherwise all-white space.
A butler's pantry adds so much charm to a kitchen don't you think?! In addition to the butler's pantry, she also has a huge walk-in pantry that holds her very large dish collection!
Holly says her family calls her a "dish hoarder," but she thinks of herself as a "collector."
Hmm, sounds slightly familiar! 😉
I would love to have space for my dishes like this!
Like me, Holly loves to entertain and it's one of the reasons she started blogging.
Holly says she's always enjoyed homemaking and creating a warm and welcoming home. "I love to decorate, entertain and host, garden, and cook homemade meals for everyone. I call myself a gatherer of people and have always done that since I was little."
One of her guest rooms is done all in soft blue-grays – love the tufted headboard!
One of the guest bathrooms – this is a Jack and Jill bathroom between two of the bedrooms.
And her master bedroom is absolutely stunning! Love that headboard and the soft colors in the rug. The light is a show-stopper, too!
The master bathroom has a beautiful marble floor (echoing the entryway) and I love that they tiled the entire bathtub alcove up to the ceiling. Such a charming touch!
And her bedroom closet is truly the stuff of dreams!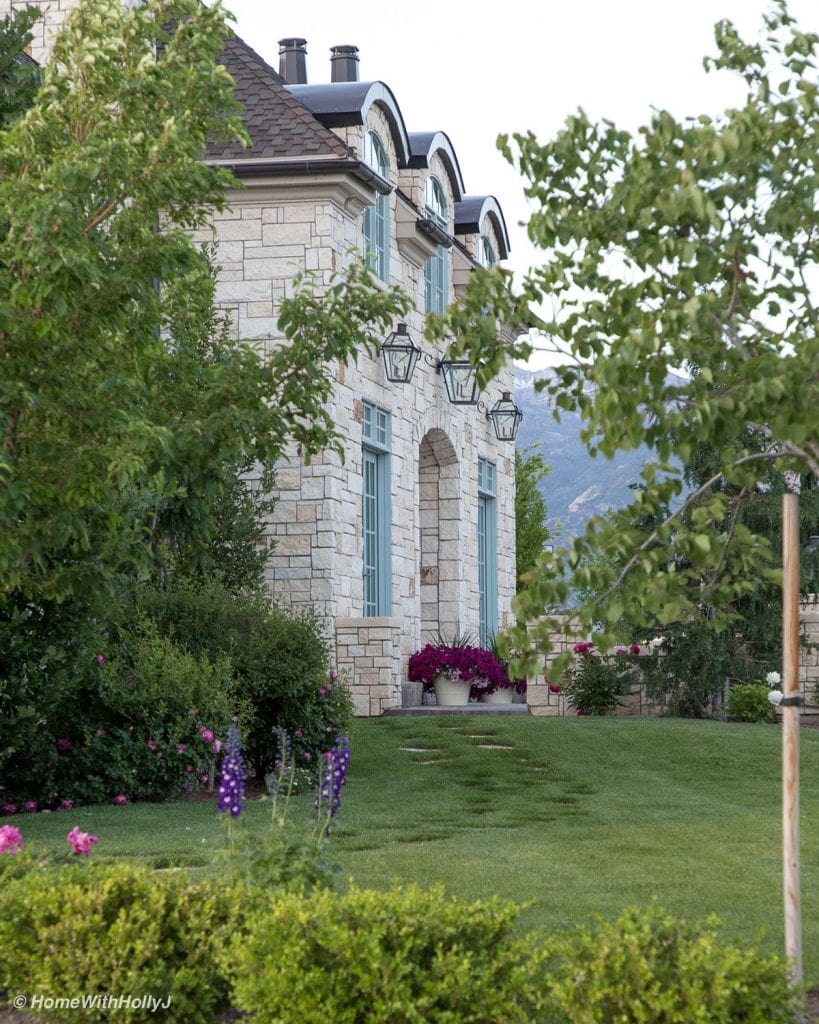 I hope you enjoyed this tour of Holly's gorgeous French country style home!
You can see more at her blog, Home with Holly J and on her Instagram page here.
And I'll be bringing you more tours as part of the Inspiring Home Tours series – not just French country but lots of different styles and locales. And of course, all of them will be inspiring 😉
Wishing you all a happy week!
Sheila
xo
Check out more Inspiring Home Tours below!