How to Find French Farmhouse Antiques ~ For Less!
Do you find you fall in love with vintage or antique items, only to be discouraged when you can't find them, or they're prohibitively expensive? In this post, I'm sharing all my secrets to finding French farmhouse antique accessories!
When I asked all of you to give me ideas for posts you'd most like to see in the future, I got quite a few of you suggesting that I write a post about where to find antiques and vintage accessories. It's also one of the questions I get the most on Instagram!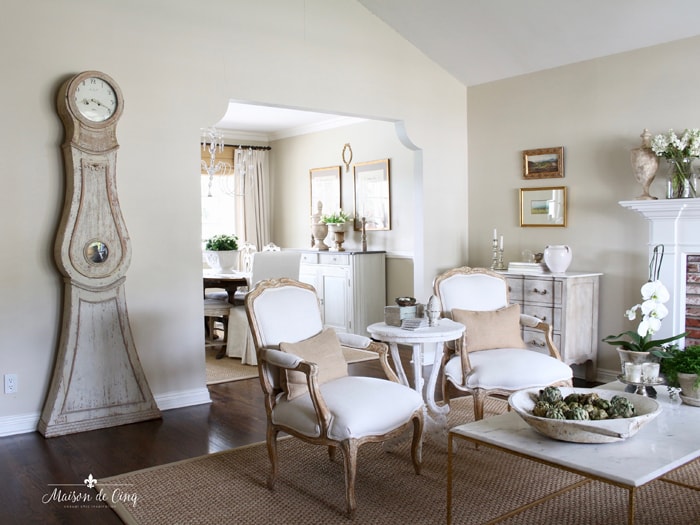 So today, I'm going to share my process with you! Not only where I find my antique accessories, but how I go about deciding what to look for. I think for those of you who do like to add vintage to your home (and I hope if you're here then that's all of you 😉 ) this will be helpful when you fall in love with something and don't know where to find it!
And that's really the first thing, so I'll start right there. With that word. Love.
My hunts invariably start with me falling head over heels in love with something I've recently discovered. When I'm crushing on a new vintage item, I become pretty obsessed with it and there's really no stopping me until I find it!
Finding Antique French Bread Boards
One of the first French things I really started looking for and wanting to collect were French bread boards (you can read all about styling with them in this post). I saw a few in some magazines, and then even more on Pinterest and I was smitten! I love how they add so much texture to a kitchen. And even more than that, I love that I can use them!
I think my favorite way to use them is stacked en masse in a kitchen. They look good resting on the counter, nestled in a stack, or in my case, on the range mantel.
The problem was, when I found them at my local antique mall they were expensive! They typically run anywhere from $195 to $250 or more for larger ones. That was more than I wanted to pay. Especially since I knew I would need several to achieve the look I wanted.
I immediately started looking on Ebay, but they didn't have a ton. And that's when Etsy became my friend!
You can definitely get boards for a lot less on there, especially if you don't care if they are French. And even if you do want authentic French boards, they can be often be found on Etsy for much less than antiques stores.
Since I've been shopping on there for so many years now, I have some favorite Etsy stores I return to again and again. ChaseVintage carries smaller ones for under $100 and even the huge ones are under $200. And even better is most of their items ship free!
Another favorite purveyor of French bread boards on Etsy I've ordered from is FleaMarketFrance. Her prices are very reasonable and her shipping is not too high either. I've gotten several of mine from her and I've been very happy, and hers are all from France!
As far as reproductions go, I think bread boards is an okay place to use those if you have to. There are times with French farmhouse antiques where the reproductions really don't give the right look, but the boards from Pottery Barn and McGee & Co. (one of my favorite stores!) both have a great farmhouse look.
You can also distress them yourself. Use them for awhile, leave them outside in the sun and the rain, and they'll look old pretty quickly.
You can also mix the authentic French farmhouse antiques with the reproductions (especially if you put the repros at the back of your stack 😉 )
TIP: the boards from other European countries, like Hungary and Germany, give the same look but sell for significantly less than that $200 and $300 price tag you'll find for French!

Finding Antique White Ironstone
Another favorite of mine is antique ironstone. I love all white ironstone, but the thing I've collected the most is pitchers and tureens. If you've been here awhile, you've most likely seen many of my pitchers as I use them frequently. And though I favor the French ones slightly, I have and love both French and English ones.
This is another item that I love to see displayed together. The pitchers look so pretty on a kitchen counter or table, or massed in a china hutch. I use mine for serving water and other drinks, as well as displaying flowers.
And there's almost no vase I love more than a beautiful white ironstone pitcher!
I've found most of my own ironstone pitchers either at antiques stores or on Etsy. Here in California, I haven't done well finding ironstone at flea markets. Because of that, Etsy is where I usually head first.
Some favorite Etsy sellers are TheIronstoneCottage, 40CottageStreet, SimplyCountryHome and OneDayinFrance. They all carry a fair amount of ironstone with low shipping.
I will warn you that French ironstone is harder to find than English, and tends to run higher, too!
And when it comes to reproduction ironstone, I'm all for it! Frankly, you can mix any white pitchers you love with your ironstone.
I have vintage ironstone, reproduction ironstone, and plain-old-white pitchers from Home Goods and I love and use them all! 😉
TIP: mix English ironstone, and even reproductions, in with your French to save a little money!

Finding Antique French Urns
Antique French urns are probably my absolute favorite thing I collect because they make anything you put in them look better! But oh, this is a tough one! If there is one question I'm asked the most, it is where I find mine, and I'll be honest, they're not easy to find.
Well, let me re-phrase that. They are not easy to find if you want to spend under $500 or even more!
I go to my local antiques mall at least once a week and urns are always something I'm looking for. I've also had good luck at flea markets, which I usually try to do once a month. And I've gotten a couple of them on Etsy as well.
Just be aware that most of these are made of cast iron and are heavy, so be sure to check the shipping amount before you purchase. And if you think it's too high, simply ask. I frequently ask if they can come down on shipping and often they will!
And when you're looking on Etsy, be sure to do a couple of different searches on there. Not just "white cast iron urn" but also "French cast iron urn" or "distressed iron urn." You get the picture. These can be described in a few different ways and you don't want to miss out on a pretty vintage urn just because someone didn't put the word French in the description!
Because these are much harder to find than things like bread boards or ironstone, I always have an eye out. And that brings me to another important point. If there's something you love that you really want, be persistent! You can't just look once or twice and call it a day. You need to keep doing it. 😉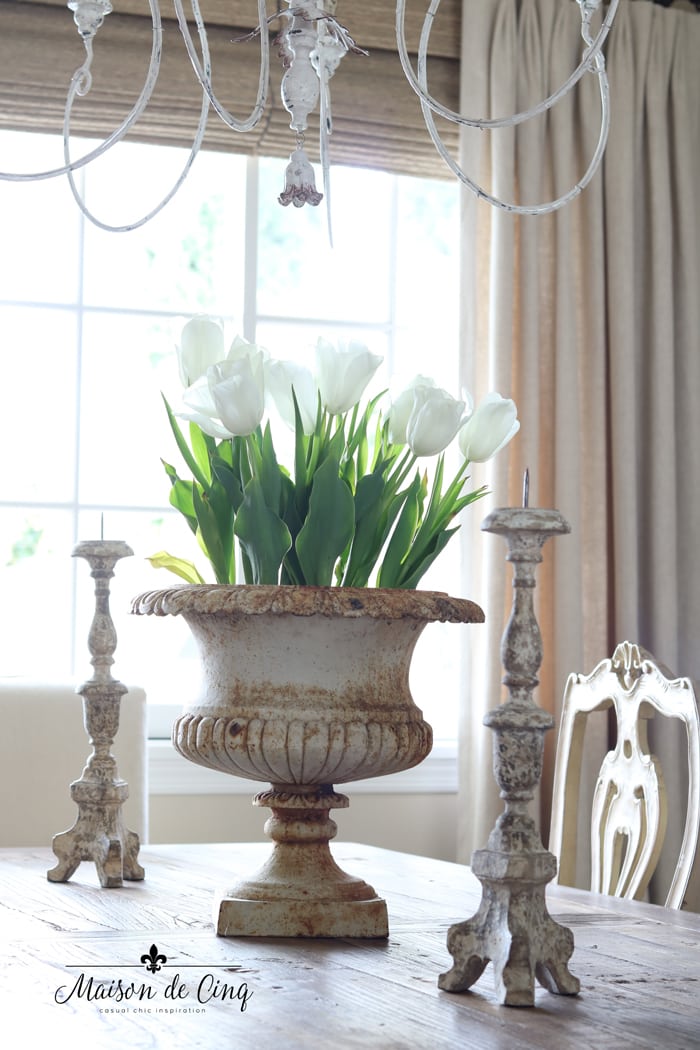 I haven't found a ton on Ebay, but I do keep an active search on there, too, just in case!
Did you know you can do that? Type your keywords in the search bar and a pop up will ask if you want to "save" that search. I always say yes because then rather than having to go in and search again and again, you'll simply get an email whenever new listings matching that description come up!
Again, these are hard to find and not cheap. 1st Dibs and Chairish are very good sources, though their prices tend to be significantly higher. So far I've fared better with simply searching for vintage French urns on Etsy.
And if you find a cute reproduction, paint it and distress it a little and create your own chippy urn while you wait for the real ones to appear!
TIP: Be persistent! Check flea markets and antiques stores regularly. And make sure you use Ebay and Etsy saved searches when it's applicable.

Finding Antique French Demijohns
My love affair with demijohns started a few years ago, and I still love them. You can learn more about their history and ways to decorate with them in this post, but for now, let's talk about where I've found them!
These are not as hard to find as some of the other French farmhouse accessories, and this is one case where you can absolutely find authentic ones for less. Now I will admit that two of mine are from my trip to France, but since that's a little far, I'll try to share some closer-to-home sources! 😉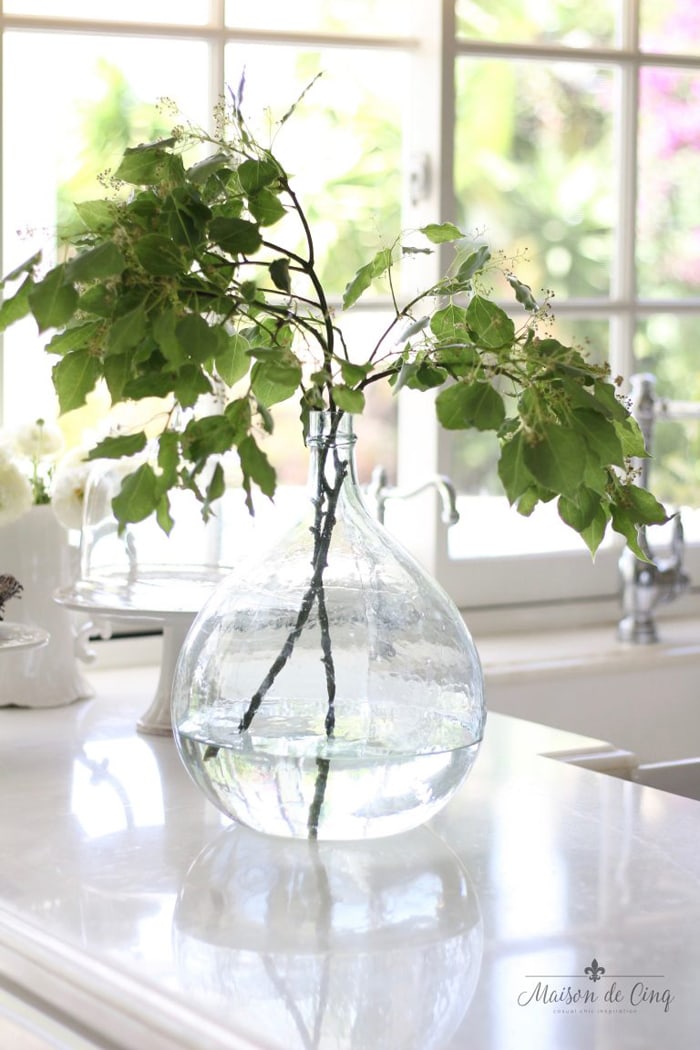 One of my absolute favorite sources for demijohns is Elsie Green. They are an antiques store located in Northern California, and if you ever have the opportunity, I highly encourage you to make a stop. Luckily, they also sell their collection online!
They carry a lot of the items I love and they have a wonderful collection of European demijohns at reasonable prices. You can even call and have them text you photos of different options before they ship them to you!
Flea markets are another place I've seen these. And if you can find a French seller that you can go back to again and again, even better. I also do well in antiques stores, as well as on Etsy. A couple of my favorite Etsy sellers for these are VintageJordanShop, PetitTruc05 and RogerAppleYard.
I also love the ones that are covered in wicker and I'll often search for those, too.
And as far as reproductions go in this category, personally I'd hold out for the real thing. Frankly, any large glass jug tends to hover around $100 or more, so why not get something with some age (and value!) to it?!
But if you want one quickly, believe it or not Pottery Barn carries some real vintage ones! They feature a few "found" items and this is one of them. The good thing about that is they are returnable, and even better, they go on sale 😉
TIP: when searching for demijohns, make sure you also search the terms "carboy" as well as "lady Jeanne or Damme Jeanne bottle," "vintage wine bottle" or "French glass wine bottle". Not everyone who sells them knows the term, and you don't want to miss out on a find!

Finding Antique Dough Bowls
Dough bowls are one of my favorite thing to style. They're so versatile, and they're perfect for seasonal decorating. You can read more about styling with them in this post.
The only caveat I'll say before I start talking about them, is they've been so popular that the world is full of bad reproductions! And I mean bad. Made to look "primitive" with obvious chisel marks, but with none of the patina that an actual antique will have.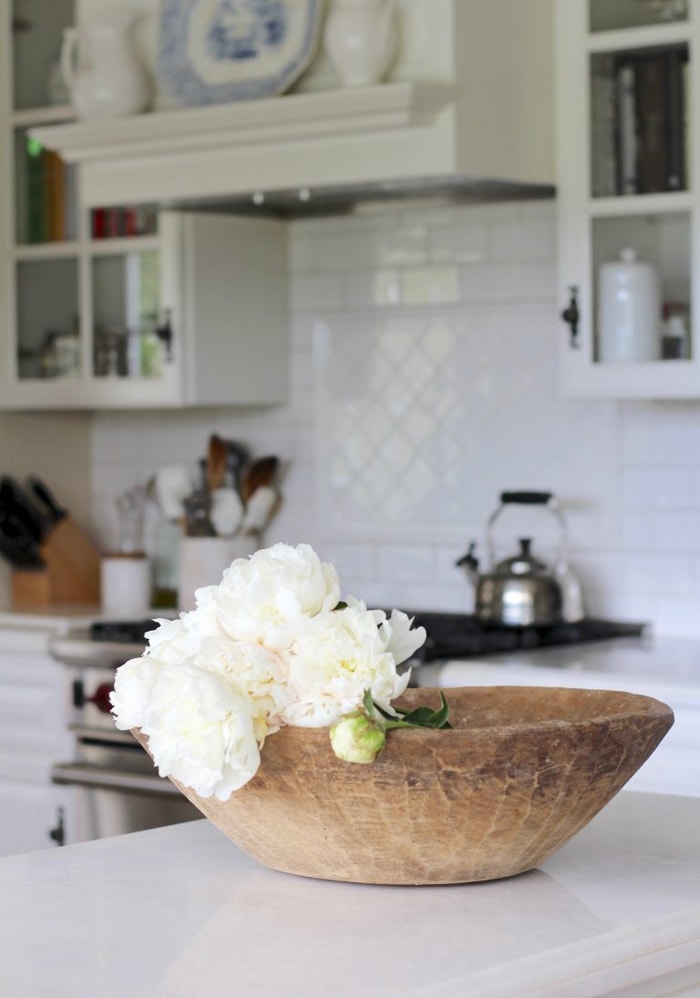 A real, authentic French farmhouse antique dough bowl will have a really rich patina due to the many years of dough rising in it. That dough released oils, as did people's hands, and that's what creates the depth of color. Although there are many copies out there, you're better off getting a true vintage one in this case.
And you can save some by going for European rather than just French. Much like bread boards, these became so popular that the French ones became prohibitively expensive. The bowls from Hungary and Germany have that same authentic flavor but cost less than the French ones do.
And this is another time that Etsy really comes through! If you search dough bowl there are literally thousands. So I usually start my search by putting in "French" and if I don't find what I'm looking for, I'll change it to "European."
Just make sure you filter your search by checking the vintage box so you're not looking at reproductions. And I always read the full description for age just to make sure. If they don't mention the decade or provenance, they're usually a repro.
ChaseVintage which is a favorite source for bread boards, also has good authentic European dough bowls, as well as RogerAppleYard. Another source? Pottery Barn again! They have authentic found European dough bowls, and again, I love that they are often part of their sales!
TIP: Many dough bowls from Hungary, the Czech Republic, or even Germany can be found for a lot less. But you still get the age, patina, and European cache without the price tag of the French ones!

I hope this post helps all of you in your search to find more French farmhouse antique accessories. It's not always easy, but if you're persistent and use some of my tips, I think you'll find some things you love!
I'd love to hear from you if you use any of these tips or find some gorgeous things from some of my favorite sources. And if you have some places you've found antiques for less, be sure to share them here in comments, too. I love finding new sources for French and European farmhouse antiques!
Shop French Farmhouse Antiques





Happy Antiquing!
Sheila
xo
If you enjoyed this post, be sure to visit the posts below for more French inspiration!