French Farmhouse Christmas Decor in the Family Room
Today's post features gorgeous neutral French farmhouse Christmas decor in the family room. Whites and silvers, along with natural elements like pinecones and dried oranges, create a simple but elegant holiday with a nod to European Christmases of years past.
Yesterday I shared my French-inspired neutral Christmas living room, and now I'm continuing my holiday decorating in the family room! I've kept many of the same elements, like the neutrals of white and silver. But I've also added some European touches like dried oranges and I'm loving the simplicity the touches of nature create.
The tree is decorated similar to the living room tree in order to keep some continuity between the two spaces. I used lots of silver mercury glass ornaments and pinecones, with some touches of white. And again, I skipped garland in order to keep it simple.
The wicker tree collar is a new addition and I love that it's more casual than a skirt, as well as the texture it adds!


On my tiny tabletop Noble I added a simple dried orange garland to the twinkle lights. This is something I've been wanting to do for years and I just love the Scandinavian feel it brings!
I dried the oranges myself and strung them with fishing line. But they are fairly inexpensive to buy if you want the look but not the trouble!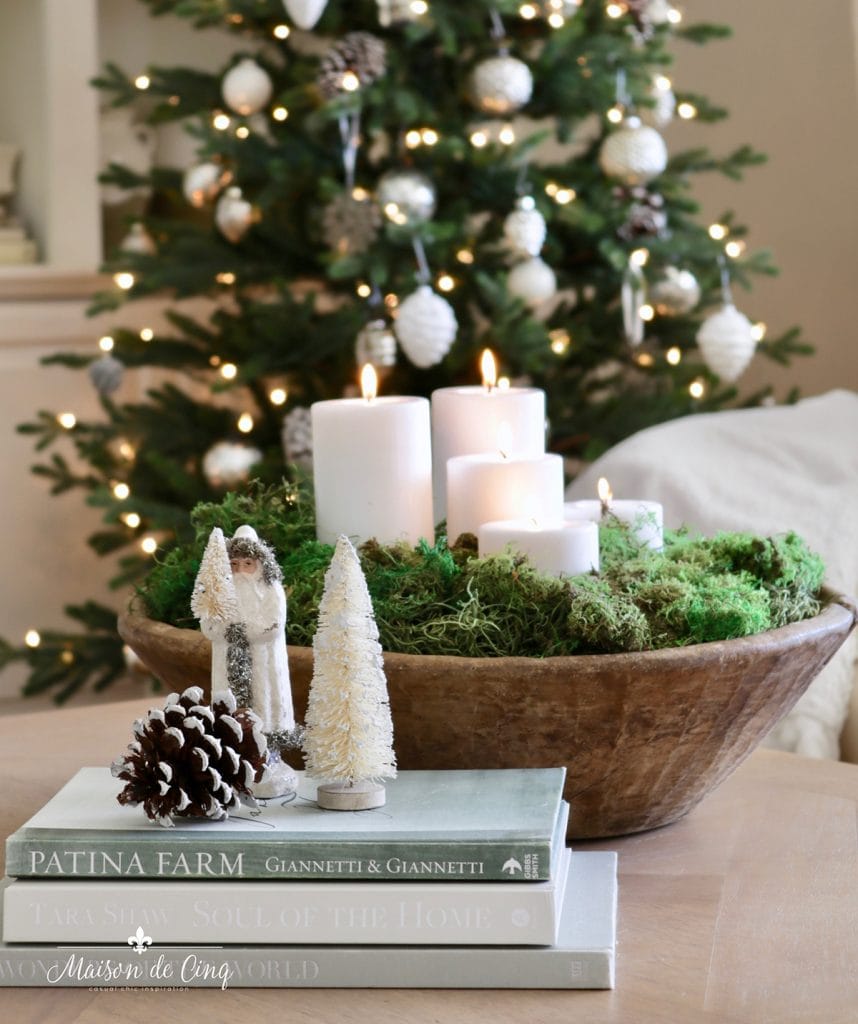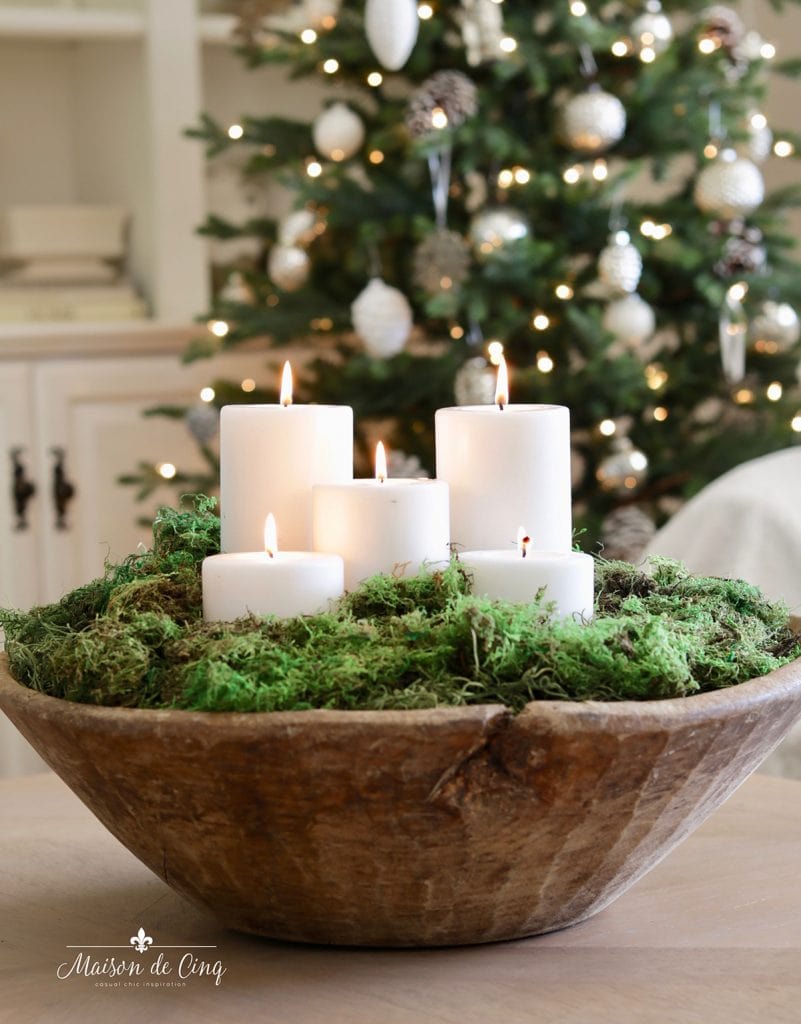 The dough bowl is something I saw on Pinterest a number of years ago and had been wanting to try to recreate ever since. I love my dough bowl and hadn't used it in quite awhile and I'm so glad I finally decided to do it!
To create the centerpiece, I added a plate inside the dough bowl so the candles would sit a little higher and to give them stability and a flat surface. Then I simply added moss and voilà! A beautiful centerpiece that would look equally good on a dining table or as a centerpiece in a tablescape!
I'm so smitten I'm thinking this could be something that becomes a tradition. 😉

The vintage Santas are something I bring out every year – I love their old-fashioned charm!
I have quite a few, and each year I use them in different ways. This year I sprinkled just one or two in each room, but in the past I've massed them in groupings for a bigger statement.

Some greenery and pinecones in a silver bowl, along with more greens in a French urn accessorize a side table.

This year's neutral and natural French farmhouse inspired Christmas decor feels festive and calm at the same time, which is exactly what I was going for.
I've sourced most of what I used below, and where I couldn't find the exact same item, I've linked very similar options!
Shop French Farmhouse Christmas Decor


*affiliate links added for your convenience*
Sheila
xo
Our 'farmhouse' Christmas tour is inspired by simple, beautiful holiday decorating. The friends joining me all have slightly different styles, but all have a bit of that farmhouse influence, and all are beautiful!
I hope you'll visit some of their pretty Christmas inspiration below!
Maison de Cinq: French Farmhouse Christmas Decor Ideas
Making it in the Mountains: Farmhouse Christmas Bedroom
Maison de Pax: Simple Holiday Living Room
Nina Hendrick: Simple Christmas Decor
Rooms for Rent: Christmas Porch Decor
If you enjoyed this post, you might want to check out some of my other Christmas posts from year's past: