Stunning French Farmhouse Style Home – Inspiring Home Tour
Today's inspiring home tour is a stunning French farmhouse style home. Featuring rustic chic interiors and a dream kitchen, as well as lots of European touches, it's a French design lovers dream!
I'm so excited to be sharing today's Inspiring Home Tour with you – I think you're gonna love it as much as I do! Designer Brittany Jones is someone I've been following on Instagram for awhile now, and I've watched as her talent and her portfolio have grown. But today is really special because I'm sharing her personal home with all of you!
Her style is decidedly French, but not fancy. She shares her northwest Texas home with her husband and young daughter and the home exudes a comfortable ambiance that is what I would call approachable elegance.
Mixing both rustic and refined elements, her interiors are both comfortable and chic at the same time.
Cypress trees, iron lanterns and lovely stonework form an inviting entrance to this French farmhouse style home.
The home was custom designed in 2016 by Brittany and her architect.
Those doors! The black steel glass doors really create drama as you enter the home.
This entry may just be my favorite space in the home – and that's saying a lot since there are so many gorgeous rooms! The antique French chair, European-style sconces, and that rustic barn door are perfection!
Brittany says, "This home was my first big dive into the design world on a scale this size. I am so proud of how my vision came to life! The design was from the heart and a true expression of myself and what is meaningful and special to me. I didn't follow any trends, I just followed my heart and what is beautiful to ME".
On the other side of the entry blue linen draperies add soft color to the sitting area.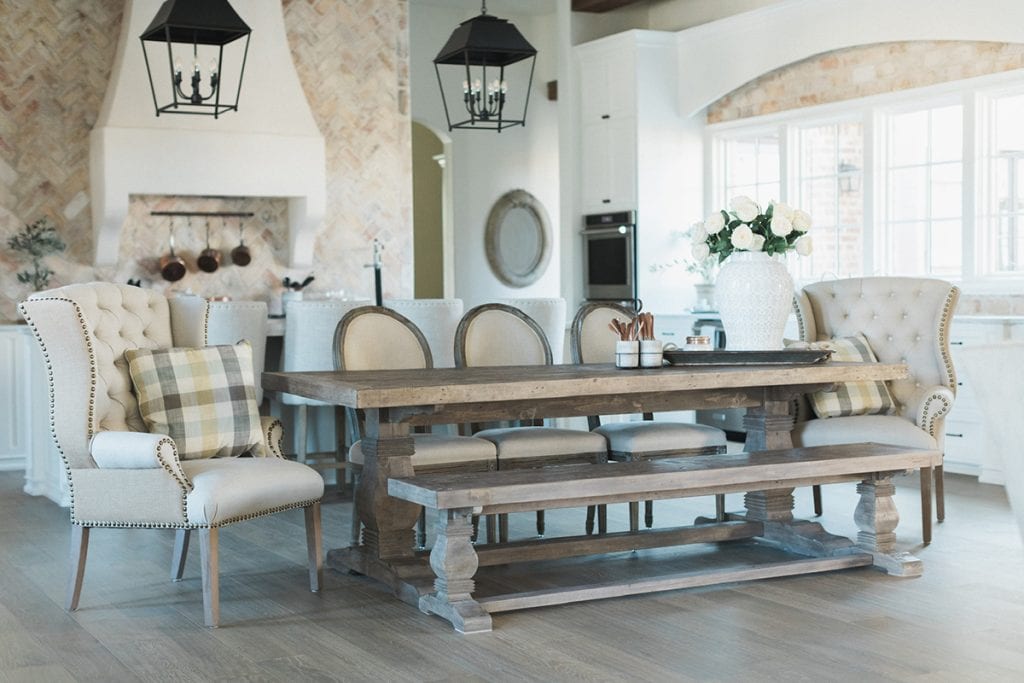 And my second favorite? Definitely the kitchen! That brick backsplash that goes up the whole wall is such a statement maker.
Vintage looking lanterns in dark metal create contrast in the otherwise neutral space.
"I did a lot of the interior finish work myself. From hand painting the shutters and interior doors, to putting custom finishes on chandeliers to make them 'just right.'"
The herringbone backsplash is made from reclaimed bricks and brings lots of texture to the space. And the blend of brick with marble countertops creates a rustic chic vibe. The vent hood is custom cast stone.
Her butler's pantry has a beautiful linen roman shade and holds lots of her pretty dish collection.
More reclaimed brick forms an archway that divides the kitchen and living areas. In the dining area upholstered wing chairs and French style side chairs surround a distressed farmhouse table.
In the living room, Brittany chose blue linen for the side chairs and mixed them with sofas in a neutral fabric along with a pretty wool rug in soft colors to ground the space.
Like me, Brittany doesn't like to just "fill the space" to have it finished. She describes her style as "a curated old world French look that is collected over time. Each piece in the home was hand selected over a period of several years. I worked hard to make sure every piece was special".
Brittany says the den is her favorite space in her home!
"I love the reclaimed wood ceiling, the brick pavers, and the intimate nature of the space. It has lower ceilings so naturally it just feels more cozy and warm".
Her master bedroom is a story of understated elegance. A tufted headboard with bedding in soft greens and pinks creates a serene space to retire to at the end of the day. Love that French-style bench with the scalloped edge!
A pretty deconstructed French antique charm adds charm in a corner.
Gold mirrors and rustic sconces contrast with white polished marble in the master bathroom.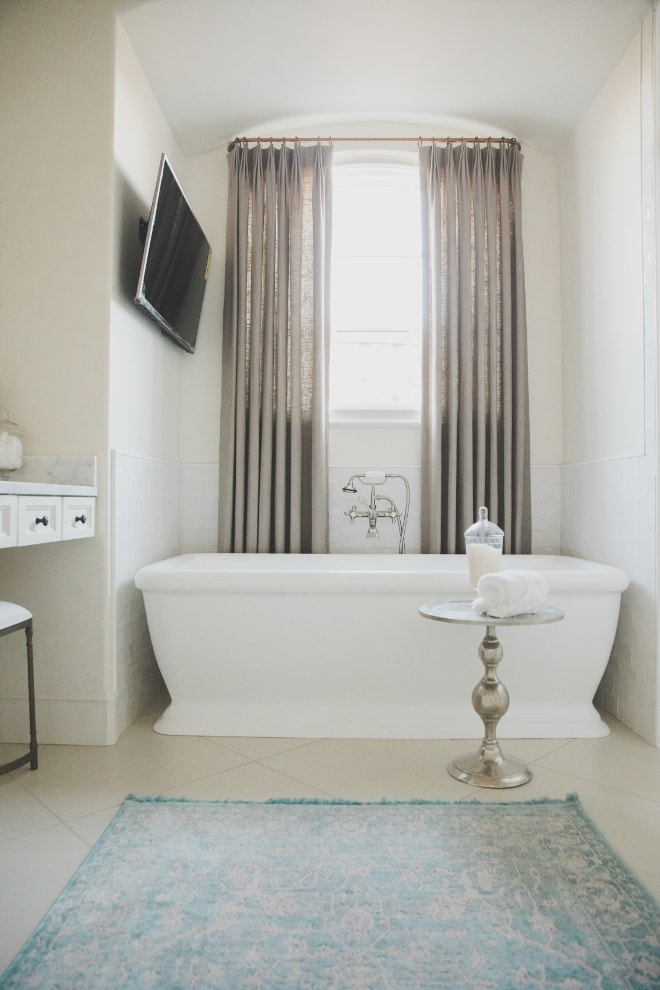 The guest bedroom uses more spa blue in the bedding. The barn door was painted in a custom color by Brittany!
Even her backyard gets the same touch of her signature color with French blue shutters that she painted and distressed herself!
My father and I also laid the stone tiles in the courtyard together. It was back breaking work as they weighed 55 pounds each! But it was a special time spent together.
I hope you enjoyed this French farmhouse style home tour! To see more of Brittany's beautiful work and inspiring spaces, check out her Instagram here.
Sheila
xo
If you enjoyed this post, be sure to check out some of my other Inspiring Home Tours below!