French Fashion Essentials – Fall & Winter Version
Looking for the secrets to French fashion? Today we're sharing the essentials you need to achieve fall French style yourself!
So for those of you who've only been subscribing for a short time, this fashion post may seem a little out of the blue, haha! But actually, I started my career in fashion (I was a stylist for almost 20 years), and I used to post about fashion much more often. So today, I want to touch on a fall version of one of my most popular posts, French Fashion Essentials.
You all know I love French interiors, but I also love French fashion! A couple of years ago I did a post on French Fashion Essentials for Summer and it's still one of my most popular. I had always wanted to do a fall/winter version on the same subject, so this seemed like the perfect time!
French women don't own nearly as many items of clothing as their American counterparts. Yet they always look chic and pulled together! They work from a slew of basics, buying the highest quality they can afford. And they mix and match those pieces to create an endless amount of combinations.
With French style, simplicity is key and a "less is more" attitude. Their fall fashion staples are things like blazers, trench coats, heeled boots, and classic sweaters. They do very little pattern and buy mostly solids of black, grey, brown, cream and camel. They create a capsule wardrobe of sorts – one that is perfect for a French fall/winter wardrobe!
This post may include affiliate links. Click here for my full disclosure policy.
French Fashion Essentials – Fall Version
Trench Coat
One of my favorite items in a French women's arsenal is the classic trench coat. I've always been a fan of them and I finally bought my first one last year. They are probably one of the only items that you could buy and still be wearing ten years later!
Via Fashion Jackson.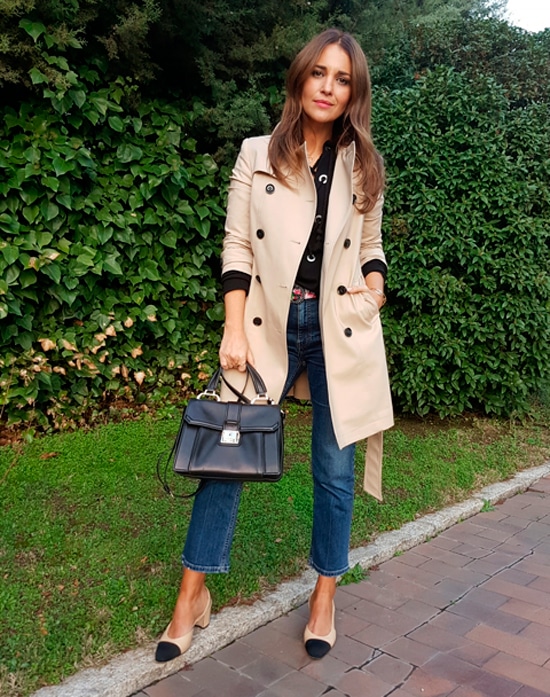 Via Bloglovin'.
Shop trench coats

Classic Black Blazer
A simple black blazer is a must for not just fall and winter, but year-round. Buy the best quality you can, in a classic style and it should last you for years and years. This is something that you will wear so often that the "per wear" price should pay off.
Go for wool or a wool-blend, if possible. If that is too high, there are beautiful, classic blazers made from synthetics that can be very affordable.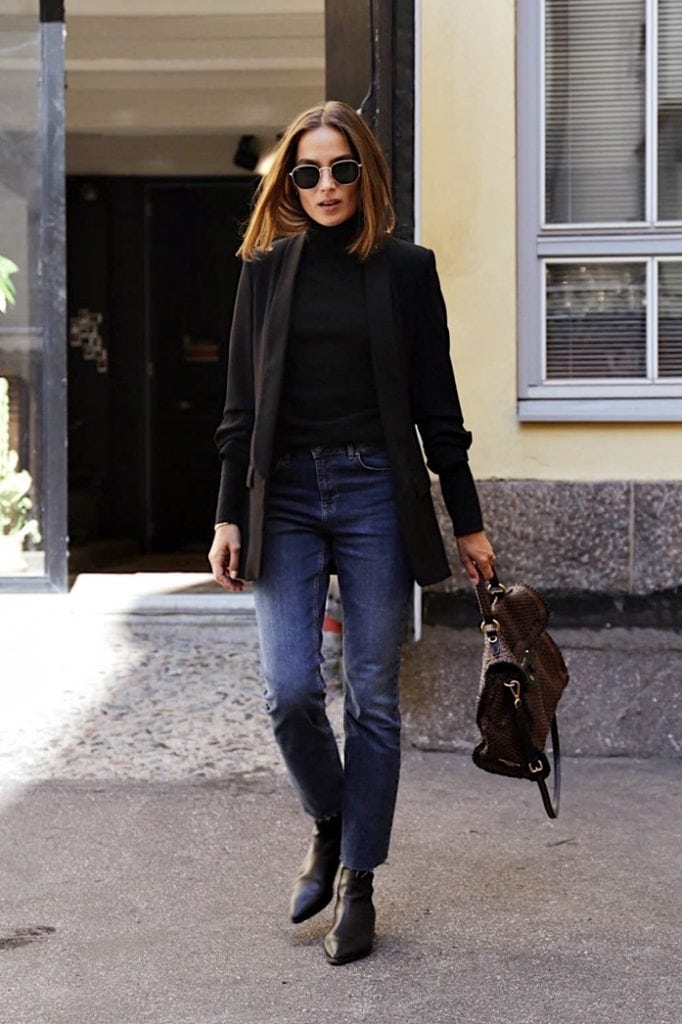 Via Marie Claire.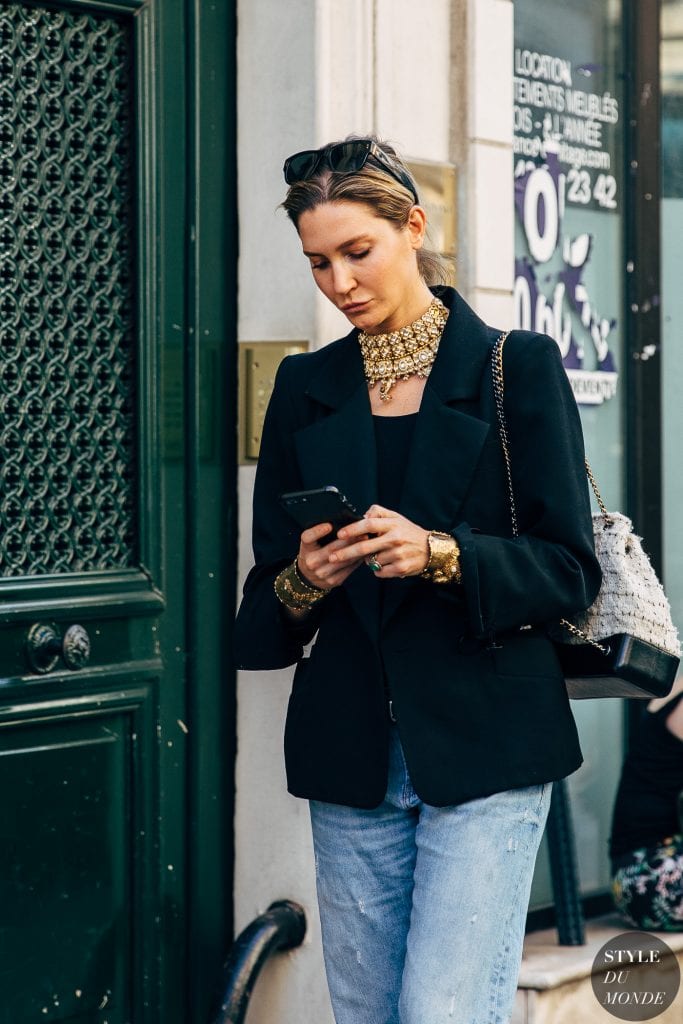 Sophie Pera via Style du Monde.
Shop black blazers

Stack heeled Bootie
French women love their boots! And the stack or block heel bootie is the most popular. Here go for whatever heel height is most comfortable for you (I tend to like around 1-2″ or so).
A definite must for fall and winter outfits. And to me, they're so much more versatile than a tall or over the knee version!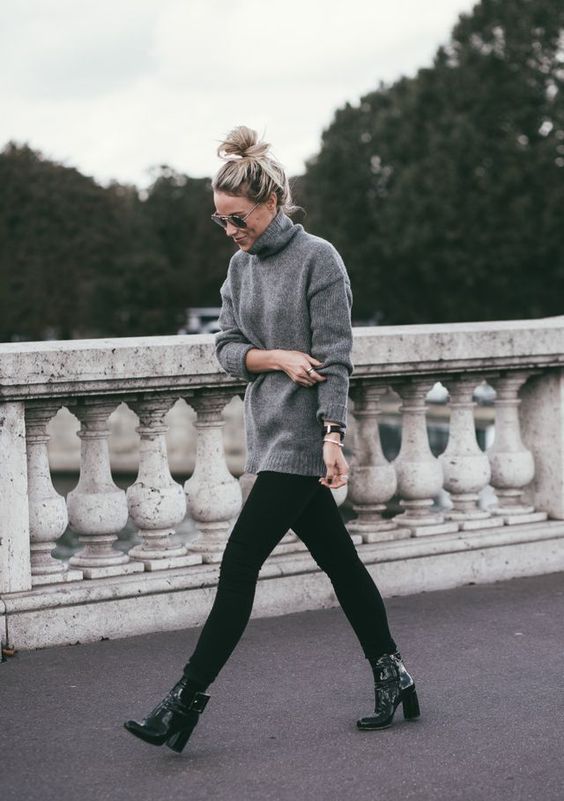 Happily Grey via Bloglovin'.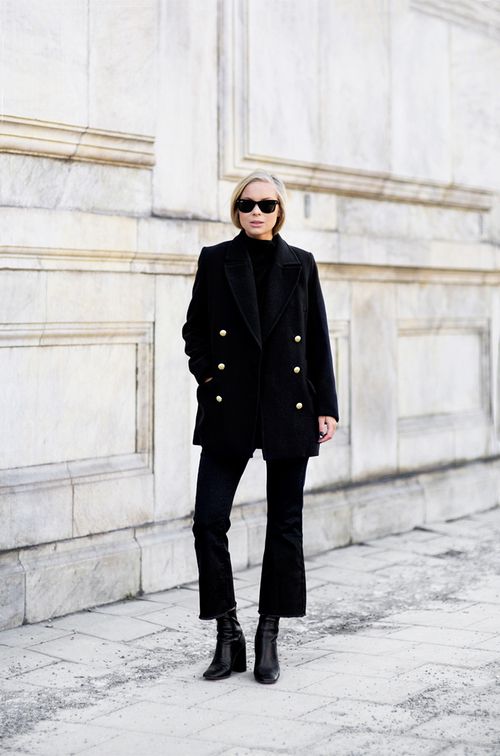 Victoria Tornegren via Marie Claire.
Shop Stack Heeled Booties

Simple Crew or V-neck Sweaters
Simple, but essential to a pared down and sophisticated French winter wardrobe. Whether you do cotton, wool, or cashmere, try to stay with natural fabrics. They usually last longer than synthetics, with less pilling.
And it's fine to have some "fun" or trendier sweaters if you can afford it, just make sure you have a few crew and v-neck basics in black, camel or grey.
Ines de la Fressange is the epitome of chic!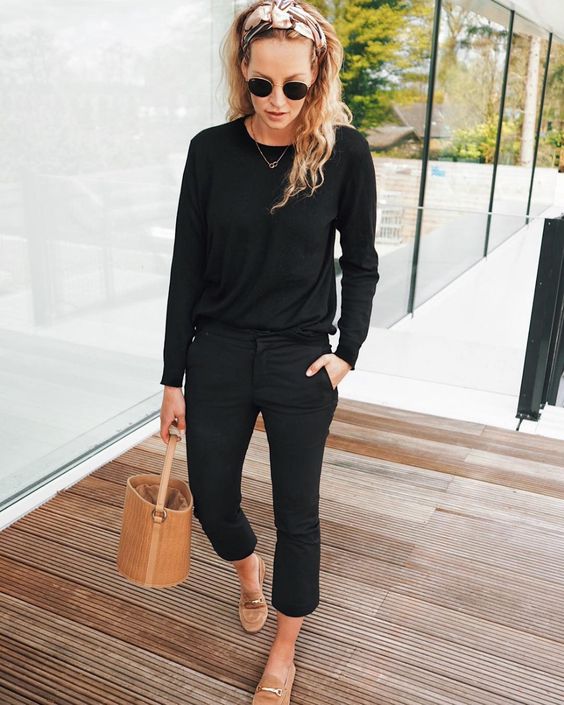 Via French Vogue.
Shop Crew and V-neck sweaters

Leather Jacket
Of course you can wear a leather jacket any time of year, but it's most appropriate in the fall or winter. And French women consider it a wardrobe staple. It's great with jeans, slacks, skirts and even dresses.
Real leather is much less than it used to be, but if you can't find one for a decent enough price, you can always go faux. Nowadays the faux are so good it's hard to tell they're not real leather!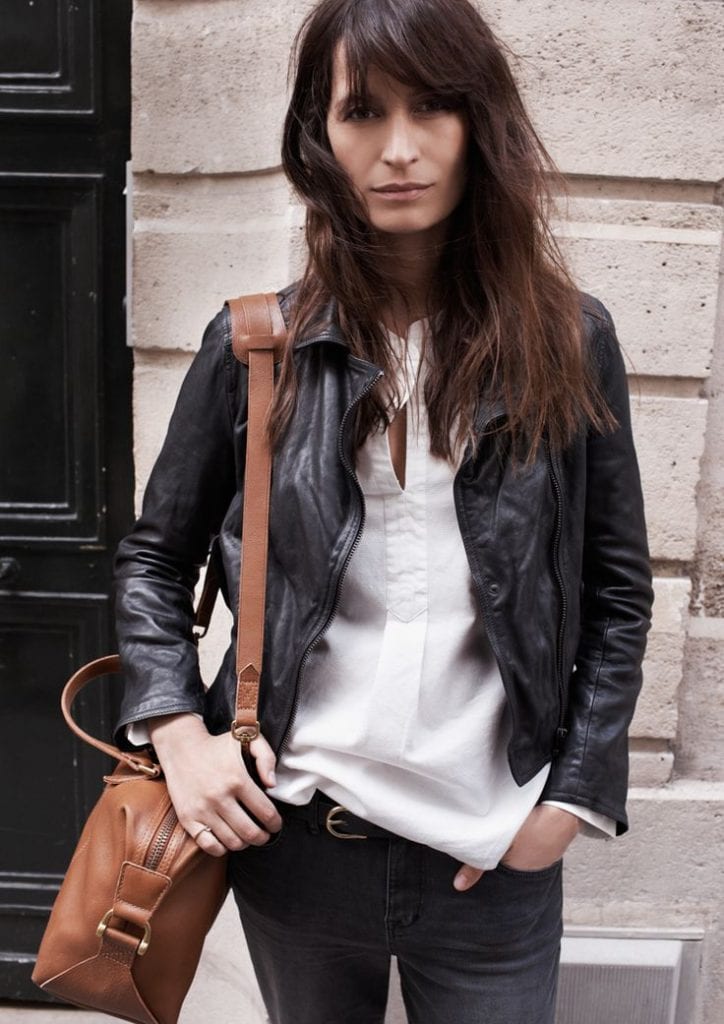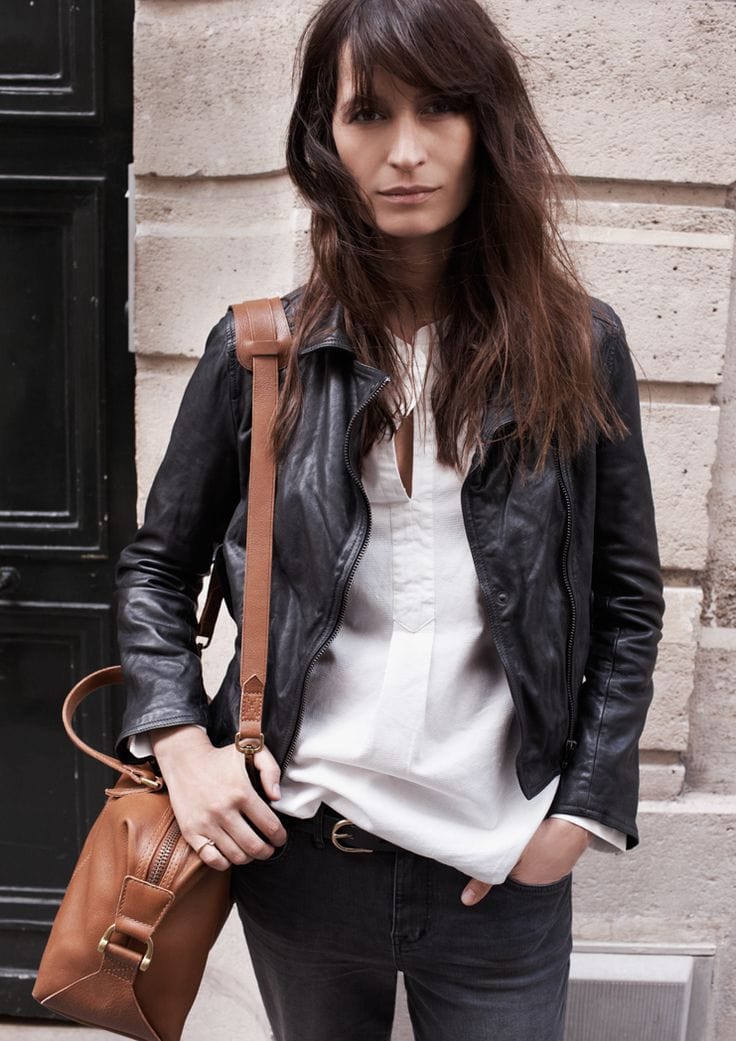 Caroline de Maigret via Vogue.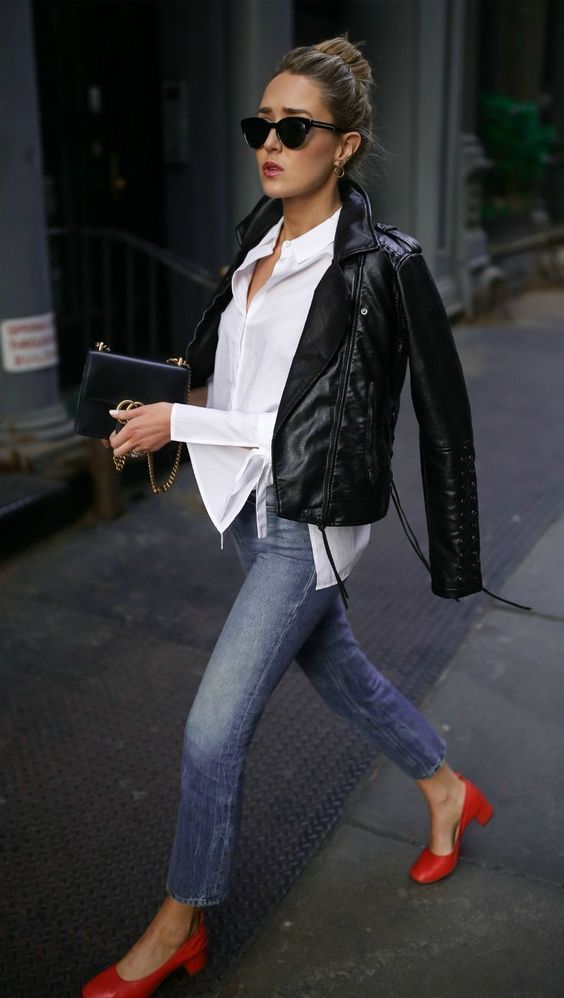 This outfit is perfection! Mary Orton via Instagram.
Shop leather jackets

Loafers
Loafers exude French girl cool, and have been a classic for decades. Plus, they're so much more comfortable than heels! And luckily for us, they are having a moment right now. I just bought my first pair and I loved them so much I went back and got them in another color 😉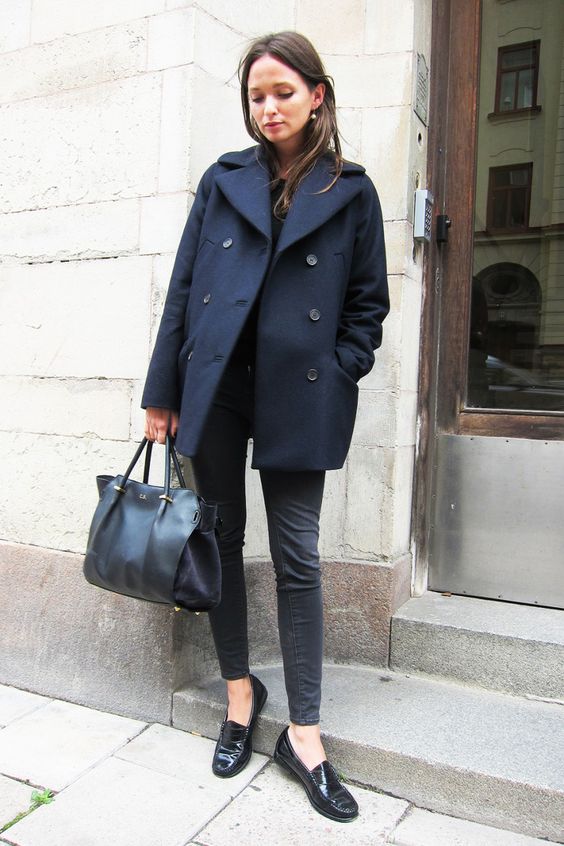 Columbine Smille via Instagram.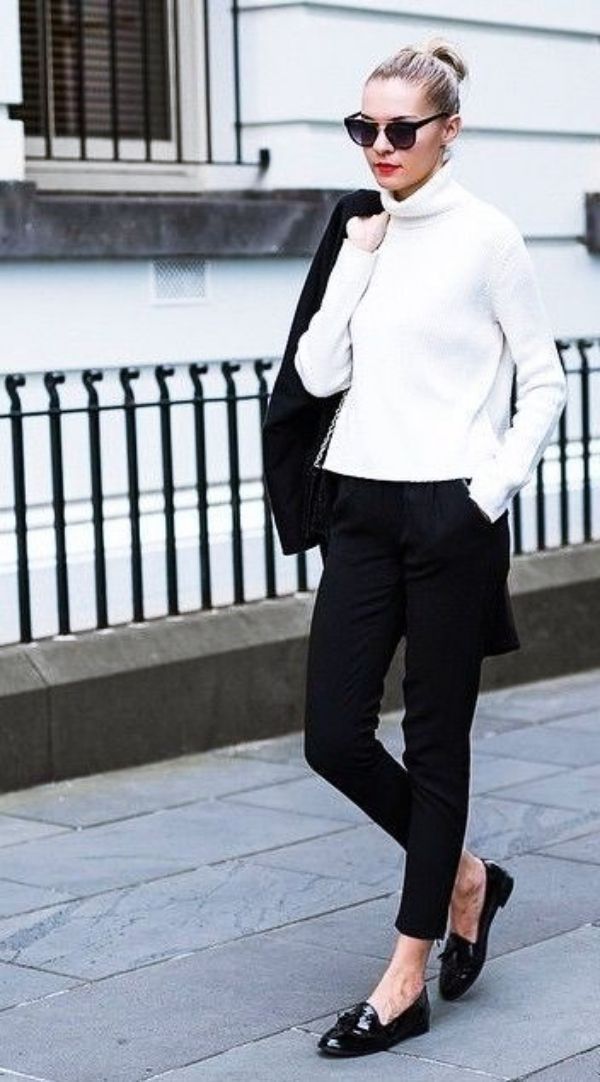 Via Who What Wear.
Shop classic loafers

Black Wool Overcoat
Obviously you need a winter coat, but unlike a lot of women in the U.S., French women don't usually don a puffer. Their coat of choice is more often than not a classic black wool overcoat. Whether single or double breasted, long or short, it's always chic.
This is an item where I'd recommend spending a little more for a high quality coat. If you purchase a coat with a high wool content, it will not only be more elegant looking, but it will last longer, too.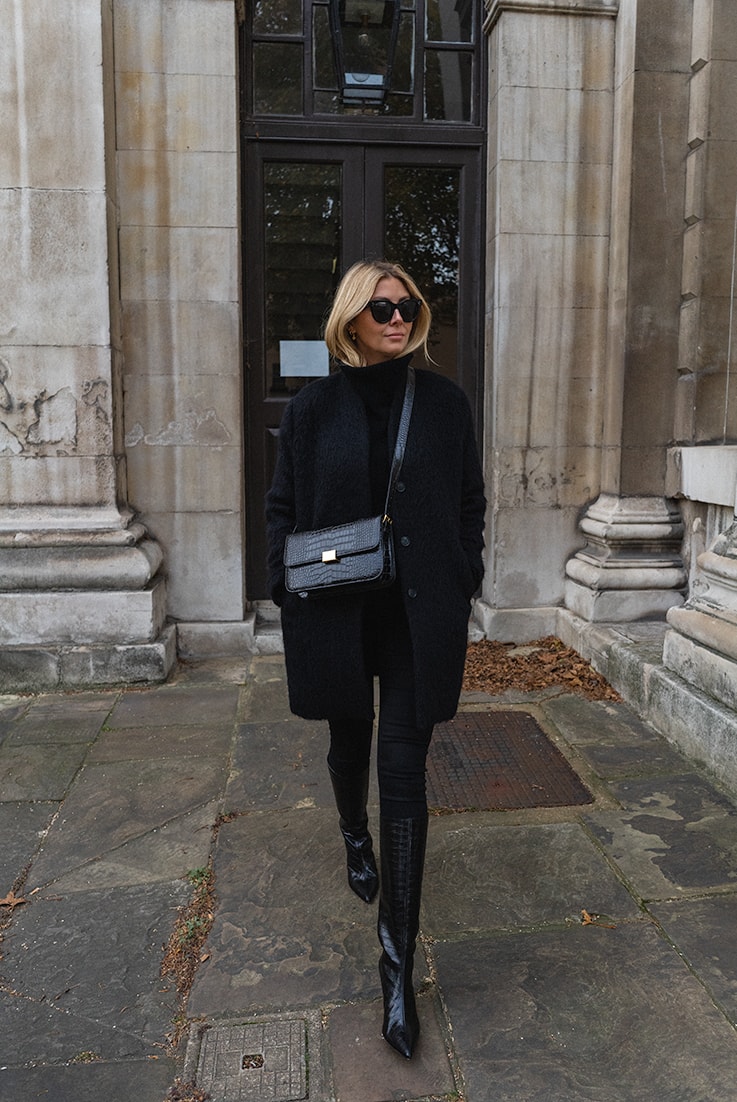 Via Emma Hill.
Via See Anna Jane.
Shop Wool overcoats

Turtlenecks
I love turtlenecks! They're the perfect winter sweater. Casual, adaptable, and oh-so warm and cozy. I practically live in them all winter.
French women wear them in mostly black and grey, but they come in a million shades. Pick a classic black one, and perhaps a camel, and if you want to add some color, get another in a pretty shade.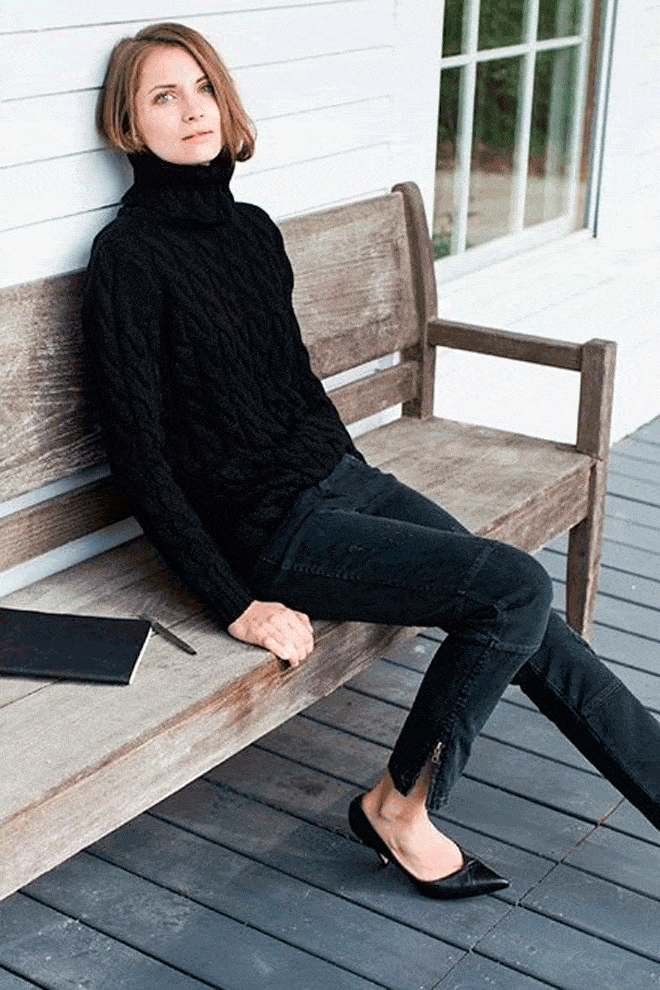 Via Who What Wear.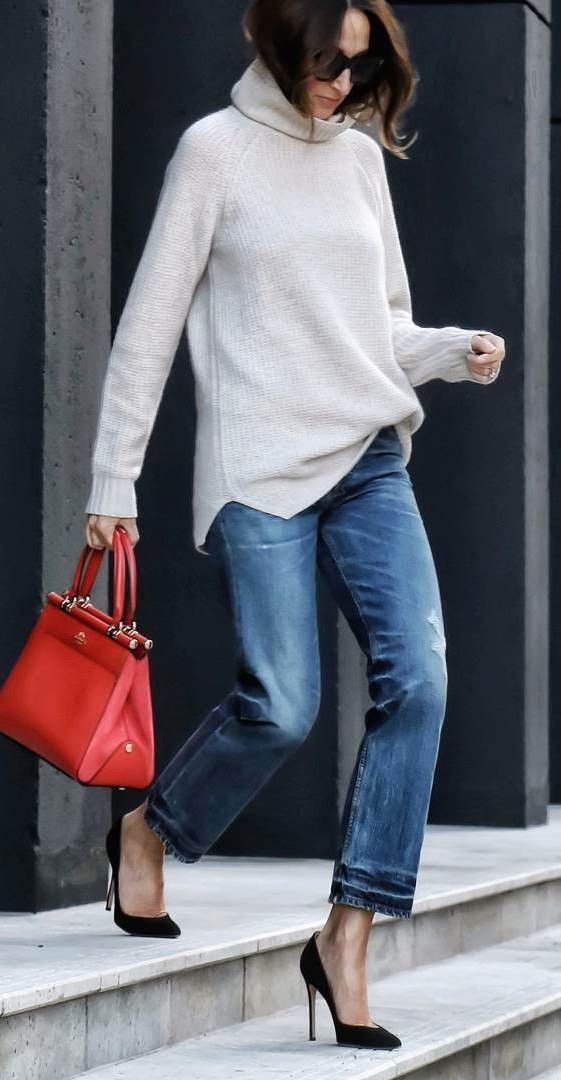 Love the pop of color from the red bag! Via Who What Wear.
Shop Turtleneck sweaters

The French fashion sensibility runs along the lines of where I want my own style to go. I love their casual chic aesthetic. One that looks classic and understated yet never over done or like they're trying too hard.
Quality over quantity and an eye toward more pieces that can last many seasons is what I'm shopping for now. It's actually so exciting to have less ~ but have things I really love and enjoy wearing!
Shop Fall French Fashion Essentials




je t'aime,
Sheila
xo
If you enjoyed this post, be sure to check out some of my other fashion posts below: